Taking another swing
At summer sports camps, grown-ups dust off old skills or learn new ones.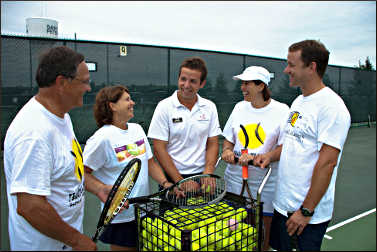 I coulda been a contender.
I played tennis as a kid, teaching myself on the courts near my house, and I played on my high school girls' tennis team, which, while not very competitive, had an actual coach thanks to Title IX.
But I never took lessons, and after high school, my budding skills slid into disuse. The years passed and I became a has-been, with nothing to look forward to but the senior varsity.
I still like to whack a ball, though, and one year I heard about a place where, finally, I could learn to do it better.
In 1977, Gustavus Adolphus coach Steve Wilkinson, who already had a men's tennis dynasty going on the St. Peter campus, started Tennis and Life summer camps. My friend Grace attended them as an ambitious junior-high player, and she suggested we sign up for an adult camp.
"I used to have dinner and then go out by myself and hit some more balls," she said. "But that was 20 years ago, and I've changed. I'm lazier now, I'll want to have some vino in the evenings."
So we went, but we didn't drink wine. We hit — and hit, and hit some more.
From 8 a.m. to 8 p.m., we hit balls. In spite of the young instructors' sunny smiles, and the goofy skits, and the lighthearted rides in Wilkinson's "Magic Bus," there was no mistaking the purpose of the weekend. People were having fun, but they were there to play and to learn.
After the first clinic, we got a pep talk from assistant director Dan McLaughlin.
"Some of you are panicking already," he said. "Remember, some people have been at these camps for 18 years. So you've got 18 years to learn some of these things."
From the beginning, the instructors — one for every four students — set an astonishingly high standard. I'd wondered why they said my name whenever they saw me, but found out why on the morning of the first full day, when they arranged us in a circle and took turns reciting our names by memory — all 99 of them.
Students came mostly from the Midwest, but also from Arizona, Texas, Colorado, Florida, Mississippi and British Columbia. Sako Ogata got the prize for coming the farthest, from Japan, where she plays at a tennis club.
"I told no one," she said. "They would envy me if they knew I came all the way to the U.S. for tennis camp."
After breakfast, we'd watch exhibition matches, stretch, and see a skit. Then we'd break into groups for drills with an instructor, who'd patiently remind us to step into the swing, keep our wrists firm, point our shoulders at the net and follow through.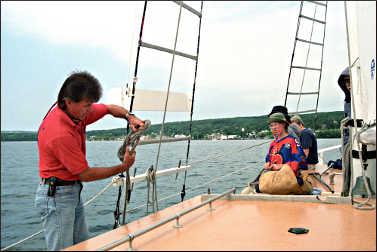 "See, I've learned something already," said Sharon Johnson of Bloomington, a member of my group who said she didn't start to learn tennis until she was 50. "You can teach an old person new tricks."
In the indoor complex, other instructors led us through station drills. The first day, McLaughlin fixed my tendency to wallop the ball, rather than direct it.
The second day, Gustavus player Jon Farnsworth adjusted my grip and taught me to throw the ball up for a serve; fellow Gustie Jenni Edlund stood behind me, shouting 'Hit' to make me swing when it was still high in the air. At least three different instructors politely reminded me to bring up my non-hitting hand.
Everywhere we went, there was a smiling instructor at our elbows, analyzing our play and offering helpful tips. And they always knew our names.
The name game, along with high-fives and little blue "Camper of the Day" nominations from our instructors — "She focused and worked very hard"; "Diligent worker on her serve" — are part of an intentional pattern of affirmation.
"The culture in this society is, 'It's all about me,' " Steve Wilkinson says. "We counter that by learning the game 'It's all about you.' "
As the sports world becomes increasingly boorish, from professional to peewee leagues, Wilkinson is a virtual revolutionary. He's the Mr. Rogers of tennis, advocating a kinder, gentler way to play.
That's why this isn't just tennis camp — it's tennis and life camp, and each day included sportsmanship and mental-training sessions with McLaughlin, director Neal Hagberg and Wilkinson, who teaches sports ethics at Gustavus and started the camps as a way to put his principles into practice.
If your opponent cheats or makes a wrong call, Wilkinson told us, say nothing and congratulate him after the match. Don't dwell on your mistakes, and don't apologize for them to your partner. Have fun and don't even think about winning, only on making a full effort.
And these principles work like a charm. Wilkinson's Gustavus team routinely wins division titles; Wilkinson himself has been the nation's top-ranked player in the 45, 50, 55 and 60 and over age categories.
"I can't think of anything that makes a bigger difference," Wilkinson said. "Having fun and being a good sport are far more important than being the national champion." But paradoxically, he says, players who internalize these principles set themselves free — to win.
"There's a huge competitive advantage for me doing this," he said. "It allows me to play my game."
We swung, we listened, we absorbed. But Grace and I also did a little relaxing. One evening, we went to the college's Lund Center to soothe our muscles in the whirlpool, alongside four tough and wiry Twin Cities women we called "The Aces."
We shared beer in the dorm with some merry women from Memphis, and on the last night we went to a concert in the dormitory lounge given by Hagberg and his wife, Leandra Peak, known to folk aficionados around the nation as the duo Neal & Leandra.
That was a treat, to say the least. But the best thing the camp gave me was a renewed appreciation for the game, and a determination to not let it fall by the wayside again.
As I learned in one of McLaughlin's mental-training sessions, "The race belongs not just to the swift and strong, but to those who keep running."
Trip Tips: Summer sports camps for adults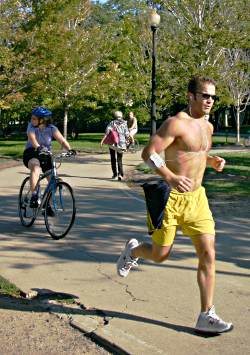 If you have doubts about whether you'll fit in, call the camp and describe your abilities or expectations; staff will help you decide if it's the right place for you. Ask about the proportion of instructors to students and how many hours of instruction are included.
Here are some of the camps that are available in the Upper Midwest. For more about learning vacations, see Schools of know-how.
Tennis : On the campus of Gustavus Adolphus in St. Peter, Minn., Neal Hagberg now is the director of the excellent Tennis and Life camps, replacing longtime instructor and champion Steve Wilkerson, director from 1977 to 2010.
There are three four-day courses for adults, beginning through advanced. Cost includes dormitory lodging and meals. St. Peter is an hour southwest of the Twin Cities.
US Sports Camps holds Nike Tennis Camps on the campus of Northwestern University in the Chicago suburb of Evanston.
Sailing : Superior Charters in Bayfield, Wis., offers certification courses on boats of all sizes, after which students are allowed to charter a boat of a similar size.
The basic two-day "Learn to Sail" class includes lunch and accommodations on the boat; the three-day course includes an overnight at anchor with the instructor.
Students sail on Chequamegon Bay and around the Apostle Islands, cooking on board and sleeping at the dock.
For more about the area, see Beloved Bayfield.
In Grand Marais, Minn., the North House Folk School offers sail training trips to the Apostles and Isle Royale on its schooner Hjordis.
For more about the area, see Charismatic Grand Marais.
River kayaking : Bear Paw Outdoor Adventure Resort, near White Lake in northeast Wisconsin, holds one- and two-day river kayaking courses.
It also offers day trips and clinics as well as private lessons. Guests can camp or stay in rustic or modern cabins. There's also a restaurant.
For more, see Whitewater 101.
Golfing : The John Means Golf Camps holds a three-day course for adults at the White Eagle Golf Course and Learning Center in Hudson, Wis.
For more about the area, see Getaway on the St. Croix.
Race-car driving : In northern Minnesota lakes country, the Brainerd International Raceway Performance Driving School offers one-day classes between May and October.
The program begins with an 8 a.m. classroom session to prepare drivers with high-performance driving techniques, such as accelerating, cornering and braking. Once on the track, an instructor rides along until students are comfortable driving alone.
For more about the area, see The buzz on Brainerd.
At Road America near Elkhart Lake, Wis., the Skip Barber Racing School offers one-, two- and three-day Formula car racing courses in summer.
For more, see Foot to the floor in Elkhart Lake.
Hunting and fishing : Deep Portage Learning Center, a non-profit environmental learning center on nearly 10 square miles of forest and lakes near Hackensack, Minn., holds inexpensive fly fishing and wingshooting schools.
Cost includes meals and a room in the attractive lodge. For more about Deep Portage, see Playground in the woods.
Many states offer inexpensive Becoming an Outdoors Woman weekend workshops throughout the year, including Minnesota, Wisconsin, Michigan and Iowa.
Last updated on March 7, 2016