10 great day trips around Milwaukee
Ride trolleys, see lighthouses, spot birds and hike past mansions.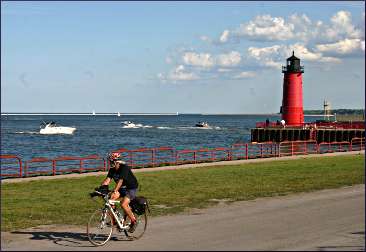 Milwaukee doesn't toot its own horn much, so you've got to explore it yourself to see how much fun it can be.
Right in town, you can spend an entire day touring breweries or riding on the Oak Leaf Trail, a 100-mile chain of paved paths, parkways and connecting streets.
But the city also is surrounded by old Yankee mill towns and German settlements.
To the west, the last glacier left a trail of kettle lakes that are a summer playground. Hikers and skiers head for Kettle Moraine State Forest and the Ice Age National Scenic Trail, which winds through it.
The famous Lake Geneva resort area lies to the south. And then there's Lake Michigan, which provides miles and miles of gorgeous white-sand beaches right up to the Illinois border.
On balmy days in summer and fall, the lake itself becomes a destination: Buy a round-trip ticket on the Lake Express and spend a day riding the waves and exploring the Michigan port town of Muskegon.
Here are 10 great places to visit around Milwaukee.
Live closer to Madison? See 10 great day trips around Madison.
Milwaukee to Kenosha/ Looking for lighthouses
Start at the newly restored 1887 North Point Lighthouse, hidden amid the trees of blufftop Lake Park. It's open 1-4 p.m. Saturdays and Sundays throughout the year.
Then drive along the lake, past the striking Milwaukee Art Museum, to Lakeshore State Park on the harbor. The white 1926 Breakwater Light sits at the harbor entrance, and the 1907 cylindrical red Pierhead Lighthouse is nearby.
Head south on Wisconsin 32 to the northern edge of Racine. Turn east on Three Mile Road to see the 1880 Wind Point Lighthouse, a classic Poe tower that's one of the tallest on the Great Lakes.
The grounds are open year-round, and the tower is open on the first Sundays from June through October. Tours are $10; reserve in advance.
Take Lighthouse Drive to North Main Street and North Beach, a broad expanse of lovely white sand. There's a wooden castle playground here called Kids Cove. Bring a kite — or a bike, because a trail follows the beach from the Racine Zoo to downtown.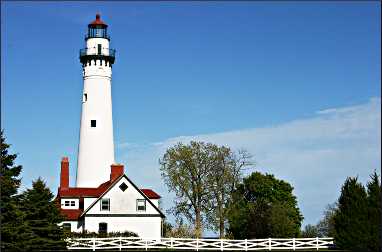 At the marina entrance downtown, there's a red 1910 breakwater light. From the viewing platform across from it, you can see Wind Point on the far end of the bay.
Just down the shore at Pershing Park, there's a fountain with two dozen jets that kids like to run through on hot days.
Get back onto Wisconsin 32 — follow the Lake Michigan Circle Tour signs — to Kenosha.
Kenosha also has a beautiful sand beach. It's bordered by a long concrete pier, and at the end sits the red 1901 Pierhead Light. A shorter breakwater Light, white with a green stripe, is on the other end of the harbor entrance.
Up on the hill is the 1866 Southport Lighthouse, built of Cream City brick. It's open Friday through Sunday from mid-May through October.
See all the sights on the Electric Streetcar Circulator, which makes a two-mile loop along the shoreline and through downtown and historic districts.
Cedarburg/ Shopping with a dab of history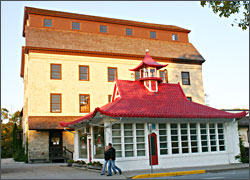 If Cedarburg didn't exist, it would have to be created, by popular demand.
For visitors who enjoy a dip into the past, with occasional breaks for cappuccino and crepes, this little village, just 20 miles north of Milwaukee, is practically perfect. There's an 1864 woolen mill at one end of main street, now housing a winery and two dozen shops.
There are stone, brick and clapboard cottages lining a rushing creek. There's a five-story 1855 Greek Revival grist mill, now a microbrewery, and a handsome brick fire tower peeking over the rooftops.
There's even an 1876 covered bridge, made from heavy latticed planks and wooden pegs. The overall effect evokes a bygone era — not of the days when 9-year-olds hunched over looms and stagecoaches raised clouds of dust, but a Rockwellian era of brass bands in gazebos and sleigh rides down gaslit streets.
The woolen mill now is Cedar Creek Settlement, housing shops, cafes and Cedar Creek Winery, which offers tours and samples. Its Festive Friday Eves start the Friday before Thanksgiving and continue until Christmas.
Four big parties bring day trippers and tourists pouring into town: Winter Festival in February, Strawberry Festival in June, Wine & Harvest Festival in September and Oktoberfest in October.
For more, see Jolly Cedarburg.
For shoppers, the first weekend of December is a real blowout, with Christmas in the Country arts and crafts show at Cedar Creek Settlement and the Holiday Art Fair at the Cedarburg Community Center.
Mukwonago / A trolley ride to East Troy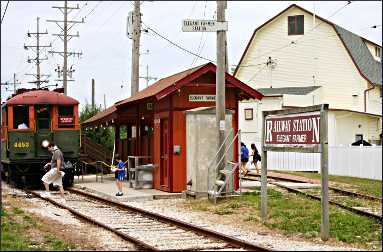 West of Racine, another electric trolley operates on Wisconsin's last Interurban Line, once a 385-mile network but now reduced to the six miles between Mukwonago and East Troy. From 1907 to 1939, the cars carried commuters between East Troy and Milwaukee.
Now, it takes day trippers and their children between the Electric Railroad Museum in East Troy and the Elegant Farmer farm market in Mukwonago, which is a good place for a layover.
Outside the big yellow barn, kids rock furiously on tall wooden hobby horses. Inside, they snack on freshly made caramel corn, ice cream and cookies draped in thick icing.
There's a deli; the Elegant Farmer is known for its cider-baked ham, cheese and pies baked in paper bags.
The East Troy Electric Railroad runs from early May to late October. Dinner excursions are held on many Saturdays, and a Brew Train goes out the first Friday of the month.
Special events include the Halloween Express and the Christmas Express on the first two weekends of December.
Port Washington/ To Lake Michigan by bicycle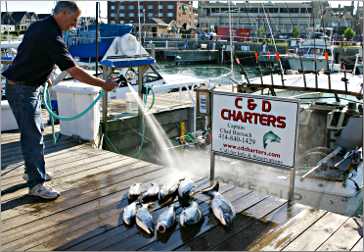 North of Milwaukee, electric trolleys ran as far north as Sheboygan. Today, 30 miles of that line is Ozaukee County's paved Interurban Trail. Start in Brown Deer or Mequon, one of the state's earliest German settlements.
From there, the trail goes through the mill towns of Thiensville, Cedarburg and Grafton before entering a stretch of woods. Then it crosses Interstate 43 and descends into Port Washington, a picturesque village with a marina full of charter fishing boats and a 1935 art deco breakwater light.
In the historic downtown, Leland Stanford practiced law before he left to join the Gold Rush and become governor of California. Stop to see the quirky Pebble House, built in 1848 of mortar and round stones collected from the Lake Michigan beach. Now, it's the tourism office.
From the trail just north of downtown, steep wooden steps lead to the 1860 Port Washington Main Lighthouse and the imposing St. Mary's, an 1884 Gothic Revival church.
From Port Washington, the trail continues to Belgium and the county line. It's not as scenic, but it's flat and perfect for inline skating.
For more, see Bicycling along Lake Michigan.
Horicon Marsh/ Birding by foot, boat or bicycle
An hour northwest of Milwaukee, you'll find many more birds than tourists at the Horicon Marsh, the largest freshwater cattail marsh in the United States and a stopover for migrating ducks, geese and warblers of many species.
Part of it is a national wildlife refuge and part is a state wildlife area. The DNR office is on the south edge in the town of Horicon and offers weekend naturalist programs. The national wildlife refuge has a visitors center is in Mayville, on the southeast edge.
September and October are the best times to see thousands of ducks and Canada geese stop in this Wisconsin marsh on their way south, and May is the best time to watch the northward migration.
Beginning bird-watchers should be sure to go the Horicon Marsh Bird Festival in May, when they can go on bird hikes and bus tours and see bird-banding demonstrations.
If you like festivals as well as bird-watching, go the first weekend of October for Audubon Days in Mayville, which includes a big parade.
But you can see birds any day: by canoe or pontoon boat from Blue Heron Landing or the two-mile Horicon Habitat Trail, both on the southern tip of the marsh in Horicon; from bicycle on the Wild Goose State Trail, along the western edge of the marsh; or from the 50-mile auto route around it.
For more, see Life on Horicon Marsh.
Old World Wisconsin /Transported to the past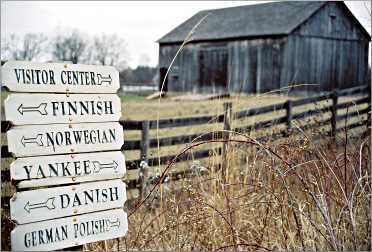 At Old World Wisconsin, it's always the 19th century.
Costumed interpreters inhabit the buildings of this 576-acre outdoor museum near Eagle, 40 miles west of Milwaukee. They were brought in from homesteads all over Wisconsin and reconstructed on site.
In separate settlements, they portray the real people who lived and worked in them — Danish, Norwegian, German, Finnish, African-American and Yankee families, trying to get ahead on the American frontier.
There's a Finnish sauna, a stovewood cottage, a one-room schoolhouse and Milwaukee's first Catholic church. In the regular season, the octagonal Clausing Barn Restaurant serves cafeteria-style meals.
The newest structure is the Brewhouse, which offers seasonal beer dinners featuring Wisconsin breweries and Historic Brewing 101 immersive programs.
Special events are held year-round, including at Halloween and Christmas. In summer, vintage baseball games are played.
The regular season is May through October. Summer admission is $19.99, $13.99 for children 5-12; in fall, $15.99 and $9.99.
The nearby glacial landscape provides very scenic hiking. Four miles west of Old World Wisconsin, a segment of the Ice Age National Scenic Trail passes the visitors center of the Kettle Moraine State Forest-Southern Unit.
Six miles north, the popular Scuppernong Trail has three loops of various lengths at the intersection of Wisconsin 67 and County Road ZZ.
Lake Geneva/ A hike past historic houses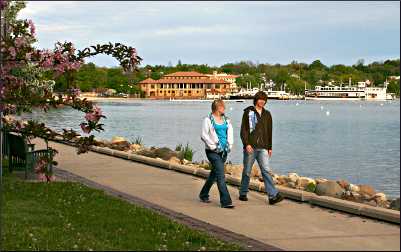 For 150 years, this resort area near the Illinois border has been a favorite retreat of rich Chicagoans, and today it's a favorite of nearly everyone.
The area includes Delavan Lake and Lake Como, but Geneva Lake is the place to be, especially if you like to walk and gawk at historic mansions built by the Wrigleys, Rockefellers and Swifts.
A 20-mile footpath circles the lake, right through the front yards of the wealthy.
The Lake Geneva Cruise Line gives narrated tours from May from October, including the one-hour Geneva Bay Tour, the two-hour Full Lake Tour, the 2½-hour U.S. Mailboat Tour and the 3½-hour Black Point Estate Tour. Reserve in advance, especially on weekends and holidays.
May and September are good times to visit if you don't like crowds, and there are festivals year-round: Winterfest and National Snow Sculpting Championships in February, Art in the Park and the Venetian Festival in August, the Lake Geneva Wine Festival in September, Oktoberfest in October and the Festival of Lights in December.
For more, see Gawking in Lake Geneva.
Fort Atkinson/ Entertainment indoors and out
Since 1963, the professional Fireside Dinner Theatre has drawn tourists to this little town on the Rock River, an hour west of Milwaukee. It has a surefire formula, offering Broadway musicals and heartwarming Christmas shows.
During the day, ride the paved 16-mile Glacial River Trail south toward Lake Koshkonong, passing through a wooden covered bridge with a cupola. On the shore of the lake, visit Indian Mounds & Trail Park, which protects 11 effigy mounds, some shaped like turtles and birds.
Ancient Indians left many mounds in this area. There are more at Aztalan State Park, 10 miles north of Fort Atkinson. Between 1100 and 1300, a cluster of the Mississippian people lived here, performing ceremonies atop two large, conical temple mounds, one of which had two platforms reached by stairs and a priest's house on top.
The village has been partially reconstructed, with a 12-foot log stockade, and visitors can wander the grounds. For more, see Riding the Glacial Drumlin.
In town, visit the National Dairy Shrine and Hoard Historical Museum, named for the father of Wisconsin's dairy industry. In the Lincoln exhibit, hear the story of the local Black Hawk War of 1832, in which Lincoln served.
Ten Chimneys / The beloved retreat of a famous duo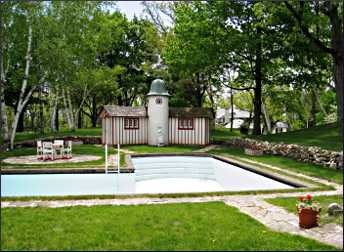 In the first half of the 20th century, one couple dominated the Broadway stage: Milwaukee-born Alfred Lunt and his English wife, Lynn Fontanne.
They were known as "the Fabulous Lunts," and they had so much star power they rejected a million-dollar Hollywood film contract, saying they "could be bought but not bored," and they took only roles that would allow them to spend summers at their beloved country house in Genessee Depot, 25 miles west of Milwaukee.
They called it Ten Chimneys, and frequent visitors included Noel Coward, Laurence Olivier, Helen Hayes, Katherine Hepburn and Carol Channing, who said, "What the Vatican is to Catholics, Ten Chimneys is to actors."
All of the couple's mementos and favorite things are part of the modest but highly idiosyncratic estate, which includes the Flirtation Room, a rehearsal space with five entrances, and murals painted by a set-designer friend.
They don't make 'em like that anymore — neither the house nor the couple. Today, Ten Chimneys is a National Historic Landmark. Two-hour estate tours are given from early May to early December, $35. Reserve at 262-968-4110.
For more, see Welcome, darlings, to Ten Chimneys.
Muskegon/ To Michigan by ferry
From May through October, the Lake Express high-speed ferry makes the 2½-hour trip from Milwaukee to Muskegon, Mich. Hop aboard at 6 a.m. and you'll have seven hours to play if you catch the 4:45 p.m. ferry back. Or get on at 12:30 p.m. and catch the 11 p.m. return ferry, which runs in summer.
Bring your bicycle or skates and explore Muskegon on the 12-mile paved Lakeshore Trail. From the ferry terminal, ride west to see the South Pier Light Station and the beach at Pere Marquette Park. Nearby, watch ore boats enter the Muskegon Lake Channel.
Ride east to downtown or north along Muskegon Lake to Heritage Landing festival park. For a longer ride, head out on the 26-mile paved Musketawa Trail to Marne, just west of Grand Rapids.
Round-trips on the ferry are $181 plus $16 for a bicycle.
Last updated on June 8, 2020