10 great day trips from Madison
See the circus, visit Swiss towns or ride a rail trail: There's fun in every direction.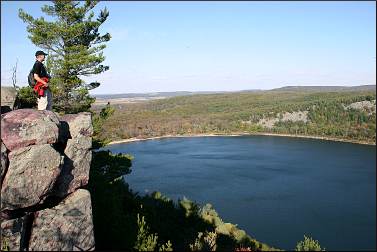 Madison has the state Capitol, the largest university, two big lakes and all kinds of attitude. There's plenty to do if you want to stay put. But sometimes, you just have to hit the road and explore.
Madison is surrounded by great candidates for a day trip — or a mini-vacation, if you prefer. It's got cheese country to the south, Old World towns to the west, bicycle trails on three sides and good eating all around.
Here are some great ways to spend a day in south-central Wisconsin. If you get out the door early, do lots of stuff and stay late, it really will feel like a vacation.
Live closer to Milwaukee? See 10 great day trips around Milwaukee.
For more about trips with children, see Wisconsin for kids.
Devil's Lake State Park / Trails and views
Of all the spectacular landscapes during the last Ice Age, this is perhaps the most spectacular.
All of Wisconsin flocks to this park just south of the Dells; it's the most-visited in the state. Climbers test themselves on pink quartzite cliffs, once the sand along a red ocean.
Scuba divers explore the lake, one of the clearest in Wisconsin. Hikers walk 500 feet above the lake on the East and West Bluff trails, lined by haphazardly piled blocks of rock.
With Peninsula State Park in Door County, it's also the most popular camping park — reserve early. And to avoid the crowds, go early in the day and during the week.
For more, see The divine Devil's Lake and High drama at Devil's Lake.
Baraboo / A day at the circus
This town on the Baraboo River, north of Madison, was the childhood home of the Ringling Brothers, and it became the winter home of their circus.
The Big Top still lives at Circus World Museum, where clowns, aerialists and magicians perform all summer. The Wagon Pavilion, with a world-class collection of restored circus wagons, and the exhibit hall are open year-round.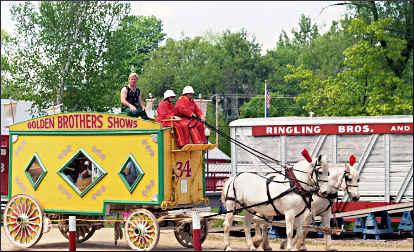 Cool things to do nearby: Take a ride on the Mid-Continent Railway Museum, 10 miles west in North Freedom. See the Land of Evermor, a quirky scrap-metal sculpture park, seven miles south of Baraboo on U.S. 12, behind Delaney's Surplus and across from the old Badger Army Ammunition Plant.
For more, see Baraboo's gilt complex.
New Glarus / A Swiss village
The Swiss-chalet facades of the buildings in this town south of Madison aren't just for tourists; people really are Swiss. If you're lucky, you'll catch some yodeling or hear an alphorn concert.
New Glarus always is a great place to eat and drink. Tour New Glarus Brewing Co. 's Hilltop Brewery, which looks like a little European village, and sample its craft beers.
Downtown, pick up handmade sausage at Ruef's Meat Market, European pastries at New Glarus Bakery and imported chocolate and local cheese at the Maple Leaf.
Walk around town looking for the 16 artist-painted figures on the Cow Parade; this is fun with kids.
Find out why the Swiss got homesick at the Swiss Historical Village, an open-air museum of restored pioneer cabins and buildings. Ride the 23-mile Sugar River State Trail, which intersects with the Badger State Trail in Monticello.
There are lots of festivals, including the Heidi Festival in June, Wilhelm Tell Festival over Labor Day and Oktoberfest in late September.
For more, see Swiss at heart.
Lake Mills / Bicycles and beer
East of Madison, the landscape is pure Wisconsin. The last glacier — called the Wisconsin glacier because its remnants are easiest to see there — left hundreds of piles of rubble called drumlins. It's the birthplace of Trek bicycles. And it's the home of one of Wisconsin's best craft breweries.
They're all along the Glacial Drumlin State Trail, which stretches 52 miles between Cottage Grove and Waukesha.
In Waterloo, tour the Trek factory.
In Lake Mills, sample Stone Tepee pale ale at Tyranena Brewing, shop at Ephraim Faience Pottery and plumb the mysteries of Aztalan State Park, where an ancient people built ceremonial temples.
For more, see Riding the Glacial Drumlin.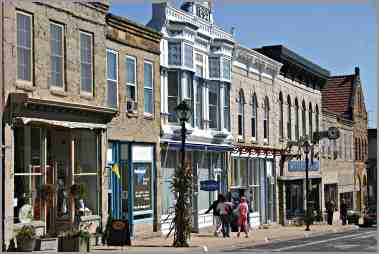 Mineral Point / Cornish cottages and galleries
In southwest Wisconsin, this town was booming when Milwaukee was barely on the map. Lead was discovered here, and the "badger holes" dug by the first miners gave the state its nickname.
Now, artists occupy limestone cottages and storefronts built by the first Cornish miners. People who would like to be an artist can take a workshop at Shake Rag Alley Center for the Arts, which includes buildings from the 1840s.
Next door, costumed interpreters give tours of the restored miners' cottages at Pendarvis, across from Merry Christmas Mine.
Don't forget to try a pasty, the miners' favorite lunch, and don't miss the Saturday-morning markets in Watertower Park, a neighborly celebration of everything that can be produced or raised by hand.
For more, see Beauty in Mineral Point.
Wisconsin River / A wellspring of naturalists
On sand plains along the Wisconsin River, Aldo Leopold became a pioneer of land stewardship. In its marshes and woods, John Muir first discovered the joys of wilderness. On its meadows, two young ornithologists created a haven for cranes.
The natural world found some of its greatest allies on a swath of rolling, glaciated land between Baraboo and Portage.
North of Baraboo, visit the International Crane Foundation and see lots of whoopers and at least one of every other kind of crane.
Just to the east, tour Aldo Leopold's farm, which includes the famous Shack and the Legacy Center. Half an hour farther east, visit John Muir's boyhood home, now John Muir Park.
For more, see Pilgrimage to the Baraboo Hills and Cranes of Wisconsin.
Monroe / Cheese and a bike trail
The cheese capital of Wisconsin doesn't have the flower boxes and chalets of New Glarus, but it's every bit as Swiss and maybe more so — it's the home of the nation's last Limburger factory, and at the arts center, you can learn Kerbschnitzen — chip carving in wood — and Scherenschnitten — decorative paper cutting.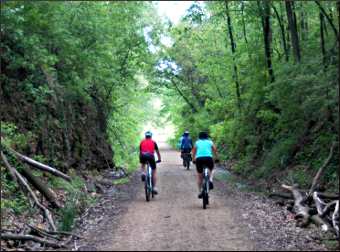 Tour a cheese factory, visit the Historic Cheesemaking Center and have a Limburger sandwich at Baumgartner's, on Courthouse Square downtown.
Monroe also makes a good base for riding the Badger State Trail. From Monroe, it's seven miles to the Illinois border, where the Jane Addams Trail goes 13 miles into Freeport.
It's 26 miles to the northern trailhead in Fitchburg, and the Badger connects to the Sugar River State Trail in Monticello.
For more, see Cheese country and A slice of cheese country.
Spring Green / Two monuments to ego
This town on the Wisconsin River has two rather astonishing edifices: Taliesen, the Frank Lloyd Wright complex that's a tribute to good taste; and House on the Rock, the overcrowded attic that's a tribute to . . . a different kind of taste.
Guess which draws more people? Tour both, then spend an evening watching a Shakespeare play at the American Players Theater, which falls into the good taste category.
Downtown, visit art galleries and the Spring Green General Store, a hippie emporium that's moved gracefully into the 21st century. Over Memorial Day, it puts on a music fest that honors Bob Dylan; over Labor Day, it honors the Beatles.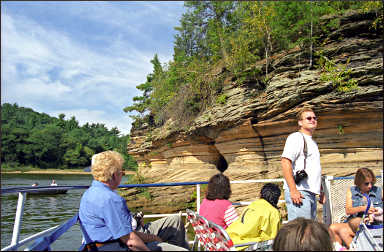 Go on your birthday, when you'll get all kinds of freebies.
For more, see Drawn to Spring Green and Wisconsin's birthday town.
Wisconsin Dells / The original attraction
Today, most people think the Dells are a garish strip lined by billboards and blinking neon. But the same attractions that drew tourists in the 19th century still are worth visiting today.
The first tourists came to see the sandstone formations — Black Hawk's Head, Romance Cliff,  Devil's Elbow — and such spooky recesses as Witches Gulch. See them on Dells Boat Tours to the Upper and Lower Dells, or take a Wisconsin Ducks tour on both land and river.
Downtown, visit the H.H. Bennett Museum and Historic Studio, operated by the pioneering photographer who put the Dells on the map.
North of downtown, take a picnic to the Dells of the Wisconsin River state natural area and hike down to a sand beach on the river.
For more, see The quiet side of the Dells and H.H. Bennett's Dells.
For more about the indoor water parks, see Making waves.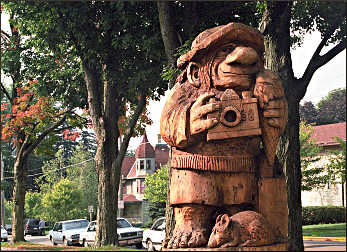 Mount Horeb / A cave and a bike trail
Just west of Madison, the streets of Mount Horeb are lined with life-size trolls carved from the trunks of trees, on the Trollway.
Sure enough, early settlers were Norwegian.
Nearby, Cave of the Mounds is a good place to go on a rainy day and also on an unbearably hot day: It's always a cool 50 degrees. See Onyx Ridge, a 17-foot-tall stalagmite on which ancient rivulets created the veiled-lady effect used by marble sculptors.
Walk through winding passageways, past diamond stalactites and columns that look like the shinbones of a tyrannosaurus.
Go to Mount Horeb for its Summer Frolic in June, Art Fair in July, Thirsty Troll Brewfest in September or Fall Heritage Festival in October. There are antiques stores, gift shops, cafes and restaurants downtown.
Buy cut-rate Land's End catalog returns at the Bargain Nook (also in New Glarus, Spring Green, Darlington and Mineral Point).
You can ride to Mount Horeb on the the 40-mile Military Ridge State Trail. Take the Capital City Trail to its trailhead in Fitchburg; from there, it's 15.6 miles to Mount Horeb.
From there, it's another 5.3 miles to Blue Mound State Park, on the tallest hill in southern Wisconsin. From the picnic area, climb two observation towers for a panoramic view of the countryside. If it's a warm day, cool off in the park's swimming pool.
For more, see Troll-hunting in Mount Horeb.
Last updated on May 16, 2021