Braking for blooms
In late summer and early fall, you'll find the best array of wildflowers on bicycle trails.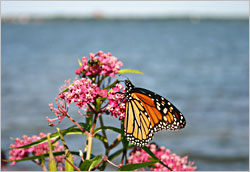 In late summer and early fall, bicycle trails burst with blooms.
They're a favorite habitat for wildflowers because they're on disturbed ground and have open, sunny edges. Many trails skirt lakes and bogs, but since most are on old rail lines, fires sparked by passing trains created openings for prairie species, too.
Take the Paul Bunyan State Trail past Lake Bemidji in northern Minnesota. One side is lined with water-loving plants-Joe-Pye weed, jewelweed and swamp milkweed, beloved by butterflies and bees.
Maroon-tipped big bluestem and butter-and-eggs toadflax line the trail itself. And on the other side, you'll see purple prairie clover, sunflower and black-eyed susan.
From now until frost, bicycle trails will be in their prime.
In Minnesota, our other favorites for late-summer flowers are the Wobegon and Central Lakes in central Minnesota, which connect for a ride across half the state.
For a short and easy ride in northern Minnesota, ride the 17 miles around Lake Bemidji.
In Wisconsin, we love the Stower Seven Lakes in western Wisconsin and the Great River along the Mississippi in southwest Wisconsin.
In Michigan, ride the 17-mile Sleeping Bear Heritage Trail through Sleeping Bear Dunes National Lakeshore on Lake Michigan, including a 9.5-mile paved section that connects Empire to the Dune Climb and Glen Arbor. Beach blooms include bladder campion, puccoon and beach pea.
For more on good places to find wildflowers, see Stalking summer wildflowers.
And for overall good rides, see 15 great trails to ride in fall.
Last updated on August 28, 2018