15 great trails to ride in fall
Here's where to get your fill of flora, fauna and fall colors.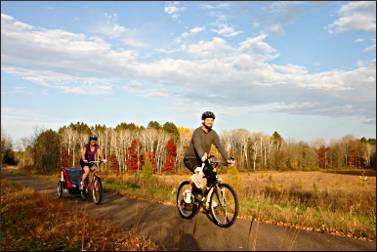 It was a classic fall weekend when we rode the Willard Munger State Trail in eastern Minnesota.
It's a peaceful corridor through forest that, on the second weekend of October, surrounded us with a warm palette of honey and cinnamon, mixed with evergreens and the white of birch trunks and milkweed pods.
From time to time, we went through one of the small towns on Highway 61, immortalized by Bob Dylan.
But we were among the few bicyclists on the trail. Where was everybody? Probably on I-35, rushing to and from the North Shore.
Too bad, because the Munger State Trail is a destination in itself, especially when combined with a hike through nearby Banning State Park, a gorgeous place that also suffers from drive-by syndrome.
In autumn, nearly every bicycle trail is beautiful and lined by fall color. But here are 15 of the best.
Minnesota
Munger in eastern Minnesota: A lovely ride through forest between Hinckley and Duluth, with the last 14.5 miles descending from Jay Cooke State Park.
Sunrise Prairie in eastern Minnesota: If you ride the Munger, you also can catch this low-profile trail in the northern suburbs of the Twin Cities.
The 10 miles between Stacy and North Branch, paralleling but out of sight of I-35, include bogs lined with golden rushes, maples turning orange, red pines, creek crossings and grazing horses on picturesque farmsteads.
Root River in southeast Minnesota: This favorite goes through the leafy Root River Valley between Fountain and Houston, passing the adorable village of Lanesboro.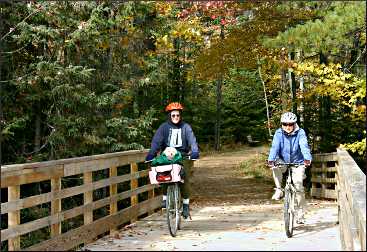 Central Lakes in western Minnesota: Between Fergus Falls and Osakis, with lots of prairie wildflowers and waterfowl in bogs. It goes through Alexandria and connects to the Lake Wobegon in Osakis.
Lake Wobegon in central Minnesota: A journey through a mythic landscape, with lots of steepled churches, between St. Joseph and Sauk Centre.
Paul Bunyan in northern Minnesota: You'll find lots of great fall color and lakes along this trail from Brainerd/Baxter to Walker and Bemidji.
Grand Rounds in Minneapolis: This route, a national scenic byway, is an urban dream on parkways along the Mississippi River and Chain of Lakes.
Wisconsin
Old Abe in western Wisconsin: This bucolic path follows the Chippewa River between Chippewa Falls and Cornell, with heron sightings almost guaranteed.
Great River in southwest Wisconsin: This peaceful trail follows the Mississippi between Trempealeau National Wildlife Refuge and Onalaska, over bottomlands and bogs. You'll see plenty of migrating waterfowl.
Red Cedar in western Wisconsin: Watch for wild turkeys on this serene stretch along the Red Cedar River from Menomonie to the Chippewa River, through Downsville.
Badger in southern Wisconsin: It slices through cheese country from the far edge of Madison to the Illinois border. Try to catch one of the many festivals.
Three Eagle Trail in northeast Wisconsin: A quiet ride between Eagle River and Three Lakes, passing lakes and bogs on two boardwalks and a steel bridge. Chances are you'll see plenty of wildlife.
Crystal Lake: A paved, 10-mile path, part of the Heart of Vilas County system, it parallels the highway from Boulder Junction to Northern Highland-American Legion State Forest, where it winds around the lakes and through the popular campgrounds.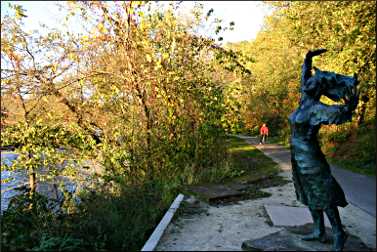 Iowa
Trout Run Trail in northeast Iowa: A lovely, 11-mile paved loop around Decorah, mostly along the Upper Iowa River and Trout Run Creek but rising to switchbacks  in the south. It's lined with wildflowers and artworks.
High Trestle in central Iowa: On this popular, 25-mile trail near Des Moines, the color comes from the blue LED lights on the spectacular bridge for which it's named. Some cyclists like to ride it at night, especially during full moons.
More trails and festivals
For a list of fall festivals you can hit along the way, see Bash on a bike trail.
For more trails, see Bicycling Minnesota, Bicycling in Wisconsin and Bicycling in Iowa.
Last updated on October 4, 2021