10 great places to find late-summer wildflowers
In special spots, blooms paint the landscape in every color under the sun.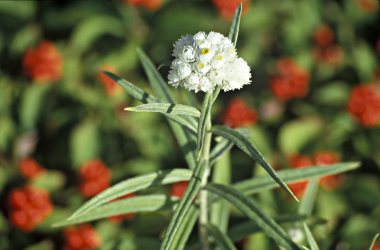 In summer, you don't have to hunt wildflowers.
They're big and splashy, blooming by the thousands on prairie, along bicycle trails and anywhere there's sun. When everything else is green, they give us pops of color: the purple of bottle gentian, the orange of hawkweed, the yellow of tansy.
Do you like Monet's paintings of Giverny?
Then you'll love the meadows of blue vervain and Queen Anne's lace on the southwestern Minnesota prairie, the pearly everlasting on the Keweenaw Peninsula and the sunflower fields along the Waters of the Dancing Sky scenic byway in northern Minnesota.
This time of year, it's a real pleasure to take a drive — or a hike or bike ride. Here are 10 great places to find late-summer wildflowers.
Isle Royale National Park in Lake Superior
On a rainy trip to Isle Royale in early August, wildflowers gave me something to look at besides gray skies. Hiking along the trails in a light drizzle, I found the dainty, pale-pink pipsissewa and the purple-fringed orchid, one of 32 varieties of orchid in the park.
But my favorites were the bright blue berries of the bead lily, which produces yellow flowers in spring, and the curious white berries of the baneberry, which have black dots that make them look like doll's eyes.
The sun finally came up, and I hiked up to the ridge, where there were meadows of fireweed, thimbleberries and probably a lot of other flowers, but by that time, I was taking in the views of Ontario and the lake.
The park is part of Michigan and can be reached from Copper Harbor, Houghton or Grand Portage in northeast Minnesota.
For more, see Isle Royale reverie.
Blue Mounds State Park in southwest Minnesota
This prairie park near Luverne is famous for its late-summer wildflowers and tall bluestem grass. Look for lead plant, blue vervain, Queen Anne's lace and purple prairie clover with a sparkly orange fringe.
And while you're hiking around, wander over to see the herd of bison, which also will be ogling you.
For more, see Drama on the Prairie Coteau.
Waters of Dancing Sky in northwest Minnesota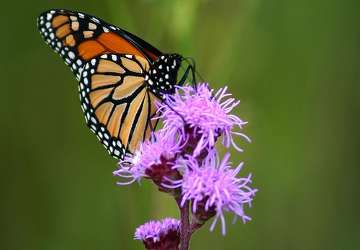 Northwest Minnesota is not exactly a tourist hot spot in summer, though birders flock there in spring. But those who drive the western part of Waters of the Dancing Sky Scenic Byway will see fields of ripening sunflowers and patches of blazing star, also known as gayfeather and liatris.
On Lake of the Woods, seek out bottle gentian, seneca snakeroot and fireweed at Zippel Bay State Park. At the eastern end of the byway, you'll find boreal blooms in Voyageurs National Park on Rainy Lake.
For more, see Waters of the dancing sky.
Ridges Sanctuary in Wisconsin's Door County
This preserve just off the Lake Michigan shore in Baileys Harbor has an unusual mix of bogs, sand and cedar forest and thus the best variety of orchids and other uncommon wildflowers in every season.
In late summer, look for the grass of Parnassus, purple-fringed orchid, nodding ladies' tresses orchid, death camas lily, spurred gentian and the lovely members of the wintergreen family.
For more about the sanctuary, see Spring in Door County.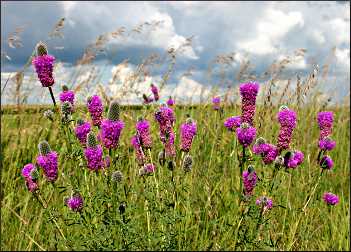 By their nature, bicycle trails are a favorite habitat for wildflowers because they're on disturbed ground and have open, sunny edges. In late summer, they're the best place to see the many yellow varieties of the daisy family — goldenrod, tansy, yarrow, coneflower — plus blue and white aster.
One of the nicest displays is along the Lake Wobegon Trail in central Minnesota, where swaths of purple prairie clover grow in summer.
For more, see Bicycling to Lake Wobegon.
Keweenaw Peninsula in Michigan's U.P.
In early August, you'll see red, white and blue on this finger of land in Lake Superior. Pearly everlasting blooms, the white flowers of bunchberry turn into red berries and low-growing clumps of blueberries line roadsides, especially along the sandy shores of Oliver Bay.
Watch out for bears, which also appreciate the local bounty.
For more, see Digging the Keweenaw.
Lake Bemidji State Park in northern Minnesota
In northern Minnesota, this park has a mix of bog and hardwood and boreal forest. A half-mile Bog Walk leads to the marshy shore of Big Bog Lake, where, one early August, I found pitcher's plant, bog orchid and lots of Joe Pye weed.
For more, see 10 great bog walks and Bemidji's behemoths.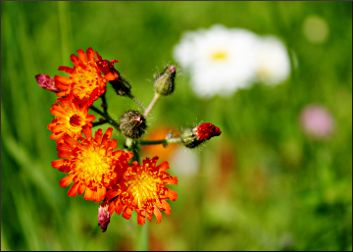 The park is just north of Itasca State Park, which has a similarly fruitful mix of wildflower habitats. It's also the source of the Mississippi River, which flows through Lake Bemidji before it heads east and, finally, south.
Sleeping Giant Provincial Park in western Ontario
This park occupies most of the 32-mile-long Sibley Peninsula, which creates Thunder Bay's harbor on Lake Superior.
Along roads, ox-eye daisy, yellow bird's foot trefoil and purple bird vetch bloom in nonstop clumps. Orange hawkweed grows wherever there's sun, and nodding purple harebells sprout from chinks in rock outcroppings.
More delicate blooms are found along shady trails, including wintergreen and ladies' tresses orchids. In August, masses of thimbleberries ripen and are free for the picking.
For more, see In the shadow of the Giant.
Sleeping Bear Dunes in western Michigan
This park along Lake Michigan has a variety of habitats, including dunes and hardwood forest. There are both along the Empire Bluff Trail, where hikers will see abundant bladder campion, puccoon, butterfly weed and beach pea.
The Friends of the Sleeping Bear Dunes list the many wildflowers. For more, see Grand sand.
Gunflint Trail in northeast Minnesota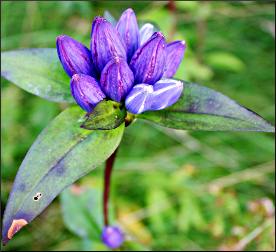 This road along the edge of the Boundary Waters Canoe Area Wilderness in northeast Minnesota has all kinds of places where wildflowers want to grow — shady boreal forest, sunny meadows and soggy bogs.
Look for bottle gentian, fireweed, orange jewelweed, Canada thistle and spotted knapweed.
One of the best places to see wildflowers is on the Moccasin Lane interpretive trail at Chik-Wauk Museum near the end of the road.
The lavishly illustrated "Wildflowers of the Boundary Waters" by Betty Vos Hemstad ($22.95, Minnesota Historical Society Press) is an excellent guide to the local blooms.
For more about the area, see Adventure on the Gunflint Trail.
Many of the same wildflowers are found on Minnesota's North Shore. Here's a list of wildflowers found there.
For more, see Wildflowers of the North Shore.
Last updated on May 16, 2021