Golfing the Brainerd Lakes: The Best Bets
Looking for a challenge, a place to take the family, a good deal? Here's where to go.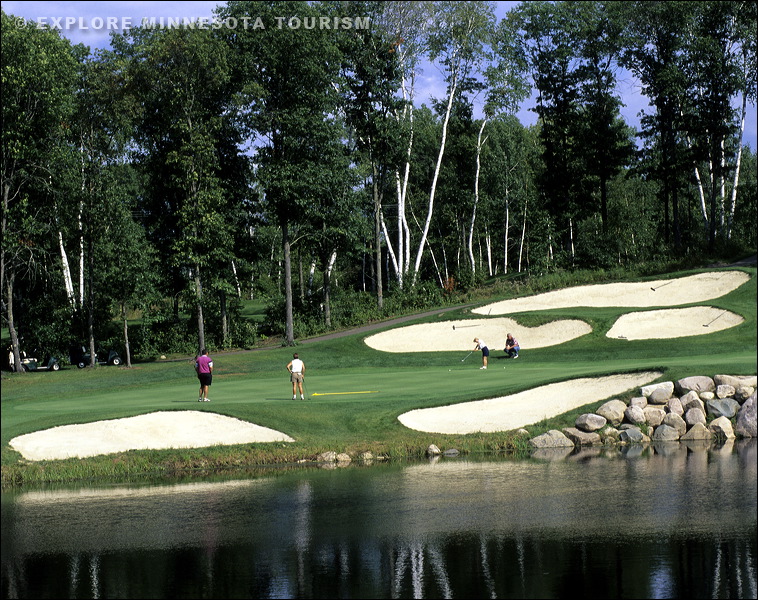 It's hard to tell where it started, this love affair we tundra dwellers have with the game of golf. Maybe we just love being surrounded by acres of perfect green grass, since much of the year the ground is white or brown.
When the big golf tournaments come to town, a TV announcer always says, "You know that Minnesota leads the nation in active golfers per capita," and the response always is "Huh!"
Golf and golf-related travel spending in Minnesota exceeds a billion dollars a year, making it one of the state's largest industries-and yet the season is on the short side of six months.
Minnesota has more than 500 courses, and almost 90 percent are public or resort courses. We golf before weddings, during family reunions, after the fishing opener and while the ground is frozen.
We golf as "guy groups" and "gal groups," as families and as couples, in leagues and charity tournaments. We golf for business and we golf just to hang out with our friends.
We are blessed with wonderful venues to satisfy our passions. A few years back, Golf Digest magazine ranked the Top 50 golfing destinations in the world-and the Brainerd Lakes were included, along with St. Andrews and Pebble Beach.
We have a unique blend of lakes and rivers, woods, wetlands, rocky outcroppings, grassy prairies and rolling countryside, all of which lend themselves to creativity and diversity in creating our places to play.
For a course-by-course guide, see Golfing the Brainerd Lakes.
For more about the area, see The buzz on Brainerd.
The Brainerd Lakes have some of the best golf courses in the Upper Midwest. Here are the best of the best.
Top courses
The Classic at Madden's, Gull Lake
Deacon's Lodge, near Breezy Point
Golden Eagle Golf Club, Fifty Lakes
The Dutch Legacy at Cragun's, Gull Lake
Bobby's Legacy at Cragun's, Gull Lake
The Preserve at Grand View Lodge, Nisswa
The Pines at Grand View Lodge, Nisswa
Best value
Golden Eagle Golf Club, Fifty Lakes
Eagle's Landing Golf Club, Fort Ripley
Cuyuna Country Club, Deerwood
Best for golfing families
Crosswoods Golf Course, Crosslake
Emily Greens, Emily
Pine Beach West at Madden's, Gull Lake
Best for kids
Wildwedge Family Golf Park, Pequot Lakes
Best golf-course food
Antlers at Breezy Point's Whitebirch Course
For more, see Dining up north: Brainerd to Nisswa, Dining up north: Pequot to Crosslake, and Dining up north: Longville to Walker.
Last updated on May 17, 2010