Snowshoeing in Wisconsin
National forests, state parks and wildlife preserves roll out the white carpet for winter hikers.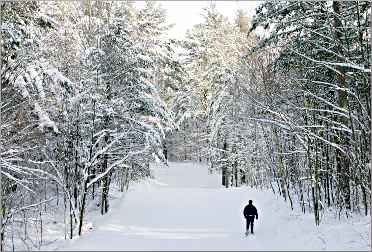 On the week before Christmas, I figured I'd found the prettiest place in the world.
Fresh snow had fallen around Hayward, and the forest was sparkling. We made our way down the intimate lanes of the Makwa Trail on snowshoes, brushing past heavily laden balsam boughs as we scaled gentle ridges and descended into snowy glades.
Each new tableau was more beautiful than the last, and I congratulated myself on the discovery that single-track mountain-biking trails are great for snowshoeing.
Then one of those boughs snapped into my face, and I wrenched my neck whipping it away. We had to cut the hike short so I could get some heavy-duty muscle relaxants from the local clinic, but I'll always remember it.
On snowshoes, I've had the most fun bushwhacking on new snow. The first time, it was in Nicolet National Forest, and a friend and I set off from Bear Paw Outdoor Adventure Resort wearing rounded bear paw snowshoes.
That part of Wisconsin is too remote to have many trails, so we made our own as we wove through old-growth pines to the Wolf River, gurgling under a sheath of ice. It was the only sound and we were the only people; we thought we were in heaven.
Most people want trails, but the best are the ones you make yourselves, and they can be anywhere.
"We don't encourage people to use trails because we want them to strike off on their own," says Brenda Rederer, manager of Chippewa Moraine Ice Age State Recreation Area, which supplies snowshoes to visitors. "Why snowshoe on trails then; why not just walk it?"
It's all good when there's snow. Many chapters of the Ice Age Trail Alliance sponsor snowshoe hikes; check its calendar for dates.
Here are some of the best places to go in Wisconsin .
For lighted hikes, see Ski or snowshoe by candlelight.
Before going, check the Wisconsin snow-conditions report.
And for good places next door, see Snowshoeing in Minnesota.
Northwest
CAMBA trails between Hayward and Cable. This network of mountain-biking trails includes more than 300 miles of marked and mapped routes in six clusters around the towns of Hayward, Seeley, Cable, Drummond, Delta and Namakagon.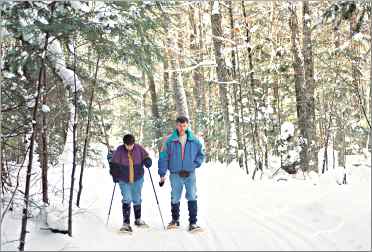 For intimate lanes and rolling hills, seek out the more difficult single track. The Makwa Trail is close to Hayward and very scenic. To reach the trailhead, drive six miles east of Hayward on Wisconsin 77 to Mosquito Brook Road and head north.
Pick up maps and rent snowshoes at New Moon, on U.S. 63 just north of Hayward. Reserve in advance for weekends, 800-754-8685.
There's plenty of room to snowshoe on the broad Birkebeiner ski trail, which the CAMBA trails cut across, but it's not as fun.
North End Snowshoe Trails near Cable. Stop at the fine Cable History Museum, then drive two miles on Randysek Road to these three marked loops in the woods.
Chippewa Moraine State Recreation Area near New Auburn. This rolling glacial moraine north of Bloomer, part of the Ice Age National Scientific Reserve, has 23 miles of marked trails, including three loop trails around kettle lakes outside the Interpretive Center, which has more than 50 pairs of snowshoes to lend out.
To reserve snowshoes for them, call 715-967-2800.
Brownstone Trail, Bayfield. The Bayfield Regional Conservancy maintains this five-mile trail, which starts across from Maggie's at Manypenny Avenue and Third Street.
Another good place to snowshoe in town is on the Big Ravine Trail, at the end of North Third Street behind the outfield fence of the baseball field, and the Iron Bridge Trail, on the other side of the ravine at Washington Avenue and Broad Street.
For more, see Bayfield in winter.
Mawikwe Bay ice caves near Cornucopia. If there's fresh snow, you have to use snowshoes to get to these magnificent, ice-draped cliffs on the Lake Superior shoreline.
Before you go, call the National Park Service at 715-779-3397, Ext. 3, to see if the lake is frozen enough to allow access. If it's not, you can snowshoe toward them on the clifftop Lakeshore Trail, reached from the Meyers Beach parking lot off Wisconsin 13, five miles east of Cornucopia.
For more, see Ice caves of the Apostles.
Mount Ashwabay near Bayfield. On the north edge of this friendly, non-profit ski hill, the Jerry Jay Jolly/Pike's Creek Trail is good for snowshoeing. From Wisconsin 13 south of Bayfield, take County Road J 2¼ miles to the trailhead.
For more, see Bayfield in winter.
Amnicon State Park south of Superior. The many frozen rapids and falls in this park, 10 miles east of Superior on U.S. 2, are fun to explore on snowshoe.
For more, see Ice playgrounds.
Crex Meadows Wildlife Area near Grantsburg. This 30,000-acre refuge near the St. Croix River, popular with birders, holds several snowshoe hikes each winter. Snowshoes are first-come, first-served.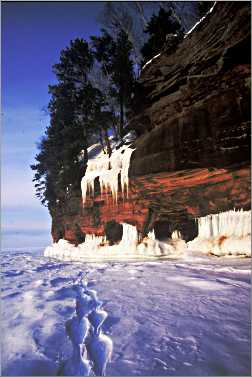 North-central
Timm's Hill National Trail near Ogema, Wis. This 10-mile trail heads south from Timm's Hill County Park, the highest point in Wisconsin. It connects to 30 kilometers of trails groomed by the Rib Lake Ski & Snowshoe Club.
This sparsely populated but scenic area includes two of Wisconsin's Rustic Roads and is on the Ice Age National Scenic Trail. For more, see Trek to Timm's Hill.
The annual Timm's Hill Trudge snowshoe race/walk in March uses 3½- and 7-mile routes around Timm's Hill.
Perkinstown Winter Sports Area near Medford. This area, in the middle of Chequamegon National Forest 16 miles west of Medford, has snowshoeing as well as 33 kilometers of ski trails, a tubing hill with rope tow and a chalet.
It's also right on the Ice Age National Scenic Trail.
The Perkinstown Tramp snowshoe race, hosted by Perky the Porcupine, is in mid-January.
Sandhill Wildlife Area near Wisconsin Rapids. This 9,000-acre marshy area west of Wisconsin Rapids includes Sandhill Outdoor Skills Center, which offers wildlife ecology on snowshoes workshops .
Rib Mountain State Park in Wausau. This spectacular park, which shares the mountain with Granite Peak ski area, has eight miles of marked snowshoe trails and snowshoe rentals.
It holds a guided day hike to the quarry and a candlelight snowshoe hike. Both events are free with vehicle permit and include a bonfire and goodies.
Northeast
Door County. This peninsula has many places to snowshoe in four state parks — Potawatomi in Sturgeon Bay, Whitefish Dunes near Jacksonport, Peninsula near Fish Creek and Newport near Ellison Bay and — and 28 state natural areas and many county parks.
On the northeast side of Sturgeon Bay, just off Wisconsin 42, the Crossroads at Big Creek nature preserve lends snowshoes (and skis) on Saturdays and Sundays from 1-3:30 p.m.
Near Baileys Harbor, Ridges Sanctuary has trails and offers naturalist-guided snowshoe hikes on Fridays and Saturdays in January and February. It rents snowshoes.
Bay Shore Outfitters rents snowshoes in Sturgeon Bay and Sister Bay.
In Fish Creek, Nor Dor Sport rents snowshoes.
For more, see Outdoors in Door County.
Ledge View Nature Center in Chilton. Near the eastern edge of Lake Winnebago, this center has 105 acres of forest that includes a quarry and three caves. It rents a variety of wood-framed snowshoes.
It offers naturalist-guided snowshoe hikes at 1 p.m. Sundays in January and February.
Mosquito Hill Nature Center near New London. This 430-acre preserve along the Wolf River has five miles of snowshoe trails and rents snowshoes on weekends.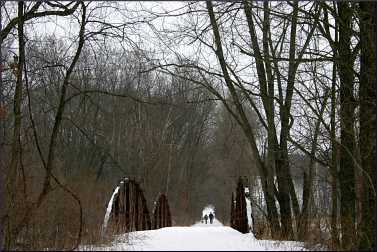 Programs include Serious Snowshoe Sundays, a full-moon hike and snowshoeing for families.
Navarino Wildlife Area and Nature Center near Shawano. This 15,000-acre area south of Shawano has 100 miles of trails, including a 1.4 mile snowshoe trail and 12 miles of ski trails.
The nature center offers many snowshoe hikes.
Nicolet National Forest near Eagle River. The forest east of this town is laced with beautiful ski and snowshoe trails.
For more, see Adventure in Eagle River.
Vilas County, which also includes the Boulder Junction, Manitowish Waters, Sayner and Land O' Lakes areas, has many other good places to snowshoe.
Nicolet College Outdoor Adventure hikes. This community college in Rhinelander hosts snowshoe hikes to nature preserves in the area.
Bearpaw Outdoor Adventure Resort near Langlade. From this small resort on the Wolf River, guests can strike off into serene and always-snowy Nicolet National Forest.
Afterglow Resort near Phelps. This friendly, family-run lake resort in the snow belt near the Michigan border has 7 miles of marked snowshoeing trails as well as superbly groomed ski trails.
It rents snowshoes, and the trails are open to the public as well as guests.
For more, see Snow asylum.
North Lakeland Discovery Center in Manitowish Waters. This center between Hurley and Minocqua has 20 kilometers of skiing and snowshoeing trails, on which it allows pets. Naturalists lead snowshoe hikes.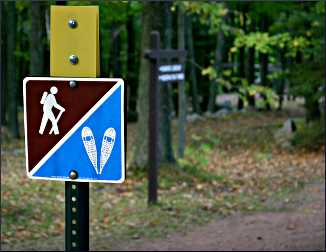 It also offers many guided snowshoe hikes, many by moonlight.
Southeast
Kettle Moraine State Forest-Southern Unit near Eagle. This large area includes the John Muir Trail, with five marked loops of .4 to 10 miles, and the Emma Carlin Trail, with three marked trails of two to four miles.
The Ice Age National Scenic Trail cuts through the forest and provides excellent snowshoeing.
Schlitz Audubon Nature Center in Milwaukee. This 185-acre preserve along Lake Michigan, in the northern suburb of Fox Point, has six miles of trails.
It offers full-moon hikes and day hikes. Snowshoes are not provided.
Havenwoods State Forest in Milwaukee. Visitors can borrow snowshoes to explore these 237 acres on the north side of town when the education center is open.
Riveredge Nature Center near Newburg. This 378-acre sanctuary along the Milwaukee River, just northwest of Port Washington, has 10 miles of trails.
It holds many snowshoe programs. Snowshoes are provided.
Madison area
There's snowshoeing in 14 city parks and on trails in the 1,260 acres of the Arboretum just south of Lake Wingra.
At 227-acre Elver Park in the southwest part of the city, people on snowshoes can walk alongside (but not on) the lighted ski trails.
Snowshoers also can walk on frozen creeks, from Lake Monona to Lake Waubesa and to Lake Wingra along Wingra Creek.
Northwest of Madison, 483-acre Indian Lake County Park is popular for snowshoeing as well as cross-country skiing and sledding. There's a warming house, and the Ice Age National Scenic Trail goes through the park.
Rent snowshoes from Rutabaga Paddlesports on the east side of Lake Monona.
Last updated on January 10, 2022