Secret spots of Minnesota's North Shore
You've seen Split Rock and hiked Oberg. What next? Here are 10 great places the crowds tend to overlook.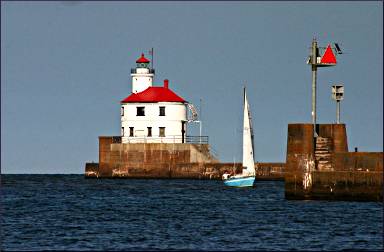 The first times I went up to Minnesota's North Shore, I did the same thing everyone else does: See Gooseberry Falls. Take pictures of Split Rock Lighthouse. Hike Oberg Mountain.
That's North Shore 101.
Like most tourists, I rushed right through Two Harbors, completely missing its lighthouse and ore docks. I spent a lot of time watching boats on Duluth's Canal Park but didn't make it up to Skyline Parkway.
In Grand Marais, I found Joynes' Department Store and Ben Franklin but didn't explore Artists Point. When I finally did with my young son, he called it "my idea of the perfect place to play."
This 150-mile drive, where Lake Superior is rarely out of sight, draws tourists like a big magnet, especially in fall. Once you've been there, you want to go back.
We always like to revisit favorites. But if you're ready to move on to North Shore 202, here are a few places to check out.
Park Point Trail, Duluth
Most tourists never drive across the Aerial Lift Bridge; if they did, they'd find a beach house on a wide strip of sand and a big recreation area.
The best part is at the end of the road. Park at the airport and keep going on foot, through a thicket of red pine and sand dunes on Park Point Trail. You'll see the ruins of an 1855 lighthouse, an abandoned Coast Guard boathouse and then the long breakwall along the Superior entry, with a working lighthouse.
If you're lucky, you'll see one of the thousand-footers that frequent the ore docks. It's four miles round-trip.
For more, see Walking in Duluth.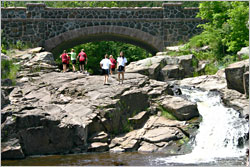 Seven Bridges Road, Duluth
The lure of arriving ore boats keeps most people on Canal Park. But the views are even more spectacular on Skyline Parkway, 500 feet above Lake Superior on a natural terrace that once was the beach of Glacial Lake Duluth.
Seven Bridges Road, which crosses Amity Creek on bridges of basalt and bluestone, is the place to be on a hot summer day. There are rapids and swimming holes all along the creek; wade, swim, or watch the cliff jumpers at The Deeps, near the first bridge.
At the end of Seven Bridges Road, the parkway swings toward Hawk Ridge. In fall, naturalists staff this open ridge daily, and they'll show visitors newly banded hawks before letting them fly away.
Get there from Superior Street at 61st Avenue, in Lester Park; turn left onto Occidental Boulevard, which quickly turns into Seven Bridges Road.
For more, see Duluth's Skyline Parkway and Hawk heaven.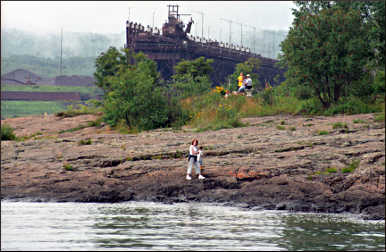 Lighthouse Point, Two Harbors
In their rush to get farther north, many tourists bypass the real Two Harbors. But it has the shore's last working lighthouse, an 1892 brick beacon that glows flame-red in the afternoon sun.
It has ore docks, a long breakwall, an 1896 tugboat, a 1910 depot museum and a 1943 locomotive that is one of the largest in existence.
It also has lovely Lighthouse Point, which is privately owned but so far undeveloped. Walk under the red wrought-iron arches to the wildflower-lined Sonju Trail, which winds through a pocket of cedar and spruce forest.
It's pretty on a sunny day, but magical when wrapped in tendrils of the fog that often creeps in.
Outcroppings of volcanic rock line its edge; settle in and watch for ore boats. Then, walk along the breakwall, tour the Edna G. and duck into the museum, which includes exhibits on John Beargrease and other local legends.
For more, see Discovering Two Harbors.
Iona's Beach near Gooseberry Falls
This is the most musical beach on the North Shore. It's covered with flattened pieces of smooth pink rhyolite, and when waves hit the beach, they fall back into place with the sound of a million bells.
The 10-acre Iona's Beach is one of three Minnesota scientific and natural areas on Lake Superior, all of which should be treated gently (and please don't take the rocks). It's three miles north of Gooseberry Falls at Mile Marker 42; park at the Twin Points Water Access.
For more, see Beaches of the North Shore.
Wreck of the Madeira, Split Rock
Lake Superior has been called the most dangerous body of water in the world. It certainly was in November 1905, when a vicious storm damaged or sank 29 boats.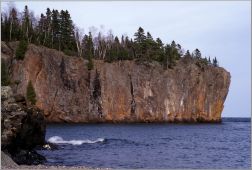 One of them was the barge Madeira, which winds repeatedly hammered again the base of Gold Rock, across a cove from present-day Split Rock Lighthouse.
The Madeira was starting to break up when a seaman jumped onto Gold Rock and scrambled to the top with a coil of rope.
On top, he threw it back to the sinking boat, from which eight of the nine crewmen were able to climb to safety. How? It's hard to see, looking at the cliff's sheer, lichen-covered face.
Today, Gold Rock is part of Split Rock State Park. From the top, you can see the dark outlines of the Madeira, the base of its bow just 40 feet down and often visited by divers.
For more, see Gales of November.
Sugarloaf Cove near Schroeder
This spot, once used by a logging company to assemble log rafts, has gone back to nature and now is one of the loveliest spots on the North Shore.
A one-mile interpretive trail winds through a red-pine plantation and alder thicket to a U-shaped cobblestone cove that faces nor'easters head-on and is a good place to watch waves.
On the opposite point, there's the knob of rock that gave the cove its name. From there, the trail crosses an old tombolo on a boardwalk and emerges at the mouth of Sugarloaf Creek.
It's one of the very few beaches where people still can see all the cool stuff that should be on all North Shore beaches — driftwood, fungus, animal teeth, bark, logging artifacts.
In the log nature center, interpretive staff give Saturday programs and also coax the plunder away from light-fingered visitors, so other people can see it, too.
Sugarloaf Cove is six miles west of Schroeder, at Mile Marker 73.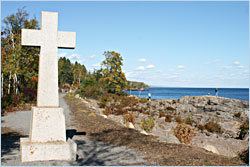 Father Baraga's Cross in Schroeder
Once, people had to travel the North Shore by canoe or snowshoe, and they had to be tough. One of the toughest of all was Father Frederic Baraga, a Slovenian priest who ministered to Ojibwe settlements between Sault Ste. Marie, Mich., and Grand Portage, on the opposite end of Lake Superior.
One day in 1846, Father Baraga, learning of a possible epidemic in Grand Portage, set out from Madeline Island in the Apostles in a small boat with an Ojibwe guide.
A terrible storm arose, but they were blown over a sandbar and into the quiet mouth of the Cross River.
In thanksgiving, they erected a small wooden cross at the site, later replaced by a granite one.
The Snowshoe Priest's marker is on Cross River at Mile Marker 78.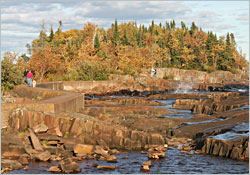 Artists Point in Grand Marais
This point of land, a block beyond downtown Grand Marais, is not very secret. But most tourists just walk out on the breakwall, drawn by the harbor light.
Instead, turn left at the old Coast Guard station and climb down to the lake-facing beach, where visitors have left artistic pillars and columns from cobblestones. For children, it's a magnificent playground.
Then walk around the perimeter through a nifty little forest. It's especially fun in winter, when the wind throws slabs of glistening ice onto the beach, in as many shapes as a jigsaw puzzle.
For more, see Four seasons of Grand Marais.
Heritage Center in Grand Portage
At the northeast tip of the state, this re-created fur post on Lake Superior is one of only two national monuments in Minnesota.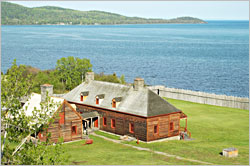 Grand Portage was a key link in the continent's first multinational business, a familiar name on the streets of London, where top hats made from beaver pelts were de rigueur for gentlemen.
At Grand Portage, voyageurs laden with trade goods from Montreal met voyageurs laden with pelts from the Canadian wilderness. Inside a palisade, costumed interpreters tell their stories.
In 2007, a heritage center first promised in 1958 finally opened, enabling the park service to display artifacts found over the years and to better tell the story of the Ojibwe, who made the fur trade possible and whose land surrounds the monument. It includes interactive exhibits and galleries.
For more, see Life on the Grand Portage.
One of the classic pilgrimages on the North Shore is to the nearby Little Spirit Tree, a twisted, 500-year-old red cedar at the tip of Hat Point that is sacred to the Ojibwe.
Access to the fragile tree now is restricted, but a naturalist from the Grand Portage Band of Lake Superior Chippewa leads van trips there on weekends. For information, call Grand Portage Lodge & Casino at 800-232-1384.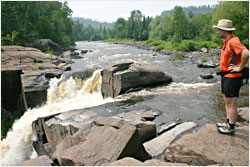 High Falls at the U.S.-Canada border
Since many tourists don't venture farther north than Grand Marais, they miss 120-foot High Falls in Grand Portage State Park.
This thunderous cascade, which crashes into the Pigeon River with a force that covers onlookers with spray, is the reason voyageurs had to carry goods and canoes over a difficult 8½-mile detour, or grand portage.
This is Minnesota's tallest waterfall, though it shares it with Ontario, on the other side of the river. It's easy to park and walk to the falls. Be sure to stop by the visitor center.
For more adventure, cross the border and hike from the Ontario welcome center, through Pigeon River Provincial Park. It can be a little buggy, but you'll end up standing at the top of the waterfall.
And so on
The North Shore doesn't end at the border. The entire town of Thunder Bay is a secret spot to many people and is well worth getting to know; see Exploring Thunder Bay.
And if you're still working on North Shore 101 attractions — and why not, since they're classics? — see North Shore by the mile and other North Shore stories.
Last updated on August 20, 2020