Cross-country skiing 101
There's no better way to enjoy the winter landscape, and anyone can do it.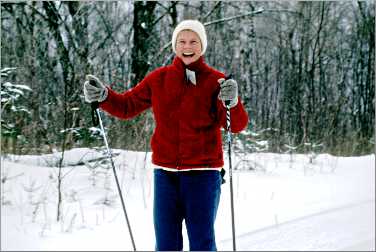 The snow is back — a lot of it.
You can whine about it and hide indoors, or you can go out and have fun. Ever thought about cross-country skiing? That's fun.
If you haven't tried the sport, here's how to get started.
It does take a while to get good at it, but it's fun right from the beginning.
We like to think of cross-country skiing as an express pass into the loveliest winter landscapes.
Where do I get the gear?
Many parks and nature centers rent ski gear (skis, boots, poles), as do ski resorts and outdoors stores, especially ski and bike shops.
In the Twin Cities, Three Rivers Parks rents gear at seven park reserves, $14 for classic skis, $19 for skate skis, $10/$15 for youths. Northeast of the Twin Cities, Wild River State Park rents skis at the Trail Center, 651-257-0685.
Colleges offer great rates for weekend rentals. In Minneapolis, the University of Minnesota Outdoor Center charges $24 for a three-night rental of classic skis, $32 for skate skis.
In Duluth, UMD's Outdoor Program, 218-726-6134, and Outdoor Pursuits at St. Scholastica, 218-723-6165, rent classic and skate skis. In La Crosse, the University of Wisconsin Outdoor Connection charges $12 daily, $5 each additional day.
If you want to buy gear, outdoors stores offers sales at the beginning and end of the season. And you can find amazing deals on Facebook Marketplace or Craigslist, because many people buy new gear and never use it. Just don't be one of them!
Do I want waxless, waxable or skin skis?
Most rental skis are waxless, with scales on the bottom to help you grip the snow. They don't give you a lot of glide, but they make it easier for you to get up hills, and they're great for mushy, late-season conditions.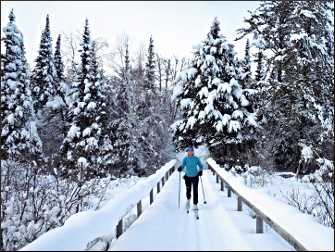 When you get better, you'll want skis that need to be waxed. Why? Because it's fun to go faster.
Don't freak out about the wax. Only racers need to worry about it.
Every year or so, have a shop put a glide-wax base on the bottom of your skis. Then, every time you go skiing, slap on some kick wax in the kick zone under your feet.
There are softer waxes for warmer temperatures and harder waxes for colder temperatures. If you put on a wax that doesn't help you grip the snow, just scrape it off and try another.
In icier conditions, the wax will scrape off by itself, and you'll need to reapply. When you go out skiing, put a couple of tubes in your pocket, along with a cork to smooth it onto your skis.
However, as climate changes progresses, you may want skin skis, which have a mohair patch to grip the snow. They're more expensive than other skis, but they deal well with the freeze-thaw cycle that plagues many trails, and they're almost maintenance-free.
How do I learn the technique?
At first, you're going to shuffle along in the tracks. That's fine; just concentrate on staying balanced and enjoy the scenery.
Eventually, you'll learn to keep your weight over your feet, bend your knees more than you think you should and kick forward. Result: glide!
When you need to climb a hill, splay your skis outward in a "V" while digging your edges into the snow. Then throw your weight forward and walk or jog up the hill.
When you need to go down a hill, you can step out of the tracks and do a reverse "V," or snowplow, again digging in your edges. Don't be embarrassed to take your skis off and walk down the hill if it's too steep for you.
Parks and nature centers offer lessons. Or just learn the basics on Youtube.
And if you join an outdoors club, your fellow members will be happy to help you with technique on ski trips. For more, see Join the club.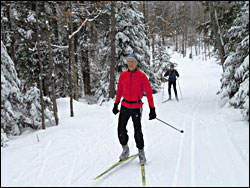 What should I wear?
Wear less than you think you'll need, because you'll be sweating. Wear a synthetic shirt, not cotton, and pants that won't absorb snow (you'll probably fall once or twice).
Where's a good place to ski?
For beginners, golf courses work well, and many have ski centers, such as Odana Hills and University Ridge in Madison, Whitnall in Milwaukee and Como and Highland in St. Paul.
In the Chicago area, Sagawau Environment Learning Center in Lemont has groomed trails and a lodge and offers lessons and rentals.
Bicycle trails are nice and flat, and many are groomed for skiing.
Then, move on to your local city parks, county parks, park reserves, state parks and nature centers. Minnesota, Wisconsin and Michigan have lots of trails.
Then, go up north for a weekend. In Wisconsin, Bayfield, Wausau, Minocqua and Eagle River have lots of good trails for beginners.
In Minnesota, check out the Gunflint Trail, the North Shore, Duluth and Itasca State Park.
In Michigan, the Ironwood area always has good snow. It's a good place to go if you also like to ski downhill, because it has four alpine hills.
If everyone in the family is learning, spend a weekend at a family-friendly ski resort, such as Afterglow in northeast Wisconsin or Maplelag in northwest Minnesota.
If snow is sparse, head for the Grand Avenue Nordic Center in Duluth, Lapham Peak near Milwaukee or in northern Michigan at Forbush Corner, adjacent to Hartwick Pines State Park. All can make snow.
For more ideas, and to check current conditions, see the trail reports at Skinnyski.com.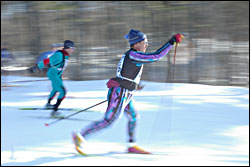 What are the costs?
It's often free to ski at golf courses and on bicycle trails. At nature centers, it's included in admission. In state forests, there's often a parking fee.
In Minnesota, many trails, including those in state parks, require a state ski pass, $10 daily, $25 annual.
In Wisconsin, the state trails pass includes both skiing and bicycling, $5 daily, $25 annual.
What is "skating," and should I do it?
Skating, also called free-style skiing, is more strenuous and requires a higher level of cardiovascular fitness and more technique, especially to go up hills.
Once you learn it, however, you'll think it's a lot more fun than striding. It's faster, and you don't need tracks.
You do need a packed and groomed lane. Lakes often make for good skiing, especially later in the season, when they're crusty.
You also need a different kind of ski, new boots and longer poles. They're expensive, but there's plenty of used equipment available for beginners.
Last updated on December 20, 2021