Michigan's great lake cabins
In the only state that borders three Great Lakes, the best places to stay are in state parks.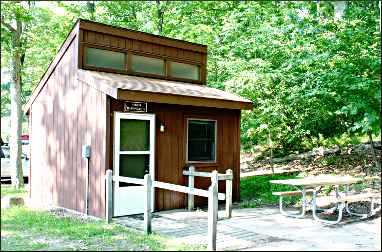 On a summer day in Holland, Mich., all roads lead to the beach.
When we were there one June, people streamed toward this broad swath of sand until the sun fell low on the horizon, making the fire-engine-red harbor beacon glow like an ember. They ate ice cream, they strolled on the breakwall, they took a last dip in Lake Michigan.
But at 10 p.m. sharp, a police cruiser started flashing its red lights to shepherd everyone out of the park.
Except us, because we were sitting on the porch of our camper cabin with cold drinks from our fridge, a bowl of freshly popped popcorn and a killer view of the lake and Big Red, the beloved 1907 lighthouse.
The RV crowd also got to stay, on a strip of asphalt behind the dunes, and even though they didn't have a view, they also felt lucky to be there.
In the bath house, I heard two women talking: "We only got to stay five nights this year, so I guess I'll have to be faster online," one said.
This inland seacoast — with sand, sand and more sand — is the place to be in summer. Stay in one of Michigan's famous beach parks, and you're right there for the fiery sunsets and the pastel sunrises.
Michigan rents more than 160 state-park cabins and lodges, on lakes Huron, Michigan and Superior as well as inland lakes and forests, and they're available for anyone who's fast enough on the draw.
Competition is fierce for summer, if you want in-demand lodgings such as Holland State Park's Whitetail cabin on a weekend, or one of Ludington State Park's three mini-cabins.
In early March, I reserved five weeknights at three kinds of cabins in five state parks. We traveled in late June, the lull just before peak season on Lake Michigan, and park managers and campground hosts were girding for the onslaught.
"In July, it's chaos," said campground host Jack Denneny of Sault Ste. Marie, Ont., who's volunteered at Traverse City State Park with his wife, Sherry, for years.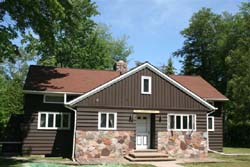 Our first stop, however, was one of the quieter parks — J.W. Wells State Park, just 25 miles east of Marinette, Wis., on the Upper Peninsula.
Our large rustic cabin didn't have electricity, but it slept 10 and had a propane stove, covered porch, picnic table, grill, fire pit and a long yard that stretched to the Lake Michigan shoreline.
A border of trees separated our cabins from our neighbors, who had each built a fire and were gathered around their pits. And each cabin had its own latrine: For campers, true luxury.
The next day, we explored the rest of the park, which included a really nice playground in the campground and a broad, well-kept sand beach with volleyball net and swings.
Not far from the beach, we saw handsome Bay Stone Lodge, the former park manager's home, which sleeps 12 and has two full baths and a great room with a stone fireplace.
Our next stop was across the Mackinac Bridge in Traverse City, which stretches along the West Arm and East Arm of Grand Traverse Bay.
Traverse City is one of those cities that sprawls, and by the time we reached Traverse City State Park, we already felt we'd driven through quite a bit of town, though we still were on the far east end.
The park is squeezed between the highway and the rail line, but it's connected to the rest of town by the 10½-mile TART bike trail, which we rode into the fun part of Traverse City — the beaches, the marina, the downtown, the Old Town district.
When we got back, we walked over the pedestrian overpass to the park's big beach on the West Arm, where people still were swimming in the fading light of day.
Our mini-cabin was smaller than the one at Wells, but it had a fridge, microwave, skylights, an upholstered chair and a breakfast bar with stools.
Host Jack and Sherry's rig was next door, with a gazebo they'd stocked with brochures about local festivals, nightlife, tourist attractions and restaurants.
"There's so much to do around here," Jack said. "It's an urban park. You can go to the Omelette Shop for breakfast, and if you don't feel like cooking, you go to Pizza Hut."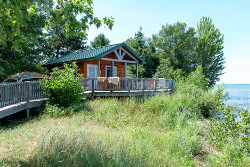 Our next stop was not far away, at the tip of the Leelanau Peninsula. Leelanau State Park wraps around the Grand Traverse Lighthouse, which is why most people visit, but it also has a rustic campground that faces Lake Michigan and includes three mini-cabins.
Our cabin, the Evergreen, was a former park office lovingly renovated by park manager Al Ammons.
It was set in a fragrant cedar forest and had a covered porch with Adirondack chairs, stainless steel microwave and refrigerator, decorative glass pendant lights, a ceiling fan, a framed oil painting and green-painted doors.
It also had a large, polished wood table, on which we played three games of "Campin' Out," a board game about Michigan state parks. By then, we actually knew the answer to "What was the second national park in the world?" (Michigan's Fort Mackinac, now a state park.)
The only thing the campground didn't have was a beach — I walked down to the shore, but it was lined with rocks and shoe-sucking muck — and showers. The next day, we drove back to Traverse City State Park and used the ones there for $2 each.
At our fourth stop, Orchard Beach State Park just north of Manistee, we'd reserved a camper cabin, the most expensive kind of state-park cabin other than lodges. It had a wrap-around porch with Adirondack chairs, two bedrooms and a living area with sofa, in addition to a microwave, fridge and coffeemaker.
But I coveted the park's mini-cabin for its location right on the bluff overlooking Lake Michigan. Orchard Beach is all about location; it occupies a wooded strip of land above a beautiful beach, reached by stairway.
We joined a dozen other campers on the edge of the bluff to admire an orange sunset framed by gathering clouds. For the third night in a row it rained, this time with winds so strong they drove water through the bedroom window I'd left cracked.
And for the third night in a row, we were happy to have a roof.
From Orchard Beach, we passed one beach park after another: Ludington, where there's a mini-cabin in each of three campgrounds. Mears and Grand Haven, each with a lodge. Muskegon, with two mini-cabins.
We spent much of the day at Ludington, picnicking and biking through the dunes to Point Sable Lighthouse, and rolled into Holland State Park in early evening.
At the gate to the beach, the teen-age employee said she'd never heard of camper cabins, but just to our right, I could see the tip of a peaked roof over the sand.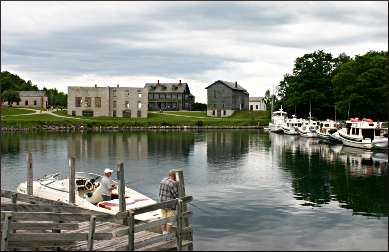 We'd struck gold: It was our cabin, the Whitetail, the best digs on the beach.
For the first time, we took advantage of the parks' generous 1 p.m. check-out time. My husband spent the next morning bicycling to Grand Haven on the 20-mile Lakeshore Trail, and I sunned myself into a stupor on the beach, occasionally taking a swim in the crystal-clear, 62-degree water.
We hated to leave, especially when we saw the sign "Reentry not guaranteed." It turns out there's a reason so many people bicycle or walk into the park.
"This is the busiest park in the state for day use," the friendly young traffic attendant said. "It's like this every day the sun is out. On a slow day we might fill by 1:30 or 2, but on holidays we fill at 10 a.m."
From Holland, we drove through Saugatuck and South Haven to Warren Dunes State Park, which has three mini-cabins. But we couldn't have one; they were long booked for a Friday night, and Warren Dunes, so close to Chicago, has a three-night minimum.
So we stayed in a nearby Super 8. We had a shower but no porch, no view and no sunset. After five nights in parks, Michigan had spoiled us.
For more on the beaches of Lake Michigan, see America's freshwater Riviera.
For good campsites, see Camping around Lake Michigan.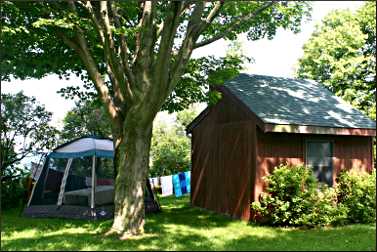 Reservations: Modern lodgings can be reserved up to one year in advance and yurts and cabins in campgrounds up to six months in advance at Michigan DNR Reservations, 800-447-2757.
Mini-cabins on the Lower Peninsula have a minimum rental of two nights (Warren Dunes, three nights), unless odd nights are available.
The reservation fee per park (not per order) is $8. If you cancel before the day of arrival, you'll lose the reservation fee and pay an additional $10. If you're reserving online, beware: You have to complete the reservation in 15 minutes or all your work will disappear.
For a guide to Michigan state parks and recreation areas, call 517-373-9900.
Call each park to find out exactly what each cabin includes; each is a little different, especially in the rustic cabins.
Vehicle fee: Non-residents pay $9 for a daily pass, $34 for an annual pass. Michigan residents pay $17 for an annual pass.
When to go: May and most of June is fairly quiet. Peak season starts the last weekend of June and lasts until mid-August. September is a great time to go, when the crowds are gone but the lake still is warm, and many of the cabins are open in winter.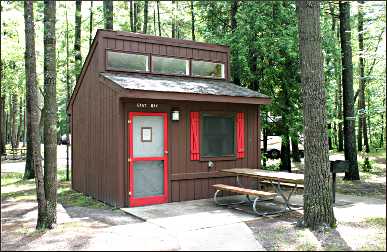 What to bring: In the mini-cabins, rustic cabins and camper cabins, campers must bring all bedding, cookware and tableware. Bunk beds (many include a double) and mattresses are provided. Cooking must be done outside, where there are picnic tables and grills or fire rings.
For more, see What to bring to a rented cabin.
Pets are not permitted inside the cabins. Guests are expected to sweep and otherwise leave the cabin as they found it.
Here's a list of Michigan's camper cabins, mini-cabins, rustic cabins and lodges (as well as yurts, tepees and pop-up campers for rent), and here's what to expect.
Camper cabins: These are the newest and most posh lodgings. They sleep up to seven people with two sets of bunk beds (one usually is a double) in their own rooms and a futon or sofa in the main living area.
They're generally on scenic lots overlooking lakes, bays and rivers and have a covered front porch.
They have microwaves, refrigerators and coffee makers, and some have ceiling fans and toasters. All are universally accessible. Cost is $65-$80.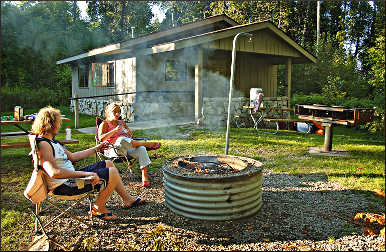 Mini-cabins: These cabins generally are compact. They have fridges and microwaves and sleep four. Some are accessible, and some aren't. Cost is $45-$65.
Rustic cabins:  These cabins tend to be on quiet, isolated sites and vary greatly, accommodating between two to 24 people. They don't have electricity (bring lanterns to hang on hooks), but they may have such amenities as a gas stove. Cost is $50-$60.
Lodges and cottages: These also vary greatly; some are modern ramblers that once housed park rangers and some are historic stone or log lodges from the 1920s.
All include fully equipped kitchens, and bedding and towels are provided. Many have washers and dryers and some have televisions and DVD players.
Lake Michigan parks
J.W. Wells State Park between Menominee and Escanaba, a two-bath historic stone lodge with a fireplace that sleeps 12, $168-$195 including bedding and towels. It's near the beach.
Five rustic cabins have propane heat and sleep eight to 12, $50. They're in a separate part of the park, along the lake, and separated by trees. Each has its own latrine; guests use the showers in the campground, which has a very nice playground.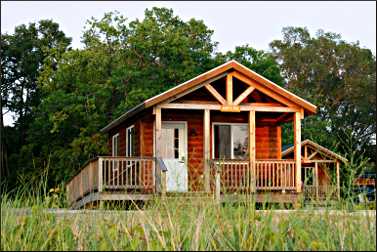 This well-kept park is just 25 miles from the Wisconsin border.
Fayette Historic State Park on the Garden Peninsula has one 1970s house that sleeps 10, $110-$135. This house doesn't have a view, but the park, built around restored buildings in an iron-smelting "ghost" town, is very interesting.
Indian Lake State Park near Manistique, two mini-cabins. This park isn't on Lake Michigan, but it's right off the U.S. 2 Circle Tour route, and the lake has beaches. Be sure to visit Kitch-iti-kipi Spring in adjoining Palms Book State Park.
Straits State Park in St. Ignace on the Mackinac Straits, two mini-cabins.
Wilderness State Park just west of Mackinaw City, three bunkhouses that sleep 24, $80, and six rustic cabins that sleep four to eight, $60-$65.
Petoskey State Park in Petoskey, two mini-cabins.
Traverse City State Park in Traverse City, one three-bedroom, two-bath cottage that sleeps 11, $110-$270, and two mini-cabins. This park is connected to the East Arm beach by a pedestrian overpass, and to downtown and the popular city beaches on the West Arm by a bicycle trail, which runs alongside the park.
It has 350 campsites in a small space, so it's very crowded in summer.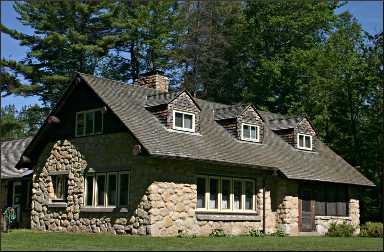 Leelanau State Park at the tip of Leelanau Peninsula, three mini-cabins; the newest, Evergreen, is roomy and quite posh. The park doesn't have showers, however, and the shoreline near the cabins is too mucky for swimming.
The park does include the 1852 Grand Traverse Lighthouse, which can be toured.
Orchard Beach State Park near Manistee, one mini-cabin and one camper cabin with refrigerator, microwave and coffee maker, $80. This compact blufftop park includes a beautiful beach, accessible by stairway.
The camper cabin is new and very nice, but the cheaper mini-cabin has the better location; it's next to the blufftop and a nearby latrine.
Ludington State Park just north of Ludington, three mini-cabins. There's one in each of the three campgrounds in this very popular, resort-like state park, which features dunes, a lighthouse, a stretch of tubing river, canoeing, a beach on an inland lake, bicycle trails and many naturalist programs.
Charles Mears State Park just south of Ludington, the two-bath Dune Grass Villa, which sleeps eight, $110-$210.
Muskegon State Park in Muskegon, two mini-cabins.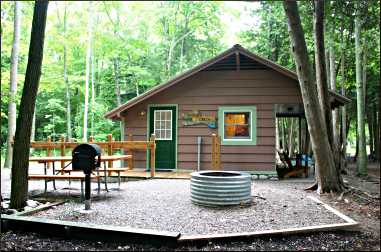 Grand Haven State Park in Grand Haven, one three-bedroom, two-bath lodge that sleeps eight, $120-$270.
Holland State Park in Holland, two two-bedroom camper cabins with refrigerator, microwave and coffee maker, $80. Both cabins are set in the sand and have a view of Big Red, but Whitetail's is best.
The park's large Lake Michigan beach includes a cafe and concessions building, and there's a boardwalk along the waterway that connects Lake Michigan to Lake Macatawa.
Warren Dunes State Park north of the Indiana border, three mini-cabins. This expansive park has two large beaches, concessions and hiking trails amid the dunes. The mini-cabins have a three-night minimum.
For camping around Lake Michigan, including Wisconsin, Illinois and Indiana, see Camping around Lake Michigan.
Lake Huron parks
Cheboygan State Park, near the Mackinac Straits, has three rustic cabins that sleep eight, $65. It has a lodge that sleeps eight, $150.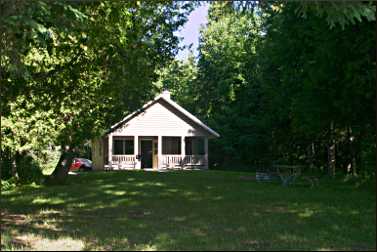 Hoeft State Park, near Rogers City, has a mini-cabin and a three-bedroom 1920s lodge that sleeps eight, $140.
Thompson's Harbor State Park between Rogers City and Alpena has a mini-cabin.
Harrisville State Park in Harrisville has two mini-cabins.
Tawas Point State Park, on a peninsula across the bay from Tawas City, has a camper cabin and two mini-cabins. It includes the picturesque Tawas Point Lighthouse.
Bay City Recreation Area, on Saginaw Bay in Bay City, has two mini-cabins.
Sleeper State Park, on Saginaw Bay in Michigan's "thumb," has 10 "safari tents" on platforms.
Port Crescent State Park, on Saginaw Bay in Michigan's "thumb," has a mini-cabin, a camper cabin, five cottage cabins, a full-amenity cabin and two environmentally friendly geodesic-dome cabins.
Lakeport State Park, near Port Huron, has a camper cabin and two mini-cabins.
Lake Superior parks
Porcupine Mountains Wilderness State Park, near Silver City, has a lakeshore lodge, four yurts and 19 rustic cabins that sleep two, four, six or eight. For more, see Afoot in the Porkies.
McLain State Park, on the Keweenaw Peninsula near Hancock, has six mini-cabins and one rustic cabin that sleeps eight.
Fort Wilkins Historic State Park, on the Keweenaw Peninsula in Copper Harbor, has a camper cabin and a mini-cabin. For more, see Copper Harbor refuge.
Baraga State Park near L'Anse has a mini-cabin.
Little Presque Isle state forest, six miles north of Marquette, rents six log cabins on Harlow Lake, near Lake Superior beach.
Upper Peninsula inland lakes and forests
Brimley State Park has a mini-cabin.
Craig Lake State Park has a yurt and two rustic cabins, one that sleeps six and one that sleeps 14.
Taquamenon Falls State Park has a camper cabin and a three-bedroom lodge that sleeps eight, $120. For more, see Tales of Tahquamenon.
Twin Lakes State Park has a three-bedroom lodge that sleeps eight, $145, and a mini-cabin.
Van Riper State Park has a camper cabin, two mini-cabins and one rustic cabin.
Last updated on August 2, 2021