Finding a cozy cabin
If you want, stay toasty warm and enjoy winter from a distance.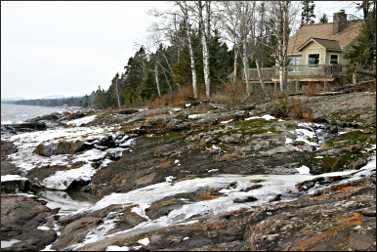 This may sound strange, but I've heard that some people aren't that wild about winter.
Go figure — they'd rather burrow into a cozy cabin with a good book and a glass of wine than go skiing or snowshoeing in freezing temperatures.
I do get it, because we rented a cabin on the North Shore for Thanksgiving. And though we did spend most of our days playing outside (see our Facebook album ), we could just as easily have spent the whole weekend staring into the fire in our fieldstone fireplace and at Lake Superior, right outside our window.
We did spend a lot of time on the cabin's leather sofas, drinking coffee and basking in the morning sunlight that flooded through our picture windows and made the big lake glitter.
At night, we went onto the wraparound deck to gaze at the moon and a sky full of stars.
We watched movies and, tucked under a down quilt, listened to the waves and the wind pushing against the old log walls.
It was utterly relaxing. And because this is the slow season up north, it didn't even cost that much — $160 a night for two, $80 if we had invited friends to stay in one of the bedrooms and split costs.
In winter, there's nothing better. Here's how to find the perfect place to do some serious cocooning.
Find some peace and quiet . Rent a guest house at such Minnesota state parks as Wild River and Tettegouche and you'll be the only folks around.
Use someone else's place . The biggest source of cabins are second homes. They can be found by the thousands on Vacation Rentals by Owner and HomeAway, and nearly every city or region tourism site lists "Vacation homes."
Many are child- and pet-friendly. You'll get the best deal per person if you rent a larger house and split the cost with friends.
If you want to rent in the slow seasons - late October up to Christmas and March through May in the north woods - look for places that lower their rates then, because not all do.
Some popular summer destinations, such as Door County, become very quiet in winter, and rates drop.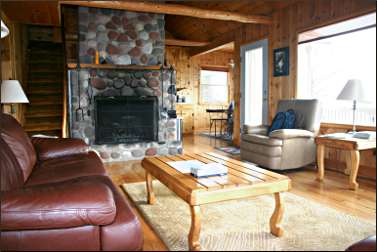 Away from the ski hills and trails, in such tourist areas as Lake Geneva, Door County and the Brainerd Lakes, the entire winter is slow season, and rates drop. Door County has a whole Log Cabin/Log House category.
For more, see Renting a vacation house.
Follow the snow. Rent a cabin at one of the region's best cross-country resorts and ski out the door.
Or dig into one of the historic north-woods lodges of Minnesota or Wisconsin.
Crawl into the lap of luxury . Many cottages are run like B&Bs but have more privacy. For a list of good ones, see A cottage of one's own.
A lot of people want a place with an outdoor hot tub. There aren't many because they're a pain to maintain, but we know a few.
Go for broke . If you don't have much money and can't split costs with friends, rent a camper cabin, rustic cabin or yurt in a state park. You won't have running water, but it'll cost you only $25-$60 per night for up to six people.
Last updated on February 18, 2014