Throwing a party
At these wacky festivals, all kinds of things fly through the air with the greatest of ease.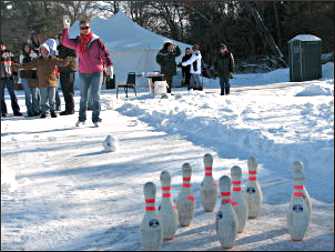 When people in Wisconsin are happy, they throw things - and we're not just talking confetti.
In Spooner, frozen turkeys are flung at bowling pins during Jack Frost Fest in January, and folks in Mount Horeb heave them during Scandihoovian Winter Festival in February.
In Lake Mills, teams toss frozen bluegills back and forth during February's Knickerbocker Ice Festival.
During Bockfest at Capital Brewery in Middleton, the brewmaster lobs smoked chub (like carp, a rough fish) off the roof at the beer-guzzling crowd.
For Winter Festival in Fish Creek in early February, adults toss toilet seats, pie tins and bicycles, and the kiddies sling tubes.
In Gilman, a forest village west of Medford, there's a frying pan toss during February's Sniegfest.
In central Wisconsin, Princeton kicks off the summer season with the Memorial Day weekend Rubber Chicken Fling, which features a chicken -flinging contest.
Over Labor Day, the Wisconsin River town of Prairie du Sac stages the Wisconsin State Cow Chip Throw](http://www.wiscowchip.com/), which includes children's chip chuckin' and a Tournament of Chips parade.
Later in September, the town of Shiocton, west of Green Bay, holds the Cabbage Chuck World Championships. Chuckers can use either their arms or a homemade catapult.
And just west of Racine, teams catapult pumpkins at Union Grove's Pumpkin Chuckin Fest in October.
Tossing towns in Iowa and Minnesota
In Iowa's Amana Colonies, pigs fly in January during Winterfest, where people with strong arms compete in the Great Amana Ham Put and Pork Chop Slap Shot as well as the Winter Wreath Toss.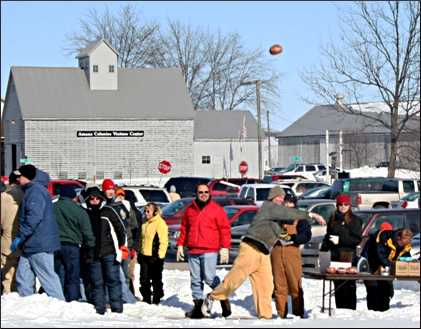 Weaklings can heave wienies at the University of Okoboji Winter Games in January, on the other side of Iowa.
Minnesota is too polite to do much flinging, but folks in International Falls do bowl turkeys during Ice Box Days in January.
If you'd rather push than pitch, there's a whole circuit of outhouse races in northern Michigan in February: in Sault Ste. Marie, Coopersville and Trenary. Prefer to pull? Compete in the Human Dogsled Races during Winter Festival in Houghton.
And then there's the Minnesota port town of Two Harbors, where Heritage Days in July includes a lu tefisk toss.
In Iowa's Madison County, the town of Macksburg hosts the National Skillet Throw Festival each June. Participants hurl 3-pound cast-iron skillets at dummies dressed in overalls. There's also a parade and children's pedal tractor pull.
But the champion in summer is the Iowa State Fair in August, which holds dozens of contests. The Des Moines fair holds a women's rubber chicken -throwing contest and a cow chip-throwing contest.
And, for good measure, it's got people pushing outhouses , too.
Last updated on February 7, 2022