10 great getaways from Chicago
Take a break to lounge on beaches, gawk at river canyons and go on brewery tours.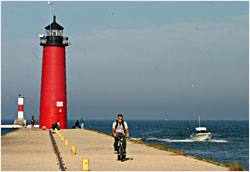 There's an endless number of fun things to do in Chicago, which is why tourists flock to it from around the world. To paraphrase the English wit Samuel Johnson, "When a man is tired of Chicago, he is tired of life."
And yet, everyone needs to get out of town once in a while.
The traditional playground of Wisconsin lies to the north, and the beaches of  Michigan to the east. To the west, aim for destinations on rivers: the Fox, the Illinois, the Rock.
It's not easy to get out of Chicagoland, because it sprawls almost endlessly. Luckily, you can get to some of the destinations below by train.
Here are 10 great day trips from Chicago, all within an hour and a half (assuming traffic isn't impossible).
Metra trains go to many destinations, and they're a good deal on weekends. Unlimited rides are $10 on a weekend pass, and up to three kids under 12 ride free.
Metra allows bikes on trains arriving in Chicago after 9:30 a.m. and leaving before 3 p.m. or after 7:30 p.m. weekdays, and all day on weekends; bring a bungee cord to secure them.
Kenosha/More than cheese
For many Chicagoans, the sight of a turreted castle just off I-94 is a cheesy but welcome sign they're in Wisconsin.
It's the Mars' Cheese Castle, a mostly beloved tourist trap where out-of-staters can buy New Glarus beer, Nueske's bacon and Green County cheese (bring a cooler).
Then, get off that interstate and turn toward downtown Kenosha and its beaches on Lake Michigan, which are expansive and tranquil.
Downtown Kenosha has a beautiful beach. It's bordered by a long concrete pier capped by the 1901 Pierhead Light.
Up on the hill is the 1866 Southport Lighthouse, built of Cream City brick. It's open for tours on weekends from May through October.
If  the day isn't beach-worthy, visit the Civil War Museum, the Public Museum and the free Kenosha History Center and Dinosaur Discovery Museum.
You can see all the sights on the Electric Streetcar Circulator, which makes a two-mile loop along the shoreline and through downtown and historic districts.
Or ride on the 10-mile Pike Bike Trail, mostly along Lake Michigan, which connects to 10 miles of lakefront trail in Racine.
For more, see Visit Kenosha.
Getting there: Metra's Union Pacific/North Line follows Lake Michigan from downtown Chicago to downtown Kenosha via Evanston.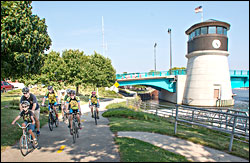 Racine/Lighthouses and a grand beach
In Racine, add kringle to your stash of Sconnie goodies. The flaky, iced O-shaped pastry is sold in more than a dozen flavors - almond is most popular — and is found in waxed-paper sleeves and displayed in drawers.
Racine also has gorgeous white-sand beaches. At North Beach, there's a wooden castle playground called Kids Cove.
Bring a kite — or a bike, because the lakefront trail follows the beach from the Racine Zoo to downtown's Pershing Park, where there's a splash pad with two dozen jets that kids like to run through on hot days.
At the marina entrance, there's a red 1910 breakwater light. From the viewing platform across from it, you can see Wind Point on the far end of the bay.
On the north end of town, the 1880 Wind Point Lighthouse is a classic Poe tower that's one of the tallest on the Great Lakes. On the first Sunday of the month from June through October, you can tour it.
The city also draws architecture fans from around the world to the SC Johnson company.
The company offers a free, 90-minute tour of its 1939 Frank Lloyd Wright-designed Administration Building and 15-story Research Tower, completed in 1950, and a free, hour-long tour of Wingspread, the 1939 home Wright designed for H.F. Johnson Jr.
For more, see Wright in Racine.
Getting there: Amtrak's Hiawatha Line goes only to Sturtevant, just west of downtown. It's not hard to park for free in Racine.
Milwaukee/A cheaper, mellower big city
Only 90 miles up Lake Michigan Chicago, Milwaukee has an inferiority complex — or so it's been said.
But like Chicago, it has beautiful lakefront festival grounds, with big parties that celebrate heritage: Polish, Italian, German, Irish, Mexican, American Indian.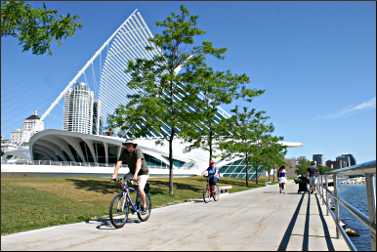 It also has beautiful and beaches, and a lakefront bicycle trail, and world-class museums — one of which has "wings" that open and close daily.
What else does it have? Oh yes, beer. Find out all about that on brewery tours by foot or river boat. And you can drink the city's excellent craft beer everywhere, even in county parks. Some of them have summer beer gardens, and some are visited by traveling beer truck.
Milwaukee also is much easier to get around by car and is easily navigated by bicycle, too.
For more, see Party in Milwaukee and Mad about brew. For trips with children, see Playtime in Milwaukee.
Getting there: Amtrak's Hiawatha Line offers six daily trips to Milwaukee from Union Station. They take 90 minutes.
Geneva and St. Charles/Bicycling along the Fox River
It's astonishing how many parks, woods and meadows are along the 40-mile Fox River Trail, just 40 miles west of Chicago's Loop.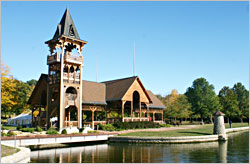 Riding past St. Charles, Geneva and Batavia, you'll see a Dutch windmill, Japanese gardens and a lighthouse plus many forest preserves and wildlife sightings, mainly herons and egrets lurking on the shallow river.
South of Geneva, covered bike bridges are tucked under the decks of rail and vehicle bridges, impressively functional pieces of art.
Geneva and St. Charles both have a nice selection of interesting shops and restaurants, and you can cruise the river on excursion boats from St. Charles.
Getting there: Geneva is a stop on the Metra West Line from downtown Chicago. Bicycles can be carried onto the train outside rush hours.
For more, see Towns of the Fox River.
Lake Geneva/ A hike past historic houses
For 150 years, this resort area near the Illinois border has been a favorite retreat of rich Chicagoans, and today it's a favorite of nearly everyone.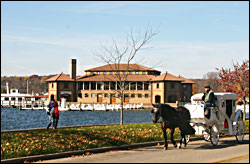 The area includes Delavan Lake and Lake Como, but Geneva Lake is the place to be, especially if you like to walk and gawk at historic mansions built by the Wrigleys, Rockefellers and Swifts.
You can see them on the 20-mile footpath that circles the lake, right through the front yards of the wealthy, or on Lake Geneva Cruise Line, which gives narrated tours from May from October.
You can also go canoeing, golfing, horseback-riding or zip-lining. But most people like to mill around, looking at shops and scenery.
May and September are good times to visit if you don't like crowds.
And there are festivals year-round: Winterfest and National Snow Sculpting Championships in February, Art in the Park and the Venetian Festival in August, the Lake Geneva Wine Festival in September, Oktoberfest in October and the Festival of Lights in December.
Metra's Northwest Line goes as far as Harvard, Ill., which is only 19 miles from Lake Geneva. Some resorts will send a shuttle to pick up guests.
For more, see Gawking in Lake Geneva.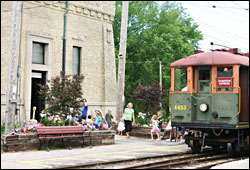 Mukwonago /A trolley ride to East Troy
Half an hour west of Racine, an electric trolley operates on Wisconsin's last Interurban Line, once a 385-mile network but now reduced to the six miles between Mukwonago and East Troy. From 1907 to 1939, the cars carried commuters between East Troy and Milwaukee.
Today, the East Troy Electric Railroad takes day trippers and their children between the Electric Railroad Museum in East Troy and the Elegant Farmer farm market in Mukwonago, which is a good place for a layover.
The market, housed in a big yellow barn, is known for its cider-baked ham, pies baked in paper bags and freshly made caramel corn.
The train runs from early May to late October. It also offers dinner, burger and pizza trains.
Union/Calling all train fans
Rail aficionados will find much larger trains at the Illinois Railway Museum in Union, between Marengo and Woodstock in McHenry County.
This large, volunteer-run museum complex is filled with locomotives, cabooses and freight and passenger cars. Short rides that are included with admission: daily on electric cars, and steam-train rides alternate with diesel trains on weekends from Memorial Day through September.
The museum is highly rated by parents. Most popular with families are the annual Day Out With Thomas (the Tank Engine) events.
Starved Rock State Park/Canyons and wildflowers
When you really need some breathing room, this is the place to go.
It's a popular park, but you can lose yourself in 18 spectacular canyons, carved by meltwater at the end of the last Ice Age. Easily reached by park trails, they're cool refuges with towering walls of sandstone.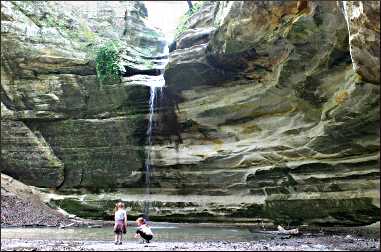 The park includes a lodge built during the 1930s by the Civilian Conservation Corps, including a restaurant and cabins.
Starved Rock is a year-round destination: In spring, wildflowers are abundant. In winter, bald-eagles congregate on the river and ice freezes into falls and formations in the canyons.
Getting there: The park is across the Illinois River from Utica, just south of Interstate 80. It's 94 miles from Chicago.
For more, see Marvels of Starved Rock.
Indiana Dunes/A national park and steel plants
The western edge of Indiana Dunes National Park is just a hop and a skip from Chicago.
The drive isn't particularly fun, but you can take the train. The park is lovely, with trails through golden dunes and wetland ponds lined with lily pads.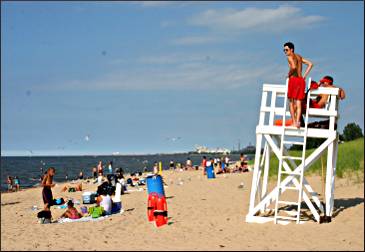 The beach is beautiful, too, though flanked by steel mills, and the skyscrapers of Chicago are visible in the distance.
Getting there: The South Shore Line train from Millennium Station stops at four stations in the park.
It's a 45-minute ride to the Dune Park station, which is two miles from the beach at Indiana Dunes State Park. It's a 90-minute ride to the Beverly Shores station, which is one mile from Lake View Beach.
New Buffalo/Beaches of Lake Michigan
The beaches of Lake Michigan are very popular, and with good reason.
New Buffalo is the closest town to the Indiana border, and it's a classic beach town, with a relaxed atmosphere and a main street lined with shops that sell fudge, ice cream and beach accessories.
The train pulls right up to the Harbor Grand Hotel, from which passengers can walk to the little downtown and across a causeway to the beach.
Getting there: It's 70 miles by car. Amtrak's Wolverine and Blue Water lines leave Chicago's Union Station twice a day and arrives in New Buffalo two and a half hours later.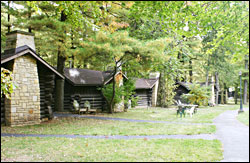 Getaways within two hours
As much as Chicago has to offer, it doesn't offer any cabins in the woods. But you can find some adorable ones in White Pines Forest State Park, just west of Oregon on the Rock River.
The log cabins and a log lodge were built in the 1930s by the Civilian Conservation Corps.
The lodge houses an inviting restaurant that's famous for its Paul Bunyan buffet on Sundays and serves such classics as chicken pot pie, peach cobbler and apple dumplings. There's a dinner theater, too.
For more, see On the Rock River in Illinois.
Getaways within three hours
Perhaps the most-loved weekend destination for Chicagoans is Galena, known for its history, architecture, festivals and shopping.
For more, see Galena getaway.
If you've been to Galena many times and are looking for something new, just drive across the Mississippi River to Dubuque.
For more, see Destination Dubuque.
Last updated on January 17, 2022