Inn retreats
If you don't like the weather, spend a weekend where everything is under one roof.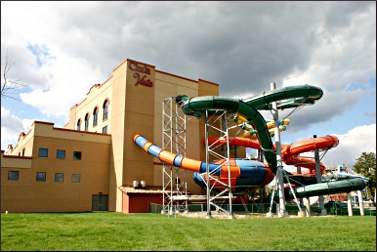 In winter, not everyone wants to get out and enjoy the great outdoors.
Many people would rather enjoy down comforters, hot toddies and a massage. Many people don't even want to look at snow and ice.
And that's possible at many inns and resorts. Some include a spa or dinner theater, others shops and restaurants, and a few offer a whole weekend's worth of entertainment under one roof.
In Duluth, the Fitger's complex includes a hotel, restaurants, day spa, shops, nightclub and a brewpub with live music.
In Milwaukee, the Saint Kate is connected to the Pabst Theater and Marcus Center, and concert and theater patrons never have to go outdoors.
In eastern Wisconsin, guests at the Osthoff Resort can sign up for classes at its large cooking school and services at its spa.
There's a place for every taste. Below are some of the best candidates for an under-one-roof vacation.
If you can stay on weekdays, you'll save a bundle — and for weekends, reserve as early as possible.
MINNESOTA
Fitgers in Duluth: There's a lot to do in the old Fitger's brewery complex on Lake Superior. It houses Fitger's hotel, a day spa, the Barrel Room and Rex Nightclub and the Brewhouse Brewery and Grill, which often hosts live music.
It also has a coffeehouse, a wine shop, a brewery museum, a bookstore, clothing stores and the classy Boat Club restaurant. Boat Club Productions offers occasional dinner theater in the Spirit of the North Theatre.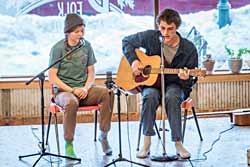 For more, see Under one roof in Duluth.
Learning a folk skill in Duluth: In the Lincoln Park Craft District west of downtown, you can learn a craft or skill at the busy new Duluth Folk School, listen to free folk music in its own Dovetail Cafe & Marketplace and sleep across the street at the Enger Lofts.
The school also is next door to the OMC Smokehouse, a short walk from the Bent Paddle craft-beer taproom, which offers live music most nights even in winter, and not far from Ursa Minor Brewing.
St. James Hotel in Red Wing: This 1875 hotel has 60 individually decorated rooms in old and new wings; many people prefer the older rooms. An inside court is lined with small shops, a day spa and a coffeehouse.
There are two restaurants and live music on Friday nights at Jimmy's Pub.
For more, see Roaming in Red Wing.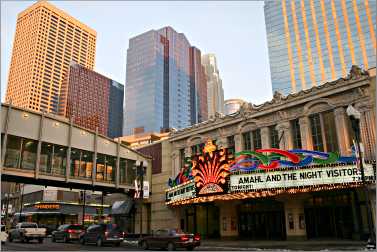 Downtown Minneapolis: Eat, sleep and see a Broadway touring show without ever stepping outside: Nearly everything in downtown Minneapolis is on the eight-mile system of glass skyways that cross streets.
Nearly all the hotels are, too, including Loews Minneapolis Hotel, across from Target Center, the Westin and Marquette near Nicollet Mall and the Hilton near Orchestra Hall, on the south side of downtown.
On the north side of downtown, stay at Element, next to the Target Field light-rail stop, and go to a concert at The Fillmore, in the same building along with Trax Burgers and Bar. Fulton Brewing is across the street.
Radisson Blu in Bloomington: This modern, 13-story hotel is the only one linked to the Mall of America by skyway. You know what that means — as much indoor shopping, eating and amusement-park riding as you can handle.
For more, see Shopping at the Megamall.
WISCONSIN
Saint Kate Arts Hotel in Milwaukee. The former Intercontinental at Milwaukee and Kilbourn avenues is connected to the ornate Pabst Theater and the modern Marcus Center for the Performing Arts.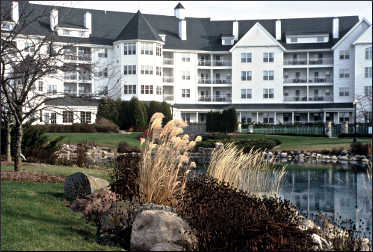 It includes Aria restaurant, Giggle champagne bar and Arc Theatre performing space.
The Pabst hosts plays and concerts, and the Marcus Center presents touring Broadway shows and is the home of a  symphony, ballet, opera, theater and children's theater.
For more, see Milwaukee stories.
A weekend in Ireland: In eastern Wisconsin, three sister inns include handsome Irish restaurants and pubs that host live music.
In Plymouth, 52 Stafford is an 1892 hotel renovated into a Irish inn with a beautiful restaurant and pub that features cherry millwork and Celtic-themed stained and etched glass.
In Green Bay, St. Brendan's Inn is a boutique hotel on the Fox River in downtown Green Bay.
On the edge of downtown Milwaukee, the County Clare has comfortable rooms above its sunny pub.
Osthoff Resort in Elkhart Lake: This large and luxurious resort in eastern Wisconsin town includes L'Ecole de la Maison culinary school and the Aspira Spa, both with an extensive menu of offerings.
There's also a pool, whirlpools, game room, fitness center, yoga room and two restaurants. Special events include the Old World Christmas Market in December, the Big Band Gala in March and Jazz on the Vine in May.
For more about its cooking classes, see Now they're cooking.
Water parks in Wisconsin Dells: The big water-park resorts are great for families, but it's surprising how many people come to the Dells without children.
The three biggest resorts — Great Wolf, Wilderness and Kalahari — also are convention centers, with shopping and entertainment under one roof. And there's a 15-screen movie complex next to the Kalahari.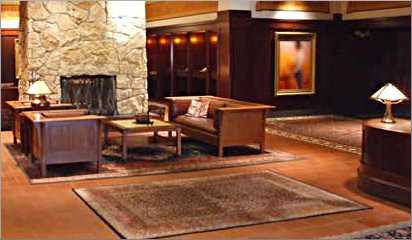 IOWA
Hotel Pattee in Perry. This gorgeous Arts and Crafts boutique hotel sits in a drab farm town 40 minutes northwest of Des Moines. Luckily, you don't need to leave the hotel, because it has a spa, bowling alley, steam room and sauna, restaurant and lounge.
Perhaps the most entertaining thing to do there is to tour the 40 rooms, each individually decorated to honor its namesakes: Louis Armstrong, who once stayed in the old hotel; Arts and Crafts furniture designer Gustav Stickley; designer William Morris; and many ethnic groups.
The hotel offers various packages. For more, see Perry's palace.
ILLINOIS
Irish in Galena: In Galena, the Irish Cottage Boutique Hotel includes a spa as well as Frank O'Dowd's Pub & Grill, which features music and Irish dancers every Friday and Saturday evenings.
For more, see Galena getaway.
Hotel Chicago / House of Blues, Chicago: This Marriott hotel and adjacent club in the Marina City complex on the Chicago River, also called the corncobs, allow hotel guests to take in a concert or weekend gospel brunch at the House of Blues.
There are also a steakhouse, Italian restaurant, wine bar and two lounges in the complex, and State Street is a few steps away.
For more, see our Chicago stories.
Last updated on February 7, 2022