15 great rivers for paddling
On a fine day, go sightseeing in a canoe or kayak.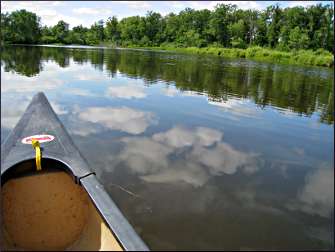 In this region, nearly every river is a good paddling river.
For adventure, try northwest Wisconsin's Bois Brule, which flows into Lake Superior over a series of rapids.
For scenery, head for the cliff-lined Upper Iowa, which National Geographic Adventure magazine calls one of America's Best Adventure 100, along with rafting in the Grand Canyon.
For fun with kids, paddle the crooked Kickapoo in southwest Wisconsin, also a great river for bird-watchers.
For great swimming and snorkeling, paddle the ultra-clear, sandy-bottomed Namekagon in western Wisconsin.
For help planning your own trip, see Planning a paddle trip.
In Wisconsin, the online journal Miles Paddled publishes river reports.
If you're using an outfitter, reserve in advance for weekends, when most outfitters run out of boats.
Below are some of the best places to dip a paddle, for beginners as well as experts.
Wisconsin
Lower Wisconsin River in southwest Wisconsin: From the last dam in Prairie du Sac, the biggest river in Wisconsin flows 92 miles through Wisconsin's Driftless Area to the Mississippi.
It's wide and sandy, with lots of sandbars for picnics and camping. Lynne Diebel of Stoughton, Wis., who was written two guides about canoeing in Minnesota, says the Wisconsin is her favorite river and particularly likes the 21-mile stretch from Prairie du Sac to Spring Green.
"It's the kind of river where you're mesmerized by the beauty, and your attention wanders," she says. "But you have to pay attention to the current, because the sandbars are constantly shifting, and you'll run aground."
Also be careful of playing on the sandbars, which can collapse. Always wear a life jacket.
It's 11 miles from Prairie du Sac/Sauk City to Arena, 10 miles from Arena to Spring Green and 22 miles from Spring Green to Muscoda.
Blackhawk River Runs provides rentals and shuttle from Mazomanie and Wisconsin Riverside Resort and the Wisconsin Canoe Company from Spring Green.
The Friends of the Lower Wisconsin Riverway show approximate paddle times between landings on their Paddle Planner.
Miles Paddled has lots of handy information about canoe-camping on the river.
For more, see Road trip: Wisconsin River.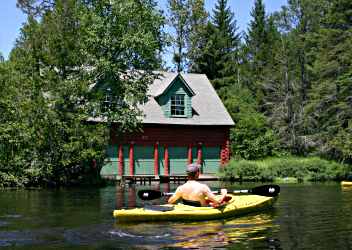 Bois Brule in northwest Wisconsin: This River of Presidents-five have fished there-is famous for its whitewater and for beautifully preserved cabins and boathouses built around the turn of the century. Wildlife-watching is pretty fine, too.
Brule River Canoe Rental rents boats. When water is low, rent a kayak. Make sure it's a sturdy plastic boat, because there are lots of rocks.
If you're a beginner, the 12-mile section northeast of Solon Springs, between Stones Bridge and Winneboujou Canoe Landing, is easiest and also most historic.
For more, see Paddling the Bois Brule.
Kickapoo River in southwest Wisconsin: The word Kickapoo derives from an Algonquin word that means "one who moves about, now here, now there," which may refer to the tribe that once lived in this region, but certainly can describe the river, which flows in all four direction of the compass on the first six river miles from Ontario.
It's a good place to take small children because it's not very deep, and its inability to flow straight for more than a few yards matches a toddler's inability to sit still for more than a few minutes. Each turn brings a new vista, so it's nearly impossible to lose interest.
In Ontario, get a boat and a shuttle from Titanic, Mr. Duck or Drifty's. The most popular trip starts in Ontario and ends at Wildcat Mountain State Park, but go farther if you have time.
For more, see Chasing the Kickapoo.
Wolf River in northeast Wisconsin. In northeast Wisconsin, from which the state's biggest rivers surge, there's plenty of cold, frothy whitewater. This river is a favorite of kayakers, and you'll need some experience to go it alone.
Bear Paw Outdoor Adventure Resort south of Langlade rents kayaks and provides food and lodging. Local instructors offer instruction to guests.
For more, see Whitewater 101.
Namekagon River in northwest Wisconsin: This federally protected, spring-fed river is part of the St. Croix National Scenic Riverway, and paddlers are likely to spot bald eagles, herons, otters and even porcupines.
Try the section from Trego, Wis., to the Riverside Landing on the Upper St. Croix River in Minnesota. If you spend the night in one of the national-park campsites (first-come, first-served), you can make a weekend of it.
And don't forget a face mask and snorkel; the river is very clear and great for swimming and snorkeling.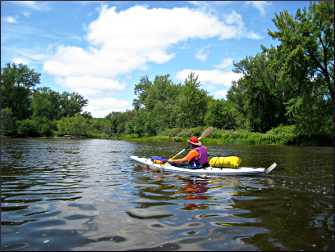 From Danbury, Wis., Pardun's Canoe Rental provides boats and shuttle service. The section upstream from Trego is a busy junction for vacationers in tubes, canoes and kayaks. Rent them from Jack's or Log Cabin Resort.
Red Cedar River in western Wisconsin: Between Menomonie and Dunnville, the river is crossed by 11 trestle bridges and lined by wooded bluffs and canyon-like walls of gold sand; canoeists likely will spot eagles, osprey and red-shouldered hawks, along with blue and green herons.
Paddlers who have their own boats can take bicycles and use the shady, 14½-mile crushed-limestone Red Cedar State Trail, off Wisconsin 29 in Menomonie's Riverside Park, to return to their vehicles.
For more, see Red Cedar ride 'n' glide.
Kinnickinnic from River Falls, Wis . The eight-mile stretch of the Kinni between River Falls and Kinnickinnic State Park in western Wisconsin is lively but rarely dangerous, and because the river is spring-fed, it's cool and refreshing all summer.
Kayaks are best on this river because water levels are low and there are plenty of rocks. In River Falls, Kinni Creek Outfitters provides kayaks and shuttles.
For details, see A spin down the Kinni.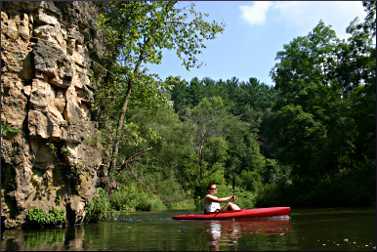 Crystal River in east-central Wisconsin: Near Waupaca and its Chain of Lakes, the twisting Crystal River is a good place to take children or teen-agers.
Tourists by the hundreds float from Long Lake into the shallow but fast-moving Crystal River, through the village of Rural, a tucked-away historic district of 1850s New England-style houses.
Ding's Dock rents canoes, kayaks and stand-up paddleboards.
For more, see Waupaca's Chain O' Lakes.
Flambeau River in northern Wisconsin: This wilderness river cuts across the north woods from its headwaters near the Michigan border to western Wisconsin, where it joins the Chippewa River south of Ladysmith.
Outfitters in Manitowish Waters, Phillips, Park Falls, Winter, Ladysmith and Holcombe rent boats.
Iowa
Upper Iowa River in northeast Iowa : Most people don't expect to paddle past 330-foot sheer limestone cliffs and spires in Iowa, but they will on this stretch of river west of Decorah. The most picturesque stretches are the 15½ river miles from Kendallville to Bluffton and the 16 miles between Bluffton and Decorah.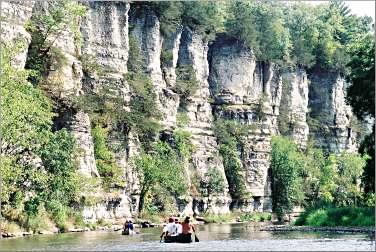 The five looping river miles between bridges 5 and 7 would be ideal for a mountain-bike shuttle or even walking, since the road distance is very short.
Canoe liveries include Hruska's, 563-547-4566, and Hutchinson Family Farm Campground, 563-382-3054.
In Decorah, Off the Driftless is just up the river from Pulpit Rock Campground and rents canoes, kayaks and tubes.
For more about Decorah, see A pocket of Norway.
Minnesota
Root River in southeast Minnesota : The North Branch of the Root is very picturesque and not as crowded as rivers closer to the Twin Cities.
From Moen's Bridge, it's 12 miles to the spot where the North Branch joins the South Branch and the Root River State Trail north of Lanesboro, and another four miles to the take-out in Whalan, east of Lanesboro.
Along the way, canoeists glide past solid limestone bluffs, the ruins of an old dam and an abandoned 1915 power plant; wildlife sightings may include eagles and herons.
Rainfall speeds up the Root considerably, and outfitters often recommend the slower 14-mile South Branch stretch from Preston to Lanesboro if the North Branch is too high. It's rockier, however. Check conditions in advance.
If you have your own boat and want to camp, try the quieter 15 miles from Parsley Bridge, south of Chatfield, to Moen's Bridge.
For more, see By river and trail in Lanesboro.
Zumbro River in southeast Minnesota : In the upper reaches of Minnesota's bluff country, this river flows past bluffs and cliffs as it twists and turns its way to the Mississippi. The French called it la riviere des embarras, or river of obstacles, and canoeists have to watch out for snags.
The 12 miles from Zumbro Falls to Millville takes about half a day; Zumbro Valley Canoe Rental in Zumbro Falls rents boats, 507-753-2568.
In Oronoco, Boulder Dam Canoe & Kayak rents boats and provides shuttles for trips of seven to 14 miles on three branches of the river.
St. Croix River east of the Twin Cities : This is a favorite weekend getaway destination near the Twin Cities, part of the St. Croix National Scenic Riverway.
The most popular stretch is between Minnesota Interstate Park in Taylors Falls and the Wisconsin town of Osceola or William O'Brien State Park in Marine on St. Croix.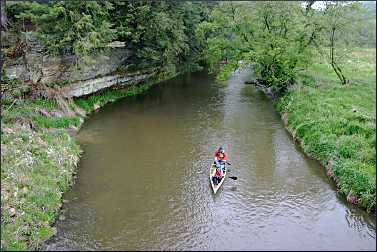 In Grantsburg, Wis., Wild River Outfitters rents boats. Farther down the river, Wild Mountain near Taylors Falls rents canoes.
For more, see Sightseeing on the St. Croix.
Crow Wing River east of Park Rapids . Lynne Diebel recommends a paddle from below Fifth Crow Wing Lake, just south of Minnesota 34, to the Fourth Crow Wing Lake or beyond. It's 15½ miles to the next dam, at the Crow Wing's confluence with the Shell River.
"It's got incredibly clear water and a sandy bottom," she says. "It's a nice place to get away from it all."
Cannon River south of the Twin Cities : Less than an hour away, the Cannon River is one of the Twin Cities' favorite canoeing and tubing destinations, and on weekends the stretch from Cannon Falls to Welch is full of church and school groups. French fur traders named the river not for artillery but for canoes, la riviere aux canots.
There are a few riffles near the put-in at Cannon Falls' Riverside Park, but from there, it's an easy 12 miles through the scenic river gorge to Welch.
Welch Mill Outfitters in Welch does a good job of handling the hordes. Canoeists who want a quieter experience should arrive by 8 a.m. People who have their own canoes can bring bikes and return to their vehicle on the Cannon Valley Trail.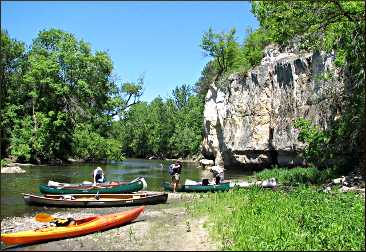 If you have your own boats, you'll get a quieter ride by putting in at Two Rivers Park in Faribault, just off I-35, and paddling 14 miles to the Dundas city park or 17½ miles to Northfield.
Bring a picnic to eat and watch for a tall bluff on the right, with sand at its foot, about an hour from Faribault. There's a trail to the top, and the views are superb.
Read a report of the trip on the Miles Paddled journal.
Trip Tips: Great paddling rivers
When to go : For the quietest paddling, with the best chance of wildlife spotting, go on a weekday. If you go on a weekend or holiday, reserve rental and shuttle and try to arrive early in the day.
Cost : Typically, a half day of canoe rental with shuttle service costs $30-$40, less for groups. Two parties who own two canoes and two cars can arrange their own shuttles; another option is to take bicycles in the canoe or leave them at the take-out point.
Outfitters are conservative about estimating paddling time, so a four-hour trip usually takes closer to three hours if canoeists don't loaf too much.
Safety : Before you go, ask outfitters or park employees about water levels; heavy rains can make a river unsafe. Watch out for overhanging tree branches, which tip canoes more frequently than rapids.
Wisconsin paddling
Wisconsin's Activity Guide lists 76 places to rent boats in 57 towns; get one at 800-432-8747.
Travel Wisconsin also lists outfitters and destinations. The DNR lists water trails on rivers and flowages and the Great Lakes.
For water levels, check the U.S. Geological Survey updates.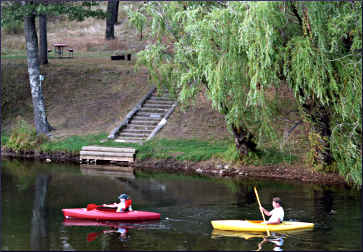 Mike Svob's "Paddling Northern Wisconsin" includes 82 routes, and his "Paddling Southern Wisconsin" describes 83 routes.
"Canoeing & Kayaking South Central Wisconsin" by Timothy Bauer of Miles Paddled includes 60 routes within 60 miles of Madison.
Minnesota paddling
The DNR sends out free canoe-river guides that include maps and descriptions of public access points, campsites and navigational features. Get them by calling 651-296-6157 or 888-646-6367, or pick them up at the DNR Information Center, 500 Lafayette Road near downtown St. Paul.
The 35 designated water trails are described on the DNR's web site, which also reports current river levels and lists dozens of places to rent boats on 24 rivers.
And 36 Minnesota state parks rent kayaks and/or canoes.
Lynne Diebel's book "Paddling Northern Minnesota" includes 86 routes, and her book "Paddling Southern Minnesota," which she wrote with her husband, Bob, includes 85 routes.
For water levels, check the U.S. Geological Survey updates.
Iowa paddling
The DNR has maps for designated water trails, including the Raccoon, Des Moines, Wapsipinicon and Maquoketa rivers.
For water levels, check the U.S. Geological Survey updates.
Nate Hoogeveen's book "Paddling Iowa" includes 96 routes.
Last updated on July 27, 2020