20 great rivers for tubing
Lolling on the water, it's easy to play it cool on hot days.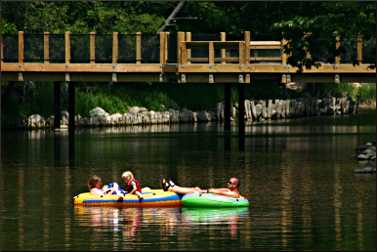 It's almost magic, the power of wind and water on a hot day. It's enough to give you goosebumps.
Tubing Minnesota's Rum River on an oppressively hot afternoon, I was amazed to see goose flesh rise on my legs when a breeze sprang up and a cloud crossed the sun. We'd entered a microclimate that seemed to exist only along the river's surface.
"I don't even feel the heat here," said my friend Adele. "You'd never guess it was 95."
The last time Adele and I went tubing on a lazy river, it was in one of the Wisconsin Dells' indoor waterparks, in February. This time, it was July in central Minnesota, and we were tired of the heat, not the cold.
So we hopped in the car and headed north from the Twin Cities on I-35. In Isanti, the Rum River is 32 river miles from its confluence with the Mississippi in Anoka and 113 miles from its start in Lake Mille Lacs.
It's a state wild and scenic riverway. South of town, its banks are lined with trees and its bottom with sand, so it's perfect for tubing.
On warm weekends, Country Camping near Isanti keeps its two vans going nonstop, shuttling tubes and people to Martin's Landing, from which they make the two-mile float back to the campground. Usually, it takes about two hours.
When Adele and I arrived at noon on a Friday, all was quiet at the campground, and our driver zipped us to the landing as soon as we were ready.
In early afternoon, we were the only people on the river, which meant we were able to float right up to three great blue herons and get close-up views as each lifted itself into the air and flapped languidly away.
We didn't see any of the bald eagles that nest near the river, or the sandhill cranes that feed in the fields. But the trees were full of songbirds, breaking the silence with their trills.
The only other wildlife we discerned were the deer flies buzzing around our heads and the unseen fish that nibbled the tips of our thumbs, trailing in the water. Since there wasn't much to see, we just lolled on our tubes, chatted and relaxed.
We did see a knotted swing hanging from a tree, so I took a break from adulthood and used it to swing as far as I could into the river. Too soon, we saw the Stop sign marking the takeout, and I literally dug my heels into the sandy river bottom to slow down.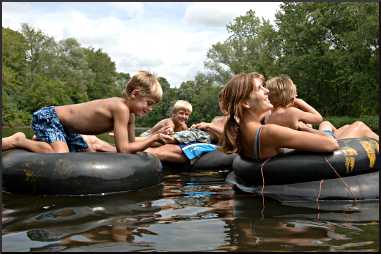 Finding a river
The only bad thing about most tubing trips is they don't last long enough. On a hot summer day, there's almost nothing better.
Weekends bring crowds, many of them drinkers, but usually you can avoid them by heading out first thing in the morning. The best time to go, of course, is on weekdays.
The Apple River in western Wisconsin is most famous for tubing, but not everyone wants to float on a river whose guests are so notorious for bad behavior they have to be watched from security towers.
Luckily, there are many other tubing rivers. Remember, nearly every river that can be canoed also can be tubed.
For more, see 15 great rivers for paddling and other Paddling stories.
Trip Tips: Tubing on rivers
What to bring : When tubing, wear water shoes as well as hats and sunblock. Flotation vests — water wings are not adequate — are necessary for children and a good idea for adults, though most of the rivers are shallow, especially in late summer.
Don't bring anything made of glass.
Safety : Before you go, check for water conditions; sections of river can be closed because of flooding. Outfitters will know if sections are safe or not.
The biggest danger comes from the root balls of fallen trees, which can entangle people and puncture tubes.
If the river has a fast current, even a shallow one, wear a life vest. And stay far away from low dams, which create a current that can pull people under even if they're wearing life vests.
Self-shuttles : It's easiest to go through an outfitter, but it's also possible to buy your own tube — look at Fleet Farm or Pamida — and do a self-shuttle on other rivers if public landings and parking areas are available.
Since most floats are only a few miles long, leave bicycles at the take-out point and, after floating, use them to ride back to the car.
For some good bicycle-tube possibilities, see 10 great places to ride 'n' glide.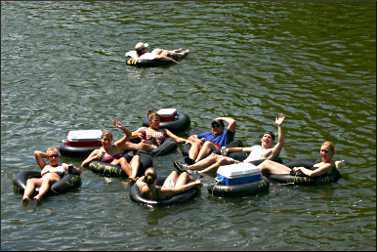 Self-shuttles also are easy for two or more people with two cars.
Reservations : They're usually not necessary, except for large groups, but it's a good idea to call ahead on weekdays to make sure a shuttle will be available.
The rivers below are popular for tubing and may get crowded and/or rowdy on weekends. But nearly any river can be tubed, as long as you can find a put-in and take-out point. For river maps, contact your local Department of Natural Resources.
Minnesota
For do-it-yourself tubing, download free maps for Minnesota's designated water trails. If you're not sure whether or not a river is appropriate for tubing, call the DNR and ask.
Rum River, Isanti : In central Minnesota, Country Camping takes people upriver for the two-mile, two-hour float back to the campground. It's one of the less-known tubing rivers, so it's quiet on weekdays; weekends are crowded.
Tanger Outlet Center in North Branch is right on the way and makes a nice side trip on the way back.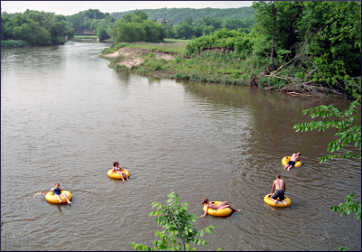 Root River, Lanesboro : In the southeast corner of Minnesota, the chilly South Branch of the Root River carves a shady one-mile loop around downtown Lanesboro that takes 30 to 45 minutes on a tube.
People can ride the rapids through downtown to the County Road 250 bridge and walk back with their tubes on the Root River State Trail to do it again.
A longer trip takes tubes past the confluence with the warmer North Branch to the Minnesota 16 access, three to four hours.
It's susceptible to flooding; check conditions before going.
In Lanesboro, Little River General Store and Eagle Cliff Campground rent tubes on the Root River. For more, see By river and trail in Lanesboro "on the river").
Cannon River, Welch : It pays to get to Welch Mill Outfitters early, because it's only 45 minutes south of the Twin Cities and very popular. On weekdays, it opens at 10 a.m. and on weekdays at 8 a.m.; floaters are taken toward Cannon Falls and left to float 3½ to 4½ hours back to Welch.
There's also a one-hour trip.
Zumbro River, Zumbro Falls : The seven-mile stretch from Zumbro Falls to Hammond in southeast Minnesota bluff country is very scenic, with limestone cliffs and steep hillsides.
People who show up by 9 a.m. at Zumbro Valley Canoe & Tube Rental are most likely to see the many bald eagles that nest in the area, plus herons and turkeys.
Usually, the trip takes three hours, but can take five to six when water is low. The last tube trip leaves at 2 p.m. The outfitter is in Sportsmen's Park, across the river from downtown Zumbro Falls, 507-753-2568.
Wisconsin
For more ideas, check Travel Wisconsin's directory of tubing and rafting outfitter s.
It also recommends other rivers : the Black from Black River Falls; the Grant from Potosi and Cassville; and the Wolf from White Lake and New London.
Chippewa River, Chippewa Falls : From Loopy's Grill and Saloon on Wisconsin Business 29 just west of Chippewa Falls, floaters are taken upriver and allowed to float back, a trip that usually is 2½ hours.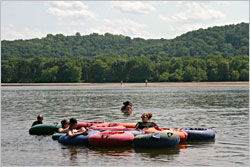 Loopy's hosts what it calls the world's largest one-day tubing event, the Frenchtown Annual Tube Float and Regatta, FATFAR, on the third Sunday in June. Check for coupons on the web site.
Lower Wisconsin River from Prairie du Sac to Spring Green. Below the dam in Prairie du Sac, there's little development on this wide river, and it's very scenic.
It's popular for paddling, so there are many landings and launches. When it's low, which is frequently, the river has many sandbars.
Outfitters that rent tubes include the Wisconsin Riverside Resort in Spring Green.
For more about the area, see Road trip: Wisconsin River.
Red Cedar River, Menomonie : Just south of Menomonie, the Red Cedar River is beloved for its easy access and scenery, including canyonlike walls of gold sand and abundant wildlife.
Irvington Campground rents tubes and offers shuttles. Or people can bring their own tubes and leave bikes in Irvington, floating from Menomonie's Riverside Park and riding back on the Red Cedar State Trail.
For more on canoeing and bicycling, see Red Cedar ride 'n' glide.
Namekagon River, Trego : From the village of Trego, just north of Spooner at the junction of U.S. 53 and U.S. 63 in northwest Wisconsin, two outfitters take people up the cool, spring-fed Namekagon and let them float back.
Log Cabin Resort & Campground has a sandy beach, showers and splash park. Jack's Canoe Rental also rents tubes.
Crystal River, Waupaca : In this central Wisconsin lakes area, Pliska's offers tubing trips on the narrow, twisting Crystal River. The river winds past historic homes, gardens, scenic foot bridges and the village of Rural, a historic district.
For more about the area, see Waupaca's Chain O' Lakes.
Apple River, Somerset : This river in western Wisconsin, not far from the Twin Cities, is the best-known tubing river in the region — though more for drinking, partying and partial nudity than for tubing.
If you're not looking for a "Girls Gone Wild" atmosphere, go early in the day or during the week.
Campgrounds near Somerset that rent tubes include Apple River Hide-Away, Float-Rite Park and River's Edge.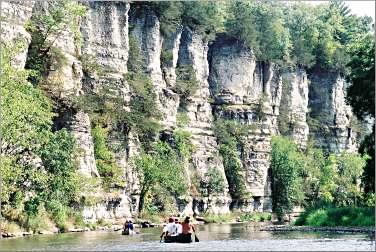 Sugar River, Albany and Brodhead : On this southern Wisconsin river, Sweet Minihaha Campground rents tubes for a float from Albany back to the campground.
In Albany, S&B Tubing rents tubes for a four-mile float toward Brodhead.
Pine River, Florence : South of Florence in the remote northeast corner of the state, the Pine River carves such an oxbow that tubers can float for 3.5 miles, then walk 10 minutes back to their starting point.
Michigan
Sable River, Ludington State Park, Ludington : This short, placid stretch of river between Hamlin Lake and Lake Michigan is shallow and a favorite of families, especially those lucky enough to be camping in this very popular park.
Bring your own tube or buy one at the park. Float to the lake, then return on the pleasant riverside path.
Platte River, Sleeping Bear Dunes National Lakeshore near Empire : This warm, gentle river between Frankfort and Empire is only two or three feet deep and also perfect for families.
Bring your own tube and float the mile from El Dorado Landing to Platte River Point near the river's mouth on Lake Michigan, where there's a grassy picnic area and small dunes that children love to scale and then run back down into the river. It's an easy walk back.
If you don't have tubes and don't mind paying, Riverside Canoe Trips rents them.
Paw Paw River in Watervliet : In southwest Michigan, Paw Paw River Campground offers all-day tubing.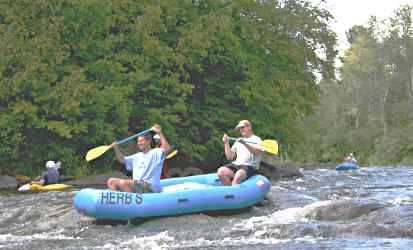 Iowa
Upper Iowa River, Bluffton : This stretch of river just north of Decorah, in the northeast corner of the state, looks more like Utah than Iowa, with its steep bluffs and free-standing rock chimneys.
One of the most picturesque stretches, the five river miles between Bridge 5 in Chimney Rock Park and Bridge 7 in Bluffton, is a good candidate for a self-shuttle because it forms two loops separated by little more than two miles of County Road W20, just west of U.S. 52.
However, there are many outfitters, including Chimney Rock Campground near Bluffton and Off the Driftless Wellness & Adventure Company in Decorah.
Iowa River, Eldora : In this north-central Iowa town, between I-35 and Waterloo, Rock-N-Row Adventures offers three- to -four-hour floats on the shallow Iowa River past Fallen Rock Preserve and Pine Lake State Park, which includes four stone-and-timber cabins and a lodge.
The outfitter also operates a campground, with a beer garden and Saturday-night bands. Only people who tube can camp.
Raccoon River, Adel . West of Des Moines, Raccoon River Excursions rents tubes that range from three to seven hours, depending on current, on the river between Adel and Van Meter.
Illinois and Indiana
Middle Fork of the Vermillion River near Oakwood , Ill . In Kickapoo State Park, east of Champaign-Urbana, Kickapoo Adventures offers tubing trips from 1 ½ to 3 miles.
Tippecanoe River in Winamac, Ind . Riverside Rentals offers 3½-mile tube trips and also rents rafts.
Both tube trips are about two hours from Chicago. For more about tubing and paddling near Chicago, see Tubing trip within two hours of Chicago.
Last updated on June 16, 2021