10 perfect places for a picnic
You'll get scenery with your sandwich at these spots in Minnesota and Wisconsin.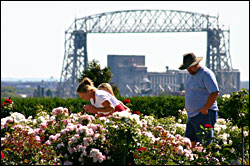 On a beautiful summer day, there are few places that aren't good for a picnic.
A patch of grass, a plump sandwich, the warmth of sun on skin-this is what we look forward to all winter.
But at some spots, picnickers will be tempted to while away the whole afternoon there. What elevates a picnic spot to greatness? A stiff breeze to ward off bugs, a scenic view, good people-watching and perhaps a concert.
Here are some of the best, plus good places to pick up lunch on the way.
Minnesota
Duluth /Skyline Parkway and the Rose Garden
No town has more great picnic spots than Duluth, whose hillsides provide views from just about anywhere. It's also cooler than the rest of the state, thanks to fresh breezes off Lake Superior.
The best views are found off Skyline Parkway, which stretches 25 miles across the brow of Duluth, on a natural terrace that once was the beach of Glacial Lake Duluth. On a hot day, try the wind-whipped edge of Enger Park, where there's a pavilion.
Down on the lake, the Rose Garden, off London Road at 13th Avenue, is one of the loveliest spots along the Lakewalk, and you can claim one of its ornate concrete loveseats for your picnic.
There's a deli across the street at the Super One grocery store.
The Lakewalk is lined with benches and cobblestone beaches, each of them a good place for a picnic. In Canal Park, pick up sandwiches at Northern Waters Smokehaus in Dewitt-Seitz Marketplace (expect a line).
Stillwater /Pioneer Park and Lowell Park
Stillwater is a popular place to hang out on summer days, thanks to its free concerts, river cruises, shopping and general festive atmosphere.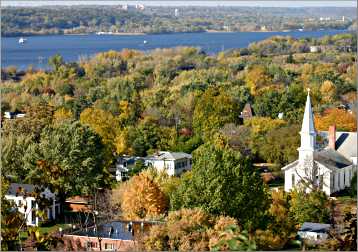 For a view, take a picnic up Second Street to Pioneer Park, which has a spectacular view of downtown, the river valley and the lift bridge.
For people-watching, plop down along the river in Lowell Park, where there's a market, music and movies on Summer Tuesdays.
On Main Street downtown, pick up lunch at Brine's Market-Deli or River Market Community Co-op. Its deli section sells sandwiches as well as spreads, baguettes, fresh cut-up fruit and desserts.
There are picnic tables in Interstate State Park, but it's more fun to find a perch on the rocky bluff and watch the paddlewheelers go by on the St. Croix River.
Try Angle Rock, on a sharp bend where the world's largest logjam stopped river traffic for six weeks in 1886.
Red Wing /Bay Point Park and Barn Bluff
There's even more river traffic around Red Wing-barges, cruisers, fishing boats, even the Mississippi Queen on occasion.
One of the best places to watch is from Bay Point Park, which juts into a deep elbow of the Mississippi just west of downtown. Boathouses bob in the marina alongside it, and Barn Bluff rises across the water, on the other side of downtown.
It's off West Main Street. On the way, pick up lunch at the Pie Plate Cafe on Old West Main, or, on weekdays, lunch at Meatheads Deli, just past the Target off Minnesota 61.
The other great view in Red Wing comes from the top of Barn Bluff. From downtown, East Fifth Street leads straight to its foot; take the main path along the shady north side of the bluff to the grassy slope that faces downtown.
Minneapolis makes it easy to have a picnic, with refectories on the largest of its beautiful lakes: Sea Salt Eatery in Minnehaha Park, Sandcastle on Lake Nokomis and Bread & Pickle on Lake Harriet.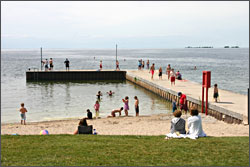 Enjoy your meal with free concerts nearly every summer evening at the Lake Harriet bandshell, and on Wednesdays, Thursdays and Fridays in Minnehaha Park.
Wisconsin
Hudson /Prospect Park and Lakefront Park
It's always fun to watch the busy boat traffic from the city park along the St. Croix River, where bands play on Thursday evenings in summer.
For a sweeping view above the treetops, have your picnic in Prospect Park. To get there from downtown, head up Walnut Street, turn south of Third Street, go up the hill and turn left on Blakeman Avenue. There's a picnic table and a swinging bench.
Pick up a picnic lunch downtown from Urban Olive & Vine or the Subhouse, both on Second Street.
Alma/Buena Vista Park
This wide-open limestone outcropping on the Mississippi River bluffs 500 feet above Alma provides a view of the river valley that's nearly hypnotic.
There's a view of Lock and Dam 4, the town fishing float and the wide river plain, broken by the channels and islands of the wildlife refuge.
The park is a two-mile drive up the bluff from the south edge of town. Pick up lunch at the Nelson Cheese Factory, nine miles north of Alma in Nelson.
Many other Mississippi River bluff parks also have panoramic views.
The newly expanded beach and park in this village makes it the largest stretch of public waterfront in Door County.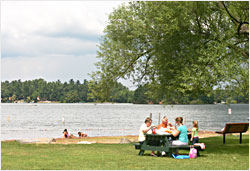 There's a sand beach to spread a towel on and picnic tables and grills on grassy lawn. There are concerts on most Wednesday evening in summer, and movies on most Saturdays.
There are lots of places to pick up snacks on the adjoining main street. And on the north end of town, you'll get sandwiches as well as ice cream at the Door County Ice Cream Factory & Sandwich Shoppe.
Farther down the peninsula, Egg Harbor includes the small but lovely Harbor View Park, where there are free concerts on Thursdays. Pick up picnic fare nearby at MacReady Artisan Bread.
Unlike many lake-resort towns, Minocqua has a big lake next to its downtown-in fact, it calls itself the Island City because it's surrounded by water.
Torpy Park is the town's gathering spot. There's often a festival or event on weekends, and concerts on Thursday evenings, but normally it's a tranquil place for a picnic.
Pick up sandwiches at the Island Cafe on Oneida Street downtown. And for a chaser, stop by Minocqua Brewing Co., overlooking the lake and park.
Madison /Capitol Square and Picnic Point
Like Minocqua, downtown Madison is an isthmus surrounded by water, which gives it many picnic spots.
Capitol Square is a good candidate simply because it's also surrounded by food at the Dane County Farmers' Market on Saturdays, and there are free concerts by the Wisconsin Chamber Orchestra on Wednesdays.
Just off the square, Fromagination sells many picnic-basket items.
On Lake Mendota, Picnic Point is a wooded peninsula that is easily reached via the Lakeshore Path. Pick up something from the many food carts that cluster at the end of State Street, on the edge of campus.
Milwaukee knows how to have a good time, so it puts beer gardens in its county parks. Four of them are open from May through early October, at Estabrook, Humboldt, Hoyt and South Shore parks.
Others parks are served by a traveling beer truck from Sprecher Brewing. There's live music from Wednesday through Saturday at each of the stops.
In a wooded setting on the Oak Leaf Trail and Milwaukee River, the Hubbard Park Beer Garden has 10 beers on tap, plus wine, giant pretzels and Usinger sausages. It's operated by the Hubbard Park Lodge.
Last updated on December 29, 2020