10 cool ways to see fall colors
When the trees put on a show, get a front-row seat that can't be beat.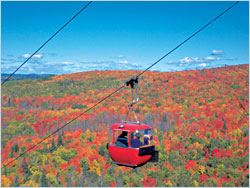 In fall, you don't need to limit yourself to seeing the colors while speeding by in a car or even at a snail's pace from a hiking trail.
You also can watch the show on horseback, by boat or from a train. Or try a different kind of conveyance — say, covered wagon, chairlift or Venetian gondola.
The important thing is get out there and see as much as you can while it lasts. Here are 10 cool ways to view the hues.
Chairlift, elevator and gondola
At Copper Peak ski-flying hill near Ironwood, Mich., you ride a chairlift to the crest of a volcanic outcrop, ride 18 stories on an elevator to an observation deck, then climb eight stories to the top starting gate. Cost is $25, $10 for youths 5-14.
Just to the east, the ski hill in Porcupine Mountains Wilderness State Park near Silver City, Mich., usually offers chairlift rides on weekends from mid-September to mid-October. They're $10, free for children 10 and younger.
Many commercial ski areas offer chairlift rides, including Granite Peak in Wausau, Wis., which offers chairlift rides Fridays through Sundays from mid-September to late October, $15 round-trip, $10 for children 6-12.
In northwest Michigan, chairlift rides are free for resort lodging guests at Boyne Mountain near Boyne Falls ($14 for non-guests) and Boyne Highlands near Harbor Springs ($10 for non-guests).
On Minnesota's North Shore, Lutsen Mountains offers rides on its Summit Express Gondola to the top of Moose Mountain, 1,000 feet above Lake Superior, where there's a deli and viewing platform.
Rides are daily through the third weekend of October and Saturdays through the second weekend of November. The cost is $29, $21 for children 6-15. Pay $4 less and hike down on the Superior Hiking Trail.
At Mont Ripley in Hancock, Mich., fall-color chairlift rides usually are given the last weekend of September and the first two weekends of October, $5, free for children under 12.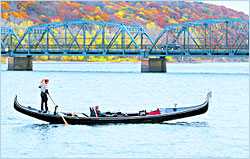 River gondola
In the Minnesota border town of Stillwater, Gondola Romantica gondoliers row passengers along the St. Croix River in a real Venetian gondola. One-hour rides are $149.95 for two.
For an extra-special ride, plan around the full moon, Sept. 29 and Oct. 28 in 2023.
Segway
In the northern half of Wisconsin's Door County, Off Road Segway Adventures offers rides through fields, orchards, parks and headlands around Sister Bay. Tours are one to two hours and cost $65-$75.
Glide N.E.W. also offers rides in parks and orchards and on country roads around the Door Peninsula and also in Green Bay. Cost for a two-hour is $79-$99, and 50-minute tours are $35-$45.
Horseback
Fall colors always look great from horseback. In Minnesota, we've enjoyed fall rides trail rides at Pine River Riding Stable near Pine River and Outback Trail Rides near Brainerd.
Most vacation areas and some ski hills have stables that offer trail rides. Check Travel Wisconsin's Horseback Riding Directory, Explore Minnesota's list of horseback trail rides and Pure Michigan's Horseback Riding.
For more, see Autumn on horseback.
Small airplane
Fly to Ironwood, just over the Wisconsin border on Michigan's Upper Peninsula, and the flight alone will give you a guaranteed view of the fall colors.
For less than a ride on a hot-air balloon, you can get a round-trip flight to Ironwood on Denver Air Connection from Minneapolis or Chicago.
From Ironwood, rent a car and explore the surrounding national forest, the waterfalls along the Black River or Porcupine Mountains Wilderness State Park.
From Brodhead in southern Wisconsin, Gypsy Air Tours offers fall-color flights in an open-cockpit 1930 biplane.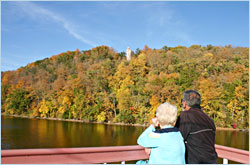 Cruise boats
Excursion boats operate all summer long, but the view is best in fall. You can find fall-color cruises on the Mississippi, the Wisconsin, the St. Croix, the Fox, the Rock and on Lake Minnetonka, Lake Superior and Lake Michigan.
For more, see Cruising into fall.
Hot-air balloon
If you can afford it, you'll see all the fall colors on hot-air balloon rides over the countryside. Flights often are grounded by weather conditions, though.
Steam train
Some vintage trains, run by railroading enthusiasts, offer fall-color excursions.
From the Twin Cities, the steam locomotive 261 pulls a fall-color train. In 2023, it's offering a Windy City Express trip to Chicago Oct. 6-8.
For more fall-color excursions, see Riding the rails.
Covered wagon
In the northern Minnesota town of Bemidji, Buena Vista Ski Area offers Top of the World Fall Color Covered Wagon Rides during its Fall Festival Sept. 16-17, along the Continental Divide, the ridge that separates rivers flowing north to Hudson Bay and south to the Gulf of Mexico.
Last updated on September 22, 2021