Colors of the North Shore
In fall, eager crowds pursue the hues along Lake Superior.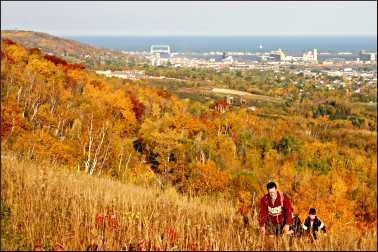 In autumn, crowds of leaf-peepers mob Minnesota's North Shore, looking for fabulous fall color.
The last week of September is peak for inland maple forests and in the forests farthest north. The first weekend of October should be peak farther south, and the forests of Duluth stay golden through the second weekend of October.
Here's where to look for the finest fall color by foot or by car.
You'll see the best colors by hiking along inland ridges, but we've also listed some easy walks and overlooks along the lake.
Each spot is listed by mile marker along this 150-mile route from Duluth to the Canadian border, which is a national scenic byway.
For many more hikes, see Hiking Minnesota's North Shore.
For fall-color images from the pros, see Following the photographers: Lake Superior in Minnesota. Our favorite is Paul Sundberg, who posts weekly galleries.
0.0 Superior Hiking Trail in Duluth .
On the section from Magney-Snively Park to Ely's Peak, you'll hike through old-growth forest and see spectacular views of the St. Louis River valley from Bardon's Peak and Ely's Peak.
From the Magney-Snively parking lot off Skyline Parkway, it's 3.8 miles out-and-back to Bardon's Peak and 6.8 miles out-and-back to Ely's Peak.
For details, see Hiking in Duluth.
You can see some nice golds right in town, along the flat Lakewalk east of the Rose Garden. And you'll get spectacular views driving along Skyline Parkway, especially from Enger Park and Hawk Ridge.
24.0 Sonju Trail in Two Harbors. For an easy walk along the lake, turn off the highway and go down to Lighthouse Point and its enchanting Sonju Trail. It starts at the foot of the North Shore's only real lighthouse, now an inn.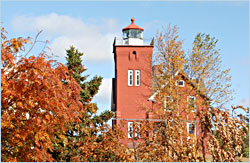 If you're lucky, you'll see an ore boat being loaded at the docks across the bay.
26.0 Forest west of Lake County Demonstration Forest near Two Harbors. You'll have to zigzag a bit to get to this seven-mile stretch of the Superior Hiking Trail between Lake County Demonstration Forest and Rossini Road, but you'll see nice reds there.
43.5 Split Rock River loop. From the parking area, this five-mile hike climbs the the west side of the river and returns on a ridge that give hikers lovely views.
54.0 Ridges above Silver Bay. The 11-mile stretch of the Superior Hiking Trail from Silver Bay to Minnesota 1 often is called the trail's most scenic (and also one of the most challenging), passing Bean and Bear lakes in Tettegouche State Park, Round Mountain, Mount Trudee and High Falls on the Baptism River.
For an easier but also scenic hike, take the Twin Lakes Trail, a 7.6-mile loop that passes Bean and Bear Lakes and starts from Silver Bay's Visitor Center, half a mile from the Minnesota 61 stoplight on Outer Drive.
56.0 View from Palisade Head. It's a short but steep drive up to this clifftop with a spectacular view down the cliff-lined shore to Shovel Point. Bring a picnic — and watch your kids.
60.2 Ridges east of Tettegouche State Park. For good maple hikes, veteran hiker Gayle Coyer recommends the 6.8-mile stretch of the Superior Hiking Trail from Minnesota 1 to County Road 6, from the east edge of Tettegouche State Park to Little Marais.
"It has great maples and great lake views too," she says. "It's very fun and dramatic walking along the cliff edges."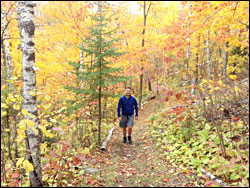 By car, drive up Minnesota 1 to the village of Finland, then head east on County Road 7, or Cramer Road. Drive through Crosby-Manitou State Park and, after passing Ninemile Lake, turn east on Forest Road 166, or Six Hundred Road.
You'll go through maple forest on the way to County Road 2, or the Sawbill Trail, which you can take down to Tofte.
73.0 Sugarloaf Cove. This nature preserve is one of our favorite secret spots on the North Shore. A flat one-mile interpretive trail winds through a red-pine plantation and alder thicket to a U-shaped cobblestone cove and crosses an old tombolo on a boardwalk.
83.4 Carlton Peak from Sawbill Trail/County Road 2. Three miles up this road, you'll reach the Britton Peak trailhead of the Superior Hiking Trail.
From here, it's a three-mile round-trip to Carlton Peak, where you'll have spectacular views both of inland forest and Lake Superior.
87.0 Oberg Mountain from Onion River Road/Forest Road 336. This is the most popular fall hiking destination on the North Shore.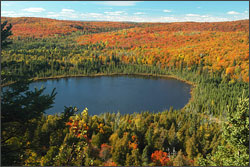 It's two miles up to the parking area for the two-mile Oberg Mountain hiking loop, where frequent overlooks give hikers views of the lake and inland maple forest.
From the other side of the parking area, the Superior Hiking Trail leads to Leveaux Mountain, where you'll also have great views of maple forest.
90.1 Lutsen Mountains. Take the gondola up Moose Mountain, then hike three miles down to the gorge of the Poplar River. It's all maple forest.
110.0 Hills over Grand Marais. Six miles north of town on the Gunflint Trail, or County Road 12, turn east at Maple Hill onto County Road 60. Take it to County Road 14, on which you can head south to Minnesota 61 or continue east until it meets Minnesota 61 three miles short of C.R. Magney State Park.
134.0 Rengo Road near Grand Portage. North Shore photographers love this narrow gravel road near the Canadian border. It's covered by a canopy of maples, and moose sightings are frequent.
Most of it is in the Grand Portage Band of Chippewa reservation.
To get there, drive seven miles east of Hovland and, just inside the reservation, take Old Highway 61/County Road 17 another seven miles to Mineral Center. Drive north another mile and turn left onto Rengo Road.
145.0 Mount Josephine from Grand Portage National Monument. The steep, two-mile round-trip hike to Mount Josephine trail provides a broad panorama of the bay. It starts from a small parking area off County Road 17, 1½ miles east of the monument.
Last updated on September 23, 2021