Giants of Lake Superior
On a trip around the biggest lake, stop to see larger-than-life heroes and mascots.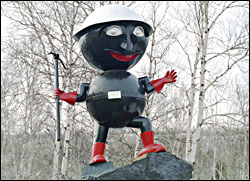 You can expect to see a lot of big things on the 1,300-mile drive around Lake Superior, the world's largest lake by surface area.
There's a fish, a Fox, a bear, a goose and a moose — not to mention a 32-foot thermometer and a 35-foot aspiring saint.
These giants all have stories, part of the folklore of this colorful lake, where life isn't for the faint of heart. On a Circle Tour, be sure to stop and say hello.
Here they are, as you'd see them on a clockwise route from Duluth.
For more about the Circle Tour, see Circling Superior, Planning a Circle Tour and Lake Superior's greatest hits.
Rocky Taconite in Silver Bay
A bulbous, cartoon-like character called Rocky Taconite celebrates the resurrection of the iron-ore mining industry on Minnesota's Iron Range and its shipping ports along the North Shore.
Rocky stands atop a rock slab just west of Minnesota 61 on County Road 5 in Silver Bay, which was created in 1954 around a new plant built to process taconite.
Considered a waste rock when high-grade iron ore was plentiful, taconite became valuable when a University of Minnesota engineer figured out how to extract the ore and roll it into pellets.
A plaque at Rocky's base explains that he pays tribute to the  turning of "a useless rock into a useful, valuable product and a huge new industry for Minnesota."
Walleye in Grand Marais
Since 1963, the Beaver House in Grand Marais has been supplying bait to anglers along the North Shore. Then, in 1990, a barroom discussion between local artist Jim Korf and Marty Cronberg, oldest son of proprietor Bill Cronberg, resulted in the creation of a giant scowling walleye that slices through the bait shop's roof.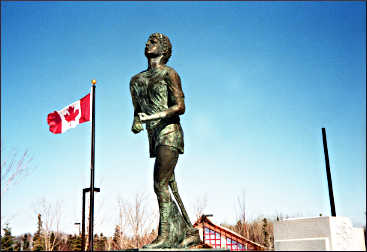 It became a town landmark, and sometimes the owners play the radio or tapes of fishing songs through the walleye's mouth.
In 1980, all of Canada was rooting for a 22-year-old British Columbia man who was running across the nation, 26 miles a day. Terry Fox had lost a leg to cancer when he was 18, and on April 12, 1980, started out from Newfoundland to raise money for cancer research.
At first, he attracted little notice, but along the way, crowds gathered to watch him run. His Marathon of Hope ended in Thunder Bay on Sept. 1, when he became too ill to continue, and he died the next June.
Fox, who ran with a prosthesis, is commemorated at the Terry Fox Scenic Lookout north of Thunder Bay, overlooking Lake Superior.
Today, Canadians speak of Fox with reverence, and those who were able to see him along his route consider it a life's highlight. In public polling for the Canadian Broadcasting Corporation's "The Greatest Canadian" program, Fox finished second to Tommy Douglas, architect of Canada's universal health-care system.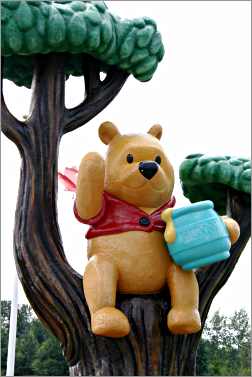 Winnie-the-Pooh in White River
One of the world's most charming children's stories had its origins in White River, a small Ontario rail town between Marathon and Wawa.
In 1914, a troop train stopped in White River, and while there, Capt. Harry Colebourn, a veterinarian, bought a black bear cub from a local trapper. He named her Winnipeg, after his hometown, and she became the regiment's mascot, traveling with it to England.
When the regiment was called to the front lines in France, Colebourn left the cub at the London Zoo for safekeeping. After the war, Colebourn decided to let the bear stay there.
The personable Winnie became the favorite of visitors, including a little boy named Christopher Robin, son of writer A.A. Milne, and the boy renamed his stuffed bear Edward for her. Milne's first "Winnie-the-Pooh" book was published in 1926.
A large statue of the storybook bear stands in front of the visitors center in White River. In August, the town celebrates Winnie The Pooh Festival, with parades, a block party, fireworks and, of course, children's games.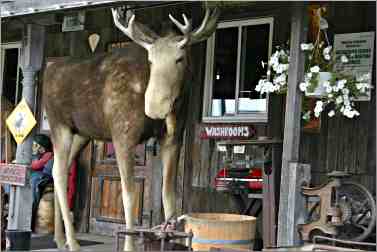 Goose and moose in Wawa
Wawa, which is Ojibwe for "wild goose," wasn't connected to the rest of the world until 1960, when the last section of the Trans-Canada Highway was laid there.To the citizens' disappointment, the highway bypassed downtown businesses.
So they put up a giant Canada goose to get tourists to stop and take a gander. The goose is in front of the Tourist Information Centre.
The moose is at Young's General Store in town. The stuffed Henrietta stands on its cluttered covered porch, near flush toilets in outhouses marked "Ma" and "Pa."
Inside, the store sells pickles from a barrel, homemade fudge and all kinds of good tourist-trap treats and souvenirs.
Gus and Ernie in Ishpeming
Along U.S. 41 in Ishpeming, just west of Marquette, two staples of life on the Upper Peninsula, giant-size, draw tourists into Da Yoopers Tourist Trap.
Gus is a 23-foot blue chainsaw that really runs, and Ernie is a 35-foot black-powder muzzle-loader rifle that actually fires. Since Ernie weighs 4,000 pounds, it's mounted on the bed of an antique pickup truck.
Ishpeming also calls itself the birthplace of organized skiing, and nearby, the U.S. Ski and Snowboard Hall of Fame and Museum includes exhibits. Admission is free.
Father Baraga in L'Anse
Father Frederic Baraga, a Slovenian priest, was one of the original tough guys of Lake Superior.
Long before John Beargrease delivered the mail along Minnesota's North Shore, Father Baraga delivered the Word — everywhere.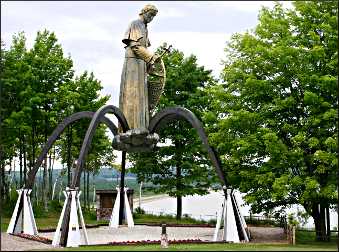 He arrived in 1830 at age 23 and traveled by canoe, horse, dog sled and snowshoe between Ojibwe settlements in Sault Ste. Marie in Michigan, Grand Portage in Minnesota and La Pointe on Wisconsin's Madeline Island.
He became known as the Snowshoe Priest and, in his spare time, compiled an Ojibwe dictionary that still is used.
He became the first bishop of Upper Michigan in 1853, served until his death in 1868 and is buried in the 1890 Romanesque cathedral in Marquette, where efforts to canonize him began in 1952.
Those efforts got a big boost in March 2010, when a patient with a liver tumor, as shown by CT scan and ultrasound, prayed to the bishop and placed his stole over the pain. After that, exploratory surgery found no tumor.
If the miracle is recognized as authentic, the diocese will need to verify one more miracle in order for the bishop to be declared a saint.
High above L'Anse Bay, between the Keweenaw and Abbaye peninsulas west of Marquette, a 35-foot bronze statue of the robed priest, holding a cross and snowshoes, stands on a cluster of steel clouds, suspended 25 feet above the ground by beams.
The Shrine of the Snowshoe Priest includes a gift and coffee shop that helps support it.
There's another memorial on the Cross River on Minnesota's North Shore, where the priest blew ashore during a storm in 1846. It's known as Father Baraga's Cross.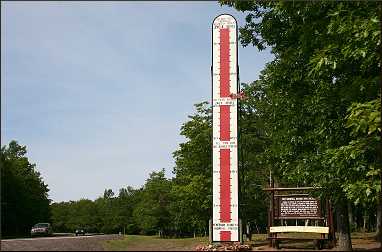 Snow gauge on the Keweenaw Peninsula
So you're driving along U.S. 41 between Mohawk and Phoenix on the beautiful Keweenaw Peninsula, and up comes a 32-foot thermometer along the side of the road.
It measures not temperature, but snow. This is Big Snow country, with an average snowfall of 187 inches (tourism bureaus say 200). The record high, 390.4 inches, was set in the winter of 1978-79 — that's 32 feet of snow — and the low of 81.3 in 1930-31.
If you're an expert skier, you can use all that snow to schuss down the black-diamond runs of nearby Mount Bohemia. If you're a local, you buy a snow blower or head for Florida.
Indian in Wakefield
Along U.S. 2 on the shores of Sunday Lake, not far from Indianhead Mountain ski area, stands the 20-foot bust of an Indian man carved in 1988 from the trunk of a local pine tree.
Hungarian-born sculptor Peter Toth called it Nee-Gaw-Nee-Gaw-Bow, or Leading Man. Between 1972 and 1988, he created similar sculptures in every state and several Canadian provinces.
There's also an unnamed statue next to the visitor-information cabin in Two Harbors, which Toth carved in 1977 and came to refresh in 2008.
His Trail of the Whispering Giants series is a tribute to indigenous cultures in North America.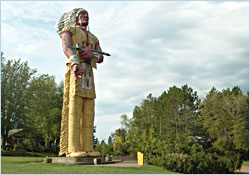 Ski bum in Bessemer
The cheerful red, white and blue fiberglass skier at the entrance to Big Powderhorn Mountain is a relic of the heyday of skiing in the western corner of the Upper Peninsula.
That was 50 years ago, before skiers started flying to bigger hills in Colorado. Now, this area's four alpine ski areas struggle. The snow, however, still is the most reliably ample in the Upper Midwest (see the snow gauge, above).
Hiawatha in Ironwood
This 52-foot giant isn't on U.S. 2, but it's close. Built in 1964 and named for the noble brave of Henry Wadsworth Longfellow's 1855 poem "Song of Hiawatha," this imposing fellow wears a feathered headdress and fringed buckskin leggings and cradles a peace pipe.
From U.S. 2 in Ironwood, turn left onto Douglas Boulevard, or Business 2. At the T, turn right onto Frederick Street, then take an immediate left onto Suffolk Street.
Last updated on July 20, 2021