Schools of know-how
Go away for a relaxing weekend and come home with a new skill.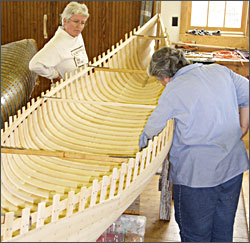 In this part of the country, the do-it-yourself movement is alive and well.
Folk schools in Minnesota are thriving, with dozens of workshops offered. In canoe country, you can learn winter photography one weekend at the Ely Folk School, and animal tracking the next.
In bluff country near Lanesboro, take a class at the Eagle Bluff Skills School on cheese-making or Amish bread-baking.
At the Driftless Folk School in the coulees of Wisconsin, learn how to make rag rugs from old T-shirts and baskets from pine needles.
It's a two-fer: Acquire a life skill and enjoy a fun getaway in a beautiful place.
Nearly all of the folk schools are in vacation areas, though not all operate year-round.
One that does is the North House Folk School in Grand Marais, at the northeast tip of Minnesota. Even in the depths of winter, many of its classes fill quickly.
Learning the old ways
Often, students are regulars, like retiree Albert Knutson of Minneapolis. The first class he took at North House was on making moosehide mukluks.
Then, he learned how to make dogwood baskets, Finnish puukko knives, carved spoons, Swedish shrink boxes, Windsor stools, trestle work benches, birchbark berry baskets and artisan breads.
"I can't tell you enough how much I learn from those teachers up there; it's incredible," said Knutson. "They're so young for what they know, and I can't believe they know so much about the old ways of doing things."
Most of the classes take several days, so Knutson gets a room at Lund's Motel and eats meals at the Pie Place. Eventually, he became part of the North House community, even organizing a benefit when one of the instructors suffered a stroke.
"I fell in love with the people and the area," Knutson said. "And it just went on and on."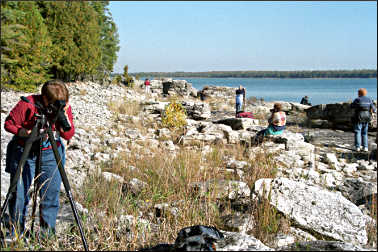 The Scandinavian influence
Like the North House, the Clearing in Door County was founded on the Scandinavian tradition of folk schools — but 62 years earlier, in 1935.
Its founder, Danish landscape architect Jens Jensen, meant for it to be a place where ordinary people could escape the city to learn and relax in a beautiful, stress-free setting.
"There's nothing formal about anything here," said director Mike Schneider. "If you want to skip class, you can do that; I encourage it sometimes, on a nice day."
In winter, classes are held all over Door County, but in summer, they're held in and around lovely stone buildings on the 130-acre wooded campus near Ellison Bay.
There are courses on science, history, theater, film and religion as well as the arts, but the hands-on classes fill fastest, Schneider says.
Trip Tips: Learning vacations at folk schools
If the school is in a popular resort area and you will need lodgings, register as early as possible and make sure you can get a place to stay.
Often, students can save money by camping nearby and paying the commuter rate. Some schools, such as the North House, offer an early-bird discount.
Minnesota
North House Folk School in Grand Marais. Inspired by the folk schools of Scandinavia, this school on the Lake Superior harbor holds hundreds of workshops in traditional artisanry throughout the year and sailing in summer.
Cost includes instruction only; students find their own lodgings and meals nearby. Students on a budget can camp next door in the municipal campground.
For more, see Artistic Grand Marais.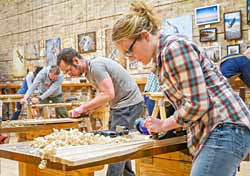 Ely Folk School in Ely. This school, based downtown, offers such traditional crafts and skills as glassblowing, quilting, log construction, cheese-making, spinning and rosemaling.
For more, see Winter in Ely.
Duluth Folk School in Duluth. This school offers classes in various venues around town, on such topics as bike maintenance, bee-keeping and knitting.
Founded in 2016, the school has a storefront in the Lincoln Park Craft District of West Duluth that includes a cafe. It offers classes as well as free concerts, yoga and artisan markets.
The school is flanked by OMC Smokehouse, and Bent Paddle Brewing's taproom is two blocks away. There are hotel rooms at Enger Lofts on the next block.
Eagle Bluff Skills School near Lanesboro. This school, part of Eagle Bluff Environmental Learning Center above the Root River, offers many classes on sustainable-lifestyle skills as well as ecotours and the arts.
For more, see Escape to Eagle Bluff.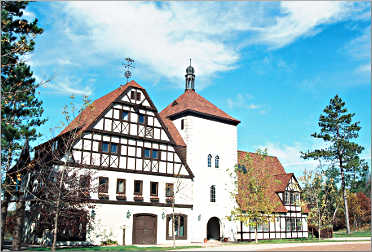 Grand Marais Art Colony in Grand Marais. Founded in 1947 by a professor from the Minneapolis College of Art and Design, this school offers year-round workshops in the visual arts, including calligraphy, collage, printmaking, outdoors landscape painting, ceramic tile, fused glass and book arts.
Concordia Language Villages near Bemidji. This sprawling lakeside complex north of Bemidji has separate campuses for each language, with architecture in the style of the country. The excellent cuisine also is in the style of each country.
Youth attend the camps in summer, but adults can attend weekend and weeklong camps the rest of the year, many in May and September. Languages are Finnish, French, German, Norwegian, Spanish and Swedish.
For more, see Going abroad in Bemidji.
Bryan Hansel Photography in Grand Marais. Hansel offers many nature and travel photography classes along Minnesota's North Shore, and they fill quickly.
Several other North Shore photographers offer classes. For more, see Following the photographers: Lake Superior in Minnesota.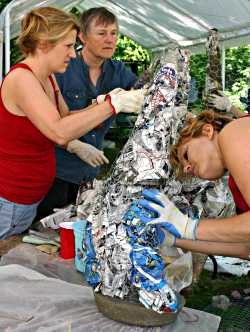 Wisconsin
Driftless Folk School in Viroqua. Southwest Wisconsin is a hotbed of organic farming, and this school focuses on building sustainable lifestyles. Most of its classes are half-day or one-day and are held at the homes and farms of the instructors or in the Landmark Center in Viroqua.
For more about the area, see Valleys of Vernon County.
Shake Rag Alley Center for the Arts in Mineral Point. The charming center in this southwest Wisconsin arts community holds classes throughout the year in nine buildings, some from the 1840s. They include workshops in mosaic, rustic furniture, felting and paper arts.
It offers three rooms in its 1840s Coach House, and two apartments nearby.
For more, see Slinging cement in Mineral Point and Beauty in Mineral Point.
Folklore Village near Dodgeville. The cultural and heritage center that includes this folk school in southwest Wisconsin, in the hills 15 miles northeast of Mineral Point, was founded in 1971 and is known for its folk-dancing festivals.
Classes include such skills as basketry, blacksmithing, embroidery, instrument-making, rosemaling and wild-edible gathering. The regular season is June through November, but a few classes are held in winter.
The Clearing in Ellison Bay. This folk school in Door County has a gorgeous setting on Green Bay and offers many programs in the arts, nature and humanities. In summer and fall, six-day classes include meals and lodgings in lovely stone cottages.
Students on a budget can camp nearby and pay the commuter rate. For more, see Classroom in the Clearing.
Peninsula School of Art in Fish Creek. This art center on 10 acres, founded in 1965, offers year-round classes and workshops in studio arts, including ceramics, metalsmithing, photography and especially painting.
For more, see Arts in Door County.
Bjorklunden near Baileys Harbor. This Door County estate on the shore of Lake Michigan, near Baileys Harbor, is owned by Lawrence University and offers weeklong seminars in many subjects.
Summer seminars begin in June and include such topics as literature, politics and philosophy; at the end of August, topics become lighter, with seminars on film, water-color, fiction writing, bridge, drawing and nature.
Students can stay at the lodge. People who want to save money by camping nearby can pay a commuter rate.
For lodgings, see Where to stay in Door County.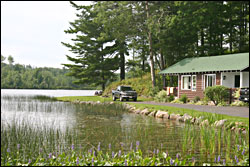 Sievers School of Fiber Arts on Washington Island. This Door County school, founded in 1979, offers classes in weaving, knitting, quilting and spinning and also in basketry and woodcarving. Classes are held in the restored 1895 Jackson Harbor Schoolhouse and two new studios.
A turn-of-the-century timber barn serves as a women's dormitory and has a kitchen students can use.
Madeline Island School of the Arts in La Pointe, Wis. From May through October, this school on a restored dairy farm offers five-day classes in photography, drawing, painting, fiber arts and writing.
Students stay in four-room cottages next to woods and meadows. Breakfast and lunch is included in the rates. The campus is disabled-accessible.
For more about the area, see Madeline's magnetism.
Dillman's Bay Resort in Lac du Flambeau. From May through September, this resort brings in professional instructors to teach workshops on painting, writing, photography, fiber arts, wood carving and other pursuits.
Students can stay at the resort's cabins, on a peninsula in White Sand Lake. In1934, one of them served as a hideout for Baby Face Nelson (for more, see Chasing gangsters in Wisconsin).
For more about the area, see Carrying the torch.
Wild Rice Retreat in Bayfield. People who sign up for retreats at this wellness center in the woods can combine them with upscale lodgings and meals. Classes include photography, painting, writing and metalworking.
Iowa
Vesterheim Folk Art School in Decorah. This Norwegian "home in the west" has 15 historic buildings, a crafts and education center and a four-level museum where students can see examples of traditional Norwegian folk crafts.
Classes in rosemaling, woodworking, fiber arts, fine arts, food traditions and knifemaking and blacksmithing fill quickly, especially those taught by instructors brought in from Norway.
For more, see A pocket of Norway.
Villages Folk School in Bonaparte. This school in the 12 historic Villages of Van Buren, in the corner of southeast Iowa, teaches year-round classes in folk arts, as blacksmithing, chair-caning and felting, and such fine arts as raku pottery and sculpture.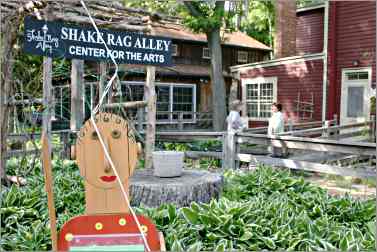 Michigan
Porcupine Mountains Folk School near Silver City. This year-round school in the Upper Peninsula is in beautiful Porcupine Mountains Wilderness State Park, on Lake Superior in the Upper Peninsula.
Workshops are held at the Folk School Building, near the Union Bay Campground and the Kaug Wudjoo Lodge. Accommodations within the park include the lodge, cabins, yurts and campsites, and there are resorts nearby.
For more, see Afoot in the Porkies.
Interlochen College of Creative Arts in Traverse City. Interlochen is best-known for its music and performing arts programs for youths. But from May through August, it also offers a full slate of programs for adults in creative writing, fiber arts, painting and drawing and, of course, music.
On-campus lodgings and dining are available, and there's a lot to do in town, a vacation destination in summer.
For more about the area, see The good life in Traverse City.
Nationwide
Road Scholar. Programs of the organization once known as Elderhostel are called Road Scholar Adventures in Lifelong Learning. They're open to adults 21 and older but still targeted to older, primarily retired adults.
They're held around the world and combine travel with learning, offering programs in art, history, language, music and outdoor recreation.
In this region, programs may include such courses as a five-night class in Lake Superior culture and history, with lodgings at Naniboujou near Grand Marais; a six-night birding trip by trail and canoe near Eagle River, Wis., with lodgings at Trees for Tomorrow; and a five-night course during the Great River Shakespeare Festival in Winona.
Last updated on January 28, 2022