Best little towns that charm the tourists
These 10 favorite destinations have personality to spare.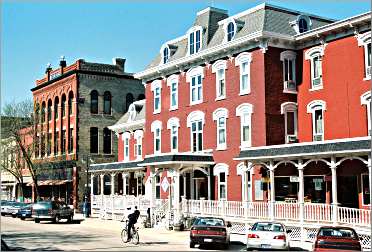 When it comes to small towns, there really is such a thing as love at first sight.
In 2000, Joy Gieseke was traveling to Madison from her economic-development job in Kansas when she stopped for a few hours in Mineral Point, Wis. She went about her business, but eight months later, she started looking for a job there, found the chamber position open and grabbed it.
"I don't know why Mineral Point hit me so hard," Gieseke says. "I had never heard about it before, but I stumbled across it and couldn't get it out of my mind. I've stumbled across a lot of little towns and just thought, well, that was cute.
"I thought I had a special story, but I came here and heard the same story over and over and over again," she says. "There seems to be a quality here that sucks people in."
There is, and it does. That's why Mineral Point gets the top spot on this list.
The village of 2,700 in southwest Wisconsin was a boomtown when Milwaukee was a few mud streets, and it nearly became the state capital. After lead mining ended, its glowing limestone buildings remained, and in 1971, it became the first Wisconsin city listed on the National Register of Historic Places.
Its residents were heavily involved in historic preservation and the arts long before anyone had heard the phrase "economic stimulus." It's charming but not cloying, cute but not contrived — in other words, the real deal.
"You've got to get in and feel it for yourself," Gieseke says. "Mineral Point isn't for everybody, but I do believe there's something special here."
In the bluffs of northeast Iowa, Decorah is amply endowed with the same warmth and authenticity found in Mineral Point. It has the hipness of a college town, the down-home friendliness of the country and a Norwegian heritage that runs deep.
Luckily, its tucked-away location protects it from the hordes - except the 60,000 who show up every July for Nordic Fest.
Somehow, lovely Bayfield at the top of Wisconsin has stayed the same down-to-earth village it has always been, largely due to residents who love it even more than the tourists and stick with it through thick (summer) and thin (winter).
Many now live in Washburn or elsewhere around the Bayfield Peninsula, thanks to rising land prices, but Bayfield's gorgeous setting on Lake Superior guarantees it will always be the main draw.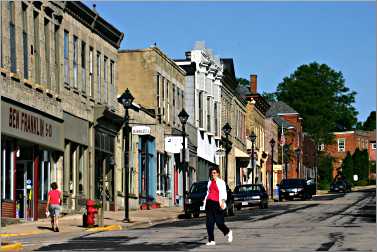 Less than an hour from the Twin Cities, Northfield gets blanked by the lists, but it's a great weekend destination. It's got shops, it's got history, it's got colleges that provide quantities of music, art, theater and lectures to which admission usually is free; find details on coffee-shop bulletin boards.
If you're bored in Northfield, you're bored with life.
Considering its assets, Sturgeon Bay in Door County, Wis., should be an insufferable tourist town. It has three darling lighthouses, a beautiful waterfront setting, a downtown full of interesting shops, excellent places to eat and nearly two dozen B&Bs, plus it's sandwiched between two gorgeous state parks.
It's actually still a working town; tourists just benefit.
Everybody loves Lanesboro, Minn., but that wasn't always the case. This bluff-country burg had gone into a deep sleep by the 1980s, when the Root River State Trail was built through town, bringing mobs of bicyclists with it.
Today, the town is a hub for biking, canoeing and kayaking as well as fly-fishing and turkey-hunting; people who aren't so outdoorsy can shop, see plays and go on Amish tours. It's still a little dead in winter, but the locals need to catch their breath sometime.
Trempealeau, Wis., has few of the typical attractions, because it's just a sleepy hamlet on the Mississippi River. It exerts a mighty pull, however, on anyone who likes to be outdoors - looking for wildflowers, hiking up to the river valley's best view, canoeing on sloughs or bicycling on one of the region's most scenic trails.
And a meal on the porch of the Trempealeau Hotel, which has a front-seat view of river traffic, is pretty much the best way to end a day anywhere.
It costs a lot to fly to Europe but only a tank of gas to get to New Glarus, Wis. This town near Madison, once almost wholly Swiss, has hung onto its heritage with a vengeance. It looks a little touristy, with its half-timbered chalet facades and painted fiberglass cows, but the charm is more than skin-deep.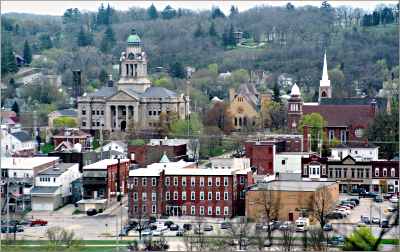 There are many reasons to visit — but it's worth a stop just to pick up a bag of pastries from the New Glarus Bakery and an Edel-Pils from Puempel's Tavern.
Way up in Minnesota's north woods, Ely doesn't get a lot of through traffic. But those who have been there once come back over and over for the fantastic skiing, hiking, canoeing and sled-dog mushing. It has always had a bit of a split personality, having been a mining town long before it was a gateway to the Boundary Waters Canoe Area Wilderness, and long winters make it tough to earn a living.
For a long time, Grand Marais, Minn., was a Riviera for the rugged, a Lake Superior oasis for people who work and play hard in the forests over the ridge and along the water. It's changing now, as longtime mom-and-pop motels are replaced with city-style condos.
But we'll still have Artist's Point, the North House Folk School and the World's Best Donuts. At least, I hope we will.
More towns to see in the Upper Midwest
For great places to shop, see Best shopping towns for weekenders.
For towns off the beaten tourist path, see Best up-and-coming towns to get to know.
For more about "best of" lists, see Chasing the Top 10.
Last updated on October 8, 2010