10 great places to take teens
Sure, they'd rather be with their friends. But you're the one with the wallet.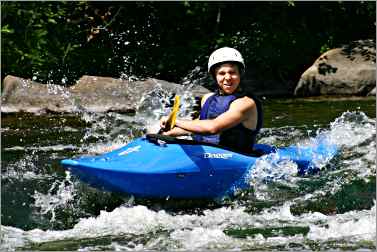 By the time children turn 10, the day already is looming when they no longer want to spend time with you, their loving parent.
Jeremy Southworth of La Crosse, Wis., saw that day coming. So when his son Gavin got older, he took him jet-boating in the Dells and zip-lining in Door County.
"He'd been wanting to try zip-lining, so as soon as we came up here, we decided, 'We're doing that,' " he said.
Luckily, parents still are in demand when they're willing to pay for thrills.
The riskier, the bette-though you can make sure no one gets hurt. When I took my 14-year-old son whitewater kayaking, the first thing he did was capsize and bash his head against a rock. But he was wearing a helmet designed for that, and an instructor was nearby.
My son's Montessori teacher, who drove her parents crazy when she was a teen, had a theory. Teens need to take risks, she says, and they also need to burn off a lot of energy.
For her, one of Outward Bound's wilderness trips for teens would have been perfect. Those are pricey, though.
You don't need to be a Daddy Bigbucks or Mama Moneybags to get your teens to enjoy a vacation with you.
In addition to thrills, they prize independence, which you can give them on a fund-raising bicycle tour or at a family-friendly music festival (the ones without alcohol).
Here are 10 ideas for fun things to do with teens on vacation.
Whitewater kayaking and rafting
When my son was 14, we headed deep into northeast Wisconsin's Nicolet National Forest to learn whitewater-kayaking at Bear Paw Outdoor Adventure Resort.
He thought it was a lot like snowboarding, with face plants into water instead of snow.
"It's like catching air, except you don't get any air," he said. "I'm just grinding and trying stuff out. It's fun."
Bear Paw offers rentals and a list of local instructors. There's also great whitewater rafting nearby. Outfitters include Herb's Wolf River Rafts and Shotgun Eddy on the Wolf and Kosir's on the Peshtigo.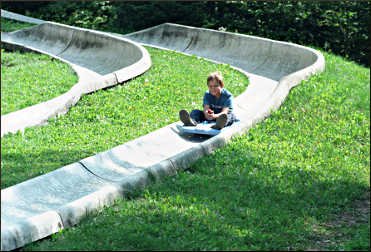 Alpine slides
In summer, some ski areas operate luge-style rides. At Lutsen Mountains on Minnesota's North Shore, it's a pair of twisting concrete chutes with banked sides, and people run them in plastic sleds with hand brakes.
It's especially fun for teens (and everyone else) because they can race friends or family, and they can go as fast as they dare.
There are also alpine slides at Chestnut Mountain near Galena, Ill., and Crystal Mountain near Michigan's Sleeping Bear Dunes National Lakeshore (where teens like to do the Dune Climb).
In Duluth, Spirit Mountain has an alpine coaster in its Adventure Park.
Zip lines
Zip lines have a high cool quotient, though they're not all created equal.
Some are quite short. Some aren't in the tree canopy or a scenic place.
We're guessing that teens would most enjoy racing friends or family on dueling zip lines, which you can find near Lake Michigan at the ski resorts Boyne Highlands near Harbor Springs, Mich., and Boyne Mountain near Charlevoix. Their courses also are among the longest in the region.
One of the longest indoor zip lines in North America is the  Barnacle Blast over Nickelodeon Universe in the Mall of America in Bloomington, Minn. It's part of the Dutchman's Deck Adventure Course, which includes a high-ropes course and slides.
For more, see A zeal for zip lines.
Ropes courses
Many environmental centers have treetop ropes challenges.
One of the most scenic is at Eagle Bluff Environmental Center near the southeast Minnesota town of Lanesboro. People get into harnesses and cross a series of cables, logs and planks that are three stories high.
Some stretches are scarier than others-such as the Cherry Picker, where there's nothing to hold onto except the knotted ends of ropes above your head.
The reward is a zip line ride back to the ground, and relief-you did it.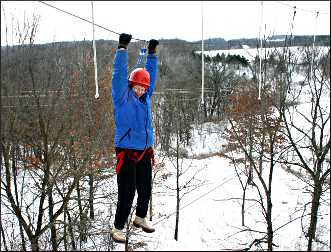 "It was certainly different from what I expected," said my daughter after she finished it. "But now I have something to brag about."
During the summer, Eagle Bluff's ropes course is open to the public most Saturdays and Tuesdays; register in advance. There's also a Haunted Ropes Course in October.
On Minnesota's North Shore, the North Shore Adventure Park in Silver Bay is built in a wooded area around a cliff and has six ropes courses with four difficulty levels and 10 zip lines.
To ramp up the thrill, it occasionally offers a Glow in the Park night climb. Reserve in advance to get a discount and guaranteed start time.
Jet boating
The best-known teen attractions in the Wisconsin Dells are the water parks, whose rides get bigger and badder every year.
Teens also like high-speed, high-decibel jet-boat rides on the Wisconsin River, powered by 1,200-horsepower engines. Of course, everyone is soaked by the end.
Two companies offer the rides, Jet Boat Adventures and WildThing Jet Boat Tours.
Mountain biking
This sport has everything teens like, including speed and danger.
Anyone can rent a mountain bike and try out a trail, but it helps to have some instruction, such as "If you don't want to run into it, don't look at it," or, "Keep your eyes on the trail, not on the trees."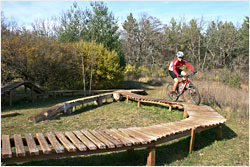 Minnesota state parks have added I Can Mountain Bike! to their list of beginner programs. Sessions are given on the popular mountain-bike trails at Cuyuna Country State Recreation Area in Ironton, east of Brainerd. They're for ages 10 and up.
Many parks have beginner loops, such as the popular John Muir trails in Kettle Moraine State Forest, near La Grange in southeast Wisconsin.
Bicycle touring
On a well-organized, family-friendly bicycle tour, parents can let their teens ride ahead with their friends. In fact, some parents encourage it -so the teens can get the tent set up by the time the parents roll in.
My favorite is the MS Society's Ride Across Minnesota in late July, which raises money to fight multiple sclerosis. Benefit rides tend to attract a very nice group of folks, and they're also one of the cheapest vacations a parent can take with a child, after the minimum funds are raised.
Riders are treated to bountiful food at rest stops. For dinner, they can buy food from various civic groups at the evening stop, usually a city park or fairground, and there's also wholesome evening entertainment.
For more good tours, see Sightseeing by bicycle.
Music festivals with camping
This is another place where teens can go off on their own and still be near parents. Look for the ones that advertise children's activities and don't sell alcohol.
Perhaps the best is the Winnipeg Folk Festival, on the first long weekend of July.
In Wisconsin's Kickapoo Valley, there's Larryfest in August. In northwest Michigan near Cross Village, Blissfest is in July.
In Minnesota, the RiverSong Music Festival on the Crow River in Hutchinson is in July, and the Minnesota Bluegrass & Old-time Music Festival near St. Cloud is in August.
But many festivals offer family camping. For more, check our list of music festivals in 2021.
Lake resorts
This is the best teen vacation of all, because they can go off on their own and stay up as late as they want, usually hanging around with other teens.
Small or medium-size family-run resorts are best, so teens can make friends and can't go too far off on their own. Look for a resort that has a lodge with a game room and, of course, WiFi.
Chances are your teens will like it so much they'll want to go every year, even after they grow up and have teens of their own.
For more, see The Minnesota resort of your dreams and The Wisconsin resort of your dreams.
For tips on choosing a resort, see One in 1,000.
Last updated on July 13, 2021