Rooms with a view
At these inns, guests enjoy a panorama with their morning coffee.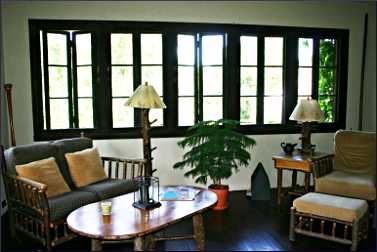 There are a lot of good views in the world — from observation towers, skyscrapers, bluff-top parks.
But the best view always is the one you can admire from your own room.
Many places in the Upper Midwest have a lovely window on the world — cabins on lakes, hotels on rivers, inns in the bluffs. But some rise above the others, often literally.
I've stayed in a treehouse-like cottage in the bluffs above the Mississippi and in a lighthouse on the edge of a Lake Superior cliff.
From an art-deco tower, I've looked down on a mile of Chicago River, and from a Mississippi towboat, I've looked up at a shimmering cathedral.
Usually, the better the view, the better the story.
Dubuque, Iowa, is built on seven hills, so it's not hard to find a good view there. But I'd never heard of a place called Four Mounds until I ran into a woman who spoke with great enthusiasm about her stay in its Majestic River Suite.
An Arts and Crafts aerie with a sleeping porch overlooking the Mississippi did sound pretty great, so I reserved the suite for my birthday weekend and drove along the Mississippi to the bluffs above Dubuque.
The view was nice, but it was eclipsed by the perfectly preserved interior of the 1908 mansion, home of a Victorian woman who had a mind of her own.
"The rumor is that Frank Lloyd Wright came to give Mrs.‭ ‬Burden a quote,‭ ‬since he did so much work in Spring Green, and he kept saying,‭ '‬Where is the man of the house‭?' — ‬this is‭ ‬1905," said manager Marie Fitzgerald. "She said,‭ '‬I'm making the decisions.'‭ So the word is that he left in a huff."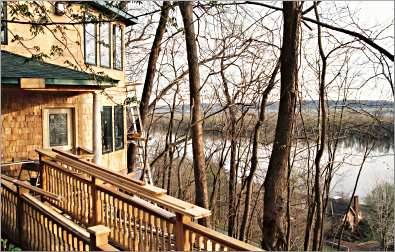 Viola and George Burden then had Chicago architect Lawrence Buck design their house, which became the centerpiece of a 60-acre "gentleman's farm." In 1982, their daughter-in-law bequeathed it to the city.
Now, it's on the National Register of Historic Places and operates as a non-profit inn and conference center. In summer, it holds an adventure day camp for low-income children, and during the school year, it teaches job skills to at-risk youth.
Hiking trails wind along the wooded bluffs and to a ropes course, playhouse, rock garden, barn and other outbuildings that guests are free to explore.
In the gabled Grey House, our suite looked as if it had jumped off the pages of Arts and Crafts Home magazine. It had a bedroom with a brick fireplace, leather Mission armchairs, trestle tables and fresh flowers, and our "sleeping porch" was furnished with a Norway pine, a spotting scope and windows on three sides.
For the first time, I wanted to take my B&B room home with me.
We were lulled to sleep by trains rumbling at the foot of the bluffs and owls calling from the trees outside our window. When we woke up, so many songbirds were calling it sounded like a jungle.
At breakfast, we sat around a big oak table adorned with peonies, and Fitzgerald served us stuffed French toast, bacon and fresh strawberries and melon.
All of the rooms at Four Mounds are lovely, and all of the guests have a view of the Mississippi River Valley from the manicured lawn, which rolls right to the edge of the bluff. But only the Majestic River Suite gives its guests a front-row seat.
Here are our favorite rooms with a view.
Iowa
Four Mounds Inn in Dubuque. On a blufftop estate near Eagle Point Park, this 1908 inn is a beautiful Arts and Crafts non-profit bed-and-breakfast inn and conference center.
Go for the Majestic River Suite and its airy sleeping porch unless you're bringing your family, in which case the Marvin's Gardens cabin would be very nice.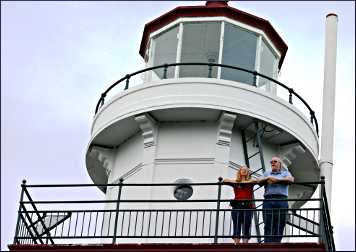 For more, see Destination Dubuque.
Hancock House B&B, Dubuque. This was one of the most prosperous towns in the region in the last half of the 19th century, and its steepled cityscape still is impressive. Among its many mansions is the Hancock House, an 1891 Queen Anne built by the Midwest's largest wholesale grocer.
The whole town spreads out beneath the Hancock's wraparound porch, and eagles circle in winter.
Five rooms have views, including the Doll Room, with its double whirlpool set into a window-lined turret, and Mr. Hancock's Room, with its turret, fireplace and original marble bathroom.
Wisconsin
Hawks View Cottages & Lodges, Fountain City. Five cottages on a steep hillside above this Mississippi River village provide a peaceful retreat with an especially nice view. The Red Tail has the widest view, but the smallest cottage, Goshawk, has the prettiest deck. Marshhawk is wheelchair-accessible.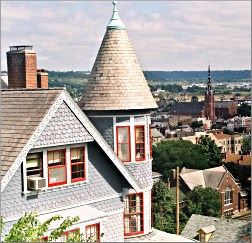 Birds hop around just outside, in the tree branches that brush the many windows. Skylights splash sun on the gleaming pine interiors.
Each cottage has two stories, a double whirlpool, a full kitchen, one or two decks and a pull-out sofa on the first floor. Rates include breakfast supplies and a bottle of wine. There are two lodges in the adjoining valley, overlooking vineyards.
For more, see Fountain City oddities.
Garmisch USA, Cable. This historic resort in northwest Wisconsin, with its medieval hunting lodge motif, is an eyeful in itself. Room 7, with its view of Lake Namekagon and wood-burning fireplace, is my favorite, but Room 6 has an even bigger view, 25 feet of plate glass from which to watch the sun set over the huge lake.
Room 2 has a smaller view, and the Bavaria Suite has a lower-level view as well as a two-person whirlpool and a private deck. There's a good restaurant with many German dishes, and a variety of theme cottages on the grounds.
The resort has quite a history. For more, see Classic Wisconsin lodges.
Straz Tower, Milwaukee. This is the budget option for people who want a view. In summer, Marquette University rents out dorm rooms in this 17-story tower, which is on the edge of downtown and has good access to public transportation.
Ask if you want a room with TV and mini-fridge. For more, see Cheap stays.
Minnesota
Inn on Lake Superior, Duluth. All of the lake-facing inns on Canal Park have good views of the city, the lake and the Lakewalk. But only the Inn on Lake Superior has patios and balconies, and three corner rooms that give their occupants views of the lake and Aerial Lift Bridge.
Room 180 is best for boat-watchers, who can dash out of its patio doors when the bridge's bell signals approaching boats. Rooms 280 and 380 (which includes a kitchenette) also are good. Check for seasonal specials.
For more, see Boat watching in Duluth.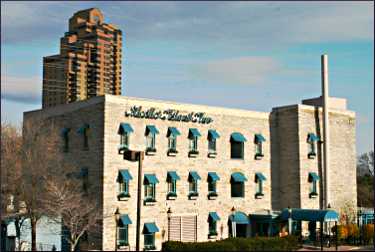 South Pier Inn, Duluth. This inn is literally in the shadow of the Aerial Lift Bridge, across from Canal Park, and guests staying in the Panoramic Grand Corner Suites have a view both of boats coming in from the lake and also leaving the harbor.
They're expensive during peak season; to save money, stay there in spring or late fall.
The one-bedroom Panoramic suites are very handsome, with gas fireplaces and double whirlpools facing the canal entry. The other waterfront suites also have balconies, whirlpools and gas fireplaces.
For more about Park Point, see Dunes of Duluth.
Covington Inn, St. Paul. There are few sights quite as magical as the Cathedral of St. Paul at night, and that's just part of the view from this restored 1946 towboat.
Now an elegant inn, it's moored on Harriet Island, across from downtown. There are four elegant rooms with fireplaces; the Pilot's Quarters has a rooftop space for entertaining.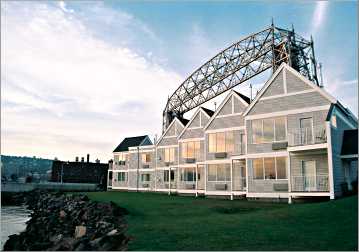 For more about St. Paul, see Whiskey and cherubs.
Nicollet Island Inn, Minneapolis. All of the 24 rooms at this 1893 limestone inn have views — of St. Anthony Main, the river or downtown Minneapolis. For a treat, ask for a corner room and get two views. Some rooms include whirlpools. Ask about packages.
For more, see On the river in Minneapolis.
Michigan's Upper Peninsula
Big Bay Lighthouse B&B, Big Bay. This lighthouse, 25 miles east of Marquette on Lake Superior, is on the National Register of Historic Places and has seven attractive rooms.
Guests can climb to the top of the tower and onto its wraparound catwalk. There's a sauna, and spa services are available.
In the village of Big Bay, guests can dine at the Thunder Bay Inn, a vacation retreat for Henry Ford and his executives that was used in the filming of the 1959 film "Anatomy of a Murder."
For more about lighthouse B&Bs, see Dwelling in the past.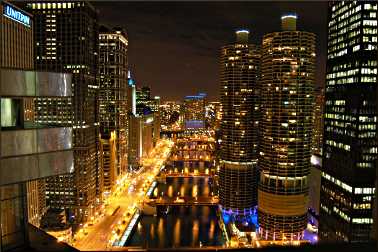 The Landmark Inn, Marquette. Rooms in this restored 1930 inn have spectacular views of Lake Superior. For a treat, reserve the two-room, two-bath Penthouse Suite, which also has a whirlpool, steam shower, fireplace, living room and kitchen.
The hotel is a member of the National Trust's Historic Hotels of America program.
For more, see Marquette's two faces.
Chicago
Club Quarters on Wacker. There are a lot of rooms with a view in Chicago. But I like rooms in the 1928 art-deco Mather Tower, whose tiny, octagonal upper floors create an aerie for guests.
Guests have sweeping views of the Chicago River and the twin beehives of Marina City, and they're only a block from the Michigan Avenue bridge. The tower rooms are small — the floors are the smallest of all Chicago skyscrapers — but they can be a bargain.
Every time I've stayed there, my room has been upgraded to a river view; if yours isn't, ask.
For more, see Skyscraper city and other stories in our Chicago section.
Last updated on January 30, 2020