Cheap summer getaways in Wisconsin
No money, no problem: Here are 20 great vacations that are easy on the wallet.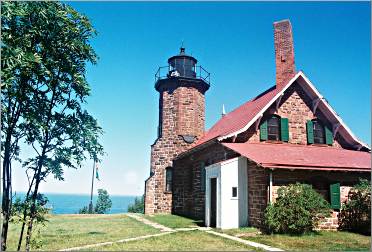 In summer, it's not as hard as you'd think to take a trip that's a lot of fun but doesn't cost much.
Many of the great travel experiences in Wisconsin can't be bought, anyway — bicycling along Lake Michigan, camping on sandbars, volunteering in a lighthouse.
If you like music and festivals, you're really in luck — Wisconsin has many fun, family-friendly fests with on-site camping, at unbeatable prices. And its national forests and county parks are full of great campsites.
Here's our list of the best cheap trips, most for less than $100 per person.
Most give you a roof over your head; the trips that require tent camping also include guides, meals and/or fun things to do.
For trips next door, see Cheap summer getaways in Minnesota.
Music and camping
Camping at a music festival is a time-honored way to have fun on a budget, although some of the bigger fests can get pretty rowdy. Here are some lower-key fests that are especially family-friendly.
For more, check our Events Calendar.
The Trempealeau Hotel in this little hamlet on the Mississippi is known for its Reggae Fest the first weekend of June. It also offers live music on weekends and sometimes during the week.
You can camp up the street in Perrot State Park or stay in one of the hotel's old-fashioned rooms with shared bath for $50-$70.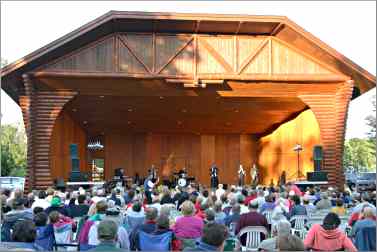 Summer in Solon Springs
On the shores of Upper St. Croix Lake, headwaters of the St. Croix River, the Lucius Woods Performing Arts Center offers Music in the Park on Saturday evenings in July and early August at its massive log bandshell.
It's on the lake in Lucius Woods County Park, which has 24 wooded sites, a nice sand beach, a playground and a modern bathhouse. Camping costs $15-$18 and is first-come, first-served.
Music includes folk, blues, big-band, bluegrass, Dixieland jazz, Celtic and '50s classics. Tickets are $15 in advance, $20 at the gate, free for children 15 and under. Brats and beer are sold on site.
For more, see Summer nights in Solon Springs.
Sweet corn in the coulees
On a maple-syrup farm in the gorgeous coulees of southwest Wisconsin, between Ontario and La Farge, the Kickapoo Valley Acoustic Music Association sponsors Larryfest.
It's Aug. 18-20 in 2022 and cost of $150 includes more than 20 performances, camping, sweet corn, firewood and shuttle bus. Food and soda, but no alcoholic beverages, are sold on the grounds.
For more about the area, see Valleys of Vernon County.
Big-name bands in the bluffs
In the bluffs above the Mississippi River, half an hour north of Winona, Minn., Train, Brantley Gilbert, Cole Swindell and Brooks & Dunn headline the Ashley for the Arts music festival, Aug. 11-13 in 2022 in Arcadia.
Tickets are only $35 for all three days. In addition to music, there will be a hot-air balloon launch, lumberjack show, arts and crafts fair and children's activities.
There's no camping on-site, but Joe Pietrek Jr. County Park is five miles north on the Trempealeau River, and Trempealeau and La Crosse are nearby.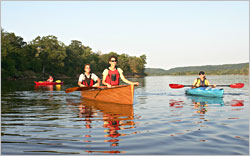 Paddling
Canoeing on the Namekagon
Flowing out of Hayward, the Namekagon River is part of the St. Croix National Scenic Riverway. It's great for paddling and also for swimming, because its waters are spring-fed and as clear as glass.
Camping is free and first-come, first-served. Try the quiet section between Trego and the St. Croix River. If you need an outfitter, contact Pardun's Canoe Rental and Shuttle Service in Danbury.
Sandbar camping on the Wisconsin
People who like to paddle and camp love the Wisconsin River toward the middle of summer, when its many sandbars start to appear. Sites are first-come, first-served.
You can outfit yourself and arrange for your own shuttle, or go through the Wisconsin Canoe Company, based in Spring Green.
Keep an eye on water levels and brewing storms. Miles Paddled has lots of great information for first-time canoe-campers on the river.
Bicycling
An organized bicycle tour is a great way to see the countryside and make a lot of friends, too. Many of the best are fund-raising rides, and if you raise the minimum, you pay only the registration fee.
Following Lake Michigan
The annual Scenic Shore 150 follows Lake Michigan from Mequon, just north of Milwaukee, to Potowatomi State Park in Sturgeon Bay, with an overnight in Manitowoc.
The route includes three trails, the Interurban from Mequon to Belgium and the Mariners and Rawley Point trails between Manitowoc and Point Beach State Forest.
It's July 23-24 in 2022. The ride benefits the Leukemia & Lymphoma Society.
For more rides, see Sightseeing by bicycle and Tours on two wheels.
Camping
Park and ride on the edge of Madison
If you're unfamiliar with the one-way streets around Madison's Capitol Square (and the towing rules), you can camp for cheap on the edge of town, surrounded by trees and flowers, and ride your bike into town.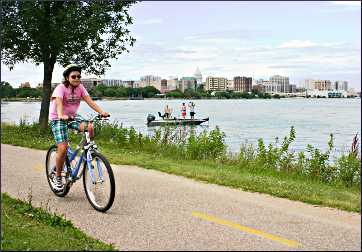 The 17-mile Capital City State Trail runs through Lake Farm County Park in the Capital Springs State Recreation Area, which has a campground with a nice  shower house.
From there, you can ride west all the way to Dodgeville; the Military Ridge State Trail starts where the Capital City ends.
On the west side of town, near Governor Nelson State Park, you can camp on the shores of Lake Mendota at the county-run Mendota Park. All of the sites are electric, and there's a shower house and swimming area.
For more, see Summer in Madison.
Walking around Geneva Lake
In the tony Lake Geneva area of southeast Wisconsin, you can't put a roof over your head for less than $125. But you can have one of the best locations if you camp at Big Foot Beach State Park.
It's right on Geneva Lake in Fontana, with a quarter-mile sand beach. The campground has showers; 38 sites can be reserved and 37 are first-come, first-served.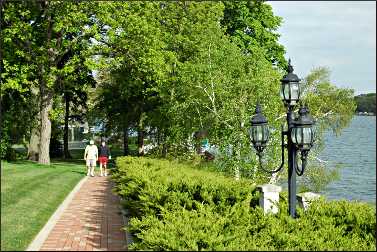 You can swim, but the thing to do is walk around the lake on a unusual footpath that goes right through the front yards of the big mansions. It's 20 miles, but you also can walk to the town of Lake Geneva and get a ride back to Fontana on a Lake Geneva Cruise Line boat.
For more, see Gawking in Lake Geneva.
On the shore of Lake Superior
I found Saxon Harbor County Park on Lake Superior while seeking out nearby Superior Falls, on the Montreal River between Wisconsin and Michigan. It has everything anyone wants in summer — a sand beach for swimming, showers, a protected bay for kayaking and a bar that serves burgers and pizza on days when it's too hot to cook.
It's one of our 30 great campsites.
Cabins
Cabin in waterfall country
Wisconsin state parks don't have camper cabins by state statute, but national forests can have them.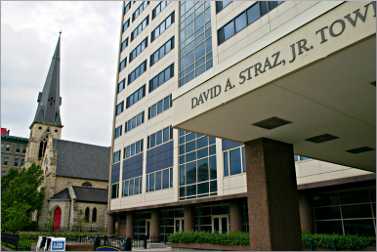 In the waterfall country of northeast Wisconsin, an hour east of Eagle River and 20 minutes west of Florence, Chequamegon-Nicolet National Forest rents eight Lost Lake Cabins at Lost Lake Campground.
The cabins sleep six in three bunk beds, and bathrooms and showers are in two central buildings. They rent for $40 weekdays, $45 weekends, and they're open from mid-May to mid-October. Reserve at Recreation.Gov.
Cabins for the physically disabled
If you're physically disabled, Wisconsin charges just $30 per night for accessible cabins in 10 state parks. Of course, they're very popular.
Modern cabins are in Buckhorn, Harrington Beach, High Cliff, Mirror Lake, Kohler-Andrae and Potawatomi state parks and at Ottawa Lake in the Southern Unit of Kettle Moraine State Forest and in Richard Bong Recreation Area.
Rustic cabins are at Copper Falls and Blue Mounds state parks. Reservations for each calendar year are taken starting Jan. 10 by individual parks.
On the Lake Michigan beach
Do you have a really large family and hardly any money but would like a nice beach vacation? Here's the place for you.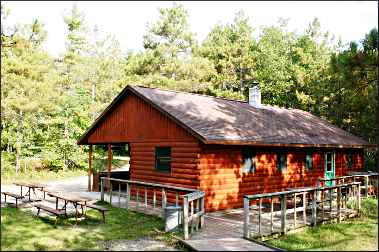 Just north of Two Rivers, Wis., Point Beach State Forest rents an "indoor group camp" that includes two rustic cabins, each with a boardwalk to white-sand beach on Lake Michigan. They're in their own part of the park, south of the lighthouse and main beach, so they're very quiet.
Guests should bring bicycles and ride the beautiful Rawley Point Trail through the park to the lighthouse and south to Two Rivers, where they can connect to the paved Mariners Trail, which follows the Lake Michigan shoreline to Manitowoc.
For more, see Two trails from Two Rivers.
One cabin sleeps 14 in bunks and the other sleeps 16, but they're all in one room, so beware of snorers. Each has a fire pit and latrine, and they share a covered pavilion for eating and a water pump. There's no electricity, so campers should bring lanterns. Shower houses are in the main part of the park. Cost is $60.
They can be reserved 11 months in advance, 888-947-2757. The park is at 920-794-7480.
Camping near Laura's house
Children's-book heroines Laura Ingalls Wilder and Caddie Woodlawn grew up in the bluffs above Lake Pepin, where you can rent an air-conditioned cabin at Nugget Lake County Park near Plum City.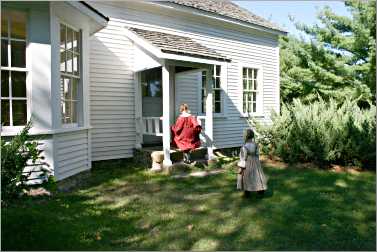 They're $70 (or camp for $25), plus $6 reservation fee and $5 entrance fee. In the park, there are canoe and kayak rentals, fishing, naturalist programs and nature movies in an amphitheater.
There are more fun things to do nearby, especially for kids, including touring Crystal Cave and visiting the log-house replica of Laura's house near Pepin and Caddie's real house near Downsville.
For more, see In Caddie and Laura's back yard.
Hostels and dorms
Party in Milwaukee
Summer is one big party in Milwaukee, whose lakefront festival grounds host the huge Summerfest and eight big heritage festivals.
Ignore the expensive hotel rooms and bunk at Marquette University's Straz Tower, three blocks from the special bus that takes summer visitors to the lakefront Henry Maier Festival Park and right on the Wisconsin Avenue route that takes baseball fans to Miller Park on game days.
You also can stay a mile farther along Wisconsin Avenue at the seven-story Mashuda Hall, a former hotel where the Beatles stayed after their Milwaukee gig in 1964. It's next to the Pabst Mansion.
The air-conditioned rooms, all with WiFi, are available from late May to mid-August, but only if a conference also has booked rooms in one of the dorms. That's most days but usually doesn't include holiday weekends. Call 414-288-7208 to reserve.
Many other colleges have dorms that are open to the public in summer. For more, see On budget in a dorm.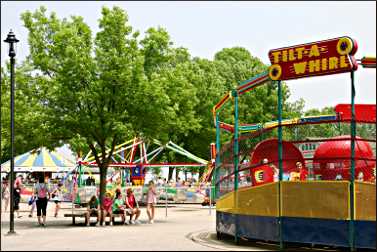 A day at an amusement park
On the shores of Lake Michigan, Bay Beach Amusement Park is one of the region's best deals for families.
Fun in Green Bay
Want to take the kids to an amusement park, but don't want to pay $78 for a pass to Six Flags?
Spend a day at the wonderfully old-fashioned Bay Beach Amusement Park in Green Bay, where $78 will buy you 312 rides down the giant slide, 156 rides on a Tilt-A-Whirl or Ferris wheel or 78 rides on the Zippin Pippin roller coaster, a replica of Elvis' favorite ride in Memphis. And parking is free.
Green Bay still has inexpensive mom-and-pop motels, such as the Bay Motel. For more, see Packer country.
Volunteering
Life in a lighthouse
Many lighthouses on the Great Lakes give free housing to volunteer keepers in return for help with tours and light maintenance.
At Pottawatomie Light on Wisconsin's Rock Island State Park, the Friends of Rock Island State Park recruit volunteer docents to spend a week at this 1858 lighthouse at the farthest tip of Door County.
In the Apostle Islands National Lakeshore, the park needs volunteer keepers at the Sand, Devils and Michigan lights.
For more, see Living in a lighthouse.
Building a national trail
Spend a few days helping to build the Ice Age National Scenic Trail, and the food and camping — not to mention the camaraderie — are free.
From May through October, work crews spend five or six days apiece on six stretches of the trail, from Polk County in western Wisconsin to Storrs Lake in Rock County, near Madison. Volunteers can join in for a few hours or the whole time.
Last updated on May 26, 2021