Cheap summer getaways in Minnesota
No money, no problem: Here are 20 great vacations that are easy on the wallet.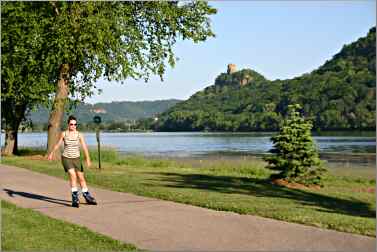 In summer, it's not as hard as you'd think to take a fun trip that doesn't cost much.
Many of the great travel experiences in Minnesota can't be bought, anyway — hiking amid old-growth white pines, paddling through bluff country, listening to loons in the Boundary Waters.
Hikers can find a bunk just off the Superior Hiking Trail near Grand Marais for $29, and a family of six can learn to camp and play in a state park for $60 total. For $85-$90 a person, meals included, they can canoe and walk a ropes course at a lodge outside Lanesboro.
Here's our list of best cheap trips , most costing $100 or less per person.
Many give you a roof over your head; the trips that require tent camping also include guides, meals and/or fun things to do.
For trips next door, see Cheap summer getaways in Wisconsin.
Camping
An introduction to state parks
Sign up for one of 24 I Can Camp! programs in Minnesota state parks, and the cost is just $60 for up to six people, $85 for two-night programs. Everything is included except food.
They're in state parks that include Gooseberry Falls and Tettegouche on the North Shore and several around the Twin Cities, including Fort Snelling, Afton, Wild River and William O'Brien.
The parks also offer I Can Paddle! programs, $25-$35 per canoe and $20-$45 for kayakers; I Can Mountain Bike!, $30, $15 youths; and I Can Fish! programs that are $7, free for children under 12.
Camping and a water park
North of Minneapolis in suburban Anoka County, you can camp in Bunker Hills Regional Park in Coon Rapids, which also includes Bunker Beach Water Park and Bunker Park Stables.
You can camp for $20-$32 and play in the water park for $9-$15; it includes six water slides, a lazy river and the state's largest wave pool. Or stay in a camper cabin for $55.
The county also offers camping in Rice Creek Chain of Lakes Regional Park Reserve in Lino Lakes, near Wargo Nature Center and Chomonix Golf Course.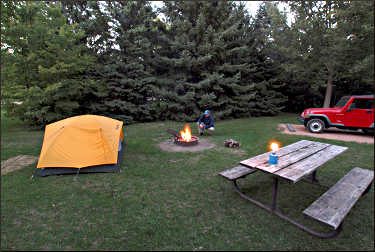 Cabin camping in a west Minneapolis suburb
At the Baker Park Reserve on Lake Independence in Maple Plain, families and friends can either camp or stay in five camper cabins, $70. In Maple Grove, Elm Creek Park Reserve has two.
For more, see Camping near the Twin Cities.
For more about camper cabins and yurts in state parks, see A roof in the woods.
Outdoor skills
Women in the outdoors
Minnesota's Becoming an Outdoors Woman program offers day clinics in archery, fishing, paddling and other outdoor sports, and generally one or more overnight programs.
Becoming an outdoor family
To combat the rise of nature-deficit disorder, many state DNRs and nature centers are sponsoring Becoming an Outdoor Family weekends, where families can try all kinds of fun things: archery, fishing, shooting, orienteering, hiking, rock climbing and geocaching.
In the scenic bluffs of southeast Minnesota, Eagle Bluff Environmental Learning Center near Lanesboro is offering a family weekend. Cost is $90 per person, or $335 for a family of four, and includes meals and lodgings.
For $15 per person, you also can stay Friday night and have Saturday breakfast.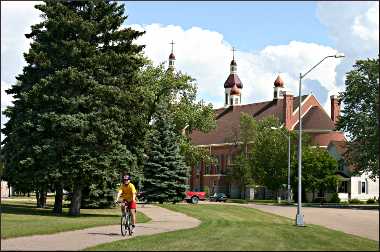 Bike trips
An organized bicycle tour is a great way to see the countryside and make a lot of friends, too. Many of the best are fund-raising rides, and if you raise the minimum, you pay only the registration fee.
For a complete list, see Tours on two wheels and Sightseeing by bicycle.
Cross-state on the Ride Across Minnesota
The well-organized, family-friendly Ride Across Minnesota, formerly known as TRAM, is in late July and benefits the Minnesota chapter of the Multiple Sclerosis Society.
Registration is $30-$60, and riders must raise at least $300. Riders are treated to bountiful food at official rest stops, about every 10 miles, and can buy food from various civic groups at the evening stop, usually a city park or fairground. There's also evening entertainment.
Paddling
Learning to canoe camp
As part of its I Can! series, Minnesota state parks are offering overnight canoe camping on the St. Croix Water Trail from St. Croix State Park and from Savanna Portage State Park.
Cost is $85 per canoe (two people per canoe) and includes the canoe, camping gear and meals.
Relaxing on the Root River
In Minnesota's bluff country, Lanesboro is known for paddling as well as bicycling.
Rent a tube or boat from Root River Outfitters, which provides shuttles. For more, see By river and trail in Lanesboro.
Anyone can camp in Sylvan Park, right in the middle of everything, or in the Riverview campground, above the dam.
There are showers in the Community Center, and on Saturday mornings, there's a farmers market where you can buy Amish pastries for breakfast. Camping is first-come, first-served, $20 for tent sites, and $30 for RVs.
Fun in town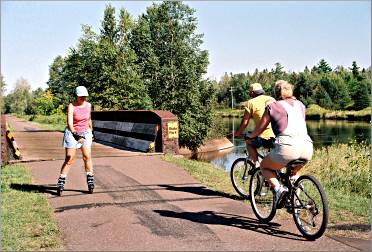 Hike and bike from West Duluth
In Duluth, Canal Park gets all the tourist love, but there's actually more to do in West Duluth — paddling the St. Louis River, bicycling the Willard Munger State Trail, walking and birding on the Waabizheshikana/Western Waterfront Trail and hiking the Duluth sections of the Superior Hiking Trail.
You can avoid the high rates of Canal Park hotels by staying at the Willard Munger Inn, where guests get shuttles to trailheads in Duluth, free use of canoes and bicycles and a free pass to the Lake Superior Zoo, across the street.
To save even more, camp at the nearby Indian Point Campground.
For more, see Duluth's other waterfront.
Playing in Winona
In the southeast Minnesota town of Winona, you can check out kayaks, canoes and stand-up paddleboards from Lake Lodge Recreation Center on the east end of Lake Winona, $12-$14.
Stay at the municipal Prairie Island Campground on the river, which rents canoes, kayaks, stand-up paddleboards and bikes (camping gear, too) and has a new Tiny House Cabin. Or camp up in Great River Bluffs State Park, which has breathtaking views of the river valley.
For more, see Afloat in Winona.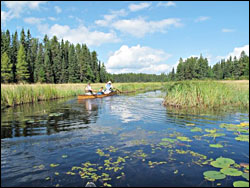 Hostels and bunkhouses
A renovated barn near Grand Marais
In summer and fall, Grand Marais is packed with tourists, and it can be hard to find a room at any price. One option: the Hungry Hippie Farm hostel in a refurbished barn.
It's 10 miles east of town and up County Road 14, just a mile off the Superior Hiking Trail. Rates are from $29 for a single bunk and $69 for a private room, including linens, towels and morning coffee. In one room, pets are allowed for an extra $20.
It also offers glamping tents from $119.
For more about the area, see Four seasons of Grand Marais.
BWCA from a bunkhouse
Two resorts on the edge of the Boundary Waters Canoe Area allow guests to stay for $22-$25 per person in bunkhouses while taking day trips into the wilderness or just relaxing on a lake.
At the end of the Gunflint Trail, Tuscarora Lodge on Round Lake rents nine bunkhouses in the woods, each sleeping four to nine people, that share a shower house. Cost is $22 per person, plus $7 for a shower with towel. Each bunkhouse is rented to only one party at a time, 800-544-3843.
Twenty-two miles east of Ely, Kawishiwi Lodge and Outfitters is on Lake One, an entry point into the Boundary Waters Canoe Area Wilderness. The resort has two bunkhouses, each with full kitchen and bath and one with screened porch, where beds go for $35 per person, with a $140 minimum.
One bunkhouse sleeps nine and one sleeps eight, and each is rented to only one party at a time. 218-365-5487.
For more, see Minnesota's Boundary Waters and Adventure on the Gunflint Trail .
Work and stay
Many north-woods lodges and retreat centers offer a free stay in return for work, though they're most common in spring and late fall.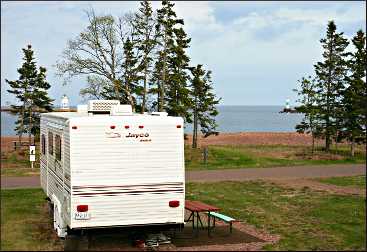 Learning in Grand Marais
On the harbor, North House Folk School offers course credit and a free campsite in return for help with daily chores, such as sweeping, mopping and recycling.
The campground is next-door at the Grand Marais Recreation Area Campground.
For more, see Four seasons of Grand Marais.
Trail maintenance
Also in Grand Marais, the Superior Hiking Trail Association often offers free camping and meals in return for trail work.
Music festivals
Camping at a music festival is a time-honored way to have fun on a budget, although some of the bigger fests can get pretty rowdy. Here are some lower-key fests that are especially family-friendly.
For more, check our Events Calendar.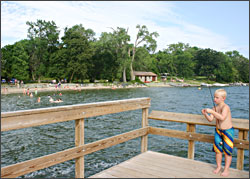 Camping on the Crow
In mid-July, the family-friendly RiverSong Music Festival on the Crow River features folk, blues, jazz and other grassroots music on three stages, including one for children.
It's in Hutchinson, west of the Twin Cities.
Bluegrass and string-band music
Twenty miles west of St. Cloud, the family-friendly Minnesota Bluegrass & Old-time Music Festival includes music on five stages and workshops at El Rancho Mañana Campground in the first part of August.
Going with a group
Traveling with an outdoors club is one of the best deals you can get. You need to be a member to go on overnight trips, but you don't need to live in the town where the club is based; you can meet the group at the destination.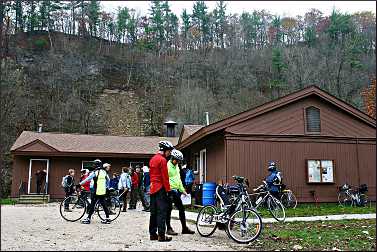 Outdoors clubs
One club known for its penny-pinching ways is the Minnesota Rovers Outdoors Club, based in the Twin Cities. It offers camping trips to Minnesota's North Shore for as little as $15; you bring your own food, but you can borrow gear from the club if you're a member.
Membership is $25, $10 for those who live outside the Twin Cities metro area.
It also offers beginner's trips to the Boundary Waters Canoe Area Wilderness for  $85-$100. A few spots on trips often are saved for new members, but watch the trip list and sign up ASAP.
For more about traveling with outdoors clubs around the region, see Join the club.
Lodges in state parks
Six state parks — Whitewater near Rochester, Sibley near New London, Lake Carlos near Alexandria, St. Croix near Hinckley, Flandrau near New Ulm and Lake Shetek near Walnut Grove — rent large group centers where indoor lodgings can cost as little as $5 per person per night.
They're very popular for summer weekends, so be ready when reservations open.
Many environmental centers also rent to groups. For more, see Cabins for a crowd.
Many other state parks rent lodgings for smaller groups.
For more, see Lodgings in Minnesota state parks.
Last updated on May 26, 2021