30 great campsites
These spots have what campers want: location, location, location.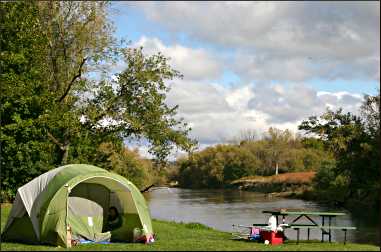 There's nothing like finding the perfect campsite.
I look for them wherever I go, and when I was at Northern Highland-American Legion State Forest, one of the most popular campgrounds in Wisconsin, I found it: Campsite 435.
It's framed but not enclosed by trees, has a lovely view of Crystal Lake and is on the edge of its sand beach. It's near the shower house and not too close to latrines, easy to reach but not heavily trafficked and off a paved bicycle trail to nearby towns.
A family from Rhinelander had reserved it for an August weekend, less than two weeks before they arrived.
"This is our first family camping trip," said Cora Eckrich. "We got here and I thought, 'Really? This is awesome.' Now I think we're going to be spoiled — is it ever going to be as good as this one?"
Prime spots in state parks often are snapped up as soon as reservations open, 11 months in advance in Wisconsin and 120 days in Minnesota. But plans change, and sometimes you can land a great campsite through luck.
"I'm guessing somebody canceled," Eckrich said. "The guy next door said his wife did the same thing."
At county or city campgrounds, you often can just walk in. That's what I did on the Thursday night before my weekend at Northern Highland near Minocqua.
I got to Lac du Flambeau just in time for the weekly powwow, so it was nearly 8 p.m. when I got to the tribal campground on a beautiful peninsula in Flambeau Lake. I set up my tent right on the shore and paid my $18 in the morning.
These days, I'm camping more than I used to. It's to save money, of course, but I also like being able to travel without reservations. And I like being outside but close to restaurants and grocery stores as well as lakes, rivers and bicycle trails.
Here are 30 campsites that made me say, "Wow, this is really choice." If you can't get one of them, look nearby for sites as or nearly as good.
For details on finding others, see How to find the best campsites.
For more, see Camping in state parks.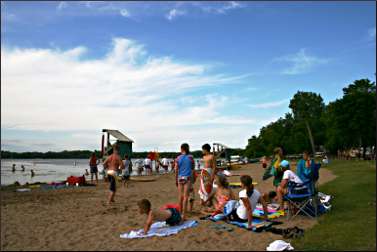 Wisconsin
Northern Highland-American Legion State Forest between Minocqua and Boulder Junction. This vast forest between two popular resort towns has 21 campgrounds. Crystal Lake, one of four modern campgrounds, is very popular.
It's not far from U.S. 51, and the lake is ringed by sand beach. From the campground, paved bicycle trails head north to Boulder Junction and east to Sayner. I liked shady 435 and also 449, near the pier.
For more, see Summer in Minocqua and Browsing in Boulder Junction.
Tribal Campground in Lac du Flambeau. This low-key campground is on a peninsula that's on a 10-lake chain, across from the fish hatchery and walking distance to the grocery store in town.
Tent sites are mixed with RV sites, though tent campers also can choose grassy spots next to the lake. There are docks, a swimming area and a nice bathhouse. Call 715-588-4211.
For more about Lac du Flambeau, see Carrying the torch.
Peninsula State Park between Fish Creek and Ephraim. This is the most popular campground in Wisconsin. Why? Because this Door County park is like a little resort.
There's a golf course, an amphitheater where campers can see musicals by the professional American Folklore Theatre, a lighthouse to tour, a sand beach, boat and bike rentals and paved trails to ride to nearby shops and restaurants.
If you want to be on the beach, try for a site in North Nicolet Bay or South Nicolet Bay, which has 25 first-come, first-served sites.
Wagon Trail Campground near Ellison Bay in Door County. This well-tended private campground is a short walk from Rowleys Bay on the Lake Michigan side of Door County, close to excellent paddling, swimming, hiking and even zip-lining.
I liked the cedar-lined campsites in the 400s, closest to the lodge and between the two bathhouses. But in the busy season, I might pick the most secluded tent-only sites, 111-113, or tent sites 101-110, next to the six yurts. There are beautiful camper cabins, too.
Nature-loving owners Cheri Ault and Dick Bartlett make sure guests know about the quiet policy. There's also a store, playground and playing field.
Saxon Harbor County Park on Lake Superior near Ashland. I found this Iron County park while seeking out nearby Superior Falls, on the Montreal River between Wisconsin and Michigan.
It has everything anyone wants in summer — a sand beach for swimming, showers, a protected bay for kayaking and a bar that serves burgers and pizza on days when it's too hot to cook.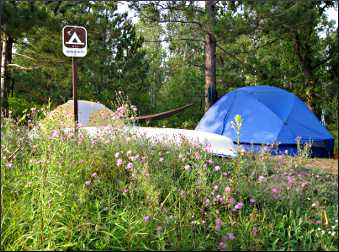 Apostle Islands National Lakeshore near Bayfield. The really great campsites are on the islands, which are accessible only by launch, kayak or sailboat. But there's one hike-in tent site on the mainland — Site 1 — and if you like privacy and lake views, it's a prize.
Newport State Park near Ellison Bay in Door County. Hiking along Europe Bay on a warm day in August, I saw a tent pitched just off the trail, on the sandy edge of Lake Michigan. It was Backpack Site 16 — not luxurious, not convenient, but oh, so well-located.
With Backpack Site 14, it's between Europe Lake and Lake Michigan — perfect for water-lovers. As at all Wisconsin state-park sites, sites can be reserved up to 11 months in advance.
For more, see Outdoors in Door County.
Rock Island State Park at the tip of Door County. It's a pain to get to this park —you have to take a ferry to Washington Island, then Rock Island — and you have to bring everything you need, because there's nowhere to buy anything.
But . . . there are no ticks and no mosquitoes, and the campgrounds are on white-sand beach. For more, see Wisconsin's Icelandic outpost.
Namekagon River west of Trego in northwest Wisconsin. Late one August afternoon, our group of increasingly anxious paddlers came upon N3.5, the last available group campsite before the Namekagon's confluence with the St. Croix.
It was a haven that, by then, seemed like heaven. It was surrounded by wildflowers and had everything we needed — a picnic table, a fire ring, a vault toilet — plus the swift, clear waters of the Namekagon, where we celebrated with an after-dinner swim.
There are more than 100 primitive campsites along the St. Croix National Scenic Riverway, all first-come, first-served.
St. Croix National Scenic Riverway near St. Croix Falls. I was hiking on the Ice Age National Scenic Trail when I came across this sweet little campsite with its own sand beach.
The trail starts in town and winds north along the St. Croix; half a mile past Lions Park, there's a site with picnic table, tent pad, fire ring and vault toilet. Being close to water, all of the river sites are great in summer.
Camping is first-come, first-served, but a free permit is required to camp on the lower stretch of the river, between St. Croix Falls and Stillwater. For more information, stop by the new visitors center in St. Croix Falls.
For more about St. Croix Falls, see Trail mix.
For more about river towns, see Sightseeing on the St. Croix.
St. Croix National Scenic Riverway near Grantsburg. The very scenic Sandrock Cliffs Trail goes past another great site along the St. Croix, the rustic Sandrock Cliffs Campground north of Wisconsin 70.
Red pines on a hillside create a room-like atmosphere for tent campers, who will sleep on a thick bed of fragrant needles. It's rustic, but this is the place to go for peace and quiet. When we were there one gorgeous fall weekend, we didn't see anyone.
Mondeaux Recreation Area near Medford. We found this area while hiking on the Ice Age National Scenic Trail through north-central Wisconsin. It's part of Chequamegon National Forest, which operates campgrounds around the lake, formed by the dammed Mondeaux River.
It's remote but civilized. The log Mondeaux Dam Lodge is being restored, but once served lunch and dinner (and soft-serve ice cream), had showers and a camp store, and rented canoes, kayaks, motorboats, paddleboats and pontoons. A Snack Shack is filling in for it, and even is offering big-screen movies on the beach.
Reserve sites at Spearhead Point, Picnic Point and Eastwood through Recreation.Gov. For more, see Tracing the Ice Age Trail.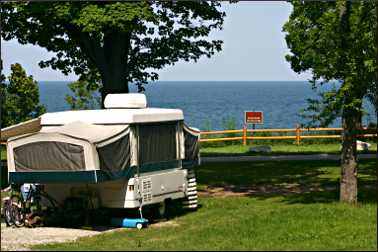 Minnesota
Old Barn Resort near Lanesboro. I was riding along the Root River State Trail, four miles west of Lanesboro, when I spotted some tents through the trees.
A bit of paved trail led to the campground at Old Barn Resort, where a pack of bicyclists was heading toward me from the tents. Then I realized those sites were pretty but too exposed to the sun, and I saw the really good site: PM28, right next to the trail but shaded at the foot of a little rise. PM27 is good, too.
There's a swimming pool, restaurant, golf course and canoe and tube rental on site, plus volleyball and basketball courts.
In Lanesboro, the municipal Sylvan Park campground is very popular; it's on the edge of downtown and next to the community center, where showers are $1.
But the Riverview campground just across Parkway Avenue is flatter and less-known; sites are on the edge of the river and have a beautiful view of the town over the dam. Both campgrounds are first-come, first-served.
For more, see The belle of bluff country.
Gull Lake Recreation Area near Brainerd. I saw this U.S. Army Corps of Engineers campground after touring some of Minnesota's most expensive lake resorts and was struck by how it had pretty much everything they did — at a tenth of the price.
It's on the southeast corner of prestigious Gull Lake, around its outlet into the Gull River. There's a sand beach, playground, nature trails and a fishing pier. 218-829-3334. Reserve at Recreation.Gov.
For more about the area, see The buzz on Brainerd.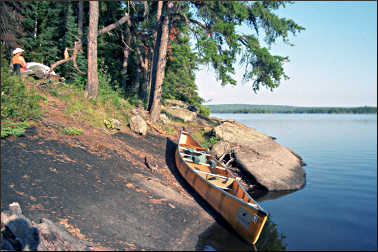 Crosslake Recreation Area near Crosslake. This Corps of Engineers campground, in the Whitefish Chain on the northeast edge of the Brainerd Lakes area, offers everything the Gull Lake Recreation Area does, and it's also walking distance from stores and restaurants.
Reserve at Recreation.Gov. In Minnesota, the Corps also runs full-service recreation areas at Leech, Pokegama and Sandy lakes.
Games Lake County Park near New London, in west-central Minnesota. There's nothing tranquil about this park, just down the road from Sibley State Park, another popular place to camp. But kids love it.
There's a long, broad sand beach lined with tree-shaded grass and picnic tables; a slide and two swimming rafts; two volleyball nets; a baseball diamond; and a store where attendants scoop ice cream and take orders for the next day's breakfast pastries, just like European campgrounds.
It takes reservations only for stays of seven days or more, starting in January. Shorter stays are available for walk-ups; call 320-354-4453 in advance to gauge availability. Dogs are allowed.
For more, see Camping in Kandiyohi.
Rainy Lake in Voyageurs National Park in far northern Minnesota. I spent an afternoon swimming and reading on the dock at one of the park's Lost Bay sites and gladly would have spent a week. It had two raised sand tent pads, a grove of white pine, a picnic table, a privy and a lot of privacy.
Campsites can be reserved and cost $16-$24 per night.
For more, see Land of big water.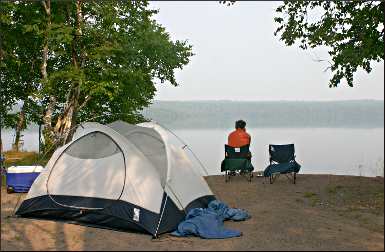 Boundary Waters Canoe Area Wilderness in northeast Minnesota. One August, we set off from the end of the Gunflint Trail, paddling three lakes and portaging our canoe and gear nearly two miles to get to Tuscarora Lake.
The first eight campsites we saw were occupied, and we were getting worried. We got the last one — and settled into our own personal slice of paradise.
We had a swimming pool at our toes, wildlife at our elbows and an orchestra hall for our ears. Every sound was amplified — the ringing call of loons, howls of wolves, other campers singing across the lake.
We loved our campsite, but they're all good. For more, see Minnesota's Boundary Waters.
Mantrap Lake Campground in Paul Bunyan State Forest near Park Rapids. I was staying at a lake resort on Bad Axe Lake and was on a run when I discovered this beautiful lake campground northeast of Park Rapids. Hmm, I thought — sites here have the lake, the beach and the forest, but they're a tenth the cost of a cabin.
As in all Minnesota state forests, sites are inexpensive and first-come, first-served.
The campground is near Itasca State Park, where campsites are prized but a lot harder to get.
For more, see The people's park and Summer in Park Rapids.
Split Rock Lighthouse State Park near Beaver Bay. I looked at every site in the most-coveted camping area in the most popular park in the state, and there was a clear winner.
Site 16 could be the most scenic camping site in Minnesota, with a dead-on view of the lighthouse from your own bench perched at the edge of the cliff (and from the door of your tent). It's also the best site if you're camping with friends; it shares a spur from the trail with No. 17, which has a view nearly as good.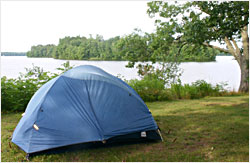 The others are pretty darn good, too; they're all cart-in sites for tent campers. For more, see the camping section of Where to stay on Minnesota's North Shore.
South Pike Bay on Cass Lake in Chippewa National Forest near Walker. I found this rustic campground while bicycling on the paved Migizi Trail. There are 24 rustic sites, all shaded by red pines and half with their own little stretch of beach.
The 17-mile trail winds around the lake to Norway Beach Recreation Area, which has a more luxurious campground with showers. 218-335-8600.
Walker is the nearest resort town. For more, see Fishing in Walker.
Hok-Si-La Municipal Park near Lake City. This wooded cart-in tent campground has a great location on Lake Pepin. Sites overlooking the lake (a wide spot on the Mississippi River) book up first, especially B10-12, G0 and G2.
No site is far from the big sand beach, and there's a store, bathhouse (use the new one), playground and free use of basketballs, volleyballs, horseshoes and footballs.
If you're a light sleeper, however, you may not like this campground. Trains are nearly a mile away, but they run all night and blow their whistles a dozen times as they pass.
On holidays, there's a three-night minimum. Mosquitoes can be a problem, but the park sprays weekly.
For more, see A spin around Lake Pepin.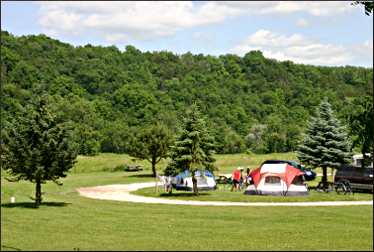 Lake Agnes on the Superior Hiking Trail near Lutsen. You'll be in the catbird seat if you get one of these backpacking campsites at one of the prettiest spots on the trail.
One is on the lake, and one is in a maple grove that overlooks it. Both have four tent pads and a vault toilet, and your water comes from the lake, so bring a filter.
Like all of the 82 sites on the trail, they're first-come, first-served. If a party already is at a site but a tent pad is available, it's supposed to share.
For more, see Trekking the Superior Hiking Trail.
Whitewater State Park near St. Charles. This park in southeast Minnesota is famous for its wide variety of spring ephemerals. When you go to the park office for a map of the trails, and you ask about wildflowers, rangers often will send you to the trail through the walk-in campsites "because it has everything."
At the end of the trail, next to the Whitewater River and against the bluff, is campsite W4. It's got a grill pit, wood box, picnic table . . . and lots of blooms.
Even more spectacular are the rustic sites along the North Branch of the Whitewater River in neighboring Carley State Park. In the first half of May, they're surrounded by thousands of bluebells and clouds of false rue anemone.
Michigan
Michigan state parks along the east coast of Lake Michigan. There are 15 beach parks with campgrounds between Mackinaw City and the Indiana border, all very popular.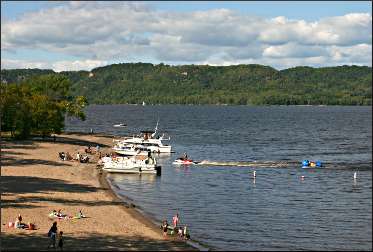 Ludington State Park is like a resort, with a beach on an inland lake as well as Lake Michigan, river tubing, bike trails, concerts and a lighthouse that can be climbed. It has three campgrounds.
North of Manistee, Orchard Beach State Park is small, but many of its blufftop campsites have views of Lake Michigan, and its beach, reached by stairs, is less crowded than many.
At Holland State Park, RVs can park right next to the gorgeous beach, though they're packed together on concrete. Tent campers stay in a more wooded Lake Macatawa campground a short walk away.
Campsites can and should be reserved six months in advance, because nearly all the beach parks are 100 percent reservable.
If you want to travel at the last minute, head for the Upper Peninsula. Campgrounds there are much less likely to be full.
For more, see Camping around Lake Michigan.
For cabins and beaches, see Michigan's great lake cabins and America's freshwater Riviera.
Chapel Campground in Michigan's Pictured Rocks National Lakeshore near Munising. We came upon this rustic six-site campground while hiking the Lakeshore Trail atop sandstone cliffs.
Tents are tucked amid pines, and there are wooden steps down the cliff that lead to that rare thing: a sandy beach on Lake Superior, just the ticket on a hot day.
The Chapel and Mosquito sites are most popular; reserve at least two weeks in advance or as early as Jan. 1. Send or fax the back-country camping form.
For more, see Michigan's Pictured Rocks.
Iowa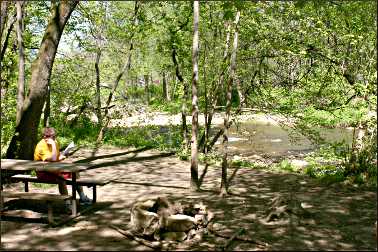 Pulpit Rock Campground in Decorah. We camped at this city-run campground one crisp fall weekend. It's on the west edge of town, wedged between the bluffs (it's named for one of the limestone outcroppings), the Upper Iowa River and Trout Run Creek.
We pitched our tent along the rushing creek to be close to the bathrooms, but sites along the river get the morning and afternoon sun. A pair of fishermen from Des Moines were there and said they've been coming for 40 years to fish for trout in the usually shallow river.
An outfitter just up the river rents canoes, kayaks and tubes, and the campground is on the gorgeous, paved Trout Run Trail, which circles the city.
The best thing about the campground? Really clean showers.
It's first-come, first-served. RV sites fill on weekends, but there's nearly always space for tents.
For more about Decorah, see A pocket of Norway.
Ontario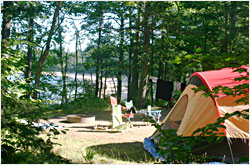 Sleeping Giant Provincial Park near Thunder Bay. When we camped on Sleeping Giant Provincial Park, an hour east of Thunder Bay on the Sibley Peninsula, we were delighted by our secluded campsite on the shore of Marie Louise Lake, Site 311.
It was a lot like being in the Boundary Waters, except we could carry all of our food and other stuff down from the cooler in the car.
Then, we loved the backpacking sites we saw on Tee Harbor, some in wooded groves right off the sand beach and another with its own cobblestone beach, woodpile and chair carved into a tree stump. They have food lockers and outhouses, too.
But the one we loved most was Site 140, right on the point in Marie Louise Lake Campground. We could swim from our site in the ultra-clean lake and take hot showers nearby. Best of all, it was the quietest campground we'd ever slept in.
Sites 138-141 and odd-numbered sites 143-167 also are on the waterfront and should be reserved five months in advance at 888-668-7275 or online at Ontario Parks.
They're quite expensive, though, $38.70-$59.33 in the secluded area and on the campground. Backcountry sites are $10.17 per adult and $5.09 for children 6-17.
For more, see In the shadow of the Giant.
Last updated on May 26, 2021