King of the hill
With a huff and a puff, hikers earn a view of fall colors.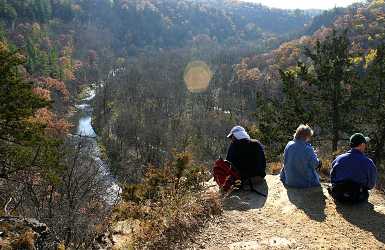 When it comes to hiking, we all like to be on top.
There's nothing like a great view, especially in fall. Climbing until we're eye level with birds and caressed by breezes, watching the land roll away into the horizon, we feel as if we're on top of the world.
Even military officers and scientists turn into poets when faced with a beautiful view, such as those at Porcupine Mountains Wilderness State Park in the Upper Peninsula.
"I have a geological survey from the 1840s, and even they break away from their dry terminology to go on and on about the precipice, the cliffs and the view that stretches out at their feet," says naturalist Robert Sprague.
The park is renowned for Lake of the Clouds, set like a jewel between rolling green ridges that turn red, orange and yellow in autumn. It's best seen from above, on the four-mile Escarpment Trail.
"Years before it was a park, people were making their way up there," Sprague says. "It's a magnet."
Here are 10 great fall hikes that come with great views.
This deep bowl of a park in southeast Minnesota is one of the busiest in the state, the go-to park for fly fishermen, golden-eagle watchers, morel-mushroom hunters and fans of spring ephemerals.
In fall, its oak- and maple-covered hillsides, punctuated by the occasional white pine, offer one of the region's best displays of late color. Hike the four-mile Dakota Trail and you'll have spectacular views from three overlooks on craggy blufftops.
For an easier time, hike the two-mile Meadows Trail and look up at 200-foot cliffs; the view is nearly as good.
Getting there : It's half an hour east of Rochester and west of Winona.
At this blufftop park, the King's Bluff Nature Trail provides views of the river valley as well as Queen's Bluff, a state scientific and natural area that can be hiked only with a permit.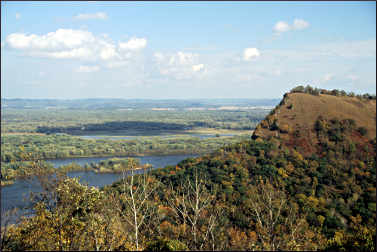 From the road, the trail cuts through meadow, then enters forest. Once, this hardwood forest of shagbark hickory, oak, basswood and maple stretched from here to the Atlantic, according to an interpretive sign; the many bur oaks were especially tough, surviving the prairie fires.
Another sign describes how glacial streams carved the Mississippi River gorge, steadily washing away softer rock until the surrounding bluffs loom over the river like mountains.
Passing through corridors of trees, red with sumac, the trail emerges to a panorama of the valley far below — the patchwork delta of the Black River, the labyrinthine channels traversed by tiny barges, the Wisconsin ridge tops dotted by farms.
Across the ravine, dome-shaped Queen's Bluff looks partly bald — these south- and southwest-facing bluffs are known for goat prairies, patches of the slopes that soak up so much sun and are so steep they have their own microclimates and support plants rarely found elsewhere.
It's 2½ miles round-trip. Another five miles of trails lead to other scenic vistas.
Getting there : It's 20 miles south of Winona. From U.S. 61, take Minnesota 3, also Apple Blossom Scenic Byway. From Interstate 90, take County Road 12.
For more about the area, see Afloat in Winona.
Eagle Mountain near Grand Marais, Minn.
At 2,301 feet, Eagle Mountain is Minnesota's highest point. This root- and rock-choked trail passes through cedars and spruce and soon enters the Boundary Waters Canoe Area Wilderness.
Crossing bogs on boardwalks, it skirts mirrorlike Whale Lake, then picks its way through rock to the top, where hikers gaze upon a panorama that includes the North Fork of the Cascade River and Zoo, Shrike and Eagle lakes.
It's a notoriously buggy trail, so fall is the best time to hike it. It's seven miles round-trip.
Getting there : The trailhead can be reached from Grand Marais by taking County Road 7 to Forest Road 48, then 158 to its junction with 153. It's a little simpler to take the Caribou Trail, or County Road 4, from Lutsen to Forest Road 153; from there, it's about four miles east to the trailhead.
Fill out a BWCA registration form and put it in the box before hiking. Wear thick-soled shoes or boots and allow three to four hours for the hike.
For more, see Peak hiking and Four seasons of Grand Marais.
Porcupine Mountains near Silver City, Mich.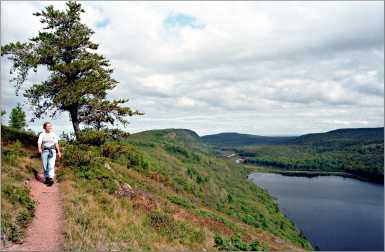 Porcupines Mountains Wilderness State Park, near Silver City, Mich., is on the lip of Lake Superior. It has 90 miles of trails, but the four-mile Escarpment Trail is the most romantic.
It follows a ridge 300 feet above Lake of the Clouds, from which the Carp River winds away into the horizon through old-growth forest that's considered the biggest and best of its kind east of the Mississippi.
On the other end of the park, the West River Trail follows the Presque Isle River into Lake Superior.
Getting there : From Wakefield, Mich., head north on Michigan 28 and 64. The main entrance to the park is near Silver City. When you get there, you'll be on Eastern Standard Time, an hour ahead.
For more, see Afoot in the Porkies.
Maiden Rock Bluff near Stockholm, Wis.
In fall, the 70-mile drive around Lake Pepin is a very popular day trip. On both the Wisconsin and Minnesota sides, the road winds around rounded bluffs with golden limestone outcroppings.
It's plenty scenic from the road, but there aren't many places where you can see the whole thing from above.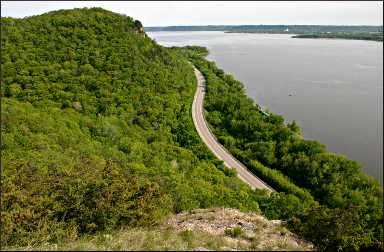 One of the few spots is Maiden Rock Bluff state natural area atop the 400-foot bluff above Stockholm. It has beautiful views and includes rare wildflowers and likely sightings of peregrine falcons and other raptors who nest in blufftop trees.
It's a fairly short but up-and-down hike from the parking area; go beyond the first two overlooks, which are full of stumps.
The third overlook looks straight south down the river (a good spot for a picnic),and the fourth looks straight north and is the spot where you'll see the most raptors.
Getting there : In downtown Stockholm, head up the bluff on Spring Street for three-quarters mile. Turn left on County Road E and go one mile. Then turn west on Long Lane and drive three-quarters of a mile to a parking area.
For more, see A spin around Lake Pepin.
This is the most-visited state park in Wisconsin, beloved for its 500-foot pink-quartzite cliffs and craggy rock formations as well as its clear lake, beach and trails.
It's the centerpiece of the Baraboo Hills, a 25-mile-long swatch of south-central Wisconsin that has been recognized as a "Last Great Place" by the Nature Conservancy. The story told by its rock makes geologists' hearts flutter.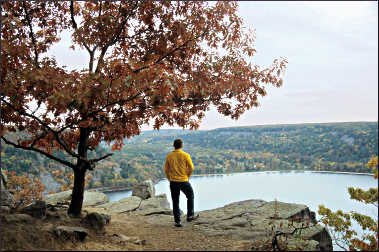 On the trails atop the bluffs that ring the lake, hikers see ripples on rock formed 2 billion years ago, when it was still sand at the edge of a red ocean, and dents in quartzite made when the Baraboo Hills were islands and 50-foot waves smacked boulders against one another.
Closer to the lake, hikers cross fields of 800-ton boulders that tumbled from the bluffs at the end of the last Ice Age, when a rush of glacial meltwater formed the lake.
For a 4½-mile loop, hike the East Bluff Trail and return on the East Bluff Woods Trail. You'll see Balanced Rock, plunked on the edge of a cliff, and the Devil's Doorway, with an arch that seemed a little haphazard.
You'll have to pick your way through narrow passageways and over slabs of rock. Nothing is flat, and everything is spectacular.
It's a great 10-mile one-way hike along the Ice Age National Scenic Trail from the East Bluff Trail to Parfrey's Glen, Wisconsin's first state natural area.
Getting there : The north entrance to the park is just south of Baraboo.
For more, see The divine Devil's Lake and High drama at Devil's Lake.
Barn Bluff in Red Wing, Minn.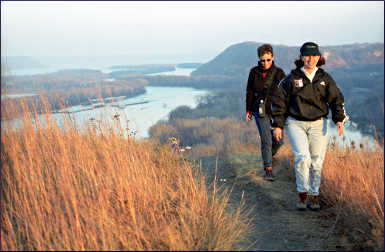 People have been raving about this big, boxy bluff on the Mississippi River for centuries.
French explorers called it Mount La Grange, or barn mountain. From its flat top, 18th-century explorer Jonathan Carver said he saw "the most beautiful prospect that imagination can form."
It sits right in the path of the Mississippi, which had to make a sharp turn to get around it. Red Wing sits in its shadow.
The main path follows the north side of the 343-foot bluff and passes a vertical rock face frequented by climbers. At the north end of the bluff, there's an overlook and a grassy slope that faces town.
From there, hikers can watch traffic crawl past the brick storefronts and grain elevators of Red Wing and barges chug toward St. Paul.
On the south end of the bluff, there's a view of the river as it widens into Lake Pepin.
Getting there : Take East Fifth Street from downtown to the foot of the bluff.
For more, see Roaming in Red Wing.
Effigy Mounds National Monument near Marquette, Iowa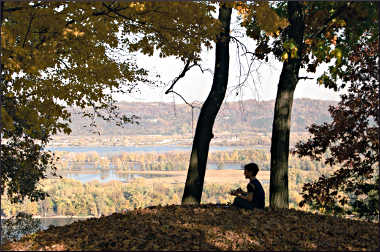 Eleven miles of trails wind along the blufftop in this national monument, named for 195 burial mounds left by an ancient people. They're remarkable, because 31 are in the shapes of birds, reptiles and mammals, including the 137-foot-long Great Bear Mound.
On the two-mile Fire Point Trail, overlooks provide sweeping views of the river valley.
Pikes Peak State Park, just south of McGregor, and Wyalusing State Park, across the river in Wisconsin, also has hiking trails with fantastic views. Expect peak fall color the first half of October.
Getting there : It's in the bluffs above Marquette, just across the bridge from Prairie du Chien, Wis.
For more, see One fall swoop.
Superior Hiking Trail on Minnesota's North Shore
It's almost impossible to pick out the best hikes with views, because there are so many. In fall, the two-mile Oberg Mountain hike is the most popular for views of maple forest from many overlooks.
From Minnesota 61 near Lutsen, take Forest Road 336, or Onion River Road, two miles to a parking area. From one side, the Oberg loop winds around the summit; from the other, the Superior Hiking Trail leads to Leveaux Mountain.
Near Tofte, the 924-foot summit of Carlton Peak commands a spectacular view up and down the shore. From the parking lot at Britton Peak, a three-mile drive up the Sawbill Trail, or County Road 2, it's a three-mile round-trip hike.
For more, see Hiking the North Shore.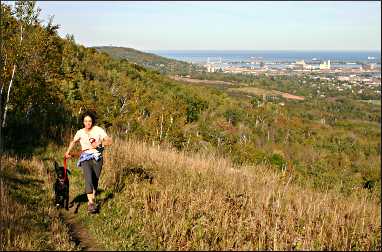 In West Duluth, the Superior Hiking Trail roughly follows Skyline Parkway , built 500 feet above Lake Superior on ancient beach terraces. There are lots of good stretches with views, but one of the most serene is just east of the Highland Street/Getchell Road trailhead.
The heavily wooded trail passes the ruins of a pump house on Keene Creek, follows Brewer Ridge through maple and oak forest and emerges to a grassy open spot with panoramic views of the St. Louis River estuary, the Aerial Lift Bridge and, on the next hill, Enger Tower.
It's about three miles round-trip. There's a parking area at the intersection of Highland, Getchell and Skyline Parkway. To get there, follow Skyline Parkway east from the Thompson Hill Information Center or west from Haines Road/40th Avenue West.
For more, see Hiking in Duluth and Duluth's Skyline Parkway.
For maps, call the Superior Hiking Trail Association at 218-834-2700 or stop by the headquarters in Two Harbors at 731 Highway 61 (Seventh Avenue). The group's "Guide to the Superior Hiking Trail" is very useful.
St. Peter's Dome and Morgan Falls in northwest Wisconsin
It's true that you'll get a spectacular view of Chequamegon National Forest treetops from the top of St. Peter's Dome, a bald granite outcropping deep in the forest south of Ashland.
But the fun part of hiking this trail comes just half a mile from the trailhead, when you'll pass Morgan Falls, a delicate, 70- to 100-foot flume that tumbles down jagged rock. From there, it's another 1.2 miles, uphill on rocky terrain, to the overlook.
Getting there : It's south of Ashland and east of Grand View. From U.S. 63, 5½ miles north of Grand View, take County Road E six miles east. Turn south at the county line and take the gravel Ashland-Bayfield Road 4½ miles to the trailhead parking lot.
For more about Ashland, see City on the bay. For more about waterfalls in the area, see Waterfalls of northern Wisconsin.
Last updated on September 21, 2020