Cheat the heat
When summer becomes a sauna, it's time to chill out.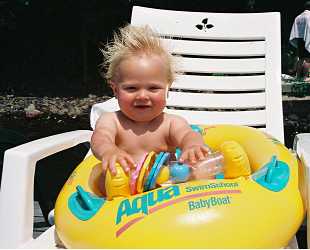 When heat wraps itself around your shoulders like an electric blanket with static cling, there's only one thing to do: Look for cold water.
You'll find it tubing on a spring-fed river, such as the South Branch of the Root River, which takes a short cut through Mystery Caverns and heads toward Lanesboro chilled to 48 degrees.
On Minnesota's North Shore, plop yourself into one of the Baptism River's potholes and let the cool waters swirl around you. Or go whitewater rafting — a fast cool-down is guaranteed.
If it's really scorching, try a dip in Lake Superior. Sheltered coves can be tolerable, especially off Michigan's Upper Peninsula, but otherwise, it's perfectly chilly.
Below are some of the best ways to cool off in hot weather. For a guide to swimming, see Great beaches of lakes country.
Tubing
At least one part of the anatomy is perfectly cool on a tubing trip, and on the South Branch of the Root River in southeast Minnesota, that part is turned into a Popsicle.
Mystery Caverns refrigerates the South Branch before it hits downtown Lanesboro, where people hop onto tubes and ride through town on a series of rapids.
You can either return by foot on the Root River State Trail or continue through the South Branch's confluence with the warmer waters of the North Branch and returning by shuttle.
In northwest Wisconsin, the spring-fed Namekagon is nice and cool, and on hot days, Trego is a junction for people in tubes, canoes and kayaks. Rent them from Jack's or Log Cabin Resort.
For more destinations, see 20 great rivers for tubing.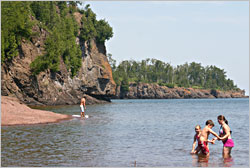 Swimming in Lake Michigan
This lake is lined by sand beaches and perfect for swimming. By the middle of summer, it's warm enough for even the most timid swimmer.
For more, see America's freshwater Riviera.
For more about other beaches, see Great beaches of lakes country.
Swimming in Lake Superior
This lake, whose temperature is rarely much more than 40 degrees year-round, is barely tolerable for swimming. But when a strong wind blows in from the northeast, the surface water warms up and pushes out the cold water.
Then you can swim from the beautiful sand beach of Duluth's Park Point Recreation Area, across the Aerial Lift Bridge from Canal Park and off 43rd Street. There are lifeguards, but pay attention when rip-current warnings are posted.
In late summer, you can swim around the Apostle Islands, at the city beach in Bayfield or at Big Bay State Park on Madeline Island.
Across the Michigan border, try the beach at Little Girls Point and, farther east, Union Bay Beach in Porcupine Mountains Wilderness State Park.
Swimming rivers in Duluth and the North Shore
In Duluth and just up the shore, many rivers — notably, the Lester, French and Sucker, plus Keene, Miller and Chester creeks — have spa-like swimming holes fed by rapids and waterfalls.
For more, see Swimming holes of Duluth.
On the North Shore, a quarter-mile above Illgen Falls in Tettegouche State Park, the Baptism River flows through a chute of volcanic rock and into a deliciously cool pool.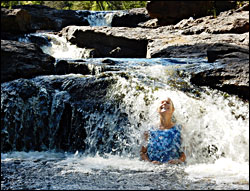 From there, it flows over and among a jumble of smooth boulders and slabs, many bearing potholes that make perfect one-person spas.
Swimmers can park off Minnesota 1 or stay next to the river at Illgen Falls Cabin, a luxurious, two-bedroom disabled-accessible house managed by the park.
Many other North Shore rivers — Temperance, Silver Creek, Gooseberry — have swimming holes, but be careful. When water is high, people have been carried away by the river and drowned, especially at Temperance.
For more, see Swimming in Superior.
Whitewater rafting
In northeast Wisconsin, from which the state's biggest rivers surge, there's plenty of cold, frothy whitewater. On the Wolf River, Shotgun Eddy offers rafting trips.
Travel Wisconsin lists outfitters on the Menominee, Pestigo and other rivers.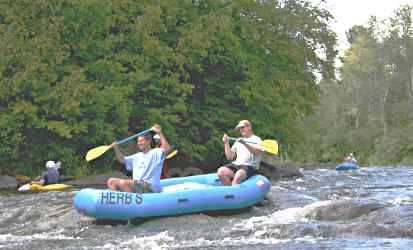 In eastern Minnesota, Swiftwater Adventures offers rafting trips on the St. Louis River near Duluth and Hard Water Sports on the Kettle River near Sandstone.
Cave tours
There's only one thing you can do where you'll absolutely, positively be good and cool: Tour a cave.
On the southeast Minnesota border with Iowa, temperatures at Niagara Cave and Mystery Cave are a steady 48 year-round, so bring a jacket.
In Wisconsin, other fun tours are Cave of the Mounds near Mount Horeb and Crystal Cave near Spring Valley.
There's a spectacular view from the bluff, of course, and others from the hill above Dunning's Springs Park, famous for its lacy waterfall, and the trails of Palisades Park.
And in Decorah, Iowa, you can poke around the Ice Cave for free; it's next to Dunning's Spring Park.
Skinny-dipping
At one point, skinny-dipping was tolerated in a few places, most notably Mazo Beach, a long strip of sand on the Wisconsin River, west of Madison near Mazomanie, and Hidden Beach on Cedar Lake in Minneapolis, otherwise known as East Beach.
But now the only safe place to go without clothes is in a private location, on an outing organized by one of the naturist/nudist meet-up groups in Minnesota and Wisconsin.
Except for one place, far from the cities: the vast Boundary Waters Canoe Area Wilderness. Here, no one cares if you're gliding through the water in your birthday suit, because there's almost as much privacy as there is water.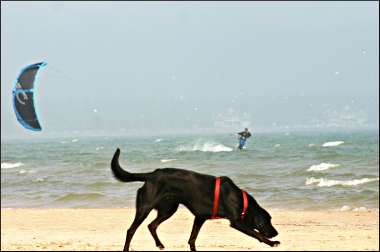 Kiteboarding
Kiteboarders go wherever there's wind and wide open spaces. On the Lake Michigan side of Door County, they're partial to the beach at Ridges County Park in Baileys Harbor, which also has the advantage of being one of the coolest places on the peninsula. It's across Ridges Road from Ridges Sanctuary.
This park may be one of the coolest places in the region. When I was there during a heat wave one June, it was 25 degrees cooler than the rest of the region and 15 degrees cooler than inland Door County.
Windsurfing
When you're traveling through southwest Minnesota in summer, you need a place to cool off. Thanks to steady winds year-round, Worthington is a windsurfing hot spot and hosts U.S. Windsurfing National Championships races in June during its Windsurfing Regatta & Music Festival.
Windsurfers frequent Sailboard Beach on the eastern edge of Lake Okabena. On the northwest side of the lake, there's a beach in Centennial Park and a municipal pool with water slide across from it.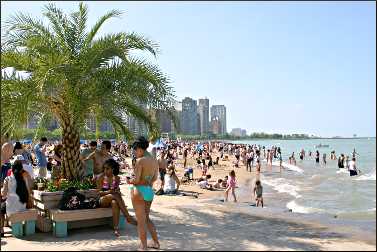 On the south side of the lake, there's a beach in Slater Park.
In Minneapolis' Chain of Lakes, Bde Maka Ska, formerly Lake Calhoun, is a favorite for windsurfers.
Bicycling to the beach
If you pedal on a hot day, you deserve a swim at the end of your ride, and you can get one on the Lake Wobegon Trail. Start and end your ride in Avon, where pretty Middlespunk Lake is just a block from the trail.
In Minneapolis, the Grand Rounds passes beaches on lakes Nokomis, Harriet, Bde Maka Ska and Cedar.
In Chicago, the 18-mile Lakefront Trail passes 15 miles of beaches, including Oak Street Beach at the north end of the Magnificent Mile.
In Wisconsin, the Mariners Trail from Manitowoc to Two Rivers connects with the Rawley Point Trail, which leads to Point Beach State Forest.
For more, see Beaches on bike trails.
Last updated on June 16, 2021