20 great beaches in lakes country
In cities as well as forests, it's not hard to find a place to play.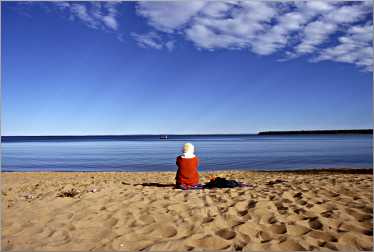 In this region, you don't need oceans for a beach vacation.
We have thousands of lakes, plus inland seas on shoreline that often is called the Fourth Coast. Lake Michigan's shores are a veritable Riviera, and even rocky Superior has some noteworthy stretches of sand.
You could throw a dart at the map and come up with a good beach. Or you could take a cue from names of state parks — Point Beach and Harrington Beach in Wisconsin, McCarthy Beach in Minnesota, Orchard Beach in Michigan.
They're big, they're beautiful and they're not far away. Below are some of this region's best places to lounge away a summer day.
Wisconsin
Wisconsin has as many lakes as Minnesota, in such north-woods lake towns as Hayward, Minocqua and Eagle River, plus spectacular beaches on Lake Michigan and even Lake Superior.
Ridges County Park in Baileys Harbor. This sandy beach on the north end of this Door County town, across from the range lights of Ridges Sanctuary, usually is one of the coolest spots in the Upper Midwest on hot summer days.
It's fun to watch kiteboarders, who like it because they can swoop from one side of the harbor to the other without interference from large boats, for which the harbor is too shallow. There are bathrooms and picnic tables, but little shade.
For more, see Baileys Harbor in Door County.
Point Beach State Forest, north of Two Rivers. This long, lovely white-sand beach on Lake Michigan includes the 1894 Rawley Point Light and shipwreck lore; the Rouse Simmons, the famous "Christmas-tree ship," sank near here in 1912.
There's a nature lodge, concession center and campground. The six-mile Rawley Point bicycle trail connects it with Neshotah Park in Two Rivers, which also has a fine sand beach that hosts the Kites Over Lake Michigan festival over Labor Day weekend.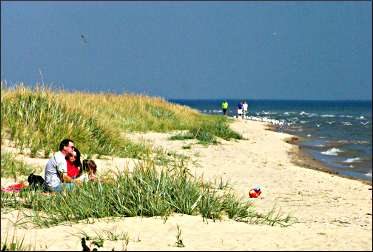 For details, see Two trails from Two Rivers.
Big Bay on Madeline Island. This long, curving beach on the largest of Wisconsin's Apostles is a beauty, with a mile and a half of luxurious sand. The annual sand-castle contest in August draws imaginative artists from all over.
Swimming off the beach in Big Bay State Park is mighty bracing until late summer, unless a breeze from the northeast brings in a layer of warm water.
But people also can follow the beach north to Big Bay Town Park and splash in the warm water of the lagoon or rent a canoe.
To the south, shoreline trails lead onto sandstone outcroppings. For more, see Madeline's magnetism.
Europe Bay in northern Door County. This beach in Newport State Park, Wisconsin's only formally designated wilderness park, is long, curving and scenic, lined by wildflowers and grasses. It's good for swimming, depending on the mood of Lake Michigan, and you'll rarely find a crowd.
For more, see Outdoors in Door County.
Rock Island in Door County. Surrounded by Lake Michigan, this island, entirely Rock Island State Park, is cool in summer and warm in fall. It's as far east as you can go in Wisconsin, and the islands off Michigan's Garden Peninsula can be seen from its lighthouse.
Campers get the best use of its beautiful south-shore beaches because ferry schedules limit the time day-trippers can spend there. If the lake is calm, though, canoeists and kayakers easily can cross the mile-long strait from Washington Island.
For more, see Wisconsin's Icelandic outpost.
Bradford Beach in Milwaukee. The gleaming white sand of this popular beach is near downtown, along the Oak Leaf Trail. It has lifeguards, a bathhouse, concession buildings and volleyball courts.
More beaches. Between Port Washington and Sheboygan, Harrington Beach State Park has a mile of beach and a campground.
A short walk from downtown Sheboygan, Deland Park is popular with surfers.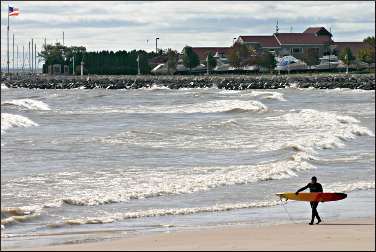 South of Sheboygan, Kohler-Andrae State Park has a dune beach. It also has an accessible beach trail and two beach wheelchairs.
Kenosha has a beautiful sand beach. Simmons Island Beach is bordered by a long concrete pier, and at the end sits the red 1901 Pierhead Light.
Racine has North Beach, a broad expanse of lovely white sand with a wooden castle playground called Kids Cove.
Minnesota
Chain of Lakes beaches in Minneapolis. If you can't find a place to swim in Minneapolis, you're not looking very hard.
The Grand Rounds connects the beaches on Nokomis, Harriet, Bde Maka Ska and Cedar lakes. The larger main Nokomis beach has a floating swimming dock, large fee parking area and the beach bistro Painted Turtle; there's a smaller beach on the other side of the lake that has no lifeguard or bathhouse.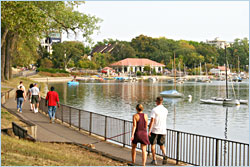 Lake Harriet has two small family beaches; North Beach has a floating swimming dock and is not far from the bandshell, playground and concessions at Bread & Pickle.
There's parking in the neighborhoods and a fee parking lot next to the bandshell that often fills.
The lake of Bde Maka Ska, formerly Lake Calhoun, is more open and attracts singles from the Uptown area. On the south end of the lake, Thomas Beach has a floating swimming dock and sand-volleyball courts. There's a small fee parking lot.
On the north end, there's a canoe and kayak rental, flanked by North Beach and 32nd Beach. It's hard to find parking.
Cedar is the quietest lake. East Cedar Beach, reached through the Kenwood neighborhood, has been known as Hidden Beach; it's not too hard to find parking on nearby streets. Cedar Point and Cedar South beaches have a few free parking spots.
There's also a beach on Lake Hiawatha, near Lake Nokomis. Lifeguard schedules vary.
Pelican Lake near Nisswa, Minn. For all its fame as a summer vacation destination, the Brainerd Lakes area has very few places where the public can take a dip.
In fact, this beach in Crow Wing State Forest is pretty much it. But it's a beauty, with a broad swath of sand and expansive lake views.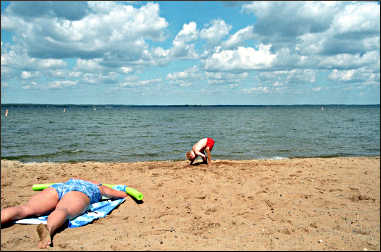 It's shallow, so it's good for playing but not swimming. And it's a great place to escape the heat. On a 95-degree day one July, my family and I spent a whole afternoon just sitting in the cool water, rising occasionally to toss a Frisbee.
It's a little tricky to get there. From Nisswa, head east on County Road 18 and then County Road 4 to its intersection with 118. From there, it's 1.7 miles to Pelican Beach Road; turn left, and the beach is another mile.
For more, see Fast times in Nisswa.
Square Lake near Stillwater, Minn. The lake in this county park is as clear as it gets in the Twin Cities area, so it's the go-to spot for scuba students and their teachers. Next to the sandy beach, there's a shaded grassy area that's nice for picnics.
The park is near the eastern trailhead of the Gateway State Trail, so it makes a nice destination for bicyclists. Motorists can reach it from Stillwater by heading north on Minnesota 95, then west on Square Lake Trail. From St. Paul, Minnesota 36 east, Manning Avenue north, Minnesota 96 east, Norell Avenue north and Square Lake Trail east.
There's fee parking.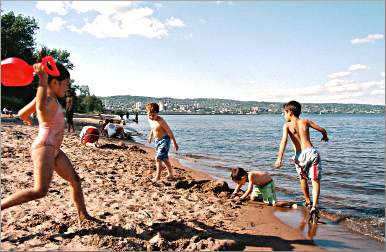 Park Point in Duluth, Minn. This Lake Superior beach is where you go if it's really hot or you're feeling really hardy. The dunes start just east of the Aerial Lift Bridge and line this six-mile sandbar right up to the Superior Entry.
It's all public, but the Park Point Recreation Area beach, with beach house and restrooms, starts off 43rd Street. The view of hillside Duluth, hazy in the hot summer sun, is a bonus.
Rip currents can make swimming dangerous, for watch for the red flags that warn of them. Even if the flag is green, be careful. If you get caught, swim sideways.
Parking is free. For more, see Dunes of Duluth and Swimming in Superior.
Father Hennepin State Park on Mille Lacs in Minnesota. Little more than an hour and a half north the Twin Cities, this small but lovely park includes prime beachfront on big Mille Lacs Lake.
On a hot day, it's a particularly nice destination for bicyclists on the paved Soo Line Trail, which stretches 11 miles between Onamia and Isle.
Zippel Bay on Lake of the Woods. At the top of Minnesota, visitors to Zippel Bay State Park can look across 80 miles of inland sea toward Kenora, Ontario. The park's centerpiece is two miles of white sand lined with wildflowers, including lady's slippers and many other orchids.
A stone jetty marks a harbor from which turn-of-the-century sturgeon fishermen once sent their fish to East Coast markets.
For more about the area, see Waters of the dancing sky.
Green Lake in Spicer, Minn. Nothing says "summer" more than a day at Spicer's big Saulsbury Beach. There's usually a cutthroat game of beach volleyball going on, and swimmers line up to jump off a tower on one of two rafts.
For more, see Camping in Kandiyohi and Little Crow lakes.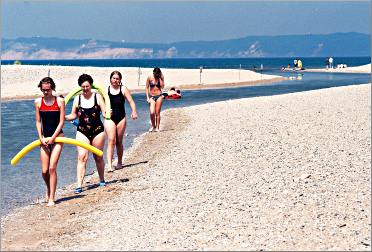 Michigan
Michigan is blessed with dozens of fabulous beaches on three Great Lakes. They're all lovely, but the ones on the Lake Michigan side are best for swimming.
For more, see America's freshwater Riviera.
Platte River Point in Michigan's Sleeping Bear Dunes National Lakeshore. This is a great place to play. Swimmers can run back and forth between the warm, crystal-clear waters of the shallow river and cold Lake Michigan, whose sandy bottom is sprinkled with flat stones that are perfect for skipping.
There's a grassy picnic area, and small sand dunes that kids like to run up and down.
There's the same choice of warm/cold at the Lake Michigan/South Bar Lake beaches in nearby Empire, where locals go to watch the sunset, and at the more remote Lake Michigan/North Bar Lake beaches, whose dunes look like they belong on the Atlantic Coast, not in the Midwest.
For more, see Grand sand.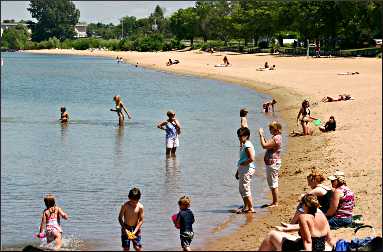 Clinch Park in Traverse City, Mich. Traverse City is one of the nation's great beach towns, with beaches lining both the West Arm and East Arm of Lake Michigan's Grand Traverse Bay.
It's also just a hop from fingerlike Lake Leelanau, Torch and Elk lakes and more than 100 other lakes, not to mention the open waters of Lake Michigan.
Clinch Park is near the town's adorable downtown and adjoins the marina. There's a splashpad for kids and a concession that rents kayaks for use on the Boardman River, which connects Boardman Lake to Lake Michigan.
Its beach has lifeguards and is flanked by the West End and Bryant Park beaches. The paved, 10½-mile TART bike trail connects them to Traverse City State Park across from the East Arm, where a pedestrian overpass leads to the beach.
Just to the west, East Bay Beach is good for children because it has a gradual slope and lifeguards.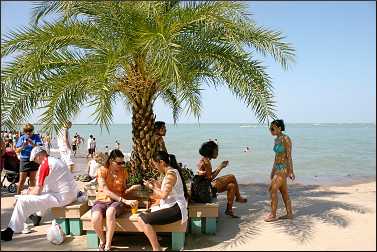 Illinois
Oak Street Beach in Chicago. The nation's third-biggest city has 15 miles of beautiful beaches.
Oak Street Beach is just a few steps from bustling Michigan Avenue, but it may as well be in another time zone, with its California vibe and easygoing beach culture.
Sit under an umbrella at a beachside cafe table or swim laps in the 65-degree water.
Nearby, the Ohio Street Beach is a stone's throw from Navy Pier. To the north, on the south end of Lincoln Park, North Avenue Beach has restrooms and parking and is very popular with young people.
The 18-mile Lakeshore Trail connects the beaches. For more, see Chicago by bicycle.
Last updated on April 19, 2021