Near escapes in Wisconsin
Water parks or waterfalls? Here are 10 places to go for a great winter getaway.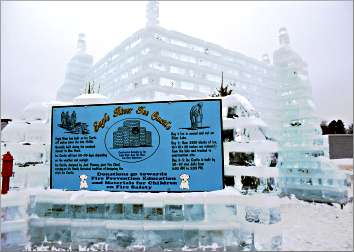 When winter seems to be lasting forever, you just want to get away.
Of course, that's not so easy to do if you're buried in snow. Then you may have to get away a lot closer . . . maybe to the hotel around the corner.
Until then, here are some great winter getaways, each with lots to do and see.
If you're looking for the complete treatment — spas, shops, fine dining — head for one of the big resorts, such as the Osthoff in Elkhart Lake, American Club in Kohler and Grand Geneva near Lake Geneva. The bigger they are, the better the off-season deals.
If you just want to retreat, period, see our Cabins & Cottages section.
For budget travel, see Cheap winter getaways. For getaways next door, see Near escapes in Minnesota.
Hayward/Cable. This is the cross-country skiing capital of the state, and the snowshoeing isn't bad, either.
Don't miss the American Birkebeiner if you're a serious skier, and avoid it if you're not and want a quiet weekend.
If you're with friends, stay at the Lenroot Lodge in Seeley. If you have a group, rent one of the cabins at Lakewoods Resort or Garmisch USA.
Wausau. This town in central Wisconsin has something for everybody: downhill skiing at Granite Peak, cross-country skiing at Nine Mile County Forest and snowshoeing on Rib Mountain.
In town, see cool art at the free Leigh Yawkey Woodson Art Museum and a show at the Grand Theater.
If you're a couple, stay at the Jefferson Street Inn. If you're a family, stay at the Stoney Creek Hotel in nearby Rothschild.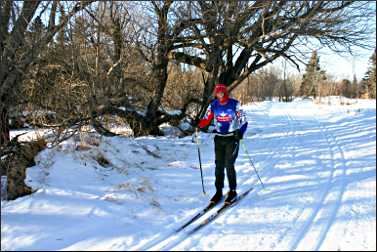 Hurley/Ironwood. Drink in Hurley, but cross the border for some of the best cross-country skiing in the region, at Active Backwoods Retreat and Wolverine Nordic.
At ABR, stay right on the trails in two houses or six rustic cabins.
Of course, there's also excellent alpine skiing at four hills — Whitecap near Hurley and Big Powderhorn and Snowriver Mountain near Ironwood.
Madison. There's always a lot going on in this college town, and you don't have to get off State Street. If you stay at the Concourse Hotel and Governor's Club on Capitol Square, everything is two blocks from your hotel — great theater, art, restaurants, shops and museums.
Don't miss the Winter Festival outside the Memorial Union in February or the International Festival at the Overture Center in March or early April.
Wisconsin Dells. This is where you go to get warm if you can't go to Mexico. The many indoor water parks are as close to the tropics as you can get in Wisconsin, and at Wilderness Resort's Wild WaterDome, you can even get a tan.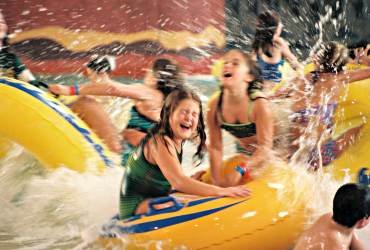 If you have big kids who are experienced water-park visitors, stay at the Wilderness, Kalahari or Great Wolf. If you have small kids, stay at one of the smaller and cheaper hotels with indoor water parks.
On weekends, resorts with water parks are no place for romance. If you're a couple, stay at Bowman's Oak Hill B&B and buy a day pass to a water park or go downhill skiing at nearby Cascade Mountain.
Milwaukee. See a game at the Fiserv Forum, tour breweries and the Harley Davidson Museum, shop in the Third Ward and visit world-class museums.
If you like nightlife, stay downtown at the Saint Kate Arts Hotel, which is connected to the ornate Pabst Theater and the modern Marcus Center for the Performing Arts.
The Wisconsin Center District is a few blocks farther and includes the Miller High Life Theater, the UWM Panther Arena and the Wisconsin Center.
If you're a motorcycling couple, stay at the Iron Horse Hotel. If you like Irish music and food, stay at the County Clare.
If you're bringing the kids, stay at the Hilton Milwaukee City Center, which is close to the Public Museum. If you like traditional luxury, stay at the Pfister.
Ice caves of the Apostles. Walk over Lake Superior to see the magnificent mainland caves at Mawikwe Bay (or, more likely, along the cliffs above the caves). Stay at the Foc's'le Inn or Siskiwit Bay Lodge in Cornucopia.
There are also a lot of places to ski on the peninsula and more luxurious/romantic places to stay in Bayfield.
Superior. This Lake Superior town has to live in Duluth's shadow, but it has a lot to offer.
Ski in Superior Municipal Forest, visit the Bong Veterans Historical Center, tour Fairlawn Mansion and eat burgers at the Anchor Bar, which is an official dive now that it's been featured on the Food Network's "Diners, Drive-Ins and Dives."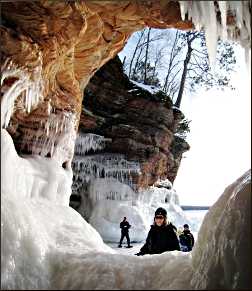 Just to the east, ski the Afterhours Trail in Brule River State Forest and visit the frozen waterfalls of Amnicon Falls State Park.
Stay at one of dozens of Airbnb homes (or in Duluth).
Eagle River. This is the snowmobiling capital of the state, but there are also many great places to cross-country ski and snowshoe in surrounding Nicolet National Forest. There are good shops in town, too.
Hudson. This is a good destination for a traditional couple's getaway. See a play, concert or art show at Phipps Center for the Arts. Ski or snowshoe in Willow River State Park. Shop and eat in the many fine stores and restaurants downtown.
Stay at the Phipps Inn B&B near downtown.
More getaways
For everything-under-one-roof getaways around the region, see Inn retreats.
For great ski lodges, see Ski out the door.
Last updated on February 7, 2022