Cheap winter getaways
Here are 20 places where a fun weekend away is easy on the wallet.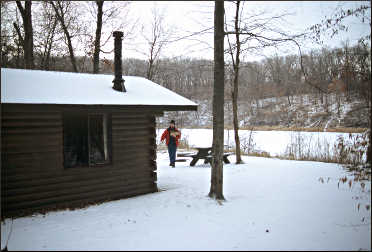 In the Upper Midwest, finding a good deal is a sport second only to football.
Some of us need a bargain. Some of us just like them. But we all need to get away occasionally, especially when cabin fever strikes in winter.
The easiest way to save is to round up a group of friends and rent a guesthouse in a state park. After that, most of the fun — skiing, snowshoeing, bird-watching, festival-attending — is free.
You also can snowshoe from a yurt or lodge in the Upper Peninsula, have a museum sleepover in Chicago, track wolves in Wisconsin and go on a snowshoe-archery biathlon in Minnesota.
Here are 20 inexpensive weekend trips in 2023, most for $100 or less per person.
For outdoor weekends that cost a bit more, see Winter adventure on a budget.
For the rest of the year, see Cheap spring getaways, Cheap summer getaways and Cheap fall getaways.
Minnesota
A cabin and gliding by candlelight
If you love to ski or snowshoe by candlelight in state parks but you have a hard time leaving the house in the dark, just make your home in the park for the night.
Minnesota has heated camper cabins in many of the parks that host candlelight events. They're a little expensive at $80-$90 plus the $7 on-line reservation fee, but they sleep six, so you can split the cost.
Or not — the cabins are rustic, but a couple can make them romantic with a crackling fire under the stars.
The candlelight ski at Mille Lacs-Kathio is one of the region's best, and that state park has five camper cabins.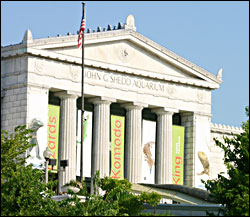 Other best bets: ski and snowshoe events at Lake Bemidji State Park (four cabins); at Lake Carlos near Alexandria, (four cabins); and at Itasca State Park (12 modern, two-room suites).
For more, see Ski or snowshoe by candlelight.
For camper cabins in all states, see A roof in the woods.
Winter skills for women
Minnesota's BOW, or Becoming an Outdoors Woman, program usually offers a Winter Workshop.
Participants get to choose among a variety of activities, including trapping, dark-house fishing, animal tracking, wild-game cooking and the popular snowshoe archery biathlon.
Cost of $195 includes dorm lodgings and all meals. Reserve as early as possible. See below for Michigan's and Wisconsin's BOW workshops.
The headwaters of the Mississippi River in Minnesota's Itasca State Park are a must-see destination in summer.
In winter, the park grooms 13 miles of cross-country ski trails, many of which wind through old-growth pine forest. There's also ice-fishing and snowshoeing.
Stay in the park's Four-Season Suites near Douglas Lodge, which have kitchenettes and satellite TV. They're $105 in winter.
There's also a guesthouse and cabin, both with full kitchens, at La Salle Lake State Recreation Area, eight miles north of Itasca.
The three-bedroom Black Bear Guesthouse sleeps 10 in four queen beds and a futon and rents for $325. The two-bedroom Lone Wolf Cabin sleeps four in two queen beds and rents for $200.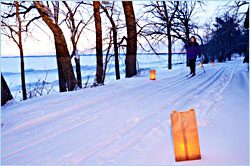 Get away to bluff country
The Lanesboro area, so popular with bicyclists in summer and fall, is very quiet in winter.
In many years, however, it gets dumped with snow, allowing skiing on the groomed Harmony-Preston Valley and Root River state trails.
Skiing is best on the quiet and scenic stretch of the Harmony-Preston Valley State Trail between Isinours Junction, five miles west of Lanesboro, and Preston. (To get to Isinours, turn south onto County Road 17 from County Road 8, halfway between Fountain and Lanesboro.)
In January, there's a candlelight ski on the trail from Preston, with chili around a bonfire. On the Root River State Trail, there's a candlelight ski from Whalan , with a soup supper in the village hall.
In Lanesboro, stay at the Cottage House Inn, where rooms are $75. There's shopping and Amish tours, too.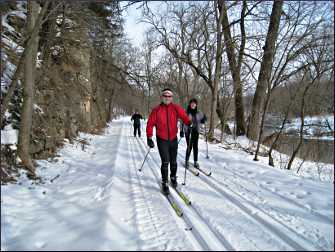 A festival in Ely
In winter, this northern Minnesota town is a playground for skiers and snowshoers.
There's also a lot to see and do during Winter Festival, Feb. 2-12 in 2023, which features a voyageur encampment, snow-sculpting contests, an ArtWalk and a free snowshoe trek to see ancient pictographs.
Stay west of town in Bear Head Lake State Park, which has a guesthouse and camper cabins.
In this two-college town an hour south of the Twin Cities, the entertainment is free. St. Olaf College, whose music program is renowned, regularly brings in professional musicians, including the St. Paul Chamber Orchestra.
Check the calendar for free concerts.
There are many other free or inexpensive events around town.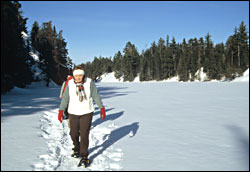 Skiing and snowshoeing on the North Shore
There are hundreds of miles of cross-country ski trails in parks and forests along Lake Superior, and all you'll need is a Great Minnesota Ski Pass, $25 for a year.
Base yourself in Grand Marais, and you'll be close to the 57 kilometers of the Norpine Trails, the 25-kilometer Pincushion system and the always-reliable Gunflint trails. Or snowshoe for free on the Superior Hiking Trail, or anywhere you want.
The Hungry Hippie Farm & Hostel, half an hour up the highway from town, offer a single bunk goes for $29 and a private room for $69, including linens and towels. Pets are allowed in one private room for an additional $20.
For more, see Skiing on Minnesota's North Shore.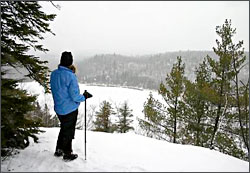 In summer, many visitors to Duluth wants to stay on Canal Park. But in winter, the action is in the hills.
Spirit Mountain, the new Grand Avenue Nordic Center, Quarry Park for ice-climbing and many of the best fat-tire biking trails are in West Duluth. The closest motel: the modest but perfectly nice Willard Munger Inn.
It's near the Grand Avenue Nordic Center and offers rooms for less than $100, plus $5 off a Spirit Mountain lift ticket on weekends and $10 off on weekdays.
Duluth has great cross-country trails in parks across town, from Magney-Snively to Lester parks.
And it's free to snowshoe on the Superior Hiking Trail.
Family camps in Ely
Just north of this outdoorsy town, off the Echo Trail, YMCA Camp du Nord offers winter camps for families, with guided skiing, hiking, saunas and nature programs.
They include the Winter Wonderland Family Camp in early March. There are 21 heated cabins, some with gas fireplaces, in three villages. Some are rustic, but most are quite luxurious.
Rates depend on size of cabin; 16 people sharing Thor's Lodge or 14 people sharing the Lynx Lodge pay $41 apiece per night, and seven people sharing Jack's II Cabin pay $48. Reserve early to get your choice of cabins.
The International Wolf Center offers many adventure programs, including a Wolf Family Rendezvous sleepover, $90, $60 for youths 6-12. In 2023, there's one Jan. 14-15.
Nordic skiing on the Iron Range
On Minnesota's Iron Range, north of Virginia, Laurentian Environmental Center often offers a Family Winter Weekend.
Cross-country ski instruction is provided for beginners, and advanced skiers can use more than 21 miles of groomed trails. All-inclusive cost is $150, free for children 3 and under.
Wisconsin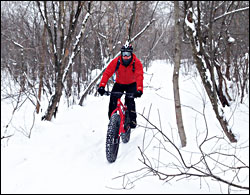 Tracking wolves
The Timber Wolf Information Network organizes Winter Wolf Ecology workshops at nature centers around the state.
At Beaver Creek Reserve east of Eau Claire, cost is $80, plus $13 for lodgings. It's Jan. 28-29 in 2023.
At the Sandhill Outdoor Skills Center west of Wisconsin Rapids, cost is $100, including lodgings and two meals, plus $20 for Friday night, too. It's Jan. 21-22.
At Treehaven near Tomahawk, cost is $147, including lodgings and four meals. It's Jan. 14-15.
Shopping for bargains
Need some new warm clothes? Lands' End donates many of its catalog returns to five Bargain Nooks in southwest Wisconsin.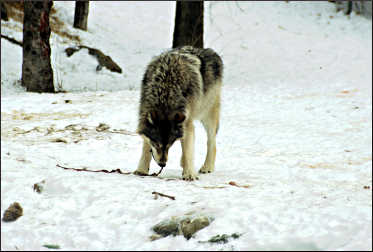 The shops are in Mount Horeb, Spring Green, Mineral Point, Platteville and Darlington. They're run by the Hodan Center, a non-profit that helps adults with disabilities.
Expect to pay as little as $40 for a down parka and $10 for pants and shirts.
This is a good girlfriend getaway, so split the cost of a two-bed suite at the House on the Rock Resort in Spring Green.
For more, see Power shopping in Wisconsin.
Skiing and sledding around Black River Falls
Wisconsin has very few cabins in state parks, but one of them is in Black River State Forest near Black River Falls. It rents a two-bedroom " indoor group camp that sleeps up to 12, $40. It has radiant floor heat, a gas fireplace, six bunk beds and a kitchen, but not mattresses or cooking utensils.
The park has 25 miles of cross-country ski trails, and the area has more than 300 miles of groomed snowmobiling trails.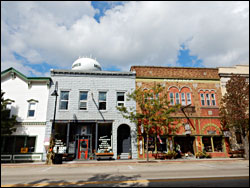 Michigan
In the Upper Peninsula of Michigan, Porcupine Mountains Wilderness State Park has everything you need for great snowshoeing — 100 miles of trails, guaranteed snow and a cheap place to stay. Even the snowshoes are free to use, though supplies are limited.
The park naturalist usually offers guided snowshoe treks on Saturdays in January and February and lantern-lit skiing and snowshoeing on a one-mile loop on Saturday nights from late December through February.
The park gets piles of lake-effect snow from November through April. In winter, you'll need snowshoes or skis to get to its four year-round yurts, which have wood stoves but no running water.
The yurts sleep four in bunk beds and cost $68, and rustic cabins sleep eight, also $68. The handsome Kaug Wudjoo Lodge sleeps 12 and rents for $200, with a four-night minimum in winter.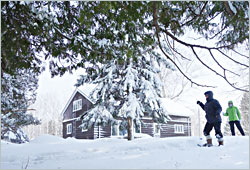 Fun for women on the U.P.
Michigan's BOW, or Becoming an Outdoors Woman, program offers a Winter Workshop at Bay Cliff Health Camp, overlooking Lake Superior near Marquette. It's Feb. 24-26 in 2023.
Activities include cross-country skiing, snowshoeing, archery, ice fishing and winter biking, and cost of $225 includes food and lodging.
Snowshoeing and an overnight
East of Traverse City, the Ralph MacMullan Conference Center on Higgins Lake offers a XC Ski & Snowshoe Getaway Feb. 10-12.
Cost is $200, $220 for two, and includes five meals and equipment. Trails include the ones at nearby Hartwick Pines State Park.
Cross-country skiing for beginners
East of Traverse City, the Ralph MacMullan Conference Center on Higgins Lake often offers such weekend packages as Cross-Country Skiing 101.
Cost of $130, $95 for children 4-11, includes lodgings, meals, use of skis and a skiing lesson.
When you go to the Keweenaw Peninsula in winter, you don't have to worry about snow. There'll be plenty outside the door of your two-bedroom cabin, $74, on the shore of Lake Fanny Hooe, in Fort Wilkins Historic State Park.
It's next to a cross-country ski trail, but if you like black-diamond runs, Mount Bohemia is nearby. It also has yurts that sleep 10 and trailside cabins that sleep four.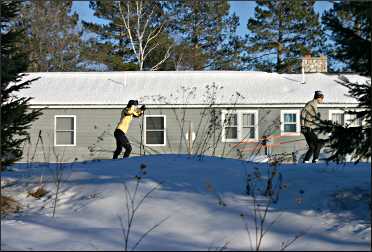 Thanks to lake-effect snowfalls, this Michigan town on the Wisconsin border never has a bad snow year. It has two cross-country ski trail systems, Wolverine and ABR, and ABR (short for Active Backwoods Retreat) has lodgings right on the trails. It's known for its fastidious grooming, so that's a big plus.
Overnights at five rustic, ski-in heated cabins cost $50 two, $75 for six and $100 for up to 10. A sauna and shower costs extra.
Cabins and guesthouses in state parks
In the only state that borders three Great Lakes, the best places to stay are in state parks. Michigan has a huge array of lodges, cottages, cabins and yurts.
Try Tahquamenon Falls State Park, which has its own brewpub restaurant and naturalist programs in winter. Stay in a three-bedroom, two-bath lodge that sleeps eight, $126 with a four-night minimum, or a camper cabin that sleeps seven, $65-$70.
On Saturdays in February , there are guided snowshoe adventures and lantern-lit skiing and showshoeing.
For more, see Michigan's great lake cabins.
Illinois
Family sleepovers in Chicago
January and February are the slowest months of the year in this always-fun town, and also the cheapest time.
It's easiest to catch a free day at one of the museums (especially if you're an Illinois resident).
And if you have children, you can stay overnight in some of the world's most famous museums — Shedd Aquarium, Adler Planetarium, Field Museum, Museum of Science & Industry — for $65-$75, including food and programs.
Reserve several months in advance, because they book up quickly.
For more, see Nights at the museum.
Hostels in Chicago
Hotels aren't cheap in Chicago, but luckily, it also has hostels. In the South Loop, the Hostelling International hostel is so popular that it screens guests by zip code (too many people from the suburbs want to stay there). Bunks in dorm rooms on weekends start at $25, including breakfast; private rooms start at $60.
There are three other hostels, River North, Lincoln Park and Wicker Park, and usually you can get a good deal at hotels in winter.
With the money you save, you can afford a nice meal, and Restaurant Week offers deals the two weeks at the end of January and first part of February.
For more, see Cheap Chicago and Where to stay in Chicago.
Outdoors Clubs
In every state, outdoors clubs offer the cheapest trips with the most camaraderie. And if you're a beginner, you'll get free instruction from new friends.
For more, see Join the club.
Last updated on February 10, 2022