Near escapes in Minnesota
Skiing or skyways? Here are 10 places for a great winter getaway.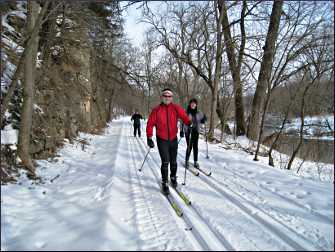 Before Valentine's Day, and as winter drags on, everyone starts thinking about romantic getaways.
Well, we already have a story about romantic places to stay, and beyond that, who can say what romance is?
Especially since "romantic" often is code for "expensive." We think romance has very little relationship to expenditure; we've found it in tents and camper cabins as well as luxurious inns. It's everywhere, if you look for it.
Here are 10 great Minnesota getaways for everyone, whether you're with your sweetie, your kids, your pals or just yourself.
For budget travel, see Cheap winter getaways. For next-door getaways, see Near escapes in Wisconsin.
North Shore. This is hallowed ground year-round for Minnesotans, a breath of fresh air along the shore of a vast inland sea.
The craggy shoreline and river gorges are even more fun to explore when they're draped in ice, and there's great skiing at Lutsen Mountains and on cross-country trails in the forests and state parks.
Of course, there are many cabins, cottages and lodges, many with inviting wood-burning fireplaces and views of the big lake.
Gunflint Trail. This is where you go when you really want to be around a lot of reliable, long-lasting snow. We like it best in March, when the days are longer and sunnier and people in the cities think winter is over.
There are many great lodges along this 57-mile road into wilderness, and they'll arrange all kinds of fun activities for their guests, including horse-drawn sleigh rides, dog-sledding and snowshoeing into the BWCA.
Minneapolis. One word: skyways. They link nearly 80 blocks downtown, so you can book a hotel and scurry from your room to great restaurants, shops and theaters without putting on a coat.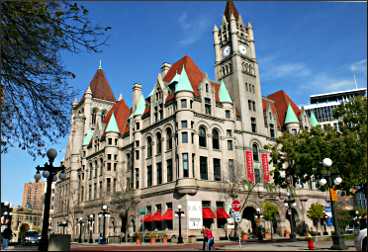 Stay at The Chambers and you'll be a stone's throw from the grand Hennepin Avenue theaters. Or just get the best winter hotel rate you can find and walk there by skyway.
St. Paul. The capital city has skyways, too. In the heart of downtown, see the St. Paul Chamber Orchestra or Minnesota Opera at the Ordway Center or a concert or hockey game at neighboring Xcel Energy Center.
On Rice Park, the Landmark Center holds many free concerts and family events.
The Fitzgerald Theater, which hosts many folk concerts, is on the north end of downtown. The Minnesota History Center, State Capitol, Cathedral of St. Paul and James J. Hill House are on the hills around downtown.
Treat yourself with a night at The St. Paul, overlooking Rice Park. Then economize with a fun meal at Mickey's Diner.
Stillwater. In the off season — that's winter — the deals are really good in the many shops of this boutique village on the St. Croix River. After shopping, stop at one of the many wine bars and restaurants, and stay at one of the town's boutique hotels.
Lanesboro. This little hamlet in bluff country is best known for bicycling on the Root River State Trail, and it's pretty quiet in winter.
But the trail is groomed for cross-country skiing. One of the most scenic stretches is west of town, from Isinours to Preston on the Harmony-Preston Valley State Trail. It's flat, perfect for beginners and expert skiers alike.
There's also nightlife at the Commonweal theater, art to see and buy at the Lanesboro Arts Center, dinners at the Old Village Hall restaurant and the occasional barn dance.
Bemidji. This far-north town is the home of the original giant Bunyan and Babe, who inspired a thousand roadside mascots.
It's a university town, so there's a lot of live music, at the college and downtown at the historic Chief Theatre and Brigid's Cross Irish pub.
But it's also wild about winter sports. There's alpine skiing, tubing and horse-drawn sleigh rides at Buena Vista Ski Area, cross-country skiing at Three Island County Park, Movil Maze and Hobson Memorial Forest and an annual candelight ski and snow night at Lake Bemidji State Park.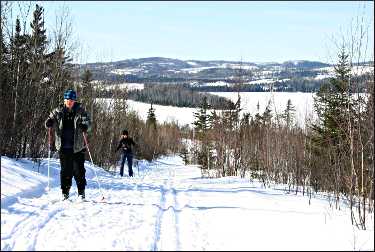 Stay at lakeside hotels near downtown or, farther up the lake, at Ruttger's Birchmont Lodge.
Northfield. This little college town just south of the Twin Cities makes a fun day trip, though there are a couple of good places to stay, too.
Shop in the many one-of-a-kind shops along Division Street and stop by the Northfield Historical Society Museum to learn how the townsfolk dealt with the James-Younger Gang when they tried to rob the bank.
In the evening, go to one of the world class — and free — concerts at St. Olaf College. For snowshoeing, head down the street to Carlton's Arboretum along the Cannon River or to Nerstrand Big Woods State Park.
Red Wing. This town on the Mississippi River is the hub for three excellent music venues, the Sheldon Theatre, Stoney End Music Loft and, in the bluffs above Lake City, the Oak Center General Store.
On one weekend, you could catch two concerts, and sometimes three.
There's also shopping downtown and at Pottery Place, and plenty of good places to stay and eat. Colvill Park, on the south edge of town, is a good place to watch for bald eagles.
Itasca State Park. This park is wonderful in summer and fall, but it's also crowded. Have it mostly to yourself when snow drapes the old-growth white pines, the headwaters and miles of trails.
Try to catch one of two lantern-lit ski and concert evenings, and stay at the Itasca Suites next to Douglas Lodge or at the Headwaters Inn.
Last updated on February 7, 2022