Camping without roughing it
Here are 15 state parks close to all the comforts: restaurants, shops, golf courses, even nightlife.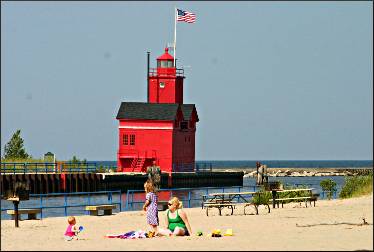 Even if you camp, you don't have to rough it.
A lot of state parks have plenty of woods, water and wildlife, but they're also just a short bike ride or walk away from the finer things in life — say, a pizza parlor or ice-cream stand.
Nearby restaurants make packing easy because you can leave the pots, dishes, soap and firewood home. Even if you like cooking over a fire, it's still nice to go out for a treat.
Here are 15 parks in five states where you won't be too far from some of your favorite things.
Wisconsin
Peninsula State Park between Fish Creek and Ephraim. This Door County park includes a golf course and an amphitheater with a professional acting troupe, plus bike trails to the two adjoining towns, both of which have dozens of restaurants and shops.
Its campsites are the state's hardest to get, so be ready to reserve when the window opens, 11 months in advance.
New Glarus Woods State Park next to New Glarus. This park is on the edge of an adorable Swiss town, which has many restaurants, a European-style bakery and meat market, shops and a municipal pool.
The Sugar River State Trail connects the park to the town.
Perrot State Park in Trempealeau. This beautiful park on the Mississippi River is just a mile north of the town of Trempealeau.
On the river, the historic Trempealeau Hotel is renowned for its microbrews, its walnut burgers and its frequent live roots music.
Big Foot Beach State Park in Lake Geneva. This park is right on Geneva Lake, one mile south of town, a little farther if you get there via the famous lakeshore path.
You can get pretty much anything you want in Lake Geneva, one of the state's most popular tourist towns.
Iowa
McIntosh Woods State Park near Clear Lake. There's a supper club next to this park, which is across Clear Lake from the northern Iowa resort town, with its many restaurants and shops. The park has yurts as well as campsites.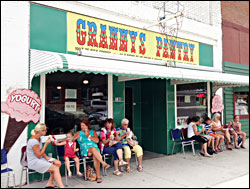 Honey Creek Resort State Park near Moravia. This park on Rathbun Lake in southern Iowa actually is a resort, with luxury rooms, suites and cottages as well as RV sites. There's an 18-hole championship golf course, a restaurant and even an indoor water park.
Michigan
Traverse City State Park in Traverse City. This crowded but well-located state park is right in town, across the highway from a Lake Michigan beach.
A bicycle trail connects it to downtown, with its many restaurants and shops as well as brewpubs and entertainment venues.
Holland State Park in Holland. This Lake Michigan park is across the Macatawa River/Lake Macatawa from the Dutch town. There's a concession building on the big beach and restaurants lining the busy road to the park.
The park also has two very popular camper cabins right off the beach, facing the lake and lighthouse.
Ludington State Park in Ludington. This Lake Michigan park is just north of town, which has been restaurants, delis and ice-cream parlors.
There's plenty to do in the park, however, including river tubing, canoeing, kayaking and visiting the Big Sable Point Lighthouse.
Weekly concerts are held in an amphitheater. The park also has two mini-cabins.
Tahquamenon Falls State Park near Newberry. This gorgeous park on the Upper Peninsula, not far from Lake Superior, has a brewpub as well as a snack shop. A short stroll from the campground, a gift shop sells breakfast sandwiches.
And if you don't want to rough it at all, the park rents a lodge and a camper cabin.
Minnesota
Lake Bemidji State Park near Bemidji. This park is next to a golf club that has a restaurant and across the lake from the university town of 13,400, which has many restaurants, a craft brewery and a professional summer theater.
The park and town are connected by the Paul Bunyan State Trail, which follows the lake. For more, see Bicycling around Lake Bemidji.
The park has camper cabins as well as campsites.
Afton State Park near Afton. This park on the eastern edge of the Twin Cities is along the St. Croix River and next to Afton Alps golf course. It's also close to restaurants in the village of Afton.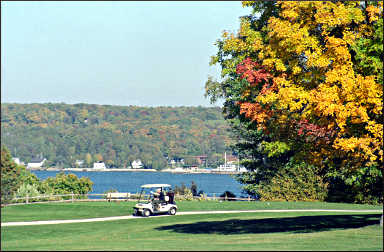 The park has camper cabins as well as campsites.
Glendalough State Park near Battle Lake. This park is in Otter Tail County, which has more lakes than any other in Minnesota, and it has five lakes of its own.
It's a pleasant 3½-mile cruise on a paved bicycle trail to the resort town of Battle Lake, where there's a bakery, candy/ice-cream store and restaurants. Stella's is especially nice, with its front patio.
In the park, there are camper cabins and yurts as well as campsites.
Illinois
White Pines Forest State Park near Oregon. This park near the Rock River includes the 1927 White Pines Inn, a vintage log building that includes a restaurant, gift shop and even a dinner theater.
Starved Rock State Park near Utica. This scenic park along the Illinois River, famous for its 18 canyons, includes a large lodge with a restaurant and snack shops. It's also close to restaurants in Utica.
For more, see Marvels of Starved Rock.
Illinois Beach State Park in Zion. This park on the northern edge of Chicago includes the Illinois Beach Resort and Conference Center on the shore of Lake Michigan. The resort's restaurant doesn't have a distinguished history, but there are many other places to eat nearby.
Last updated on July 13, 2021