10 great ways to celebrate Valentine's Day
Feed romance in the forest, at an ice castle and, of course, in chocolate shops.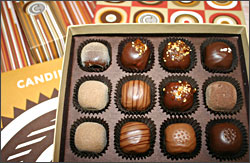 Valentine's Day is on a Sunday this year, so at the end of the work week, you ought to be ready to treat your swain or sweetheart to something fun.
It doesn't have to be an expensive dinner by candlelight with a fancy box of artisan chocolates . . . it could also be a hike by lantern or candlelight, with s'mores made over a fire.
Romance isn't what you buy; it's what you bring with you.
Here are some great and not particularly expensive ways to celebrate Valentine's Day in 2022 .
Researchers have found that eating chocolate is almost as good as being in love . . . or something like that.
In the historic northwest Illinois town of Galena, go on a Chocolate Lovers Stroll along Main Street on Feb. 12.
East-central Wisconsin is known as the " Wisconsin Candy Delta." The New York Times has mapped out a tour of chocolate shops in Appleton, Oshkosh, Green Bay, De Pere and Manitowoc, near or on Lake Michigan.
That's a lot of driving. For a shorter trip, take a self-guided tour of the chocolateries of Madison.
Nothing is more romantic than a stroll or glide through a forest by the light of luminaries. There's always a bonfire or fire pit, so score extra points by bringing a baggie of s'more ingredients .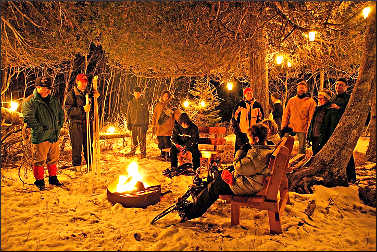 There will be several places to do that over Valentine's Day weekend. On Feb. 12, ski or snowshoe one of the best and longest candlelit loops at Mille Lacs Kathio State Park in north-central Minnesota.
Several Wisconsin state parks also are holding events: Devil's Lake near Baraboo, Lake Kegonsa near Stoughton, Wyalusing near Prairie du Chien and Governor Thompson near Crivitz.
Shop by the light of ice lantern
In the arty southwest Wisconsin town of Mineral Point, visit art galleries and shops by the light of artist-created luminaries during the Ice Lantern Festival Feb. 12.
There's also a cupcake/cookie/hot chocolate bar as well as an ice bar for stronger treats.
Visit an ice castle
Professional ice artists have created a fantasy playground in Lake Geneva in southern Wisconsin and New Brighton in the Twin Cities.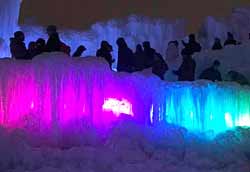 They're LED-lit ice fantasias of stacked icicles, sculptures, tunnels, slides and even a spouting fountain. Tickets are cheapest when bought online.
Elsewhere, visit one of our favorite ice playgrounds, including the spectacular Eben Ice Caves in the Upper Peninsula of Michigan.
Scale a frozen waterfall
At nearby Pictured Rocks National Lakeshore, some of the nation's best ice climbers will be scaling spectacular frozen waterfalls during Michigan Ice Fest, Feb. 9-13. There are workshops for beginners, too.
Remember how much fun sledding was when you were a kid? You can still do that, except you'll have even more fun shooting down today's professionally groomed and graded tubing chutes.
You don't even have to trudge back up the hill; there are conveyor lifts and magic carpets for that.
Rates start at $8 for two hours, and nearly everyone can find a tubing hill nearby.
If exhilaration isn't enough, add some atmosphere with an evening of glow tubing at Spirit Mountain in Duluth or The Rock Snowpark in Franklin, just south of Milwaukee.
Book a cozy cabin
This is a classic idea, because there's nothing more romantic than canoodling in front of a crackling fireplace.
The problem is, it may be hard to find a place at the last minute. You can always look for cancellations, but another option is reserving a cabin for next year, when Valentine's falls on a Sunday.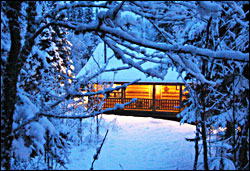 Pick one of our 20 perfect cabins or even a rustic camper cabin in the woods-here will be no heart-shaped whirlpool, but you'll have loads of privacy and atmosphere.
You can reserve them a year in advance in Michigan and Iowa and 120 days in advance in Minnesota.
And for instruction in the Scandinavian concept of "cozy," head for Grand Marais, at the northeast tip of Minnesota. It's holding a Hygge Festival, with snowshoe hikes and lodging specials.
See a show
In the Minneapolis theater district, enjoy some yucks at a Valentine's Comedy Jam Feb. 12, or the concert "Marina: Ancient Dreams in a Modern Land Tour" on Feb. 14.
Or splurge on a Broadway traveling show in Chicago's Loop theater district, where you can see the wacky musical "Hairspray" through Feb. 13 or "The Play That Goes Wrong."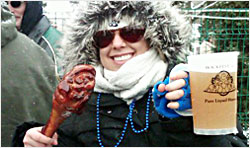 Something to look forward to
If you wanted to buy a gift but didn't have time, just print out some tickets at home — perhaps to a food tour or a cooking class . After all, the way to the heart is through the stomach.
Consider a food tour in Chicago, or perhaps a cooking class or a class at one of the region's many folk schools.
This could really pay off: Your sweetie could come home knowing how to make truffles, sushi or a killer tiramisu.
If your sweetie is no gourmet but loves bacon and beer, snag tickets to the Winter Beer Dabbler in St. Paul on Feb. 19 or Bockfest at Capital Brewery in Middleton, Wis., on Feb. 26.
You can make a pig of yourself at the Blue Ribbon Bacon Festival in Des Moines on Feb. 26 or Baconfest MKE in Milwaukee on Feb. 27.
Last updated on January 13, 2022.