20 perfect cabins
They're in the woods, with views, vintage charm and modern luxuries (but maybe not all together).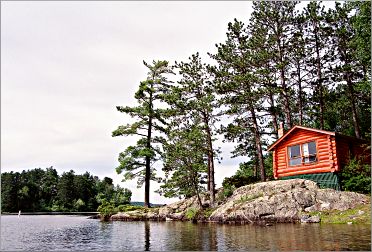 It's not easy to find the cabin of your dreams. My friend Ellen knows, because she's been looking for years.
"I want a cabin with a big stone fireplace, a pine floor and an old-fashioned bed, nestled in the woods with really tall pines or near a lake where you can go out skiing during the day," she says. "Not at a big resort with a ton of things to do, necessarily, but with some ice skating, can you picture that?
"Something like 'Little House in the Woods,' " you know, with a braided rug. It doesn't have to be all fussy and brand-new. So many cabins are so modern, kind of like a hotel. I like rustic."
Has she ever found this cabin? Nope.
"I don't know if it exists," she says. "Maybe only in the movies."
Two other girlfriends also want cabins in the woods, but one would like to be within 20 minutes of shopping, and another wants to be near good restaurants.
My most memorable stays weren't in perfect cabins. One had flies dying on windowsills and water stains on the ceiling, but it was built in 1943 of hand-hewn logs taken from old Finnish buildings, and it overflowed with vintage charm.
One state-park cabin was too modern for me — I couldn't figure out how to work its glass-ceramic range or even the can opener — but it had a 45-foot waterfall in its backyard.
There are always trade-offs. Maybe the perfect cabin is the one that makes you say "Wow!"
Here are 20 (almost) perfect cabins. I've stayed in or toured all of them.
Cabins in state parks
Luckily, for those of us who like classic cabins surrounded by trees, state parks are full of great places to stay.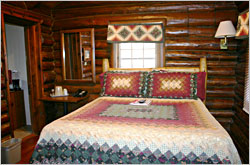 Cabins of the White Pines Inn in White Pines Forest State Park near Oregon, Ill. These 13 log cabins are adorable, and they're a short walk from a wonderful log restaurant in the 1927 inn, which also includes a dinner theater.
They're surrounded by trees, but they might be too close to each other for people who crave solitude. For more, see On the Rock River in Illinois.
Cabin B in Tettegouche State Park near Silver Bay, Minn. This cabin has the tall pines, Mic Mac Lake at its doorstep and skiing. But it doesn't have its own bathroom, and you have to lug all your gear 1¾ miles uphill.
Deal breaker? Not for the people who keep it booked up year-round. For more, see Heirs to a hideaway.
On the other side of the park, you'll find the modern Illgen Falls Cabin, the one with the 45-foot-waterfall. For more, see Cabin on a waterfall.
Minnesota has many great cabins, including the guesthouse in Wild River State Park, which has a wood-burning fireplace. For more, see Lodgings in Minnesota state parks.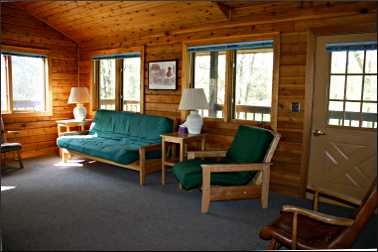 Cabins in Backbone State Park near Strawberry Point, Iowa. Iowa state parks and Iowa county parks have a large variety of cabins, and some of them are very handsome. They're also perhaps the best value in the region.
In this stunning northeast Iowa state park, family cabins have kitchens and bathrooms and are only $50 and $85. Deluxe family cabins, $100, are bigger, fancier and closer to the lake.
For more, see A cabin in Iowa.
Whitetail Cabin in Holland State Park in Holland, Mich. This heated two-bedroom camper cabin, one of many in Lake Michigan beach parks, has a refrigerator, microwave and coffee maker. But the cabin's view of Big Red lighthouse and location right on the beach make it really choice.
Michigan state parks have a huge array of cabins in all sizes. For more, see Michigan's great lake cabins.
Camper cabins are too rustic to be romantic for a lot of people, but they're often in the most romantic locations.
For a list of across the Upper Midwest, see A roof in the woods.
Cabins in cities
It's hard to be close to shopping and restaurants when you're out in the woods . . . unless you're in Duluth.
To be close to the Lake Superior Hiking Trail for hiking and snowshoeing and the Duluth Traverse for mountain- and fat-tire biking, stay at the Duluth Hiker House, a block from the trails of Hartley Park. It has a double whirlpool and steam shower as well as a gas fireplace.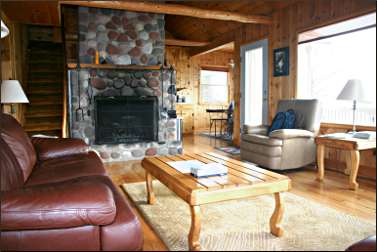 Vacation-rental cabins
There is a vast array of privately owned vacation cabins available, and many allow pets. For more, see Renting a vacation house.
Superior Solitude in Lutsen, Minn. This may be my friend Ellen's dream cabin. It's right on Lake Superior, with a big stone fireplace, lots of conifers and skiing nearby.
It's even near restaurants and shopping in Lutsen and Grand Marais. I can't remember if it has a braided rug, though.
Finn House in Lutsen, Minn. This is the 1943 log cabin on Lake Superior that my girlfriends and I adored, though its listing includes a caveat: "The historic nature of this cabin is a huge part of its charm, but it is not for everyone."
If you're looking for a place that's modern and luxurious, however, you have many, many choices.
Cabins at cross-country ski resorts
Cabins at Bearskin Lodge on Minnesota's Gunflint Trail. These classic log cabins are all attractive, and some have fireplaces (and braided rugs!).
The resort also boasts a Hot Tub Hus, a twinkle-lighted ski loop, fine dining in the lodge and the state's most reliable snow.
Nearby resorts also have great cabins. For more, see Snow heaven on Minnesota's Gunflint Trail.
For similar cabins elsewhere, see Ski out the door.
Cabins at traditional resorts
Cabin 11 at Cascade Lodge in Lutsen, Minn. Some of the cabins at this classic resort, across the highway from Lake Superior, are 1923 originals.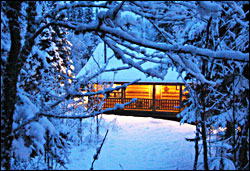 Cabin 11 is reached by its own wooden bridge above a small waterfall. There's a good restaurant and pub at the resort, and guests can walk onto the trails of Cascade River State Park or ski onto the Deeryard trails.
Mountain View Lodges in Silver City, Mich. These attractive two-bedroom cabins are just outside the eastern entrance to Porcupine Mountains Wilderness State Park.
They've got wood-burning fireplaces, VCRs and cable TV, and four are open to pets. The resort's sand beach on Lake Superior is lined with fire pits.
And for a "cabin" that's even better located, check out the yurts right in the park.
Cabins at High Point Village near Ogema, Wis. This resort in north-central Wisconsin, across Bass Lake from the state's high point, is just off Timm's Hill National Trail, part of a 50-kilometer network of ski trails.
It rents five attractive chalet cabins with loft and full kitchen. There's a restaurant on the premises that sells breakfast, lunch and dinner.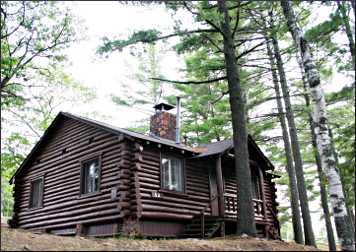 Keweenaw Mountain Lodge in Copper Harbor, Mich. These log cabins were built by the WPA during the 1930s and have big stone fireplaces. They don't have kitchens, but you can walk to the lodge restaurant or drive down to town.
Many of my favorite cabins aren't open in winter: the 1938 Fern Creek at Koeneke Shoredge Resort on Lake Superior in Lutsen, Minn.; Bert's Cabins, right in Minnesota's Itasca State Park; the much-photographed cabins of Burntside Resort in Ely, Minn.; and, also on Ely's Burntside Lake, the vintage cabins of Camp Van Vac.
Luxury cabins
Hawks View Cottages in Fountain City, Wis. These five cottages, on a steep hillside above the Mississippi River, have great views and decks.
Each cottage has two stories, a double whirlpool, a full kitchen and a pull-out sofa on the first floor. Rates include breakfast supplies and a bottle of wine.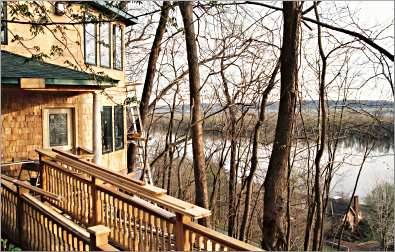 Townhouses at Gunflint Lodge on the Gunflint Trail. They're not cabins, but they feel like them, with deer feeding outside the door.
They've got VCRs, fireplaces and whirlpools or saunas, and the resort has a fine restaurant and a bistro in its lodge. A naturalist leads lots of activities. For more, see A Gunflint legend.
Seth Peterson Cottage in Mirror Lake State Park near Wisconsin Dells. This sunny, window-lined cottage, on a bluff overlooking the lake, was designed in 1958 by Frank Lloyd Wright. It sleeps four.
Log Cabins at Lutsen Resort in Lutsen, Minn. These newer two-bedroom cabins have wood-burning stoves and decks and are on the bluff overlooking Lake Superior.
They're next to the resort's spa and an easy walk down the hill to the ultra-cozy 1952 pine lodge, the pool complex and the pebble beach at the mouth of the Poplar River.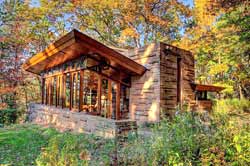 Packing for a cabin getaway
It's easy to forget something. For a handy list, see What to bring to a rented cabin.
Recommendations from tourist bureaus
Enjoy Illinois suggests these 10 Top Illinois Cabins.
Travel Wisconsin suggests these 8 Hidden Cabins & Cottages and 7 Cabins on Water.
Iowa suggests 11 Great Winter Cabin Getaways in Iowa State Parks.
More
For other ideas, see our Cabins & Cottages section.
For large cabins for a group or family reunion, see Cabins for a crowd.
Last updated on July 1, 2020