Summer on stage
In vacation towns, plays and musicals offer a midsummer's-night diversion.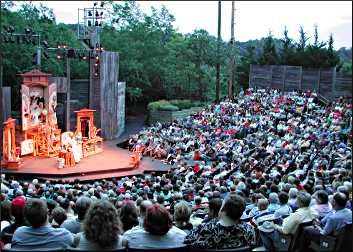 In vacation hubs all across the region, summer theaters are launching another season of delicious escapism.
With corps of enthusiastic young actors drawn from all over the nation, they'll put on Neil Simon, Shakespeare, Agatha Christie and the bouncy musicals vacationers love — "Little Shop of Horrors," "Fiddler on the Roof," "Spamalot."
Light-hearted plays for light-hearted days — it's a formula that works.
Here's the schedule for 2023.
Most summer theaters use a mix of students and professional actors from the Twin Cities or Chicago, who enjoy a bit of moonlighting in resort towns.
Bemidji's Paul Bunyan Playhouse started when an entrepreneur brought a troupe of New York actors to the northern Minnesota town in 1951.
He set up a theater at a resort on the shore of Lake Bemidji and started a glorious season of summer stock. Four weeks later, he was broke, and the actors were stranded.
But Bemidji's citizens had become hooked on theater. They raised enough money to pay the actors' room and board while they performed the rest of the season's plays, and enough to pay for their tickets home. Then the town raised enough to pay for a season the next year, and the year after that.
Now, the Paul Bunyan Playhouse is Minnesota's oldest professional summer-stock company.
On the shores of Lake L'Homme Dieu in Alexandria, Minn., Theatre L'Homme Dieu was started in 1961 at an old resort, a collaboration between Alexandria and St. Cloud State University.
In the lakes region of northwest Iowa, Okoboji Summer Theater began in an old airplane hangar in 1953, then was bought and expanded by Stephens College of Columbia, Mo.
All summer theaters are in areas with lots of tourists, who come to see a play after a day of sunning or sightseeing.
Spring Green, Wis., is home not only to the classical American Players Theater, whose professional troupe comes mainly from Chicago, but to kitschy House on the Rock.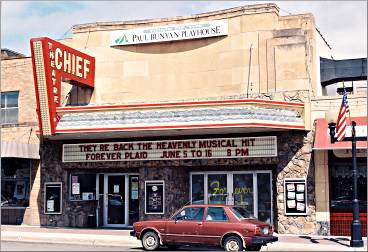 In Wisconsin's Door County, Northern Sky Theater puts on original musical comedies in an amphitheater ringed by tall red pines in Peninsula State Park.
The Peninsula Players are nearby, in Fish Creek. The troupe put on its first plays in 1935 in the back yard of a Fish Creek motel and is the nation's oldest professional resident summer theater.
Now, it performs on the site of an old boys' camp on the shores of Green Bay, in an open-sided pavilion on the edge of a twinkle-lit cedar forest. Ticket-holders like to stroll there before the play, sipping glasses of wine.
Of the theaters below, only Door County's Northern Sky Theater and American Players Theater in Spring Green perform in the open air; American Players Theater also has an indoor theater.
American Players Theater, Spring Green, Wis. Plays will be performed in repertory at the Hill Theatre  and in the Touchstone Theatre from June 10 to Oct. 8.
In 2023, the theater is presenting "The Merry Wives of Windsor," "The Liar," "Our Town," "Anton's Shorts" and "Romeo & Juliet" in the Hill Theatre.
In the Touchstone Theatre, "The Royale," "Once Upon A Bridge," "Mala" and "Proof" will be presented.
For more about the area, see Drawn to Spring Green.
Big Top Chautauqua, Bayfield, Wis. It schedules original musical revues, including "Riding the Wind," "Take Me to the Islands" and "Superior!" and concerts by nationally known performers most nights from June through Labor Day.
In 2023, performers include Mat Kearney, the Wailin' Jennys and the Ozark Mountain Daredevils.
For more about the area, see Beloved Bayfield.
Commonweal Theatre, Lanesboro, Minn. This theater occupies a main-street storefront in this bluff-country burg.
In 2023, Commonweal Theatre is presenting in repertory "Bernhardt/Hamlet," March 25 through June 24; "Deathtrap," from May 6 through Aug. 19; "Women in Jeopardy!" from July 1 through Oct. 21; "Dr. Jekyll & Mr. Hyde," from Aug. 26 through Oct. 29; and "She Loves Me," from Nov. 4 through Dec. 23.
For more about Lanesboro, see The belle of bluff country.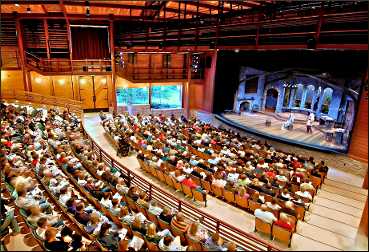 Door Shakespeare, Baileys Harbor, Wis. This troupe performs in the gardens of Björklunden, the northern campus of Lawrence University in Appleton, Wis.
In 2023, it's presenting "The Old Man and the Old Moon'' and "As You Like it'' in repertory June 28-Aug. 26.
For more about the area, see Baileys Harbor in Door County.
Great River Shakespeare Festival, Winona, Minn. In 2023, "As You Like It," "Imbroglio" and "The Winter's Tale" will be performed June 20-July 30 in repertory.
Many other events are held in conjunction with the festival, such as free concerts, coffeehouse discussions with cast members, Front Porch Conversations with experts, events at Theatre du Mississippi and walking tours hosted by the Winona County Historical Society.
For details and tickets, call 507-474-7900.
For more about the area, see Afloat in Winona.
Long Lake Theater, Hubbard, Minn. This small theater is in the lakes country near Park Rapids. Call 218-732-0099.
For more, see Summer in Park Rapids.
Mackinac Island Shakespeare Festival, Mackinac Island, Mich. The traveling Starling Shakespeare Company presents its plays on the island in August.
In 2023, it's putting on "As You Like It'' and "Julius Caesar'' in repertory Aug. 2-27.
Mantorville Theatre Company, Mantorville, Minn. In the stone 1918 Opera House of this tiny village near Rochester, this company puts on old-fashioned summer melodramas with audience participation.
They're fun, and tickets are inexpensive. During the year, the company stages modern comedies. 507-635-5420.
Northern Sky Theater in Fish Creek, Wis. This troupe performs in an amphitheater in Peninsula State Park and also in its indoor Gould Theater, east of Fish Creek and just south of the corner of county roads A and F.
In 2023, it will stage "The Fish Whisperer" and "Cheeseheads! The Musical" in repertory in the amphitheater June 14-Aug. 26.
In the Gould, it will perform "Guys on Ice" July 5-Sept. 1 and "Guys & Does" July 15-Sept. 2.
For more about the area, see Fish Creek in Door County.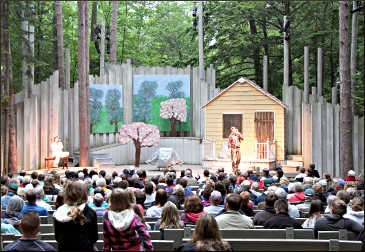 Okoboji Summer Theatre in Spirit Lake, Iowa. Stephens College in Missouri stages a different musical or and play weekly from mid-June to mid-August.
The theater also puts on a full schedule of children's plays.
Paul Bunyan Playhouse in Bemidji, Minn. The theater offers a full plate of plays and musicals from a downtown theater.
In 2023, it's presenting "Shout! The Mod Musical'' June 2-10; "The Play That Goes Wrong''June 16-24; "Godspell'' June 30-July 8; "Greater Tuna" July 14-22 and "Elf the Musical'' July 26-Aug. 5.
For more, see Bemidji's behemoths.
Peninsula Players, between Fish Creek and Egg Harbor, Wis. The company performs in a covered pavilion on the shores of Green Bay in Door County.
In 2023, it's staging "A Rock Sails By" June 13-July 2, "Blithe Spirit" July 5-23, "Dames at Sea" July 26-Aug. 13, "Trying" Aug. 16-Sept. 3, and "Baskerville" Sept. 6-Oct. 15.
Tours are given at 2 p.m. many Sundays. Some performances are followed by talk-backs. Check for other special events. 920-868-3287.
For more about the area, see Egg Harbor in Door County.
Red Barn Theatre in Rice Lake, Wis. In a grove of pine east of town, the Hardscrabble Players have presented plays for 60 seasons.
St. Croix Festival Theatre, St. Croix Falls, Wis. It stages concerts as well as a theater series.
In 2023, it's staging "Willy Wonka," June 10-18; "Much Ado About Nothing," July 8-29; "Boeing Boeing," Aug. 5-20; "12 Angry Jurors," Oct. 7-29; and "The Game's Afoot: Holmes for the Holidays," Nov. 25-Dec. 23.
For more about the area, see Trail mix in St. Croix Falls.
Theatre l'Homme Dieu in Alexandria, Minn. The theater presents plays in summer and concerts year-round.
In 2023, it's presenting "Church Basement Ladies' Plowin' Thru,'' June 27-July 1; "Dancing Lessons,'' July 11-15; "Love Letters,'' July 18-21; and "Beautiful, The Carole King Musical,'' Aug. 1-13.
For more, see Alexandria's enigma.
Timber Lake Playhouse in Mount Carroll, Ill. This professional troupe has been presenting plays on a large, wooded campus near the shores of Timber Lake since 1962.
In 2023, it's presenting "Grease," June 1-11; "The 39 Steps," June 15-25; "The Sound of Music," June 29-July 9; "Matilda Jr.," July 13-16; "9 to 5," July 20-30; "Bright Star,'' Aug. 3-13; "Jersey Boys'' Aug. 17-27; "Church Basement Ladies,'' Sept. 8-17; and "Million Dollar Quartet," Dec. 1-10.
Walker Bay Theater in Walker, Minn. This downtown theater is a stone's throw from Leech Lake, the center of a northern Minnesota resorts area.
In 2023, it's presenting "Driving Miss Daisy," June 21-July 2, and "Church Basement Ladies," July 12-23.
Last updated on January 18, 2022