15 great places for kids in Minnesota
There's a world of adventure awaiting families in the Land of Lakes.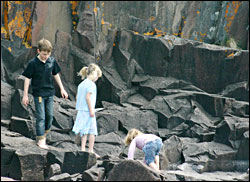 To children, the breakwall of Grand Marais' harbor is one big amusement park.
I watched in fascination as a barefoot 3-year-old in diapers zoomed from one jagged outcropping to another, scrambling up a chest-high cleft in the rock to follow her 6-year-old sister along a lichen-covered ridge.
"They climb anything and everything," their mother said, smiling.
Ian and Jill Jenkinson of Adelaide, Australia, had ventured south of the border from Thunder Bay, where they spent a year on a teacher exchange. Their 8-year-old son also was running full-bore along the rocky shoreline.
"Where we live, it's all sand, so these pebbles and rocks are fascinating," Ian Jenkinson said. "We've been to the Mall of America and Disney World, places where they're excited to be, of course, but realistically, I think they're having more fun here."
Children don't need a lot of bells and whistles to have a great time in Minnesota. To them, the rocks of Grand Marais are better than any theme park.
That's why Grand Marais is our No. 1 place to take children in Minnesota. Not only does it have endless rock-skipping and rock-jumping opportunities, but it's near two of our other Top 15 destinations, as well as the re-created fur post at Grand Portage National Monument.
Here are some of the many great places to take kids in Minnesota.
For travel to the east, see 15 great places for kids in Wisconsin.
Kids like to get away from the rat race, too — at least, that's what my now-grown son tells me.
It's not so much that they love the paddling as the exploring they can do once they get to their own private island or bay. This million-acre expanse of lakes in northeast Minnesota is a big playground for kids, who can swim whenever they feel like it, help build fires and watch for loons and eagles.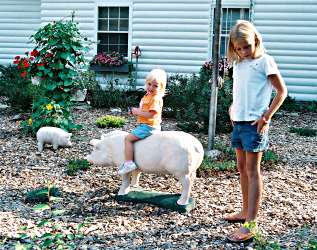 In southeast Minnesota, it was children who discovered Niagara Cave, while looking for three pigs who'd fallen into a sinkhole.
A farmer lowered them down a rope, and 75 feet down, they found the pigs and a labyrinth of underground canyons. Tours started in 1934, and three years later, Mystery Cave was discovered nearby.
All kids love caves, where their imaginations turn stalagmites into skeletal shinbones and columns into cave ghosts. There are also cool fossils embedded in the damp walls and, at Mystery Cave, thousands of bats.
The port of this Lake Superior town, once was known for dives and drunken sailors, now is one of the most popular family destinations in Minnesota.
Families bent on sightseeing can take the Pizza Train to the Lester River and back, visit the Great Lakes Aquarium and ride the Timber Twister at Spirit Mountain.
But the best things are free: watching freighters go under the Aerial Lift Bridge, jumping on the rocks of Canal Park, biking along the Lakewalk and playing in the sand dunes of Park Point.
It's got real wolves and real bears — pretty cool for a kid and adults, too. The wolves are behind a wall of Plexiglas at the International Wolf Center, where naturalists explain why only Little Red Riding Hood needs to fear wolves.
There are programs throughout the day, and a special feeding program Saturday.
Black bears can be seen in a wooded enclosure at the North American Bear Center, where staff tell visitors charming stories about their bear-sized personalities.
Not far away, near Orr, children can see bears in the wild at the Vince Shute Wildlife Sanctuary.
There's one thing every child in Minnesota and most other places, too, wants to do: Walk across the Mississippi River. The only place it's easy to do that is at the river's headwaters in Itasca State Park, where a line of boulders marks the end of Lake Itasca and the beginning of the Mississippi.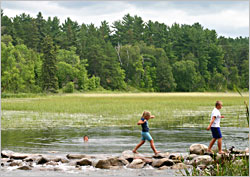 There's also a swimming beach, biking and hiking trails and a paddlewheeler that gives tours of Itasca Lake, almost always sighting bald eagles.
In summer, naturalists lead several hikes and nature programs a day. It's a favorite park for families, many of whom have been going for generations.
When he was 10, my son called the rocks along this harbor town's breakwall and on Artists Point "my idea of the perfect place to play."
Small kids run and jump among the rocky crevices, medium-size kids stack flat stones into towering cairns and big kids ride mountain bikes along the top of the raised concrete walking path.
The town's cobblestone beach is perhaps the best place in the state to skip stones, and Good Harbor Bay, just west of town, is one of the best to find Thomsonite and agates.
Downtown, there's a fudge shop, a pizza place and the World's Best Donut Shop, with glazed doughnuts handed out hot from the fryer every morning. What's not to love?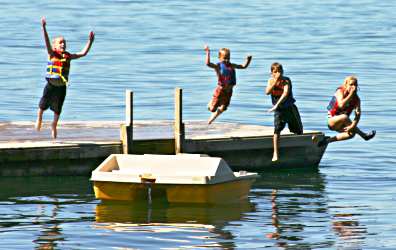 It should be every child's birthright to spend a week at a lake resort every year, because there's nothing — nothing — they like better.
My kids have been going since they were born, and it's the one week of the year they'd never give up, even though they're both adults now.
When they were little, they loved being on their own to run around, from beach to playground to lodge to cabin. When they were older, they loved reconnecting with once-a-year friends and taking off on the nearby bike trail.
Nearly every lake resort has the basics — housekeeping cabins, a beach, a small playground, docks from which kids can fish for crappies.
And most also have a lodge, with a game room and snack counter that dispenses ice cream and candy. For kids, it's heaven.
In this big town, no kid will be bored. Teens can see a play at the Guthrie, ride the Flour Tower at Mill City Museum and go kayaking from Lake of the Isles to Cedar Lake. Little kids can build sand castles on family-oriented Lake Harriet.
Everyone can go for a bicycle ride around the Chain of Lakes, even babies and toddlers, who can be strapped into a bike trailer.
And three main attractions are connected by the Blue Line light-rail trains: Target Field, where the Twins play downtown; Minnehaha Park, home of the famous waterfall; and the Mall of America, home of the  Nickelodeon Universe amusement park.
Lutsen
Lutsen Mountains is a year-round destination for thrill-seeking kids and teens. In the winter, they can ski and snowboard; in the summer, they can go screaming down the concrete chutes of the Alpine Slide and ride the Mountain Tram to the chalet on top of Moose Mountain.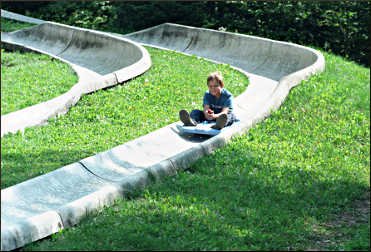 Lutsen is the heart of the North Shore, a favorite of any kid who likes to explore the outdoors. There are many places to stay, there and nearby.
At the re-created Snake River Fur Post, formerly known as the North West Company Fur Post, children go back 200 years to live like a voyageur, many of them only 14 or 15 themselves when they were hired to paddle canoes into the wilderness.
One of the favorite pastimes is cat and mouse, a simple but addictive voyageur game in which two people crouch on stumps, each holding one end of the rope, and try to yank each other off.
They dip candles, visit the Ojibwe village and watch cannon demonstrations. If they look able, re-enactors may hand them wooden muskets and lead them in a charge.
"Present! Aim and fire! Bang! Reload! All right, recruits, you've all served the king well," they say. "Turn in your arms, and you can now retire with honor and 100 acres of land."
No child can resist the colorful voyageurs, who sang saucy ditties, told tall tales and — boasting being a favorite pastime — loved to see who could paddle fastest, carry the heaviest pack and throw a hatchet hardest.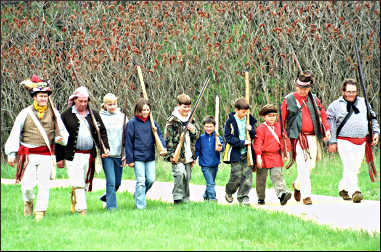 Children can join living-history interpreters and re-enactors at fur trade sites and rendezvous around the state. At Grand Portage National Monument, Rendezvous and Powwow is the second weekend of August.
The Snake River Fur Post's Fall Gathering is the third weekend of September, and the Big Island Rendezvous in Albert Lea is the first weekend of October.
Minnesota's two national monuments are on opposite sides of the state — Grand Portage near the Canadian border, and Pipestone National Monument near South Dakota.
Plains Indians made pilgrimages to the famous pipestone quarries long before the 1855 poem "Song of Hiawatha" turned them into a tourist attraction.
They saw the work of the Great Spirit here, where seams of soft red stone extracted from red and pink quartzite could be carved into effigies and pipes called calumets, whose smoke carried messages to the Great Spirit.
It's still a sacred place, and children can meet carvers, who still work the quarries. A trail leads to Winnewissa Falls, Leaping Rock and the Oracle.
If you visit, stop to see two other places nearby where red quartzite pops out of the prairie sod, Jeffers Petroglyphs and Blue Mounds State Park, which includes a herd of bison.
See all three places on a Road trip to Southwest Minnesota.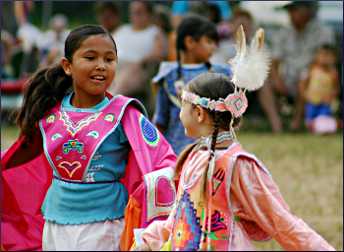 When you hear your kids ask if Indians still exist, it's high time to take them to a powwow. Dakota and Ojibwe children have been going to them since birth; it's a key part of their culture.
For other kids, it's a good way to learn about a culture that thrived long before Europeans arrived. Everyone is welcome at a powwow; the tradition of welcoming outsiders is an old one.
There are two kinds. Traditional powwows are less formal and more like family reunions. Competition powwows are flashier, because dancers and sometimes drummers vie for cash prizes.
Powwows, often called wacipi by the Dakota, are held in the warm months, and especially on the long Memorial Day, Fourth of July and Labor Day weekends. Don't miss the Grand Entry, usually held at 1 p.m. Saturday and Sunday and 7 p.m. Saturday.
It's funny that St. Paul first was settled by and named for a tavern owner, because today it's known as the friendlier, more wholesome half of the Twin Cities.
Most of its attractions are aimed at children, and most are within a few blocks of each other downtown.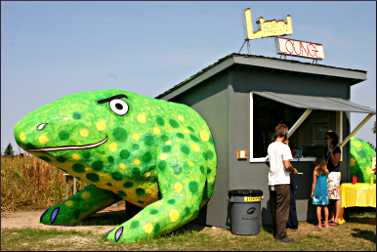 From Harriet Island, take a cruise up the Mississippi River on a paddlewheeler. On the second weekend of August, the family-friendly Irish Fair is in the park.
The Science Museum of Minnesota sits atop the river bluffs across from Harriet Island. Two blocks away, Rice Park is home to the turreted stone Landmark Center, which hosts many free heritage festivals.
Walk another two blocks to Mickey's Diner. On the next block is the Minnesota Children's Museum, geared to children from 6 months to 10 years. That's near the  History Theatre, which stages many family shows.
There's more history up the hill at the Minnesota History Center, between the Cathedral of St. Paul and the Minnesota State Capitol.
Kids who love rocks turn into mountain goats on the craggy cliffs of the St. Croix River, where water from a melting glacier roared by with such fury that whirlpools drilled cylindrical holes into solid rock — potholes, the world's deepest.
In Interstate State Park, several of them created the Devil's Parlor, and two created the Bake Oven. The Lily Pond, Hourglass and the 67-foot Bottomless Pit are nearby, fun to visit both in summer and winter.
Don't worry too much about sure-footed older kids, but keep a close grip on younger ones. In town, stop for lunch or a root-beer float at the Drive-In Restaurant.
Kids can do more climbing and exploring at Franconia Sculpture Park, three miles west of Taylors Falls at the junction of Minnesota 95 and U.S. 8.
It offers Kids Make Sculpture workshops once a month in summer, and its kid-friendly Arts & Artists Celebration and Festival is the fourth Saturday in September.
This farm town in southwest Minnesota, not far from Pipestone, has few traces of its most famous residents but is best known of all the Laura Ingalls Wilder sites, thanks to the 1974-82 TV series "Little House on the Prairie."
There's just a church bell, a quilt and the site of a dugout to show for the 3½ years Laura Ingalls lived in Walnut Grove with her family at two separate times. Luckily, kids' imaginations fill in the gaps with no problem.
There's an interesting museum, and visitors can drive to see the site of the family's creekside dugout. The best time to visit is in July, when the town puts on an outdoor pageant with many fun special effects.
Drive another two hours west to De Smet, S.D., and you can see another pageant on the shores of Silver Lake. Tours include the Surveyor's House, the Ingalls' borrowed first home, and Ma and Pa's frame home, which Pa built in 1887.
Last updated on August 16, 2021