Best shopping towns for weekenders
Cute, compact, accommodating — these are good spots for girlfriend getaways.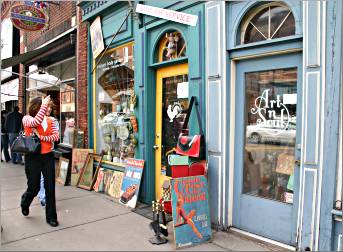 There are certain towns that are so adorable and have so much that appeals to tourists that you just have to call them show towns.
They're real towns, of course, but they're always on their best behavior because tourists are always watching, and many have evolved in lockstep with tourism.
There's no question about what goes on the top of this list — Galena, Ill. This 1850s lead-mining boom town snoozed for a century before it was rediscovered and turned into a playground for weekenders, especially from Chicago.
They dabble in history, but they dive into shopping; boutiques line Main Street, and the hillsides are dotted with 50 B&Bs.
It's a great place to visit — especially midweek and in April, May and September, when it's a little less crowded.
Galena also is a good spot for shoppers who like the outdoors; there's canoeing on the Galena River, bird-watching expeditions and hiking and bicycling on the short but scenic Galena River Trail. For more, see Outdoors in Galena.
Stillwater, Minn. is not as well-known, but Twin Citians know and love it. It's the perfect weekend destination, with a picturesque riverfront setting, hills lined with grand Victorian houses and storefronts stuffed with antiques, gifts and antiquarian books.
It's the most fun in summer, when paddlewheelers, gondolas and party boats cruise the St. Croix, but you'll find the most bargains in winter. For more, see Bargain-hunting in Stillwater.
Down the Mississippi, Red Wing, Minn., is the other weekend favorite for people from the Twin Cities, though it's just far enough away to retain a genuine small-town atmosphere.
It has shopping downtown and in the historic Pottery Place mall and an interesting history, as well as nightlife at the splendid Sheldon Theatre and hiking on Barn Bluff.
In late September, artists throw open their doors for the Studio Ramble. Of course, the town also is renowned for its pottery and hosts the annual convention of the Red Wing Collectors Society.
There are even more shops and galleries across the river in Stockholm, Wis.; see Destination: Stockholm.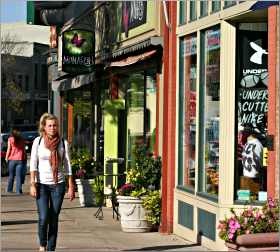 Less than an hour south of the Twin Cities, the town of Northfield has many of the sophisticated, eclectic shops you'd expect in a town that's home to two highly ranked colleges, Carleton and St. Olaf.
It's one of the best places to shop for clever little stocking stuffers and has excellent home-decor and antiques shops. And after you've spent all your money shopping, take in a free concert at St. Olaf, whose music program is world renowned.
Just down the St. Croix River from Stillwater, the Wisconsin town of Hudson is low-key but filled with interesting shops. If you can't resist fine chocolate and you love stylishly unusual shoes, hang on to your wallet.
This town also has a very good selection of cafes and restaurants, and the riverfront Phipps Center for the Arts puts on plays, concerts and art exhibits. In summer, bring a swim suit and hang out on its sand beach, a block from the shops.
Like Stillwater, Cedarburg, Wis., is well-loved by residents of a nearby metropolitan area, and even more neglected nationally.
But the picturesque little mill town near Milwaukee has everything a weekender could want — a restored woolen mill filled with shops and a winery, a main street lined with more shops, inns in renovated historic buildings, a bicycle trail, lots of festivals, even a covered bridge. What's not to like?
It also holds festivals all year long that pull in crowds.
In Wisconsin's Door County , Fish Creek is a shopper's idea of heaven on water. In summer, its sidewalks are crowded with tourists and its air perfumed by candles and fancy soaps from the many shops.
Just up the shoreline, Ephraim is eye candy for tourists who can't resist the red-and-white awnings of Wilson's Restaurant, framed by the white steeple of the church on the hill; it, too, has many shops and galleries.
There are even more galleries on pastoral county roads near the two towns.
For more, see Door County stories.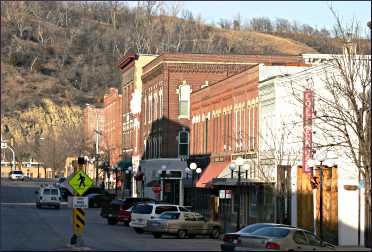 In southwest Wisconsin, historic Mineral Point is full of galleries and artist studios, which occupy picturesque limestone storefronts along sloping High Street and on Commerce Street.
Shake Rag Alley Center for the Arts teaches people how to make their own art, in October, Mineral Point is ground zero for the big Fall Art Tour in October. Lodgings include plenty of nifty cottages.
Not far away on the Wisconsin River, Spring Green also has drawn artists from around the region and also is part of the Fall Art Tour.
Tourists can choose from highbrow culture (Frank Lloyd Wright's highbrow Taliesen, American Players Theatre) and kitsch (House on the Rock); there's plenty to do.
And if it's your birthday, plan to rake in the free treats. For more, see Wisconsin's birthday town.
It's a jaunt, but three towns in northern Missouri are well worth a visit. Just outside St. Louis, St. Charles has a boatload of history; it's the spot where Lewis and Clark picked up their final crew and supplies for their historic expedition. It also has many excellent shops, inns and bistros, and there's a history lesson on every corner.
Not far from St. Louis, the town of Hermann is the Missouri equivalent of Galena; it has so many B&Bs that owners of private homes in the historic district have to post signs advising tourists they're not a B&B.
It's a stop on the Katy Trail, the longest bicycle trail in the nation, and its many wineries and festivals keep the town hopping.
Just outside Kansas City, the quiet old port town of Weston has a more violent history; it often bore the brunt of skirmishes between slave owners and abolitionists from Kansas, just across the Missouri River.
It's still a tobacco market today and remarkably unchanged; tourists come for the atmosphere as well as the shops, museums, 1850s distillery and winery, which sells excellent mead.
For more shopping ideas, see Great shopping towns.
More on girlfriend getaways
For more on good places to go with friends, see Where the girls are.
For planning a trip and ideas, see 12 months of girlfriend getaways and 50 great girlfriend getaways.
Last updated on August 5, 2012