50 great girlfriend getaways
Looking for ideas? Here are fun trips for every season.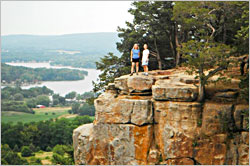 When women want to find the perfect travel companions, they know where to look: each other.
On the road, women can be more adventurous and spontaneous than they are at home. They also tend to laugh a lot more.
I've traveled with friends, sisters and nieces more than 50 times in the last 20 years. We like to do all kinds of things: Amish tours, eagle-watching, horseback-riding, tennis camp and tubing at indoor water parks and on rivers.
We're too frugal to go to destination spas, but once we fashioned a do-it-yourself spa weekend. We like to shop as much as anyone, as long as we also get to hike, bike or ski.
I've learned that the most important thing is finding a cozy place to talk and sip wine. My friends still talk fondly about the 1943 Finnish log cabin on Minnesota's North Shore-which I made them leave one night to see a play about a woman dying of cancer.
It was a good play, but I still feel a little guilty. Fortunately, friends always forgive you.
Almost any trip makes a good girlfriend getaway. If you're looking for ideas, here's my own Fab Fifty. Nearly all of them work for trips with men, too.
For planning tips, see Where the girls are.
For best trips by month, see 12 months of girlfriend getaways.
For trips in hunting season, see November girlfriend getaways.
For budget getaways, see Cheap trips.
MINNESOTA
Here are late-fall ideas.
Shipwreck tour of Minnesota's North Shore . Four of us headed to Lake Superior on a tour of shipwreck sites narrated by me (with the help of a book) and a stay at the Finn House, a 1943 log cottage on a point near Lutsen.
Spa getaway to Duluth . A November stay at Fitger's included a half-day of treatments at a day spa in the historic brewery complex, where there's shopping, live music, a brewpub and a theater under the same roof.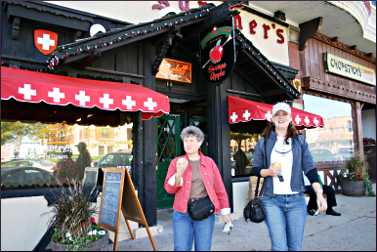 Amish tours in southeast Minnesota . We've done this twice, once in fall and once to do some Christmas shopping in early December. It's always fascinating.
Shopping at the Mall of America . This mammoth shopping center is irresistible to hard-core shoppers, and there's no tax on clothing or shoes. It's at its best on a sunny day midweek.
Here are winter ideas.
Christmas in Minneapolis . A girlfriend and I had a luxurious but budget-conscious holiday weekend, with two-for-one ballet tickets, happy hour, nightclub-hopping, a parade and a deal at a chic hotel.
Winter in Lanesboro . I took my sister, visiting from Florida, to this bluff-country burg in December to see a play, tour B&Bs, shop at the arts center and walk the Root River State Trail. Lodging rates drop when the bicycling season ends, and when there's snow, you can ski the trail.
Eagle-watching in Wabasha . We've traveled to this Mississippi River bald-eagle hot spot twice, once in an unseasonably warm December, when we hiked in the forest above town and stayed at a B&B, and once on a chilly January weekend.
January shopping in Stillwater . Tourists crowd into this St. Croix River Valley town in summer and fall, but winter is the time to find great deals in clothing stores and antiques shops.
Skiing in Itasca State Park . The cozy, inexpensive hostel on Lake Itasca is perfect for singles, and I've stayed there twice, once with a friend and her young daughter and once with my sister, nieces and daughter, both times skiing the trails of this scenic northern Minnesota park. BUDGET .
Naniboujou Lodge on Minnesota's North Shore . You'll find serenity and good food at this 1929 classic lodge right on Lake Superior, with snowshoeing/hiking across the highway at Judge C.R. Magney State Park. There's no nightlife, though Grand Marais is 10 miles down the road.
Skiing in Afton State Park . At this village on the St. Croix River, just east of the Twin Cities, we skied downhill at Afton Alps and cross-country at Afton State Park, which has camper cabins. BUDGET .
Cross-country skiing in Duluth . We rented a cottage on Park Point, shopped at Dewitt-Seitz Marketplace and skied the lighted trails of Lester Park on the east side of town and the hillier trails of Magney-Snively Park in West Duluth.
Skiing on the Gunflint Trail . At the end of March, we found ski heaven on the beautifully groomed trails around Bearskin and Golden Eagle lodges.
Skiing in Winona . We followed an early March blizzard down to this Mississippi River town, taking a guided moonlight snowshoe trek at nearby Whitewater State Park and skiing at scenic St. Mary's University.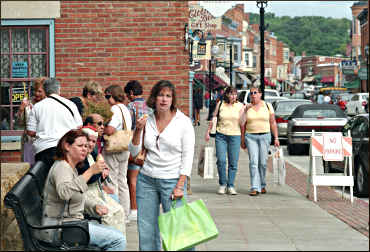 Here are summer ideas.
Swimming holes on the North Shore . One July, my sister, nieces and daughter rented the Illgen Falls cabin on the Baptism River in Tettegouche State Park. The waterfall outside our door was refreshing, but we also got to cool off in a swimming hole just upstream.
Tubing in Lanesboro . Early one June, my niece and I spent an unusually warm weekend tubing on the Root River and bicycling and in-line skating on the state trail.
Tennis camp in St. Peter . A girlfriend and I spent a weekend playing non-stop at the renowned Tennis & Life program at Gustavus Adolphus College in this Minnesota River town.
Tubing the Rum River . One August, a girlfriend and I escaped 95-degree heat floating near Isanti, an hour north of the Twin Cities.
Here are fall ideas.
Brainerd Lakes outdoors . In the old mining town of Crosby, Minn., two friends and I rode on the Cuyuna Lakes State Trail. In nearby Pine River, we hiked and went horseback-riding.
Shopping in Red Wing . An antiques-loving friend and I hit the shops, stayed at the St. James Hotel and saw a show at the Sheldon Theatre.
Antiquing in Lindstrom . An antiques-savvy girlfriend and I got on a motorcoach with other women and went on a field trip to towns in this Swedish area.
Shopping and a concert in Northfield . I've taken fall trips to this college town south of the Twin Cities twice with girlfriends and twice with my husband. It's a good place to find interesting stocking stuffers and go to a free concert at St. Olaf College.
A class at Wolf Ridge Environment Learning Center on the North Shore . A friend and I took a class on "Zen and the Art of Photography," with late-fall colors as a bonus.
These non-profit centers offer many low-cost weekends; see Minnesota's environmental learning centers.
A cabin on the North Shore . A trip on the last weekend of October-between the super-packed Minnesota school break and the start of the Minnesota firearms deer season-probably is our favorite trip.
We've taken three of them. We rent a cozy cabin on Lake Superior, hike trails up and down the shore, play games and drink wine. One year, we also toured the Ship of Ghouls in Duluth's harbor.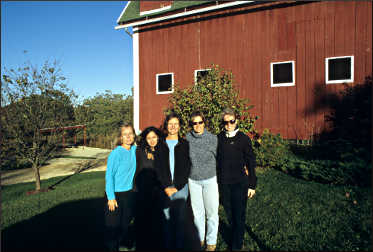 WISCONSIN
Here are winter ideas.
Holiday shopping in Madison . We made a November foray to State Street, Monroe Street and to the Winter Art Festival at Monona Terrace, with an evening concert.
Wisconsin Dells in November . I took my twenty-something niece and teen daughter to try out a new indoor water park and take advantage of discounts, which are best in November and December.
Skiing and museum-hopping around Superior . We skied by candlelight in Brule River State Forest and by daylight at Superior Municipal Forest and heard colorful stories about local celebrities at the Bong World War II Heritage Center and Fairlawn Mansion.
Ski class in Eagle River . We took our first stab at skate-skiing at Trees for Tomorrow environmental-learning center and skied nearby trails.
Snowshoeing and skiing along Wisconsin's Wolf River . A girlfriend and I went on a "snowshoe and massage weekend" at Bearpaw Outdoor Adventure Resort in Nicolet National Forest, where the snow nearly always is plentiful.
Skiing around Spring Green . We stayed at the Frank Lloyd Wright-style House on the Rock Resort, shopped in the many galleries and skied at nearby Governor Dodge State Park.
Spring Green also is a good destination in summer and fall, especially if you like to shop and it's your birthday. For more, see Wisconsin's birthday town.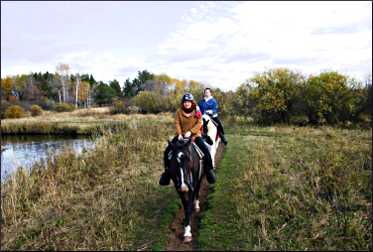 Skiing in Cable . A girlfriend and I stayed at the old Telemark Resort and skied, tubed, took a sleigh ride and sat in the hot tub.
Skiing around Wausau . We skied cross-country and went to the local art museum; there's also the fine Granite Peak downhill slope, snowshoeing in a state park and tubing in a county park.
St. Patrick's Day skiing at Whitecap Mountains near Hurley . We worked on our tans on this scenic slope in northeast Wisconsin and across the Michigan border at Big Powderhorn.
Here are spring ideas.
A bluffside cottage in Fountain City . I took my daughter and one of her girlfriends to stay at the Hawks View Cottages in this Mississippi River town and see the Prairie Moon Sculpture Garden and Rock in the House.
Indoor water parks of the Wisconsin Dells . This is a popular spring-break trip, and I took one with a friend and our daughters and once with a surfer friend who wanted to try out the Kalahari's FlowRider.
On the trail of famous Wisconsin naturalists near Baraboo . One May, we toured Aldo Leopold's famous shack, visited the International Crane Foundation and John Muir's childhood home and walked in Parfrey's Glen, Wisconsin's first natural area.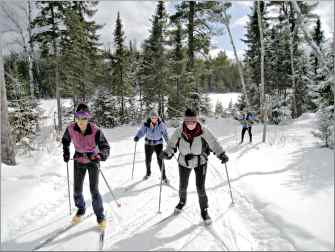 Beer in La Crosse . A sister and I toured the brewery, went to a musical and watched eagles from Grandad Bluff. There's more to do in summer and fall.
Bird-watching along the Chippewa River . One May, a bird-watching friend and I rented a cabin on the Chippewa River near Durand and got onto a mini-train car to go birding in the Tiffany Bottoms area of the river.
Here are summer ideas.
Variety in Door County . This is the perfect destination for women who like a lot of choice. You can go the indulgence route-shopping, taking cruises and cooking classes, visiting wineries and spas-or ride bikes, swim at beaches and hike in parks and nature sanctuaries.
I like to go in early June or late August, when the weather is good, it's not crowded and you can good deals on lodgings.
Tubes and beer in Chippewa Falls . One warm day, a girlfriend and I traveled to Chippewa Falls, Wis., to tour the Leinenkugel's brewery and take a leisurely tube float down the Chippewa River.
Exploring the Wisconsin River . A girlfriend and her sister showed me their favorite spots to paddle, hike and shop around the twin towns of Prairie du Sac and Sauk City.
Brewery and pub tour of southern Wisconsin . A fellow beer lover and I made a pilgrimage from Capital Brewery in Madison to Mount Horeb, Mineral Point, New Glarus and Janesville.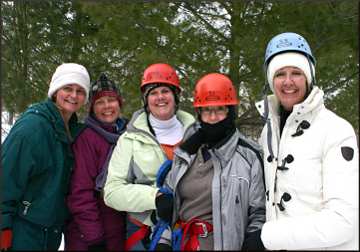 Here are fall ideas.
Walking in Lake Geneva . You can walk the 20-mile lakeshore path past Gilded Age mansions or you can walk the shop-lined streets of downtown-your choice.
Locals say September is the best month, when the summer crowds are gone but the fall-color rush hasn't started. May and early June also are good times to go.
Black Hawk's trail and the Mississippi River . A girlfriend and I spent a September weekend in Wisconsin's Vernon County following the flight of Black Hawk in 1832, making stops at scenic river overlooks and attending Pickwick Mill Day in the bluffs south of Winona.
Vineyard tour of the Wisconsin River Valley . Five of us made a harvest-time trip up the Wisconsin River, from Spurgeon Vineyards near Muscoda to Botham near Barneveld and Wollersheim in Prairie du Sac, with stops to hike and enjoy the fall colors.
Shopping in southwest Wisconsin . Six of us made a pre-Christmas foray, stopping at the Company Store outlet in La Crosse, five stores that sell cut-rate Land's End catalog returns, the galleries of Mineral Point and a shoe emporium.
Cornish Fest in Mineral Point . Four of us took a trip to our favorite shopping town, this time for the late-September Cornish Fest and a stay at the lovely Maple Wood Lodge. While we were there, we took a swing through cheese country, visiting New Glarus and Monroe.
ILLINOIS
Ethnic neighborhoods of Chicago . One Memorial Day, a girlfriend and I watched the parade downtown, then toured the East Indian, Swedish and Chinese neighborhoods, stuffing ourselves with samosas, almond pastries and dim sum.
Chicago has something for everyone in every season-foodies, museum lovers, baseball fans, bicyclists and, of course, shoppers. For more, see Chicago as you like it.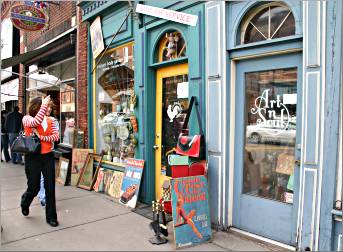 Getaway to Galena . Strangely, I've been to this classic chick town only alone, with my preteen son and with my husband. Needless to say, women love its shops and inns.
Bicycling between St. Charles, Geneva and Batavia . This is the perfect trip if you have a group that likes a leisurely bike ride as well as shopping: On the 40-mile Fox River Trail, you can ride from shop to shop (and from bakery to gelateria).
More good getaways
Any art fair makes a good destination in summer: For more, see Art al fresco.
Roller derbies are a blast, since they're all about women having fun together and being goofy. There are teams in most cities; check for the ones nearest you.
Many community-education programs offer inexpensive motorcoach trips targeted at women, often visits to antiques or resale shops.
Last updated on February 10, 2022