20 great shopping towns
Few shoppers can resist these Shangri-Las of spending.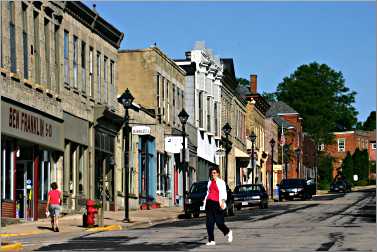 Some people may guess that lakes or bicycle trails are the chief attraction for travelers in the Upper Midwest. Other might say museums, state parks or stadiums.
Wrong, wrong and wrong. The No. 1 attraction in travel is . . . shops.
Shopping is sightseeing for a lot of people. On vacation, they shop not as they would at the local mall, but as if had all the time in the world to browse, stroll and sample.
As, in fact, they do. Legions of weekend hobby shoppers have fueled the rise of such boutique towns as Stillwater in Minnesota, Cedarburg in Wisconsin and Galena in Illinois.
Here are more than 20 towns where you'll find great shopping and sightseeing, ranked from good to greatest, and holiday events in 2022 .
Good
Amana, Iowa. It's no longer a communal village, but it's still a fun place to shop for hand-made traditional crafts and eat family-style meals.
What to do nearby: Visit the heritage museum and brewery, walk on the nature trail.
During the holidays, go to Prelude to Christmas, Dec. 2-4.
Decorah, Iowa. Norwegians rule in the scenic bluffs of northeast Iowa, so Decorah is a good place to buy sweaters, pewter and linens. Agora Arts Gallery carries the work of the many local artists.
What to do nearby: Bicycle or skate on the Trout Run Trail, paddle or fish in the Upper Iowa River, visit Vesterheim-Norwegian American Museum.
During the holidays, go to Norwegian Christmas Celebration, Dec. 3.
Edina, Minn. The shops in the 50th & France district in this Minneapolis suburb on the southwest border of Minneapolis is pretty much all upscale.
There are more shops and galleries down the street in the 50th & Xerxes area of Minneapolis.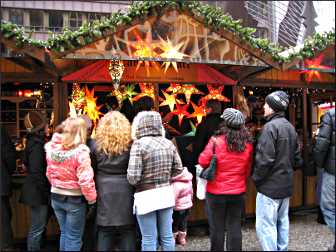 Excelsior, Minn. This Minneapolis suburb on the shores of Lake Minnetonka has a nice mix of upscale boutiques and regular small-town shops.
During the holidays, it holds a traditional open-air Christkindlsmarkt Nov. 25-27, starting with a grand parade the morning after Thanksgiving.
Hudson, Wis. This town on the St. Croix River has at least one good shop in all the important categories: shoes, chocolate, beer, antiques and fine art.
What to do nearby: Hang out at the beach, hike in Willow River State Park, take a scenic drive.
During the holidays, the Candlelight Stroll downtown is Dec. 2.
Milwaukee: The Historic Third Ward near downtown has lots of artistic little shops, plus a smorgasbord at the Midtown Public Market.
What to do nearby: Visit the Milwaukee Museum of Art, famous for its "wings" that open and close.
During the holidays, Christmas in the Ward is Dec. 2.
Northfield, Minn. I've never found a better place to buy little hostess presents and stocking stuffers than in the quirky little shops of this lively two-college town, less than an hour from the Twin Cities.
What to do nearby: Go to a free concert at St. Olaf, hike in Nerstrand Big Woods State Park, learn about the James-Younger gang's bank raid at the Northfield Historical Society Museum.
There's candlelight shopping during the Winter Walk, Dec. 8.
St. Paul: Crossing the western neighborhoods, Grand Avenue is lined with shops, salons and restaurants, especially in the Victoria Crossings area.
What to do nearby: See the grand Victorian mansions of Summit Avenue, which parallels Grand Avenue a block to the north.
During the holidays, go to the European Christmas Market at Union Depot downtown, Nov. 25-27 and Dec. 2-4, 9-11 and 16-18.
Sheboygan and Kohler, Wis. In Sheboygan, shop for wildly creative wares at the ARTspace gift shop of John Michael Kohler Arts Center and for home wares and delicacies along nearby South Eighth Street.
In nearby Kohler, the Shops at Woodlake are packed with upscale gift stores, including an ARTspace gallery.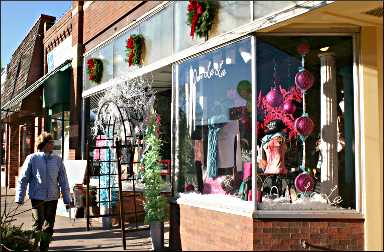 What to do nearby: Shop, swim, golf, look at outside art, walk the dunes at Kohler-Andrae State Park.
Spring Green, Wis. You'd expect a town that houses both House on the Rock and a Frank Lloyd Wright masterpiece to have a lot of character, and it does. Artists have gravitated there, too, opening galleries.
Be sure to stop at the Bargain Nook, which carries deeply discounted Lands End catalog returns.
What to do nearby: Visit Taliesen and/or House on the Rock, go to a play at American Players Theater, paddle on the Wisconsin River, hike in Tower Hill State Park.
During the holidays, the Country Christmas Holiday Light Parade is Dec. 2 and starts a weekend that includes a bazaar, winter art market, cookie walk and fireworks on Saturday.
Great
Cedarburg, Wis. The 1864 woolen mill in this town just north of Milwaukee has been restored and is filled with shops and a winery. More shops fill the stone, brick and clapboard cottages that line the main street.
What to do nearby: Bicycle on the Interurban Trail to Port Washington and back, see Wisconsin's last original covered bridge.
During the holidays, many sales and events are part of A Cedarburg Christmas, including the Holiday Art Fair Dec. 2-4.
Galena, Ill. This town in northwest Illinois was an antique itself when preservationists brought it back in the 1960s and opened antiques stores. Today they've been replaced by gift shops, wineries and bistros, but it's still a very popular destination.
What else to do nearby: Paddle on the Galena River, learn about the Black Hawk War at the Apple River Fort in Elizabeth, ski at Chestnut Mountain.
During the holidays, Night of the Luminaria and Living Windows is Dec. 10.
Geneva, Ill. This town on the Fox River, just an hour west of Chicago via Metra train, has a T-shaped shopping area: downtown, on State Street, and along Third Street between State Street and the Metra station, where the French Market is held Sundays from June through October.
The now-sprawling Little Traveler gift shop, opened in 1922, paved the way for a thicket of upscale shops, including four jewelry stores on State Street alone.
During the holidays, go for the Christmas Walk & House Tour, Dec. 2-3.
What else to do nearby: Bicycle or walk along the paved, 40-mile Fox River Trail. Visit neighboring St. Charles, where the Kane County Flea Market is held the first Sunday and preceding Saturday of each month from March to December.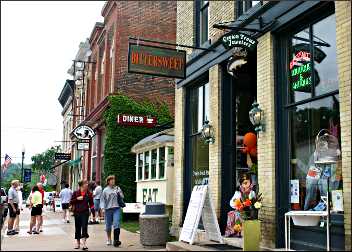 Mineral Point, Wis. Artists revived this Cornish mining village in southwest Wisconsin and turned it into a vibrant cultural community. Their galleries line sloping High Street; one of the best is Johnston Gallery. Be sure to stop at the Bargain Nook, too.
What else to do nearby: Take a class at Shake Rag Alley Center for the Arts, visit Grandview sculpture art environment in Hollandale.
During the holidays, there's candlelight shopping on Dec. 3.
For more about shopping in Mineral Point and southwest Wisconsin, see Power shopping in Wisconsin.
Stillwater, Minn. On the St. Croix River just east of St. Paul, this hillside town is known for its antiques emporiums and antiquarian booksellers, but it's got gift shops of all kinds.
What to do nearby: Take a trolley tour of town or a scenic drive up the river.
During the holidays, catch the Twinkle Party in Lowell Park on Dec. 3.
Greatest
Bloomington, Minn. Yes, this south Minneapolis suburb is home to the behemoth Mall of America, Minnesota's No. 1 tourist attraction. It has more than 520 shops, mostly national franchises, but there are many one-of-kind stores, too.
And as a bonus, there's an IKEA across the street.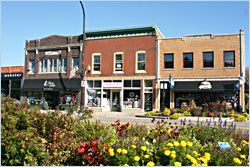 Chicago: Its streets hum with excitement during the holidays, from the Magnificent Mile to Oak Street and on to the neighborhoods.
During the holidays, crowds flock to the Christkindlmarkets in Daley Plaza and Wrigleyville the closest you'll get to shopping in the market squares of Germany. The One of a Kind Show is at the Merchandise Mart Dec. 2-4.
Madison: This city is allergic to franchises, so it's a great place to find the goofy and unusual, especially in the shops along State Street. Be sure to stop by the gift shop of the Museum of Contemporary Art.
Monroe Street, just south of Camp Randall, has more shops, many specializing in imported artisan wares from around the world. And there's an unusually large  number of artisan chocolate shops, including the renowned Candidas.
During the holidays, Holiday Glow on Monroe is Dec. 2.  The Dane County Farmers Market operates a Holiday Market in Monona Terrace on Nov. 19 and Dec. 3, 10 and 17.
Worth a detour
I've found some of my favorite things at little shops in towns that are fun to visit but aren't really "shopping towns." I make a beeline for them whenever I'm in the area.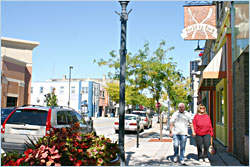 Just off I-94 between Madison and Milwaukee in Lake Mills, I love the gorgeous Arts and Crafts style vases at Ephraim Faience Pottery — especially the seconds, which are 50 percent off.
In southeast Minnesota bluff country, I always stop by the Arts Galleries in Lanesboro, which carries lovely paintings, pottery and photography by local artists.
Near Bayfield in Washburn, Wis., Chequamegon Books has an inviting selection of new and used books that always pulls me in for longer than I'd plan to spend; it's got an espresso bar, too.
Around Chequamegon Bay in Ashland, I always stop by Gabriele's German Sweets to pick up a box of tiny, handmade European-style chocolates and cookies.
In the southern Minnesota town of New Ulm, Domeiers German store is overflowing with blown-glass ornaments, imported delicacies and the region's best selection of German advent calendars.
On Minnesota's North Shore in Grand Marais, I visit Joynes Department Store and Ben Franklin year-round for warm clothes, especially socks, slippers, boots and hats.
If you want a rabbit-lined ear-flap cap that will make you look like Marge in "Fargo," this is the place to find it.
Last updated on December 6, 2021