12 months of girlfriend getaways
Here are the best places to go for a good time in all four seasons.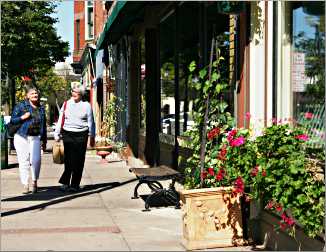 In travel these days, girlfriends rule.
They shop, they sip, they splurge. No wonder every resort, spa and tourism bureau is touting "girlfriend getaways," trying to reel in the roving groups of women who are out spending quality time with each other.
Galena advertises pajama parties, makeovers and massages. Chicago plugs "shoes, shoes, shoes."
On stage, women can see "Girls Night, The Musical," "Menopause, The Musical" and hear the Four Bitchin' Babes' Hormonal Imbalance revue.
Women do like to shop, sip drinks and be silly. But the women I meet want to do a lot more than that. They want to go everywhere and try everything, not just the girly-girl stuff.
Skiing in Ely, I met 11 Minnesota women who've skied together every year since 1984. Bicycling on the Root River State Trail in southeast Minnesota, I met the Fat Bottom Girls Cycle Club of Des Moines, also known as Babes on Bikes.
Women want to bike, hike, ski, watch wildlife, go to festivals, ride horses, take classes and then see what else there is to do.
Here's a calendar of getaway ideas for women who like variety.
For more on planning a getaway, see Where the girls are and 50 great girlfriend getaways.
For trips in November, see November girlfriend getaways.
For trips in April and May, see Spring weekends for women.
For budget getaways, see Cheap trips.
January
Hit the sales in Chicago, see a touring Broadway show, explore the neighborhoods or go on one of the food tours.
You'll find low rates at hotels. Or, rent a condo or even exchange houses.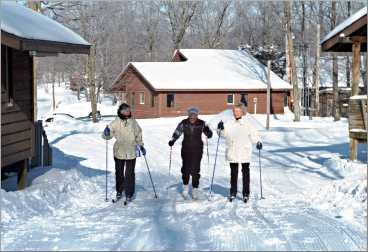 February
Go cross-country skiing at Maplelag in northwest Minnesota, a friendly resort with bottomless cookie jars, the state's biggest hot tub, wonderful family-style meals and impeccably groomed trails.
For more lodges around the region, see Ski out the door.
For a women-only weekend, go to the Women's Ski Weekend at Camp du Nord near Ely, Minn. Cost includes cabin lodgings, all meals and ski rental and instruction.
Budget option : Sign up for one of the Becoming an Outdoors Woman weekends at lodges in Michigan, Minnesota or Wisconsin. You'll go skiing and snowshoeing and learn a new skill, perhaps ice fishing or animal tracking.
March
In northern Wisconsin, between Rhinelander and Tomahawk, the environmental-learning center Treehaven offers all kinds of weekend retreats in March and April, including yoga, nature-writing, black-ash basketry and beginning water-color painting.
Budget option : State-park guesthouses and cabins make good spots for do-it-yourself scrapbooking and quilting retreats.
For details and other ideas on inexpensive places to stay with a group, see Cabins for a crowd.
April
This is a quiet month up north, perfect for chasing the waterfalls that will be raging on Minnesota's North Shore, in northeast Wisconsin and along the Black River in the Upper Peninsula. Rent a cabin and bring wine.
In April and May, many cute little towns hold girlfriend-getaway weekends, including the Wisconsin towns of Lake Geneva, Sturgeon Bay and Egg Harbor.
Expect champagne brunches, spa and shopping specials, fashion shows and goody bags.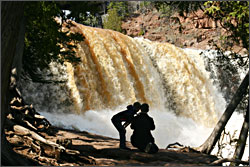 May
Take spring hikes and watch the bird migration along Lake Pepin and the Mississippi River between Red Wing, Minn., and La Crosse, Wis.
Stay at Hawks View Cottages & Lodges in the bluffs above Fountain City, Wis., which doesn't have a lot of shopping but does have such quirky attractions as Elmer's Auto & Toy Museum, Rock in the House and Prairie Moon Sculpture Garden.
Just downriver, the Trempealeau Hotel in Trempealeau, Wis., holds an annual Reggae Fest and Blues Bash in May, with nationally known musicians, great food and a killer view of the river. It rents luxury cottages as well as bare-bones rooms.
And if you like spring wildflowers, hiking and bicycling, Trempealeau is a great place in May.
In eastern Minnesota, Osprey Wilds Environmental Learning Center in Sandstone offers a Women's Wellness & Adventure Weekend, with yoga, massage, reiki, hypnosis, meditation, hikes, bird banding and art classes. The weekend also is offered in October.
June
Spend a long weekend in Milwaukee, which has a lovely setting on Lake Michigan, big lakefront festivals, a glamorous art museum, brewery cruises and fantastic bicycling on trails right in the city.
There are plenty of good hotels, but the dorms at Marquette University, on the edge of downtown, are a great deal for friends.
July
In the dog days of summer, rent a cabin with its own natural spa and swimming hole on Minnesota's North Shore.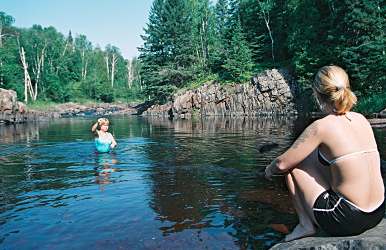 In Tettegouche State Park, the deluxe Illgen Falls Cabin is steps away from the Baptism River, where guests can either sit in smooth potholes, letting the cool water flow by, or walk upriver to a swimming hole.
Budget option : If you don't mind lugging gear 1¾ miles, reserve the secluded and historic Mic Mac cabins on Mic Lake Lake, on the other side of Tettegouche State Park. They're also very popular in winter.
August
Hit the beaches of Door County -or the shops, galleries, bicycle trails, golf courses or theaters. This Wisconsin peninsula has it all, and even is relatively  quiet if you go the latter half of August, when the busy season starts to wane.
Stay at a condo, townhouse or mom-and-pop motel-there's plenty of everything.
Budget option : Prices go down at lake resorts in northern Minnesota and Wisconsin in mid-August, and many start offering partial weeks.
See Last call for lake breaks and other Lodges & resorts stories.
September
Do the classic girlfriend-getaway thing in Galena, the northwest Illinois  town that's tailor-made for women. It even has a special Ladies Getaway on the weekend after Labor Day. There are tarot-card readings, fashion shows, wine-tastings, craft workshops and, of course, a lot of shopping.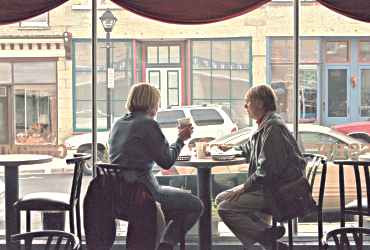 During the Fall Art Tour in October, two women stop for coffee at Gundry & Gray Cafe in Mineral Point, Wis.
For more ideas, see Great shopping towns.
October
Shop for one-of-a-kind items and also see the fall colors in studio art tours around the region. The Fall Art Tour in scenic southwest Wisconsin, between the towns of Mineral Point, Spring Green and Baraboo, is especially choice.
Mineral Point is my favorite town for shopping and congenial atmosphere, but you'll find other candidates at Best little towns that charm the tourists.
November
This is the month to go have fun, while many husbands and boyfriends are hunting or watching football games. Go on a scrapbooking retreat, see a Broadway play or shop at an art fair.
For details, see November girlfriend getaways.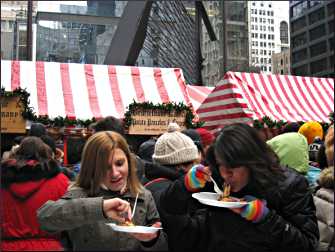 Watch the gales on Lake Superior or fix a big Thanksgiving dinner in a cozy hideaway on Minnesota's North Shore.
It's a good time to cocoon anywhere, and prices drop in the off-season. There are hundreds of vacation houses and cottages for rent.
If you're in the mood for holiday shopping, head for the old Yankee mill town of Cedarburg, just north of Milwaukee, where Festive Friday Eves start in mid-November, on the day before the deer-hunting opener.
Madison has fine-arts festivals on the first three weekends of the month. And State State is a treasure chest of quirky little shops.
December
Go to Chicago for the Christkindlmarket, which sets up shop in Daley Plaza from Thanksgiving to Christmas Eve, and for shopping on the Magnificent Mile, the Gold Coast and Loop.
Chicago's was the first, but now you can find outdoor Old World Christmas markets in more than a dozen towns around the region.
One of them is Minneapolis, which adds giant lighted puppets and fireworks to its market. Stay to take in a holiday show at the ornate theaters on Hennepin Avenue or a concert at Orchestra Hall. Then, take the light rail to-where else? -the Mall of America.
Wrap up your shopping at Nordstrom, Bloomingdale's and the hundreds of smaller shops. Then, treat your inner child on one of the roller coasters at Nickelodeon Universe. You deserve it.
Last updated on February 10, 2022