Fun in the fast lane
Need speed? Here's where to ski or snowboard in the Upper Midwest.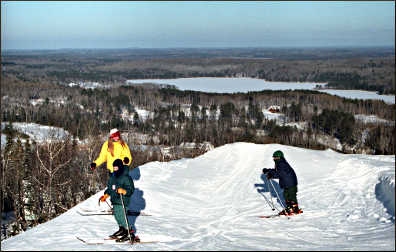 Whenever I get out of the forest and onto the hills, I remember something: Downhill skiing is a blast.
One year, when snow was thin on the cross-country trails, I went to Lutsen Mountains on Minnesota's North Shore. Its longest run is two miles, and flying down its long, undulating hills, only to be carried back up in a chairlift, made slogging through the forest seemed like chump work.
At a Jayhawks concert at Papa Charlie's, the restaurant/nightclub at the foot of the hill, a fellow skier from the Twin Cities gave me a succinct explanation for why he likes skiing there.
"It's just so much more fun to go down, down, down and down before you go up," he said.
If you like to feel the wind in your face, here's where to ski and snowboard.
Alpine skiing isn't cheap, so always check websites for deals; they're best midweek and early and late in the season. Buy tickets online and in advance to save more.
Buy tickets, sign online waivers and reserve lessons and children's programs in advance. All ski hills offer lessons, and some have special package deals for beginners. They don't publicize them much, so ask or look closely at websites.
For some of the best deals, see Bargains for beginners.
For more about ski lessons, see Class on the slopes.
Late winter and spring is a good time to learn, when snow is softer and more forgiving. Skiing can be good through April Fool's Day at the resorts on Michigan's Upper Peninsula, which also offers the best late-season deals.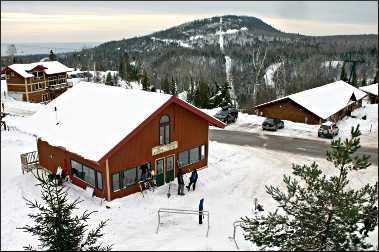 Minnesota
Lutsen Mountains on Minnesota's North Shore. This popular hill has the region's steepest vertical drop, the longest runs and the widest variety. It also has lovely views of Lake Superior, but skiers sometimes have pay for them by tolerating ice and wind generated by the lake.
There's a restaurant, live concerts on weekends and lodgings right on the hill-Eagle Ridge is closest, followed by Caribou Highlands Resort and, a short way down the hill, the modest Mountain Inn.
The ski hill also lists a huge array of lodging packages; if you know area accommodations well, you can find some good deals.
For more, see Skiing at Lutsen.
Giants Ridge near Biwabik. This Iron Range resort is an hour closer than Lutsen for Twin Citians and has superb grooming, a pleasant chalet with an espresso shop and good deals on lift tickets and accommodations.
Its own Lodge at Giants Ridge is a good value for ski-in, ski-out lodgings. There's not a lot to do at night, though.
For more, see Downhill on the Iron Range. And if you also like to cross-country ski, this is the place for you. For details, see A Giant advantage.
Spirit Mountain in Duluth. This resort in the hills above Duluth has the best view, the best midweek deals and the best variety of accommodations, restaurants and nightlife. Its vertical drop is second-highest, after Lutsen, and it has many nice intermediate runs.
If you stay at one of the local hotels midweek, you can get deals, such as two free half-day lift tickets, as well as everything else Duluth offers.
For more, see Relishing winter in Duluth.
Welch Village near Red Wing: This is a very pretty, wooded hill in the Mississippi River bluffs, less than an hour south of the Twin Cities. It has many options for lessons out of its SkiLink Learning Center.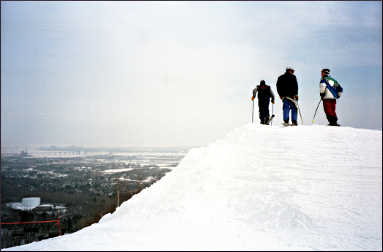 Trollhaugen near Taylors Falls. This friendly hill actually is on the Wisconsin side of the St. Croix River but offers a lot of events and deals aimed at skiers from the Twin Cities, just half an hour to the west.
Buck Hill in Burnsville. This hill alongside Interstate 35, just south of Minneapolis, is where Olympian Lindsey Vonn first honed her techniques.
Afton Alps in Afton. This hill along the St. Croix River southeast of St. Paul has 50 trails and 18 chairlifts.
Wisconsin
Here's a great deal from the Wisconsin Ski Industries Association: For $199, you get a Skiing Wisconsin Passport good for one lift ticket apiece at 17 ski mountains, including Trollhaugen near the Twin Cities, Cascade Mountain near the Dells and Alpine Valley near Kenosha.
You'll also get tickets to Mount La Crosse, Tyrol Basin near Mount Horeb, Sunburst near Sheboygan, Wilmot Mountain on the Wisconsin-Illinois border and Nordic Mountain near the Fox Cities. Warning: The passports sell out in September.
Granite Peak in Wausau. This ski hill on Wausau's Rib Mountain has 74 runs on a 700-foot hill served by seven chairlifts, one high-speed. It offers live music on Saturdays and many family activities.
Like Spirit Mountain in Duluth, its runs have great views of the surrounding city, and skiers can choose from a wide variety of lodgings, restaurants and entertainment. Rib Mountain State Park adjoins the ski area and has popular snowshoeing trails.
For more, see Winter in Wausau.
Devil's Head near Merrimac. This resort and convention center in the Baraboo Hills, just east of Devil's Lake State Park, has a 500-foot vertical rise and 30 runs; the longest is 1½ miles.
It's a favorite of intermediate skiers and Chicagoans. There's also a 3½-mile cross-country loop on the golf course.
There's a large lodge and inn on site, with a pool and hot tub center, and condos nearby. It has a ski school and good midweek deals for groups of 20 or more.
Cascade Mountain near Portage. At this family-friendly hill east of Wisconsin Dells, alongside I-94, children 12 and under ski free. There's a ski program for kids 4-10; reserve in advance.
It has a vertical drop of 460 feet, 35 runs and four terrain parks, including a five-lane Snow Tube Park with Magic Carpet lift.
The hill doesn't have lodgings on-site; most visitors stay in the Dells or in Portage.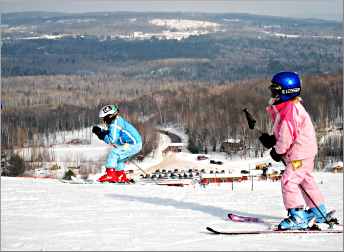 Mount Ashwabay near Bayfield. This hill south of Bayfield, named for the towns of Ashland, Washburn and Bayfield, now is operated by a non-profit foundation. It's a friendly, easygoing place to ski and also has a tubing hill and excellent cross-country trails.
For more, see Bayfield in winter.
Whitecap Mountains near Hurley. This resort, just across the border from Blackjack, Big Powderhorn and Indianhead in the U.P., has perhaps the region's loveliest terrain on three hills rising from deep forest.
For more, see Cruising at Whitecap.
Michigan's Upper Peninsula
For natural snow and lots of it, the resorts around Ironwood (including Whitecap, just across the border in Wisconsin) are the obvious choice.
People in the Twin Cities, the closest metropolitan area, seem to think these resorts are on the other side of the moon, but it takes about 4½ hours to drive there, the same as Lutsen (from Duluth, take U.S. 2 across Wisconsin).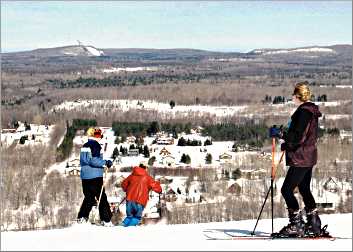 This is where you can count on snow. If they like, skiers also can cross-country ski or snowshoe to nearby waterfalls. Accommodations are inexpensive, deals are easy to find and the locals are friendly. There's a dearth of fine dining, though.
For more, see Ski the UP and Ironwood the reliable.
Big Powderhorn Resort near Ironwood. This resort is cheerful and open, with 33 trails equally divided for beginners, intermediates and experts. It has two terrain parks, and it adjoins the Wolverine Nordic-skiing system.
There are many places to stay, in condos and chalets.
Snowriver Mountain Resort's Jackson Creek Summit near Wakefield. The former Indianhead resort, one of three along U.S. 2, has a 638-foot drop, 30 runs and two terrain parks. It has many nice intermediate runs, but 46 percent are rated expert. Lift tickets also are good at Snowriver's Black River Basin.
It has a sunny chalet atop the mountain that always has a fire crackling. There's an older hotel, where rooms are a good value for budget skiers, plus more luxurious condos.
Snowriver Mountain Resort's Black River Basin near Bessemer. This is a snowboarder favorite. The former Blackjack resort has a 465-foot drop and 20 trails, including two glade runs. It has three terrain parks, one for beginners, and kids 12 and under ski free. Lift tickets also are good at Snowriver's Jackson Creek Summit.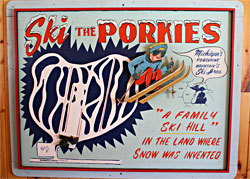 Porcupine Mountains Ski Area near Silver City. This alpine area in Porcupine Mountains Wilderness State Park has 42 runs and a vertical drop of 787 feet. The longest run is 1 1/8 miles.
For more, see White gold in the Porkies.
Ski Brule near Iron River. This resort just east of Eagle River, Wis., has 17 trails, a snowboard arena and tubing park and claims to be first to open and last to close.
It has a Learn to Ride Free program for first-time boarders 10 and older, and it grooms 33 kilometers of cross-country trails. Brule Village has many chalets and condos.
Pine Mountain in Iron Mountain. This ski/golf resort on the Wisconsin border, north of Green Bay, is best known for its ski jump. The Pine Mountain Ski Jumping Tournament in February is a stop on the Continental Cup circuit and draws jumpers from around the world, along with 20,000 spectators.
Kids 12 and under ski free. The resort includes a lodge and condos and has an indoor pool with hot tub and sauna.
Mount Bohemia near Copper Harbor. This resort on the north end of the Keweenaw Peninsula has a 900-foot vertical drop and is for expert skiers and snowboarders-no beginners allowed.
It boasts Rockies-style powder and steep, ungroomed chutes through forest. Skiers can stay in trailside cabins, yurts and a hostel.
For more about the area, see Digging the Keweenaw.
Marquette Mountain in Marquette. This hill is three miles south of downtown and has 25 runs and a 600-foot vertical drop. Children 9 and under ski free.
For more about Marquette, see Marquette's double appeal.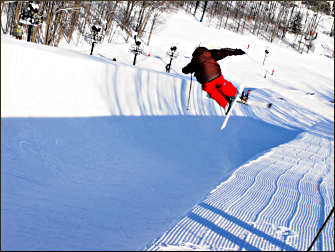 Lower Michigan
With the White Gold Card from the Michigan Snowsports Industries Association, skiers can ski once at 33 resorts across the state, plus get a free ski or snowboard tune-up, for $349. Warning: It sells out before the season starts.
Five ski resorts are in the hills above Lake Michigan from Harbor Springs to Traverse City and the Sleeping Bear Dunes area. The hills aren't as high as those in the U.P., but they're more developed for tourists and have more runs.
Boyne Mountain in Boyne Falls. This large resort near the east end of Lake Charlevoix is best known, with 60 runs, four terrain parks and a zip line. Along with its sister resort Boyne Highlands, it has Lower Michigan's only vertical drops of more than 500 feet.
The base area includes the 88,000-square-foot Avalanche Bay indoor water park. There are many places to eat and many rooms in cabins, villas and lodges, many of them slope-side. The Mountain Grand Lodge has a spa.
Boyne Highlands near Harbor Springs. This large resort has lower Michigan's largest area and highest vertical, 552 feet. It has 54 runs, four terrain parks and a zip line.
There are many places to eat and many rooms in cottages, inns, townhouses and the main lodge, many of them slope-side.
Nub's Nob in Harbor Springs. This resort has 53 runs, many with views of Little Traverse Bay. It also has 21 kilometers of cross-country loops. Lodgings are in the Petoskey-Harbor Springs area.
Shanty Creek in Bellaire. This resort near Grand Traverse Bay has 49 runs, four terrain parks and a vertical of 450 feet. It also has a tubing park and 30 kilometers of cross-country trails.
The resort complex includes a spa, four restaurants and three villages with a variety of accommodations.
Crystal Mountain near Thompsonville. This large, full-service resort east of Sleeping Bear Dunes National Lakeshore has 45 runs, three terrain parks and a super-cross course. It also has 40 kilometers of cross-country trails. There are many places to stay on the slopes, restaurants and a spa.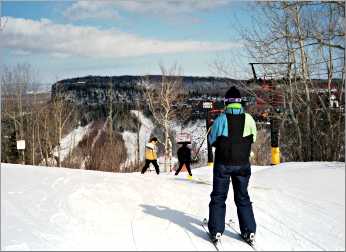 Ontario
Thunder Bay has two hills, and lift tickets cost a little less than in the States. Loch Lomond, on the south edge of town in the Nor'wester mountain range, has 14 runs, the longest 1½ miles, for all skill levels.
Mount Baldy, north of town, has 10 runs for all skill levels.
For more, see Downhill in Thunder Bay. Before going, check border-crossing requirements.
Illinois
Chestnut Mountain near Galena. This hill on bluffs above the Mississippi River has 19 runs with a 475-foot drop, a terrain park, a children's center and plenty of views.
Its older lodge has a lovely location on the hill, but many people like to stay nearby in Galena, which has many fine restaurants, inns and shops.
For more about the area, see Galena getaway.
Iowa
Sundown Mountain near Dubuque. In the Mississippi River Valley bluffs, this resort has 21 trails and two terrain parks.  Two ski lodges have cafeterias, with live music on Saturdays.
Lodgings are in Dubuque. For more, see Destination Dubuque.
Last updated on December 6, 2021