10 great outdoors towns
Want to get sweaty, dirty ... and exhilarated? Here's where to go.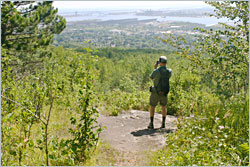 In 2014, Duluth made the region proud by beating out 63 other U.S. towns in Outside magazine's best outdoors town tournament.
It's hard to argue with Duluth, even against such better-known outdoors towns as Boulder, Colo., and Missoula, Mont., because everything it offers is right in the city-hiking, mountain biking, paddling, skiing.
But other towns are almost as deserving. Here are 10 great outdoor towns in the western Great Lakes.
What doesn't this Lake Superior port town have?
There's hiking on the 43 miles of Superior Hiking Trail that cross the town, mountain biking on the fast-developing 100-mile Duluth Traverse and paddling on Lake Superior and the St. Louis River. It even has 16 trout steams.
In winter, there's cross-country skiing on 82 kilometers of trails plus alpine skiing at Spirit Mountain and Chester Bowl. And ice rinks pop up everywhere.
Duluth crushed each of its competitors in the Outside tournament and received a total of 221,350 votes. Provo, Utah, got 185,602 votes, and Minneapolis received the third-most votes with 93,164. On the cover of the magazine's September issue, Duluth was proclaimed The Best Town Ever.
Okay, Duluth doesn't have a national park. Munising does-Pictured Rocks National Lakeshore on Lake Superior. Its cliffs are spectacular when viewed from a kayak and also from the 42-mile section of the North Country National Scenic Trail that traverses them.
Its neighbor on the Upper Peninsula, Marquette, is a college town with a hardy population that loves to dog-sled and ski downhill at Marquette Mountain and cross-country in the national forest that surrounds the town.
There's also paddling on Lake Superior and many nearby inland lakes.
This is Wisconsin's answer to Duluth. It's got alpine skiing mountain right in town, on majestic Rib Mountain, and cross-country skiing on 55 kilometers of county trails. It's even got a tubing hill.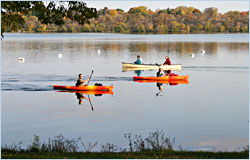 Downtown, there's a whitewater-paddling course on the Wisconsin River that hosts regional, national and even international competitions, and boating on dozens of lakes in the area.
The Ice Age National Scenic Trail skirts town, so there's superb hiking on it and also in Rib Mountain State Park.
The remote Keweenaw Peninsula gets piles of snow every winter and offers double black-diamond skiing as well as nordic skiing.
In summer, paddlers head out on the Keweenaw Water Trail and mountain bikers ride more than 25 miles of single track around Copper Harbor.
And both towns are gateways to wild Isle Royale National Park, a mecca for backpackers.
La Crosse is known more for its bars, but its prime spot between the Mississippi River and Driftless Area bluffs gives it plenty to do outdoors.
There's paddling on the Goose Island Canoe Trail and Black River, hiking and cross-country skiing in Hixon Forest and alpine skiing at Mount LaCrosse.
Around Trempealeau, there's  paddling on the Long Lake Canoe Trail and hiking on historic McGilvray Road and in Perrot State Park.
Both La Crosse and Trempealeau are part of a 101-mile string of bicycle trails. The 24-mile Great River Trail starts north of Trempealeau and follows wetlands to Onalaska, where bicyclists can continue on the 22-mile La Crosse River Trail.
This town has gorgeous beaches wrapped around both arms of Grand Traverse Bay, so it's a prime spot for swimming as well as paddling on Lake Michigan and  the Boardman River.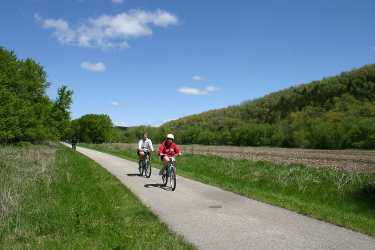 Bicyclists love the 26 miles of paved trails that wind through town and also the country roads in the Leelanau and Old Mission peninsulas and around Torch Lake, Michigan's longest inland lake.
The alpine mountain at Shanty Creek is just outside town, and there's a smaller ski and tubing hill at Mount Holiday.
Yes, this city in a metropolitan area of 3 million is a great outdoors town, thanks to its spectacular, city-owned Chain of Lakes plus the Mississippi River, which is part of a national park.
The lakes are lined with beaches, parkland and bike trails, in particular the Grand Rounds National Scenic Byway. The city teems with bicyclists, many of them on green Nice Ride bikes, and it trades the No. 1 Bike City titles back and forth with Portland, Ore.
In winter, park trails are groomed for cross-country skiing, and in March 2020, Wirth Park was scheduled to host the first World Cup event on U.S. soil in two decades.
Wisconsin's capital has its own chain of lakes and bicycle trails, connecting to a network of state trails that can take bicyclists east to Milwaukee, west to the Mississippi and south to the Illinois border.
There's hiking north of town on the Ice Age National Scenic Trail, and in winter, locals head for skiing and tubing hills nearby.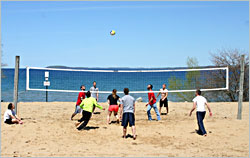 During cold winters, this Lake Superior village gets a huge boost from visitors who flock in to see the mainland ice caves on the Apostle Islands National Lakeshore. It's a great winter destination, with an alpine hill, 20 kilometers of cross-country ski trails and dog-sled mushing.
But traditionally, it's a kayaking mecca, drawing paddlers who want to visit the 21 Apostles and Madeline Island. And bicyclists can tackle hilly routes around the peninsula.
In southeast Minnesota bluff country, this village became popular with the opening of the 42-mile Root River State Trail, though fly fisherman had discovered its cold, pristine streams long before.
In summer, bicyclists cruise the trail and paddlers and tubers cruise the river. In winter, there's good cross-country skiing on the Harmony-Preston Valley State Trail, west of town.
Last updated on December 20, 2021