15 great escapes in March
Winter's not over till it's over. Meanwhile, here's where to go for fun.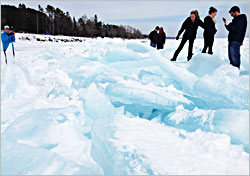 March can be a cruel month. We're tired of the cold, and it's tempting to sit tight and wait for spring.
But don't do it. This is the best time of the year for a lot of things, including eagle-watching, expos, ice-exploring and, of course, St. Patrick's Day parties.
We offer you three options for March getaways: outdoors, indoors and outdoors/indoors. Enjoy!
Outdoors
A lot of people think March is the best month for winter sports, with its long, sunny days and ample snow (at least up in the north woods). Here's where to go.
Wabasha. Anyone up for some eagle watching? In March, the eagles that flew south start to return along the Mississippi River flyway, right past this southeast Minnesota town.
Every weekend in March, the National Eagle Center hosts a Soar With the Eagles festival, with live-bird programs and family activities.
Gunflint Trail. This is where you go when you want to be around a lot of reliable, long-lasting snow.
Along this 57-mile road in far northeast Minnesota, you'll find great skiing, snowshoeing, snowmobiling, sleigh rides and dog-sled mushing all the way to Easter.
With its longer days and warmer temps, March is also the best month to mush your own dog sled.
Hurley/ Ironwood. You'll get the same deal on the Wisconsin/Michigan border.
Cross-country skiers can glide for miles at ABR, and there's excellent alpine skiing at four hills — Whitecap near Hurley and Big Powderhorn and Snowriver Mountain Resort near Ironwood.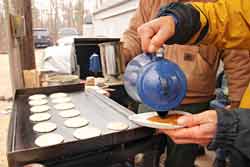 Wild River and Whitewater state parks in Minnesota. Take the family to one of the many maple-syrup programs and festivals around the region, and sample the sweet results.
At Wild River, stay in one of six camper cabins or a guesthouse; Whitewater has four camper cabins.
Pictured Rocks National Lakeshore. Icefalls are gorgeous on the cliffs of this Lake Superior park in Michigan's Upper Peninsula.
And many people like to trek to the Eben Ice Caves in the Rock River Canyon. They're southwest of Au Train, about six miles from Lake Superior. The walk is a mile round-trip on well-packed snow.
Indoors
Sure, a lot of people are dying for warm weather. If you can't go south, you can at least find warm temperatures in water parks, skyways, shops and exposition halls.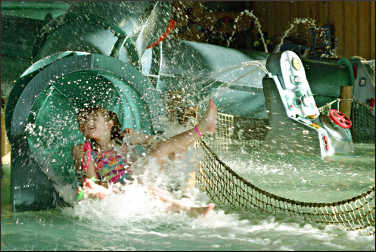 Madison. In addition to high-school tournaments, March is the time for expositions in the Wisconsin capital. It's your ticket to dream about the coming summer.
At Canoecopia, the world's largest paddle-sports expo, parents can watch demos, buy gear and plan trips. And Bike-O-Rama is right next door.
And at the Overture Center, International Festival is a kaleidoscope of global cultures geared to children as well as adults.
Wisconsin Dells. This is where you go to get warm if you can't afford to go to Mexico. The many indoor water parks are as close to the tropics as you can get in Wisconsin.
The Dells are very popular spring-break destinations, so reserve early and be prepared to pay.
Minneapolis. One word: skyways. They link nearly 80 blocks downtown, so you can book a hotel and scurry from your room to great restaurants, shops and the grand Hennepin Avenue theaters without putting on a coat.
Indoors/outdoors
What's the big event in March? St. Patrick's Day — unless you follow high-school sports, in which case it's tournaments. You have to watch the big parades outdoors, but then you'll get to duck inside for some green beer.
Milwaukee. The big St. Pat's parade is followed by music, dancing and pipes and drums at the Irish Cultural and Heritage Center.
For more Irish food and music, stay at the County Clare Irish inn. For more beer, visit some of the many craft breweries.
St. Paul. In this traditionally Irish town, the big parade is always on March 17 . On the weekend before, across from picturesque Rice Park, the Landmark Center holds a Day of Irish Dance.
On the hill overlooking downtown, the James J. Hill House holds an Irish Heritage Weekend.
Across the street, tour the magnificent Cathedral of Saint Paul, commissioned by Archbishop John Ireland, then gawk at the mansions on Summit Avenue, one of the nation's best-preserved streets of Victorian architecture.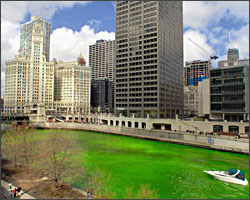 Chicago. In March, they really do dye the river green. Watch the dye job from the east side of the bridge at Columbus Drive or upper and lower Wacker Drive between Columbus and Lake Shore Drive.
Then watch the St. Pat's Day parade along Columbus Drive past Grant Park.
What else to do? Take a food tour or an architecture walking tour.
Galena. This northwest Illinois town near the Mississippi River holds a St. Patrick's Day parade.
For more fun, stay at the Irish Cottage Boutique Hotel, which includes Frank O'Dowd's Irish Pub & Grill. It celebrates St. Pat's Day with Irish dancers and music.
Duluth. In this usually frigid Minnesota town, you can spend the whole weekend under one roof, if you like — the Fitger's complex includes a hotel, spa salon, nightclub, theater, brewpub, restaurants and shops.
And during the spring Restaurant Week, you can get deals at the many excellent restaurants.
But there's also plenty to do outside, including alpine skiing at Spirit Mountain. And in March, the blue ice piles up on Lake Superior's shores, creating a photographer's dream and a fun place for families to climb around.
Hudson and Stillwater in the St. Croix Valley. These picturesque towns, across the river from each other in Wisconsin and Minnesota, are favorite shopping destinations for Twin Citians.
Stroll along the riverfront if the weather is fine. If not, retreat to the many shops, restaurants, wine bars and boutique hotels.
In the evening, see what's going on at Hudson's Phipps Center for the Arts; in Stillwater, check out the many live-music venues.
Last updated on January 19, 2022