Best of fall
The chase is on as autumn colors start to coat the countryside.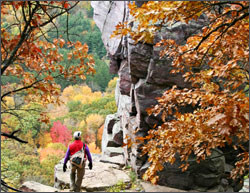 We always get a little frantic in fall, trying to make the most of a too-brief window of opportunity.
Fall is the best time for a lot of things: hiking, after frost has knocked off the bugs; road trips, when the countryside is at its loveliest; and wildlife-watching, when birds and beasts are on the move.
Plus, it's gorgeous. Most people try to catch the reds and oranges of maples at peak, but tamaracks, tallgrass and oaks keep things glowing through October.
Here are our picks for the best things to see and do this fall.
Best hiking trail
In early fall, any hike through maple forest will be spectacular. But only one place is even more striking after leaves have fallen — the Ice Age National Scenic Trail across Wisconsin.
Nearly everyone in the state and many people in Minnesota and Illinois live within a hour of this 1,000-mile trail, which winds through the north woods but dips as far south as Janesville before heading for Door County.
In late fall, all of its odd features can be seen — lone boulders called erratics and the conical hills, high ridges and long hillocks known as kames, eskers and drumlins.
Many of the state's best-known hikes are part of the trail, at Devil's Lake State Park, around Wausau and in Kettle Moraine State Forest. For more, see Greatest hits of the Ice Age.
One of the season's best scheduled hikes is the Parade of Colors Fall Hike from the Chippewa Moraine Ice Age Center in New Auburn, Wis., the first Saturday in October. Volunteers drop off hikers for a scenic hike back to the center.
For more, see 30 classic fall hikes.
Best bicycle trail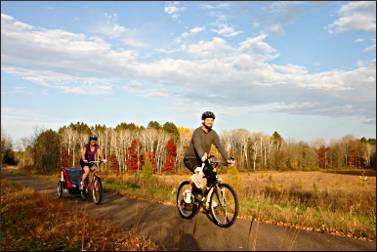 In fall, nearly every bicycle trail is lined with brilliant red sumac and colorful clumps of wildflowers. But not every trail can supply coots, cormorants and great blue herons, as well.
In southwest Wisconsin, the 24-mile Great River State Trail starts in Trempealeau National Wildlife Refuge and along the marshy bottomlands of the Upper Mississippi River National Fish and Wildlife Refuge. You can expect plenty of herons, turtles and various wildlife.
This area also has a lot of orchards, and Apple Affair in nearby Galesville, the first Saturday in October, includes a family-friendly 20-mile cruise through apple orchards as well as longer routes through the bluffs.
If you're dying to see fall colors in Wisconsin's north woods, try the Heart of Vilas County trails through Northern Highland-American Legion State Forest near Boulder Junction.
While you're there, ride or drive the 12 miles between Boulder Junction and Star Lake on scenic Rustic Road 60.
For more, see 15 great trails to ride in fall.
Best shopping
Since the holidays still are months away, why not shop and enjoy a leisurely drive at the same time?
In fall, artists say goodbye to the art-fair circuit and let their patrons come to them on studio tours. Luckily, artists tend to live in the kinds of places you'd want to visit anyway in the fall.
The biggest and oldest tour is the Southwest Wisconsin Fall Art Tour, held the third weekend of October in the scenic countryside between Mineral Point, Spring Green and Baraboo.
The problem with this tour is you're likely to be distracted by everything else in that area — near Baraboo, Devil's Lake State Park, where colors should be spectacular that weekend, and in Spring Green, the home of House on the Rock, Frank Lloyd Wright's Taliesin and the American Players Theatre.
Just try to stay focused. And if you miss the September and October studio tours, head for Madison, which has great holiday markets in November.
Best fall colors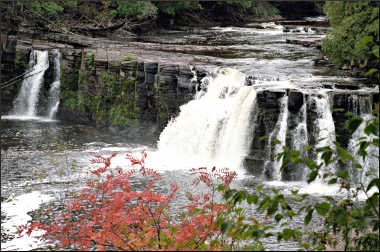 If you want to see fall colors at their peak, you have to keep moving.
In late September, head for the hardwood forests in the north woods in late September — my pick is Porcupine Mountains Wilderness State Park in the Upper Peninsula.
Then head south, picking up tamarack golds in northern bogs and oak russets on southern ridges.
The best color I've seen has been chasing waterfalls in northeast Wisconsin (late September) and hiking around Cable in northwest Wisconsin (early October), Devil's Lake State Park in south-central Wisconsin (mid-October) and Whitewater State Park in southeast Minnesota (late October).
For more tips on where to find fall color, see Pursuing the hues.
Best birding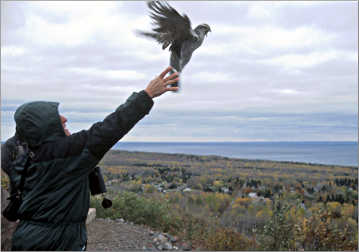 On Duluth's Hawk Ridge, waves of broad-winged and sharp-shinned hawks in September give way to red-tailed hawks and northern goshawks in October. From mid-August to November, nearly 100,000 raptors migrate over this Lake Superior ridgeline.
Volunteer naturalists are there every day to talk about the birds and lend binoculars. On weekends, they offer such programs as "Eyes on the Skies: Hawk-watching for Beginners."
If you're lucky, they'll also show you a hawk close-up, after it's been caught and banded. And if you're really lucky, you'll get to be the one who releases it back to the sky.
There are concession stands, too; many people hang out there for hours.
In southeast Wisconsin, you'll see shore birds on Horicon Marsh, often called the "little Everglades of the north." Paddle onto it yourself or go on pontoon-boat tours with an outfitter.
Best road trip
Fall is a great time to see for yourself that Iowa is not flat. Head for the bluff country around Decorah, missed by the last four glaciers, and you'll also see that Iowa is not boring.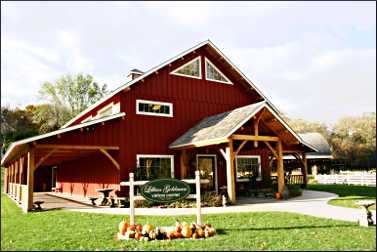 Unusual people lived and worked among these wooded ridges and valleys. Composer Antonin Dvorak and the wood-carving Bily brothers lived in Spillville.
Laura Ingalls Wilder lived for a year in Burr Oak, a time so traumatic she never wrote about it. A slew of scholars and Norwegian-heritage preservationists live in Decorah.
One of the most picturesque places is just north of Decorah, where Seed Savers Exchange grows and preserves heirloom seeds from around the world.
On Sept. 29-Oct. 1, Decorah is the hub for the Northeast Iowa Artists' Studio Tour, with more than 50 studios within 35 miles of town.
For more, see Road trip: Northeast Iowa.
For leaf color, head east to the Iowa towns along the Mississippi River, one of the region's most beautiful places in fall.
Best living history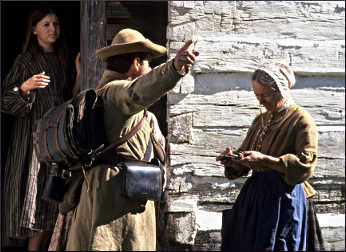 This is an easy pick: the annual Civil War Experience at Norskedalen, a pioneer heritage center in  the coulees of southwest Wisconsin.
No one is better at showing the misery of war than the members of Company B of the Second Wisconsin, part of the famous Iron Brigade, whose living-history re-enactments can leave onlookers nearly in tears.
Their venue is the Bekkum Homestead, a collection of 13 buildings from 19th-century Norwegian pioneer farms that stands in for rural farms in the South. In their scenario, the Yankees are coming, and the farm folk suffer as much as soldiers.
Onlookers are right there as soldiers tell women and children they must flee and as wounded soldiers scream in pain.
If you're there at the right time — or the wrong time, if you have a sensitive stomach — you might see an army "butcher," or doctor, cauterize a wound, with sputtering chicken fat standing in for human flesh.
It's the second weekend of October. For more, see Civil War, up close.
For more about the area, see Valleys of Vernon County.
Best train ride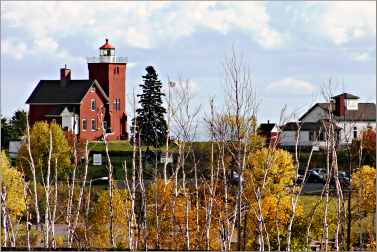 You have to reserve far in advance to be one of the lucky people who gets to ride the North Shore Scenic Railroad from Duluth to Two Harbors on fall weekends.
The 52-mile, six-hour round trip isn't a little dead-end excursion into the countryside; it's a real train trip to a real town, where you'll have two hours to explore.
Across from the depot, you may get to see an ore boat loading taconite pellets at giant docks, and you can see the 1896 tug Edna G., the St. Bernard of the North Shore.
Across the bay, there's an 1892 red-brick lighthouse. From there, walk to the end of the breakwall or on the Sonju Trail, which follows the lake across beautiful Lighthouse Point.
Other railroads also offer fall-color excursions, including the Lake Superior & Mississippi Railroad in West Duluth, which follows the St. Louis River.
For more, see Riding the rails.
Best eating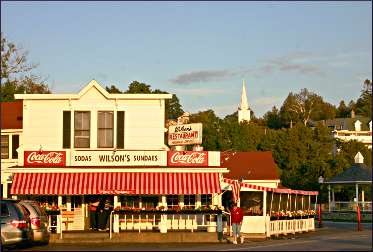 This time of year, a lot of people get the urge to go to a fish boil and stop by a farm market for some apple pie and cherry cider.
If that's you, head for Door County, which is all about eating this time of year. Think about what it's most famous for: Fish boils. Wineries. Cherry pie.
In fact, many of its best-known landmarks are places to eat: Wilson's Ice Cream Parlor in Ephraim, famous for its old-fashioned soda fountain, and Al Johnson's Swedish Restaurant in Sister Bay, where goats roam on the sod roof and people stand in line for pancakes with lingonberries.
Go on a sundae drive, which includes frozen custard in Fish Creek and gelato in Ephraim; tour eight wineries between Algoma and Fish Creek; or pick one of nearly a dozen fish boils.
For apples and locally made jams, pies, maple syrup, visit a farm market, including Koepsel's in Baileys Harbor, Wood Orchard Market in Egg Harbor, Orchard Country in Fish Creek and Seaquist Orchards north of Sister Bay.
And don't forget to bring a cooler.
Best place for solitude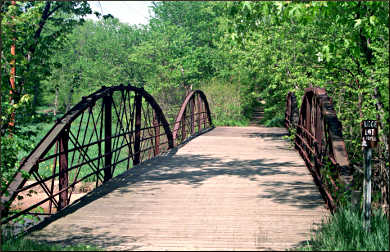 This time of year, there are throngs of hikers on such well-known trails as the Oberg Mountain loop on the North Shore, which doesn't mean you shouldn't do it.
But if you're looking for solitude, try the four-mile Seven Bridges Road, in Van Loon Wildlife Area near the southwest Wisconsin river town of Trempealeau.
Built on a raised bed through floodplain forest, the road once led to the settlement of McGilvray's Ferry on the Black River, near its mouth on the Mississippi. It's lined with five 1905 bowstring-arch truss bridges, all on the National Register of Historic Places.
Along with a 1921 truss bridge, they give hikers an enchanting passage through a world from which all other signs of civilization have vanished. Bald-eagle sightings are likely year-round.
To get there, drive seven miles east of Trempealeau on Wisconsin 35 and turn left on Amsterdam Prairie Road. The parking lot is a mile up on the left. It's a 3.7-mile hike to the Black River and back.
Last updated on October 4, 2021