Pursuing the hues
With luck, leaf peepers can squeeze seven weeks of color out of fall.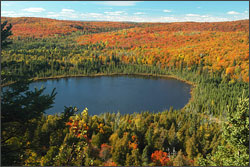 As anyone who's ever planned a fall trip knows, peak leaf color can be elusive.
Betting on a burst of spectacular color is like plugging nickels into a slot machine. To win, all of the figures have to line up: the right number of warm days and cool nights, the right levels of sugar produced, the right amounts of moisture.
Predictions always are chancy. What experts look for are summer rains that give trees plenty of moisture, and sunny days that are warm but not hot enough to stress trees.
Throw in a few chilly nights in the first part of September, and you've got the recipe for vivid and long-lasting color, with luminous orange maples and deep-scarlet oaks that can last right up to November.
In 2023, it was hot and dry in most areas. In the north woods, maple colors seem to be arriving at least a week earlier than last year.
You never know in advance what you're going to see. The only sure-fire way to increase the odds of seeing peak color is by placing more bets — that is, by moving around.
In this region, leaf color lasts for about seven weeks — eight, if you count the sumac that turns red in early September.
Maples turn first, then aspen. Tamarack needles in northern bogs provide a late wave of yellow and gold, and rusty-red oak leaves stay on trees into November.
Late September is peak in the inland forests — Chippewa and Superior national forests in Minnesota, Chequamegon and Nicolet in Wisconsin, Ottawa and Hiawatha in the Upper Peninsula — and it comes a week later along the shoreline of Lake Superior.
Leaves turn later the farther south you go, except on such peninsulas as Door County, wrapped by the heat-retaining waters of Lake Michigan. There, peak may come as late as the third weekend in October.
In southern Wisconsin and northern Illinois, oaks turn warm shades of cinnamon and ocher and often keep their leaves well into November. I've seen pleasing pockets of late color on the ridges around Galena and along the Wisconsin River valley.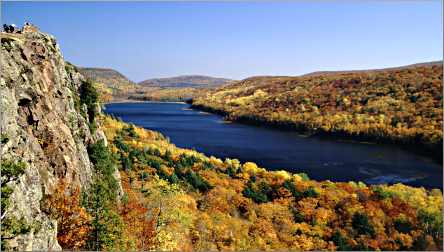 In Milwaukee, willows along Lake Michigan can remain a glowing gold into the second weekend of November. Ginkgo trees also supply a late splash of yellow.
State and national forests have the largest diversity of species, so their display of color lasts longer. In Chequamegon National Forest around Cable, I've seen solid color from late September to the middle of October, when the tamaracks stage their last hurrah.
Even if you're too early, you'll see lots of sumac, plus red dogwood and maroon Virginia creeper. And you'll catch prairie grasses and wildflowers at peak — bluestem and blazing star, aster, blue vervain and goldenrod.
If you're too late, you still might see lots of vivid red in the north woods, if it's been a good year for mountain-ash berries.
Here are the best places to look during each week of the fall-color season .
For updates, subscribe to weekly color reports from Wisconsin and the Minnesota state parks.
On Minnesota's North Shore, the rangers at Superior National Forest write a lovely fall-color blog.
Iowa, Illinois and the Upper Peninsula post fall-color reports from mid-September.
And if you wonder what causes fall color, see What makes leaves turn color?
Third week of September
You should see the start of fall color in the northwoods, mostly in sumacs, wildflowers and prairie grasses.
If you're itching to go for a fall drive, explore Wisconsin's Rustic Roads. For a chance at seeing fall color, try the 12-mile RR 60 between Boulder Junction and Star Lake in northeast Wisconsin lakes country.
In northeast Minnesota , drive the Gunflint Trail and the inland forests of the North Shore, especially between the Caribou and Sawbill trails around Lutsen, where there are many sugar maples.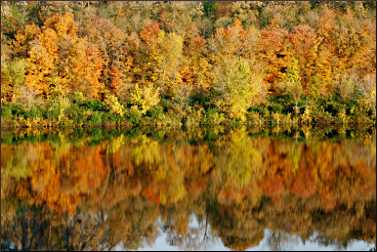 Fourth week/end of September
This is when serious color, the coveted reds and oranges, really starts to glow in inland forests up north. It'll be a good time to go waterfall-hunting in Nicolet National Forest in northeast Wisconsin , around Florence and Marinette.
The Upper Peninsula of Michigan has perhaps the best color of all; the inland trees should be vivid in the Porcupines, around Ironwood and in Ottawa National Forest east of Ironwood.
By the end of the month, there should be good color in north-central Minnesota , where Itasca State Park is a favorite spot to hike and bike.
In the Brainerd Lakes area, check out hardwood forests and walk the trails of the 540-acre Northland Arboretum. It's the southern trailhead of the Paul Bunyan State Trail, which, like all bicycle trails, is a good place to spot color.
From a car, take in the colors from one of Minnesota's scenic byways, such as the 54-mile Paul Bunyan north of Brainerd or the 47-mile Edge of the Wilderness out of Grand Rapids.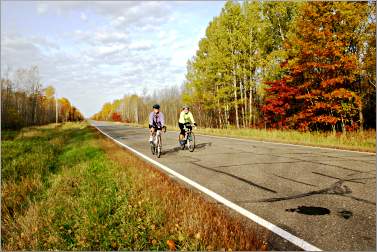 Color also will be showing in the inland maple forests on Minnesota's North Shore ; two of the best hikes to see it are the Bean/Bear lakes loop from Silver Bay and the Oberg Mountain loop near Tofte.
But be sure to reserve lodgings up to a year in advance, because this area is very popular in fall.
First week of October
The marquee spots in the north woods should hit peak by the end of this week. The northwest Wisconsin town of Cable is one of the region's best places to see it; stop by the chamber of commerce or the Cable Natural History Museum to pick up a map of three fall-color driving routes on marked roads.
It's also a great place to hike; try the Forest Lodge Nature Trail east of Cable, the North Country National Scenic Trail past Rainbow and Porcupine lakes and the trail to Morgan Falls and St. Peter's Dome.
In Michigan 's Porcupines, the Escarpment Trail from Lake of the Clouds should be gorgeous.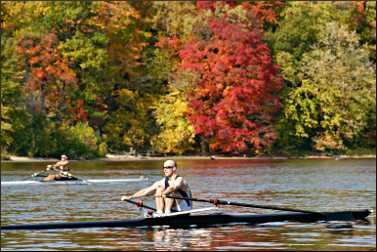 Along the Presque Isle River on the other side of the park, old-growth hemlocks will provide a dark-green counterpoint to turning trees around Manabezho, Manido and Nawadaha falls.
Color still should be good along Minnesota's North Shore .
Second week of October
In the Twin Cities , colors brighten in the Mississippi River gorge between Minneapolis and St. Paul, just in time for the Twin Cities Marathon.
In central Wisconsin, the woods along the Wisconsin River — around Wausau, Merrill and Tomahawk — will be glowing. Plan a hiking trip on the Ice Age National Scenic Trail around Timm's Hill, the highest point in Wisconsin.
Lake Superior keeps the towns on its shores a little warmer, so Bayfield and Ashland should be at peak this week.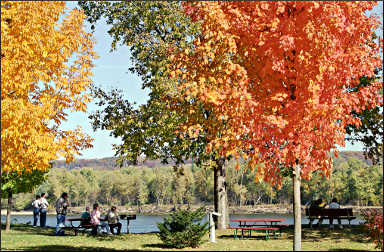 In eastern Minnesota , state parks along the St. Croix River — Banning, Wild River, Interstate, William O'Brien — still should look bright.
Along the Mississippi in southeast Minnesota , Great River Bluffs State Park near Winona has five overlooks; try a hike to Kings Bluff on Kings Bluff Nature Trail.
Just to the west, the bluff country around Lanesboro and Harmony will be glowing gold. Drive there on Minnesota 16 from La Crescent, which follows the Root River and is known as the Historic Bluff Country Scenic Byway.
On the southwest Wisconsin side of the Mississippi, bird-watchers should get an eyeful by going bicycling on the Great River State Trail, which starts in Trempealeau National Wildlife Refuge and heads south to Onalaska through the the bottomlands of the Upper Mississippi River Wildlife and Fish Refuge.
And northeast Iowa should be beautiful, as usual. Climb the bluffs above Marquette to Effigy Mounds National Monument, where 11 miles of hiking trails wind through oak and aspen forest on the rim of the bluff, affording spectacular views of the Mississippi River Valley.
The wheelchair-accessible Boardwalk Trail goes to the Yellow River bridge and has good views of fall color to the north and south.
Not far south, past McGregor, Guttenberg has a mile-long city park lined with maples that turn a brilliant orange.
Third week of October
Door County should hit peak this week, with the most color along the Green Bay side of the peninsula and along inland roads, such as County Road Q from Baileys Harbor to Ephraim and County Road F from Baileys Harbor to Fish Creek.
For hiking, try heavily wooded Ellison Bluff Park, on the headlands just west of Ellison Bay, and the Mink River Estuary, between the village and Rowleys Bay.
Door County has 28 state natural areas ; try Logan Creek south of Jacksonport, which has many sugar maples. While you're there, visit Cave Point County Park, just across Clark Lake on Lake Michigan.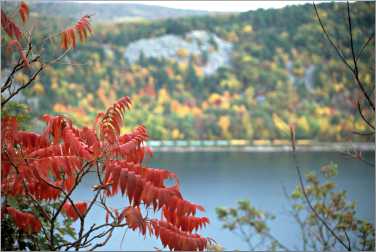 By now, the colors will be mostly yellows. Some years, colors show up late at Devil's Lake State Park in south-central Wisconsin ; one year, the northern entrance was enveloped in yellows so bright I needed sunglasses.
In the north woods, most of the color will be yellow. In boggy areas across northern Wisconsin , especially in Chequamegon-Nicolet National Forest, tamaracks will be at peak and glowing gold.
The tamarack looks like an evergreen, but it's a deciduous conifer whose needles turn color just before they drop.
On hiking trails, color will be on the forest floor instead of overhead. That makes one trail in particular even more scenic when leaves fall: the Ice Age National Scenic Trail, which winds 1,000 miles through Wisconsin.
Without the full forest canopy and underbrush, hikers can see what the Wisconsin Glacier left when it retreated: a lumpy quilt of conical hills, high ridges and long hillocks called kames, drumlins and eskers.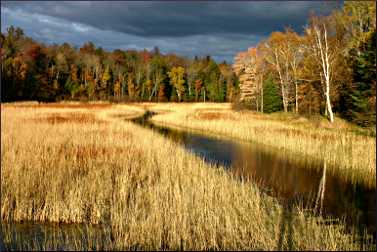 Stretches go through some of Wisconsin's most scenic areas: the Blue Hills near Rice Lake, Chequamegon National Forest in Taylor County, the Baraboo Hills near Wisconsin Dells and the Kettle Moraine in southeast Wisconsin .
In northern Illinois , this is Fall Colors Weekend at Starved Rock State Park along the Illinois River, where oaks provide much of the color.
For other nice displays this week, try Door County and the Mississippi River Valley between northeast Iowa and southwest Wisconsin .
Fourth week of October
Places that have a lot of oaks still will be showing beautiful hues of bronze, cinnamon and russet.
One year, I spent this weekend in southeast Minnesota 's Whitewater State Park and was amazed by the widespread color on the bluffs, set off here and there by the greens of red cedar.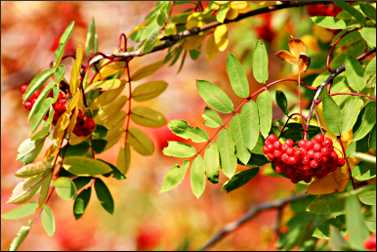 Another year, I saw lovely tawny colors around Galena on the ridges of northwest Illinois , which has many oaks.
This is a good time to get in an early shopping trip to scenic areas. In addition to Galena, try the Amana Colonies in southeast Iowa and Cedarburg, just north of Milwaukee.
Fallen leaves also reveal greater expanses of glowing stone in areas that have a lot of outcroppings. In the Wisconsin Dells , tour boats take passengers past the famous sandstone formations until the end of October. And in fall, the popular area is very mellow.
In the north woods, color is iffy this week, though it's my favorite time to go hiking: Views are better when leaves are down, the crowds are gone and the rifle season for deer hasn't yet started.
Try hiking along the North Shore, where red mountain-ash berries often provide bright dots of color. And after the big Minnesota school break in late October, hotel and cabin rates drop and stay low until ski season.
First week of November
And anywhere along Lake Michigan is a good bet — its warm waters slow the approach of winter along its shores. Try bicycling along the lakeshore around Milwaukee , where willows turn golden two weeks later than other trees.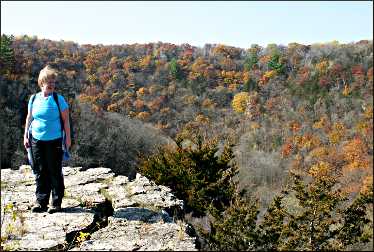 Near the Illinois border, trees on the shores of Lake Geneva stay yellow into November.
In Minneapolis, look for splashes of late color on the maples in Gold Medal Park and ginkgos along East River Parkway.
After that, head south, along the Mississippi on the Great River Road and into southeast Iowa, where the air will be a little warmer and the trees still turning.
More on fall color
If you're planning to see the colors by road, see 15 great fall drives.
If you're looking for overlooks accessible by car, see 15 great fall views.
If you're on foot, see 30 classic fall hikes.
If you're on a bike, see 15 great trails to ride in fall.
If you want to go on a boat, see Cruising into fall.
If you'd like to ride a horse, see Autumn on horseback.
Last updated on October 4, 2021