30 classic fall hikes
For autumn scenery, these beautiful trails are the best of the best.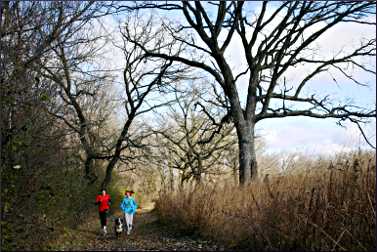 An autumn Saturday dawns, sunny and mild. It's a perfect day for hiking — but where?
This time of year, you could walk down the street and see something nice.
But if you're looking for the kind of hike that makes you marvel at nature and feel glad to be alive, you'll probably have to look a little farther afield.
Here are 30 of our favorite fall hikes. A few require a little huffing and puffing, but most are easy strolls. And they all showcase fall at its finest.
NORTHERN MINNESOTA
Oberg Mountain between Tofte and Lutsen. This two-mile loop is the most popular fall hike in Minnesota, especially when colors peak in the inland maple forests, usually at the end of September.
There are frequent overlooks, with views of Leveaux Mountain and Britton Peak to the west, Lake Superior to the south and maple forest to the east.
The trail is a spur of the Superior Hiking Trail, which includes many other spectacular hikes. For more, see Hiking the North Shore.
To get there, take Minnesota 61 east of Tofte to Forest Road 336, or Onion River Road. It's two miles up to a parking area.
Highland to North 24th Avenue West segment of the Superior Hiking Trail in Duluth. Many stretches of this trail off Skyline Parkway have great views, but one of the most serene is just east of the Highland Street/Getchell Road trailhead.
The heavily wooded trail passes the ruins of a pump house on Keene Creek, follows Brewer Ridge through maple and oak forest and emerges to a grassy open spot with panoramic views of the St. Louis River estuary, the Aerial Lift Bridge and, on the next hill, Enger Tower.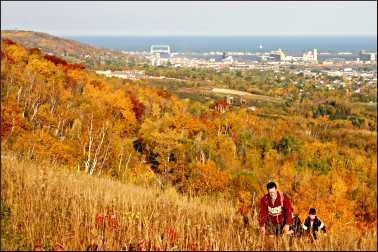 It's about three miles out and back, but you can also turn it into a superb six-mile loop hike. For more, see Hiking in Duluth.
To get there, follow Skyline Parkway east from the Thompson Hill Information Center or west from Haines Road/40th Avenue West. There's a parking area at the intersection of Highland, Getchell and Skyline Parkway.
Lakewalk in Duluth. Most tourists stick to the Canal Park end of this seven-mile paved path. Lake Superior is very scenic, but it's when the trail ducks a block or two inland that you'll see the most colors.
To avoid Canal Park congestion, park at the Rose Garden, off London Road at 13th Avenue.
Itasca State Park between Park Rapids and Bemidji. This is a hiking park, with lots of selection. From the headwaters, the mile-long Schoolcraft Trail follows the North Arm of Lake Itasca, ending at Hill Point.
There are giant pines along the half-mile Bohall Trail ** to Bohall Lake, off Wilderness Drive, and along Nicollet Trail, which starts off Wilderness Drive near Elk Lake.
The most popular trail is the Dr. Roberts Nature Trail , which starts near Douglas Lodge. It's a two-mile loop.
For more, see The people's park.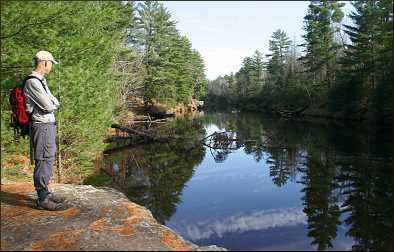 Banning State Park near Sandstone. People tend to whiz by this park on their way from the Twin Cities to the North Shore. But its trails are gorgeous, especially the Quarry Trail, which follows the Kettle River.
The 1.8-mile trail, most of it along an abandoned railroad bed, is lined by rock outcroppings and includes the ruins of a rock crusher, powerhouse and cutting house. The park is right off I-35.
Cut Lake Trail in Foot Hills State Forest near Pine River. In fall, most people ditch Minnesota's lake country in favor of the North Shore. But the leaf color is beautiful and, because it's varied, lasts longer.
The trail system has 10 miles of hiking loops through a rolling forest of Norway pine, birch and tawny oaks.
From Minnesota 371 in Pine River, head 10 miles west on County Road 2.
SOUTHERN MINNESOTA
River Parkways in Minneapolis. Along the Mississippi, side-by-side biking and walking trails line East River Parkway and West River Parkway, and more trails wind through the wooded sides of the river gorge.
Bridges provide frequent views and allow hikers to make loops: 2½ miles from the Washington to Franklin bridges, three miles from Franklin to Lake Street and five miles from Lake Street to Ford Parkway.
Carleton College Arboretum in Northfield. In the "Arb," three loops with 7½ miles of trails take hikers past oak savanna and prairie being restored by the college. The area lies on the floodplain of the Cannon River.
It's just northeast of downtown, even walking distance; keep going on Division Street past Carleton's stadium.
Barn Bluff in Red Wing. This big, boxy bluff sits right in the path of the Mississippi, which had to make a sharp turn to get around it.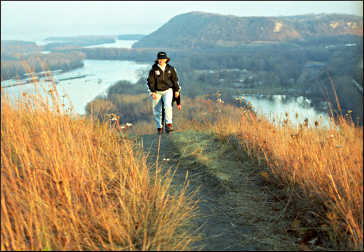 The main path follows the north side of the 343-foot bluff and passes a vertical rock face frequented by climbers. At the north end of the bluff, there's an overlook and a grassy slope that faces town.
From there, hikers can watch traffic crawl past the brick storefronts and grain elevators of Red Wing and barges chug toward St. Paul. On the south end of the bluff, there's a view of the river as it widens into Lake Pepin.
From downtown Red Wing, East Fifth Street leads straight to the foot of Barn Bluff.
For more river hikes with views, see Mississippi panoramas.
Great River Bluffs State Park near Winona. At this blufftop park, the King's Bluff Nature Trail provides views of the river valley as well as Queen's Bluff, a state scientific and natural area that can be hiked only with a permit.
From the road, the trail cuts through meadow, then enters forest. Passing through corridors of trees, red with sumac, it emerges to a panorama of the valley far below-the patchwork delta of the Black River, the labyrinthine channels traversed by tiny barges, the Wisconsin ridge tops dotted by farms.
It's 2½ miles round-trip. Another five miles of trails lead to other scenic vistas.
The park is 20 miles south of Winona. From U.S. 61, take Minnesota 3, also Apple Blossom Scenic Byway. From Interstate 90, take County Road 12.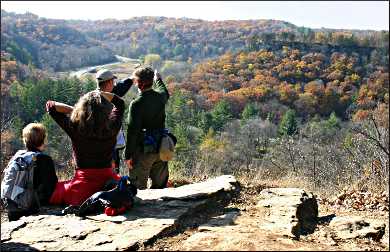 Whitewater State Park near Rochester. This is the place to go for late color, thanks to the many oaks and maples covering its hillsides. Hike the four-mile Dakota Trail and you'll have spectacular views from three overlooks on craggy blufftops.
For an easier time, hike the two-mile Meadows Trail and look up at 200-foot cliffs; the view's nearly as good.
The park is half an hour east of Rochester and west of Winona.
NORTHERN WISCONSIN
Sandrock Cliffs Trail near Grantsburg. This scenic five-mile loop through pine and hardwood forest is part of St. Croix National Scenic Riverway along the Wisconsin side of the St. Croix River. It follows a terrace along the river, with river views.
It's just north of Wisconsin 70, near Grantsburg, Wis.
Porcupine Lake Wilderness near Cable. Seven miles of the North Country National Scenic Trail winds through this wilderness. There are three parking areas, and from the middle one there's a half-mile spur trail to Porcupine Lake.
To reach it, take County Road M two miles east to Lake Owen Drive. Turn north and drive 11 miles to Forest Road 213/Porcupine Lake Road, then two miles east.
A bonus to this hike is that all of the roads used to reach it are excellent fall-color drives.
Forest Lodge Nature Trail near Cable. This trail packs a lot into two miles, leading hikers from a dark hemlock grove to a little bog circled by spruce and covered with the tufted white heads of cotton grass.
From Cable, go east on County Road M for nine miles and turn onto Garmisch Road.
Morgan Falls and St. Peter's Dome near Ashland. This trail is a two-fer, with a waterfall and a sweeping view. Morgan Falls, which zigzags 70  to 100 feet down jagged granite, is just half a mile from the trailhead.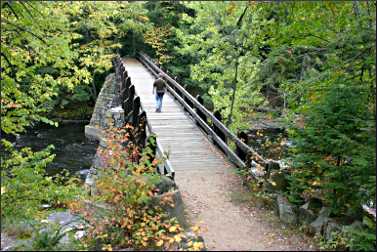 Then it's another 1.2 miles, uphill on rocky terrain, to the overlook from St. Peter's Dome.
To get there from Cable, head north on U.S. 63, and 5½ miles past Grand View,  turn east on County Road E and drive six miles. Turn south at the county line and take the gravel Ashland-Bayfield Road 4½ miles to the trailhead parking lot.
Dells of the Eau Claire River near Wausau. This is one of the greatest hits of the Ice Age, on an extremely picturesque stretch lined with tilted bedrock and metamorphic rock so slick that a sign at the trailhead warns, "This park possesses dangerous natural features. Please supervise children." Even dogs have a hard time on it.
Trails follow both sides of the river, connected by bridges. Cliffs line the north side, and the south banks are dark with trees-hemlock, sugar maple, yellow birch and Canada yew.
From Wisconsin 29, 15 miles east of Wausau, take County Road Y north from Hatley.
Timm's Hill Trail near Ogema. This beautiful 10-mile trail connects Wisconsin's high point in Timm's Hill County Park to the Rib Lake section of the Ice Age National Scenic Trail. It's six miles east of Ogema.
SOUTHERN WISCONSIN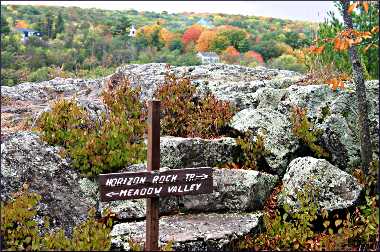 Interstate State Park in St. Croix Falls. The clifftop Pothole Trail is another of the state's great trails and also the start of the Ice Age National Scenic Trail.
You'll see the cylindrical holes drilled into rock by water and also views of action on and along the river: rock climbers, canoeists, paddlewheeler cruises.
It's just across the river from Taylors Falls, Minn., off U.S. 8.
Seven Bridges Road near Trempealeau. This quiet trail, built on a raised bed through floodplain forest, once led to a hamlet on the Black River. It's lined by five rare bowstring-arch truss bridges, all listed on the National Register of Historic Places.
It's a 3.7-mile hike to the Black River and back through Van Loon Wildlife Area.
From Trempealeau, drive seven miles east on Wisconsin 35 and turn left on Amsterdam Prairie Road. The parking lot is a mile up on the left.
Devil's Lake State Park near Baraboo. It's safe to say this park has the most spectacular trails in the state.
For a 2½ mile loop, follow the West Bluff Trail atop the bluffs that ring the lake, and return on the Tumbled Rocks Trail, through a field of 800-ton boulders.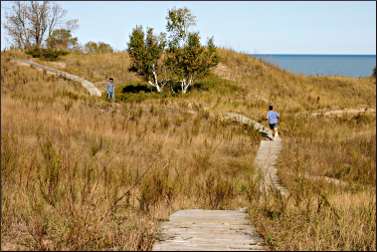 For a 4½-mile loop, hike the East Bluff Trail and return on the East Bluff Woods Trail. You'll see Balanced Rock, plunked on the edge of a cliff, and the Devil's Doorway. Nothing is flat, and everything is spectacular.
For more along the Ice Age National Scenic Trail, see Greatest hits of the Ice Age.
Parnell Tower Trail in the northern Kettle Moraine near Plymouth. The 3½-mile Parnell Tower Trail loop takes hikers to the Parnell Esker and a 60-foot observation tower.
It's part of one of the most developed segments of the Ice Age National Scenic Trail, and see even more kames, kettles and eskers throughout the state forest.
Kohler-Andrae State Park near Sheboygan. This park is famous for its Lake Michigan beaches, but in fall, the dune grasses turn golden. Boardwalks cross the giant dunes, and there's a half-mile accessible trail.
From Sheboygan, head south on I-43 and get off at County Road V.
Geneva Lake path in Lake Geneva. This lake is circled by a public 21½-mile walking path through the lawns of old-money mansions, many with landscaping that's beautiful in every season.
At least two hiking clubs plan fall hikes of the whole thing, the Forest Trails Hiking Club of Chicago and the Wisconsin Go Hiking Club of Milwaukee.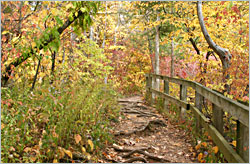 NORTHERN ILLINOIS
White Pines Forest State Park in Mount Morris. In this gorgeous park just west of Oregon, the 1.2-mile Sleepy Hollow Trail follows ridges above Pine and Spring creeks, which it crosses four times, and in places has so many tree roots it's like walking over vertebrae. Plenty of maples add reds and yellows to the mix.
Seven other trails wind through the park, some from the log White Pines inn and restaurant.
There are more hiking trails on the bluffs across from Oregon in Lowden State Park, which has a spectacular view of the Rock River valley from the 48-foot statue of Black Hawk, and along the river in Castle Rock State Park, just south of Oregon.
Starved Rock State Park in Utica. The woods around the canyons in this park are beautiful in fall. There are guided hikes every weekend from the visitor center.
I&M Canal State Trail between Joliet and LaSalle. This former towpath winds 61½ miles along the Illinois River, passing many small towns and historic sites.
Because it's flat, near parking areas and quiet-the surface is finely crushed limestone, so it doesn't attract a lot of high-speed bicyclists-it's well-suited to wheelchairs.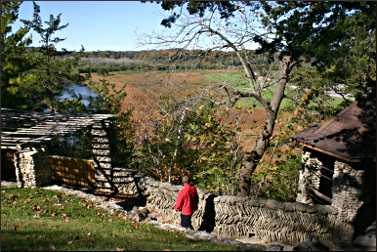 EASTERN IOWA
Phelps Park in Decorah. This college town in northeast Iowa bluff has a picturesque setting, framed by bluffs. From Phelps Park, a one-mile trail follows the blufftop above the Upper Iowa River, with limestone steps and terraces built by the CCC.
The trail ends at the now-famous Rock Cut through limestone, which completed the 11-mile paved Trout Run Trail around town.
From Water Street downtown, take Mechanic Street to Phelps Park and Main Street to the Oneota parking lot.
Effigy Mounds National Monument near Marquette. Eleven miles of trails wind along the blufftop in this national monument, named for 195 burial mounds left by an ancient people.
They're remarkable because 31 are in the shapes of birds, reptiles and mammals, including the 137-foot-long Great Bear Mound.
On the two-mile Fire Point Trail, overlooks provide sweeping views of the river valley.
It's in the bluffs above Marquette, just across the bridge from Prairie du Chien, Wis.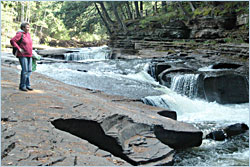 UPPER PENINSULA OF MICHIGAN
Escarpment Trail in Porcupine Mountains Wilderness State Park near Silver City. The four-mile Escarpment Trail is the most romantic of this park's 90 miles of trails.
It follows a ridge 300 feet above Lake of the Clouds, from which the Carp River winds away into the horizon through old-growth forest that's considered the biggest and best of its kind east of the Mississippi.
From Wakefield, Mich., head north on Michigan 28 and 64. When you get there, you'll be on Eastern Standard Time.
Presque Isle River in Porcupine Mountains Wilderness State Park near Wakefield. On the west side of the park, four waterfalls line the last mile and a half of the wild Presque Isle. Follow the West River Trail and see how the river has cut the rock along its banks.
To get there, take County Road 519 from Wakefield on U.S. 2.
Black River waterfalls near Bessemer. Five waterfalls line the last two miles of the Black River before it flows into Lake Superior. A trail connects them, part of the North Country National Scenic Trail.
To get there, follow County Road 513 from Bessemer on U.S. 2.
Last updated on September 20, 2021