Where the girls are
At vacation spots everywhere, women are on the lookout for fun. Here's how to plan a getaway.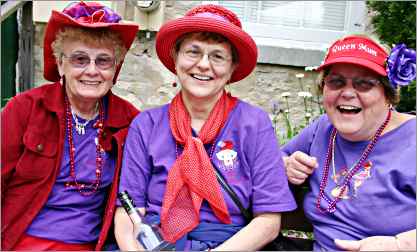 Everywhere I go, I see groups of women out having fun. Women on bikes. Women on skis. Women shopping, sightseeing and sampling.
Sometimes, they're wearing the tell-tale colors of the Red Hat Society, a loose-knit organization of older women whose mission is to have fun.
One June, I spotted three of them at Strawberry Festival in Cedarburg, Wis., having some laughs over a bottle of strawberry wine. They'd driven up from the southern Wisconsin town of Orfordville for the day, one of many trips they take throughout the year.
"We're taking them all the time," said Lin Newman. "We get a chance to giggle. There's just a sense of freedom. We can let our hair down. It's an opportunity to be wacky. There are no rules."
They go to nearby Fort Atkinson for a dinner-theater production and a fashion show. They go to Mackinac Island for the scenery and fudge.
In summer, they'll have pajama parties at Newman's cottage in Lake Geneva, then hop the train to Chicago for the museums and shopping. (For ideas, see 12 months of girlfriend getaways and 50 great girlfriend getaways.)
So what does her husband do?
"He likes to go to car shows," Newman said.
These days, trips for women are big business. Budget Travel magazine devotes special issues just to them, noting that "we can't leave our offices outside Times Square without running into a group of women giggling their way down Seventh Avenue."
National Geographic has published "50 Best Girlfriends Getaways in North America," explaining that trips by women, including mothers, daughters and sisters, "have become a driving force in the travel industry."
Women can book a trip with Adventures in Good Company, Women Traveling Together, AdventureWomen, Adventurous Wench, Gutsy Women Travel or the Women's Travel Club.
Hotels and inns have jumped on the bandwagon, too. In big cities, they may include such features as martinis, trips to male strip clubs and "lingerie makeovers," but in the Upper Midwest, packages are more likely to include yoga, scrapbooking and wine tasting.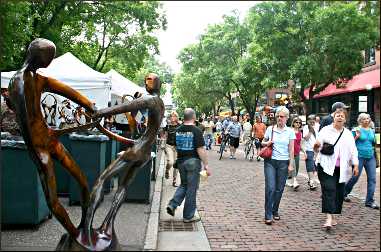 But women do a lot more than gab and gossip over bonbons and chardonnay.
Sher Lawrence of Chetek, Wis., has traveled with her five sisters-in-law every year for decades, always renting lodges or cabins in such places as Door County, Galena and the Cable area. They shop, cook, do art projects, golf, visit state parks and see what else there is to do.
"We like to do new things and try new places," she says. "It's our time to get together and reconnect, to keep the bond really strong between us. We've turned on two or three other groups to this, too; they think it's awesome."
They invited their husbands on the 20th trip, but Lawrence says they'll never do that again.
"They wanted to have a schedule, and they were so concerned about meals," she said. "We tend to fly by the seat of our pants a little more."
When Judith Niemi of St. Paul founded Woodswomen in 1977, she was in the vanguard of two trends: adventure travel and travel for women. In those early days, she says, women rarely were seen in the wilderness without men.
"We'd be canoeing in the Boundary Waters and a man would say, 'My God, are you out here all alone?' and he'd be talking to 12 people," she said. "Now, it's perfectly ordinary."
These days, she often goes on jaunts with a loose group of friends who call themselves the Sturdy Girls: "Typically, someone will say, 'Time for a Sturdy Girls float,'" she says. "We'll go to the St. Croix, float through the backwaters and go bird-watching for a day."
It's no mystery why girlfriend getaways have become so popular, Niemi says.
"Women love traveling with other women because it's so much fun," she says. "It's entirely, tremendously fun."
Trip Tips: Planning a girlfriend getaway
Getting started: First, assess budgets. You can save a lot of money by traveling weekdays, in the off-season or in less-touristy spots. Then find out what the group wants to do-mostly sit around and talk, for example, or get out and about.
Finding accommodations: Ask who minds sharing beds and who doesn't. B&Bs may seem like a good choice, but few have rooms with more than one bed, and they don't always have good gathering spaces. Small inns often work better, and some offer special women's getaways in their off seasons.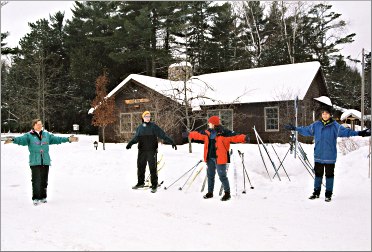 A vacation-rental house may be most practical, since they have kitchens and living rooms.
For more, see Renting a vacation house and A cottage of one's own.
State parks and non-profit groups often rent lodges that are perfect for groups and also inexpensive (see Cabins for a crowd ).
Minnesota state parks have a big variety of lodgings. For more, see Lodgings in Minnesota state parks.
The Michigan state parks on Lake Superior and Lake Michigan have an even larger selection. For more, see Michigan's great lake cabins.
Packages: For lower-cost weekends, look to non-profits, such as Minnesota's environmental learning centers.
From Minneapolis, Wilderness Inquiry offers women's trips on the Superior Hiking Trail, kayaking in the Apostles and canoeing in the BWCAW.
Destinations: On Lake Michigan, Door County is a very popular destination.
It's especially popular with Chicagoans and is best known for its city-style attractions — shopping, theater, art, fine dining — but it also offers wonderful bicycling, kayaking, wildflower-hunting, bird-watching, hiking and swimming.
It has lots of condos, cottages and other lodgings.
In northwest Illinois, Galena is a classic girlfriend getaway.
There are lots of shops, restaurants and renovated historic houses to tour, and many events geared toward women — wine tastings, craft demonstrations, cooking classes, walking tours and art shows.
Not far away in southwest Wisconsin, Mineral Point has plenty of galleries and shops, but it's less commercial and more personable.
The National Trust named Mineral Point one of its Distinctive Destinations, calling it an "architectural treasure trove" and citing the "abundant beauty of its pastoral setting."
Shake Rag Alley Center for the Arts offers workshops year-round, and the Pendarvis historic site showcases the town's Cornish heritage.
In October, Mineral Point is a prominent stop on the big Fall Art Tour; reserve far in advance.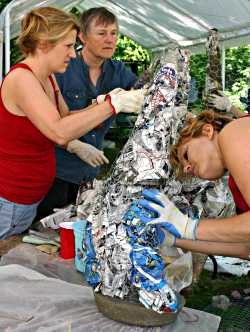 On Lake Superior, Duluth has plenty of shopping and several spas, but it's best known for outdoor activities — hiking, mountain biking, and skiing. It also has a lot of breweries and nightlife of all kinds.
In northern Wisconsin, Bayfield also has a nice mixture of shopping and outdoorsy activities. From the picturesque hillside village on Lake Superior, guests can hike, bike, sail, or take a cruise boat to the Apostle Islands or a ferry to Madeline Island, where Big Bay State Park has lovely beaches.
There are many condos, cottages and houses for rent both in Bayfield and Madeline Island.
In southeast Minnesota, Lanesboro is a bicycling hub that also is known for its canoeing, tubing, theater and Amish tours.
Half an hour north of Milwaukee, Cedarburg is a beautifully preserved Yankee mill town that has many small, unique shops and also is a stop on the Ozaukee Interurban Trail; the stretch from Cedarburg to Port Washington, on Lake Michigan, is one of the prettiest.
Chicago is perhaps the ultimate girlfriend getaway; it has the region's best shopping, museums, restaurants, festivals, food tours, music, sports — you name it.
Accommodations are pricey in summer, so consider other seasons; it's an exciting place to be year-round.
Red Hat Society: This national organization for women 50 and older "began as a result of a few women deciding to greet middle age with verve, humor and elan," writes founder Sue Ellen Cooper.
"We believe silliness is the comedy relief of life, and since we are all in it together, we might as well join red-gloved hands and go for the gusto together. Underneath the frivolity, we share a bond of affection, forged by common life experiences and a genuine enthusiasm for wherever life takes us next."
Last updated on May 2, 2012